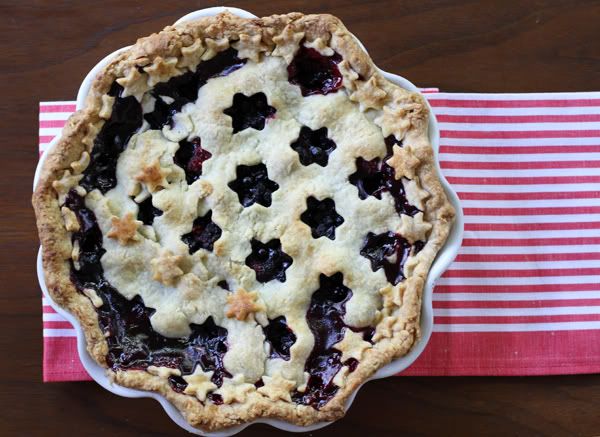 It was a star-spangled weekend. Really it was a picnic-spangled weekend. We went to three picnics in a row. From the lakeside

cobbler

on Saturday, to a bbq engagement celebration on Sunday to a true 4th of July party last night. No more hamburgers for Talley. Well to be fair, Friday was steaks and bratwursts, but still you get the idea - I'm stuffed full of Swiss Fleisch (it bothers me a bit that the word for meat sounds so much like flesh.) So yes we ate a lot of meat, and a lot of potato chips and oh yeah, a heck of a lot of desserts. The picnics should be broken down by what I brought for dessert; Saturday cobbler, Sunday berry cake, Monday berry pie. The underlying theme/ingredient was definitely blueberries. I can't decide which was the best one, either the pie or the cobbler. I should have known the cake wasn't going to be that good when the recipe only called for 1/4 cup of butter. I mean what was I thinking? The pie crust alone has an entire cup. Butter makes things better, even the bit of homesickness we felt being in Zürich for the 4th of July.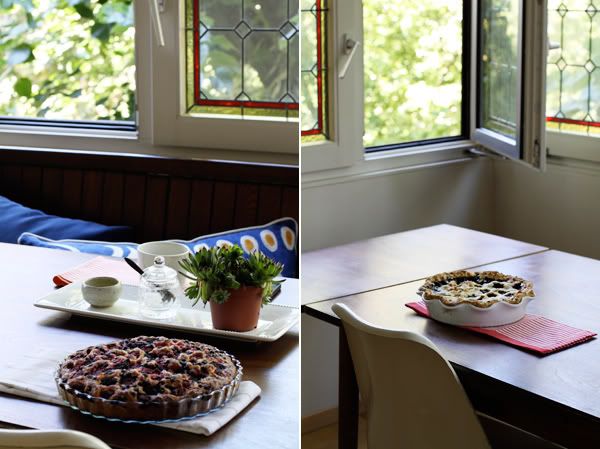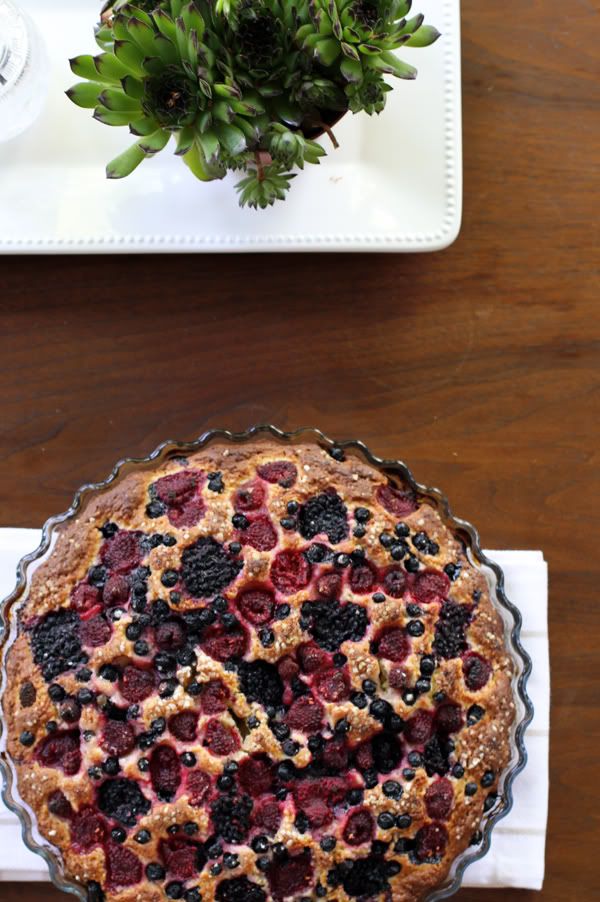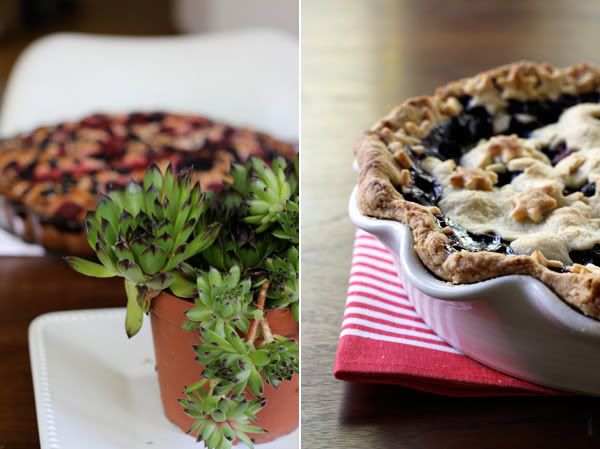 Can you tell which one I like better? Elaine and Chris, if you are reading this then I apologize for bringing the 'eh' dessert to your party. If I had known I would have baked a heart-spangled pie for your engagement celebration. The cake was just off. I don't know what else to say, it was the wrong consistency, not moist enough and the coarse salt that the recipe called to be sprinkled on top did all the wrong things for the flavor in my mind. I like the idea of a buttermilk berry cake, but I need to find a better recipe for the cake. Since it was only 'eh' I won't leave you with the recipe, but if you have a better cake recipe that you are willing to share I'd be most appreciative.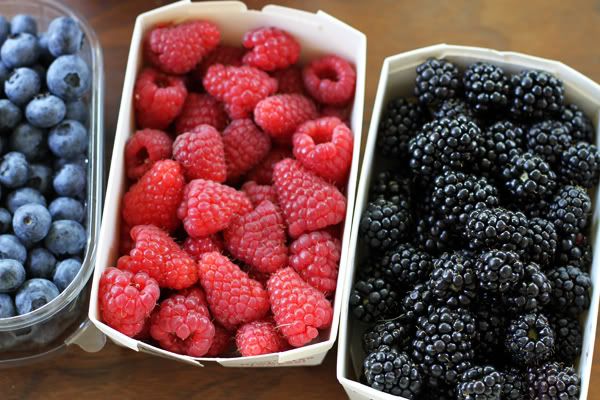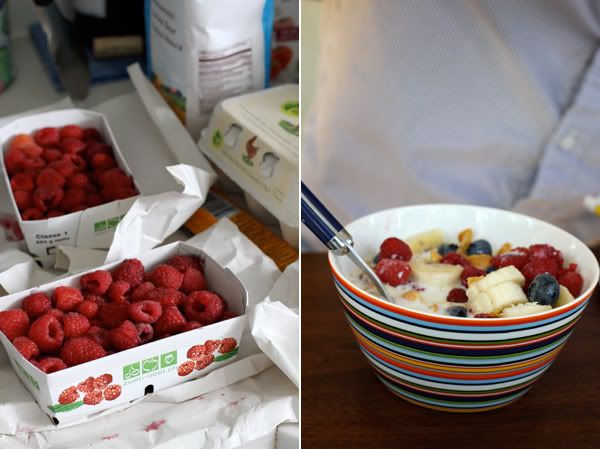 I'm not sure how Zach feels about me snapping photos of his breakfast, but I couldn't help myself when he came to the table with a red-white-blue themed bowl of cornflakes.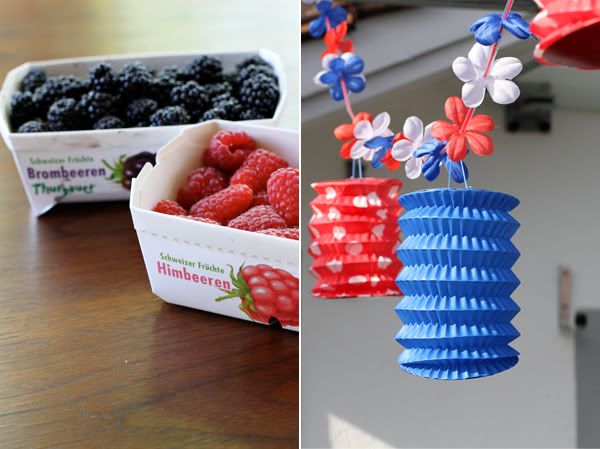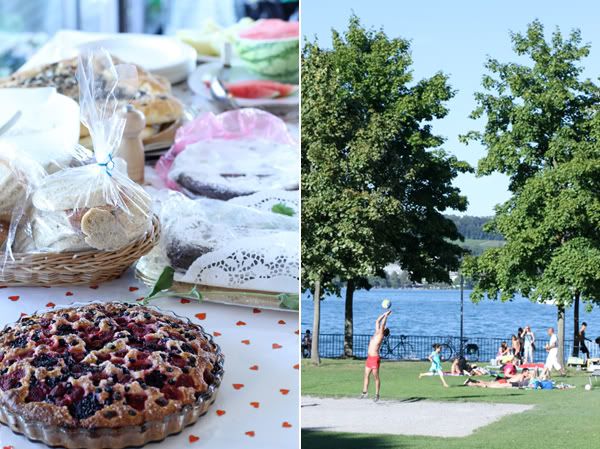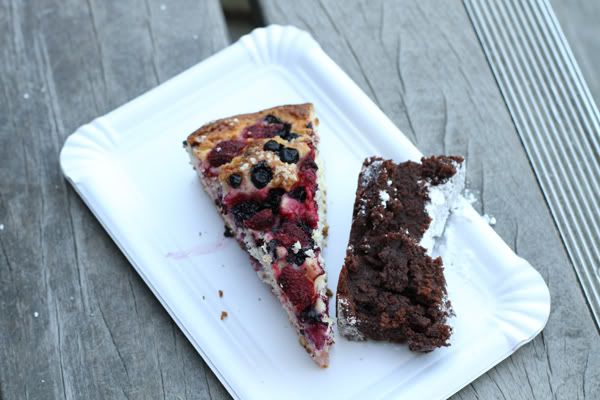 chocolate.cake.so.damn.good. I'm not sure I can even call it cake, it was more like brownie dough. Incredible, edible, gone in a few seconds. The cake...well the cake lingered a bit longer. At least it's pretty, it has that going for it.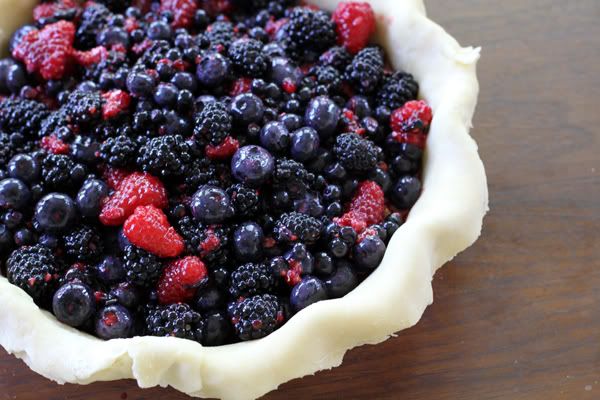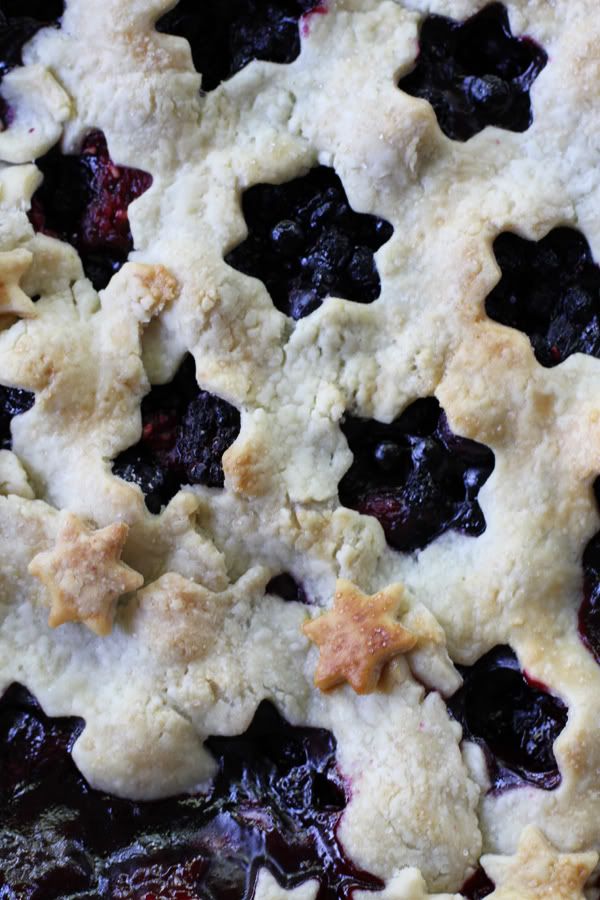 And then there was the pie. I adapted the recipe from the

cherry pie

that I made last month, replacing berries for cherries and adding a bit more cornstarch. It was delicious and this time we remembered the ice cream! Unfortunately they didn't have a 5-pointed star cookie-cutter at the store so I had to go with the 6-pointed, but it gets the idea across, and now I'll have Hanukkah ready cookie-cutters.
- 2 1/2 cups all purpose flour
- 5 tablespoons ice water
- 1 beaten egg to adhere cutouts to crust
- 7 1/2 cups of mixed berries. I used blueberries, blackberries and raspberries roughly in equal parts
- 3/4 cup sugar (adjust according to sweetness of your berries, mine were very ripe and sweet)
- 1/4 cup fresh lemon juice
preheat oven to 425F (218)
for crust: whisk flour, sugar and salt in a large bowl. Add butter and rub with your fingers until integrated to the point that nothing is larger than a pea sized clump. Add the 5 tablespoons of ice water and mix with a fork until the dough holds together when pressed between fingers. Gather dough together, divide into two balls and flatten to disks then place in plastic wrap and into the fridge for at least 30 minutes.
for filling: mix berries, sugar, cornstarch, salt and lemon juice in a large bowl.
Roll out one of the dough balls on a well floured surface with a well floured rolling pin. Roll until it is roughly 12" in diameter. Place the dough into your 9" pie dish and trim the edges so that the dough only overhangs by 1/2." Pour your berry mixture into the dough lined pie dish, mounding slightly in the center. Dot the berries with butter (about 1 tablespoon.)
For the second ball of dough make sure the surface is floured super well otherwise it will be impossible to get the cutout dough off (my pie is witness to that difficulty) Roll out the second ball so that it is just larger than the dish. This is where it gets tricky. You want the dough to be thicker rather than thinner since that will make it easier to lift as one piece once you have your stars cut out. So cut your stars out, saving the cutouts, and once complete lift the dough onto the berries. Fold the bottom dough over the top dough and press with fingers. Beat your egg into a small dish. With a knife spread a bit of egg on the back of your cutouts and adhere to the edge, or wherever you like. Brush milk over crust, not edges, and then place in the oven.
I recommend placing your pie on a baking sheet in case it gurgles juice. Bake at 425 for 15 minute and then lower the heat to 325 and bake until the filling is bubbling and the crust is gold brown, about another 50 - 60 minutes. Remove and let cool. Serve with vanilla ice cream!
A juicy hamburger, topped with cheddar and smothered in ketchup - ahhh 4th of July! Burgers were a highlight of both picnics this weekend, but the mini burgers were definitely the better burger. I mean just look at them, so precious, and I should mention delicious. I'm mad at myself that I didn't get a picture of their partner in crime - the pig in a blanket. The mini burger made their appearance at our friends Jas and G's festive 4th of July party last night. They are incredible hosts, always easy breezy, and they have the best terrace in town with a fabulous view.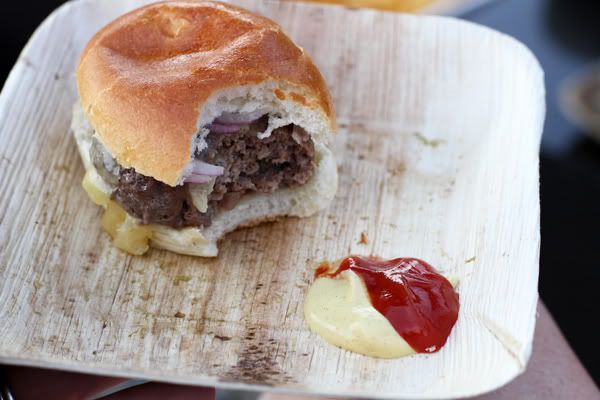 I never thought I would mix ketchup and mustard. I blame it on my bratwurst addiction, where the mustard is too spicy so I cool it down with ketchup. I guess the mixture has ventured beyond the stick of meat and onto the patty of meat.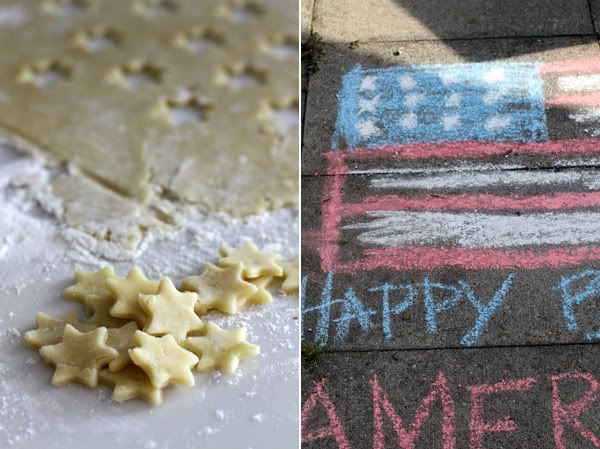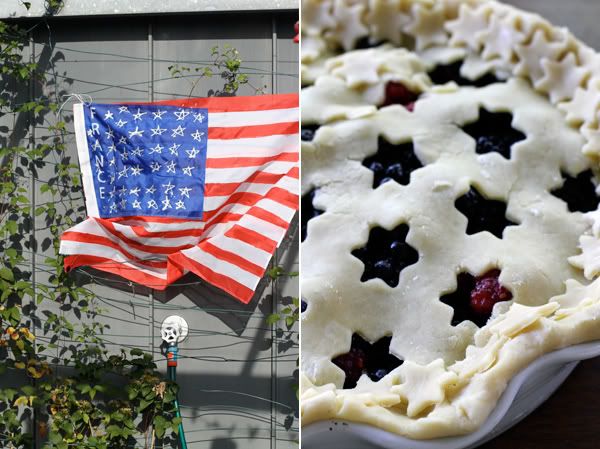 A note about the American flag. Jas is American, a homegrown Texas gal, and G is French (G stands for Gregoire) and this flag was originally the French flag. But Jas, unable to find an American flag in CH and at a loss decided to slice and dice the French flag and turn it into a make-shift American flag, hence 'France' written next to the stars.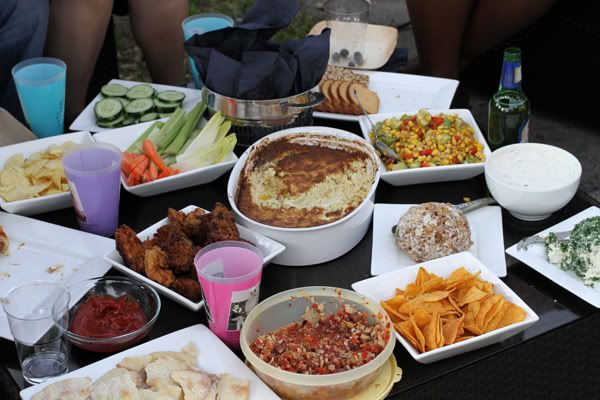 That's the view. And even more impressive, the enormous spread. Jas really outdid herself and made fried chicken, spinach artichoke dip, various cheese balls, buttermilk dip and of course the mini hamburgers and pigs in a blanket. I felt like I was eating America...mmm good.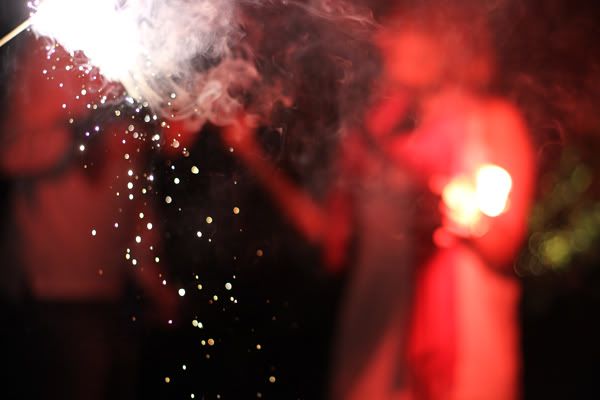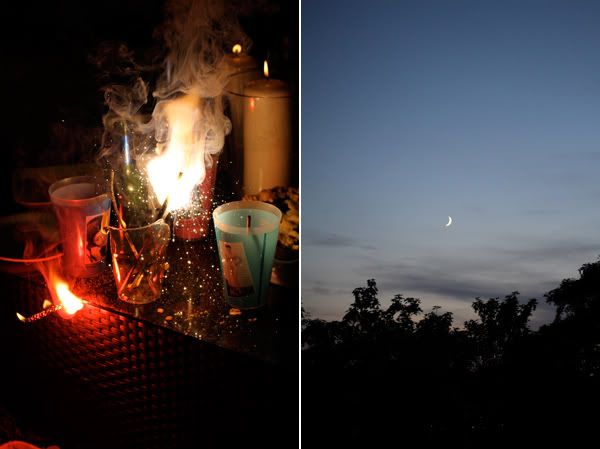 Sparklers make everything festive. And so do star-spangled pies! I hope you had a star-spangled weekend and ate your fill of corn on the cob and hot dogs.
I can't believe I'm writing this...again....but I'm heading to the states tomorrow. I'm officially a gypsy. Give me a violin and I'll play you a sad song. Okay, really it's not that sad, but I am beginning to feel a bit feed-up with this whole unsettled feeling. I have to go home to apply for my visa, which shouldn't be a big deal, but then again dealing with any paper-shuffling bureaucratic issue is bound to be head-ache inducing. Good thing I have just the cure for that headache - a weekend with some of my girl friends in Martha's Vineyard. Ocean...here I come!!