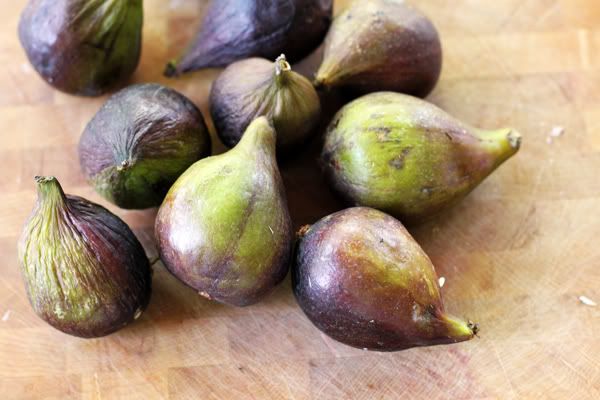 Have you ever bought a fig? Not a dried one or one wrapped in a Newton, but a juicy, plump one? Yeah, I hadn't either, hadn't even considered it until last week when I was at the farmer's market buying peaches for the
cobble
r
and came across a little plastic container full of figs. I had to have them. After all they were less than half the price of most other vendors. Those purple-green, teardrop shaped fruits desperately needed a home, but what on earth was I going to do with them?
Let's see...first I considered a honey-fig tart, but after all of those
pies and cakes
last week for the 4th of July I couldn't really justify it. I needed to try something new and unexpected. I thought about wrapping them in prosciutto and grilling them, but we don't have a grill quite yet. I also thought about stuffing them with goat cheese and baking them in sea of honey. That sounded good, but something was missing. I realized, perhaps in thinking about the Newton part of a Fig Newton, that what was missing was bread. Bread cures most things it seems.
I really wanted to layer the figs and bread with other delicious ingredients, including goat cheese, caramelized onions, honey, a bit of jam and some parmesan cheese, and a pizza was the perfect answer. Still there was something missing. I don't know how I thought of it, perhaps through association figs make me think of fig leaves which in turn make me think of modesty and mostly nude statues, but I realized that the pizza needed a topping of leafy arugula. After all, we don't want those figs just sitting there, unadorned and naked for the world to see! The result was a delicious sweet and savory pizza, perfect for a summer evening.
Before I dive into that sea of honey and it's accompanying summer evening I wanted to note that this is the second installment of Recipe of the Week on
My Girlfriend's Guide to Zürich
. I'm excited to be teaming up with Deja and Angelica and their every growing, activity-filled, site.
Two pizza posts, back to back - a bookend to a wonderful weekend on Martha's Vineyard.! I'd love to say that this pizza is as delectable as the Grimaldi's pies that we scarfed down on Thursday, but I have to admit that even the hausfrau could never imagine making a pie that good. There are some things we just need to let go of, and besides I'm happy with my sweet-savory, healthy, at home pizza. I'll leave the expected to Grimaldi's and I'll take over the eccentric pies and toppings.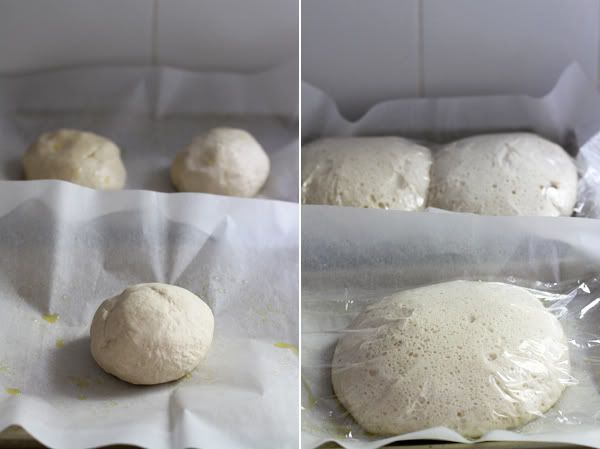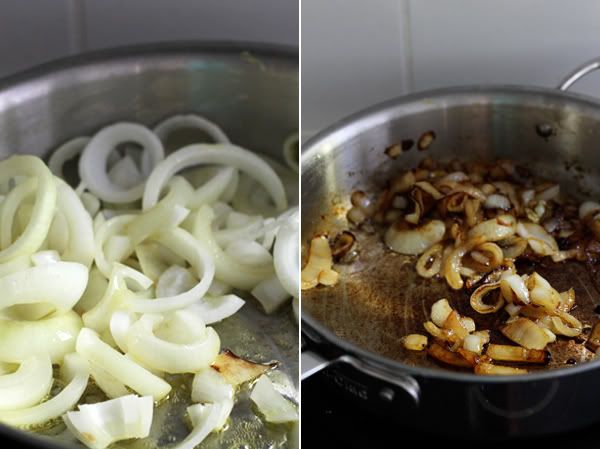 Making your own pizza dough has to be one of the easier and more satisfying kitchen feats. I think yeast tends to scare people off, but if you follow the directions and have bubbles then you are good to go. The dough also freezes really well so there is no pressure to use all four doughs in one sitting.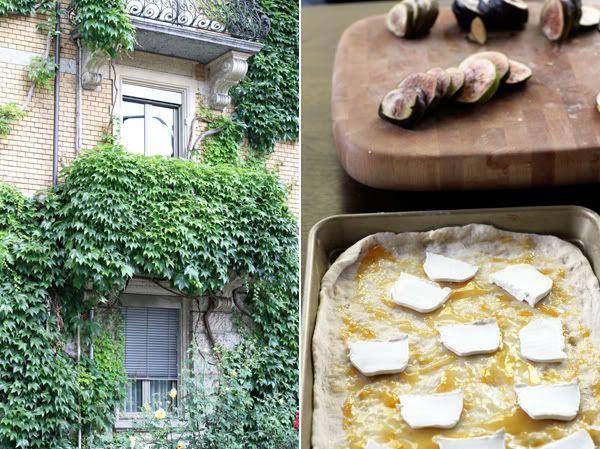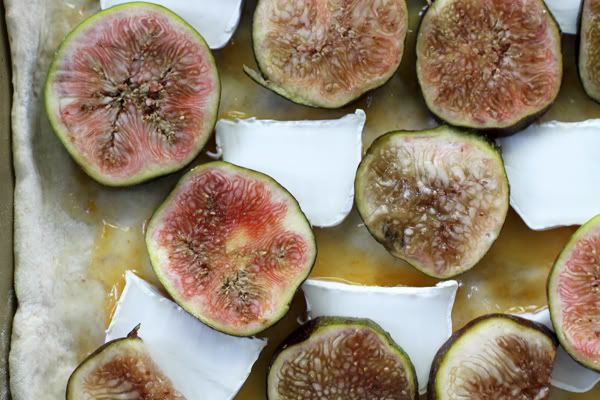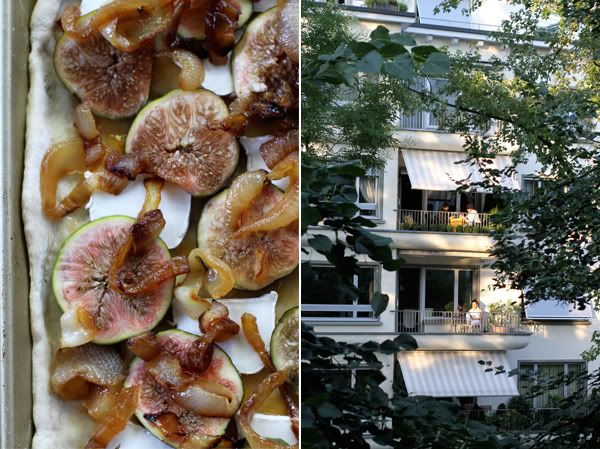 I love when we are sitting at our table and we can see our neighbors across the street sitting and eating on their terraces. It's as though we've devised a new type of dinner party, one held among strangers, where you don't actually sit next to each other or talk, but are just there.
I used goat cheese on this pizza because it just felt right, but I really do think any cheese would work. Zach and I aren't stinky cheese fans, but I bet a blue cheese or gorgonzola would be good. A basic mozzarella with some shaved parmesan would also be wonderfully simple and delicious.
Dough recipe - enough for four 10" pizzas
- 1/4 cup whole wheat flour
- 3 1/2 cups all purpose flour
- 2 teaspoons kosher salt
- 1 2/3 cup lukewarm water
- 2 teaspoons of active dry yeast
- 2 teaspoons of olive oil.
Fig-caramelized pizza toppings
- 4-5 figs, sliced into 1/4"discs
- 6 tablespoons of olive oil
- 3 tablespoons of apricot or fig jam (not a must)
- goat cheese or cheese of choice
- shaved parmesan - to taste.
Start making the dough 2 hours before you want to make your pizza. Mix the flours and salt together in the bowl of a standing mixer. In a smaller bowl add the lukewarm water, yeast and sugar and allow to sit for about 5 minutes or until little bubbles start to form on the top of the liquid. Once the bubbles/foam has formed, add the olive oil to the yeast-water mixture and stir. Fit your mixer with a dough hook (or mix by hand) turn on to low and slowly add the yeast mixture to the flour. Knead until the dough is firm and smooth and easily releases from the bottom of the bowl as it mixes. Divide the dough into 4 balls and lightly rub them with olive oil before placing them on a sheet of parchment paper. Cover them with saran wrap and let them sit for about 2 hours or until they have roughly doubled in size. After the rise, place the dough you won't be using the same day in a plastic bag and into the freezer, where it will keep until the next time you want to make pizza.
When the dough still has about 30 minutes to rise you can start on the caramelized onions. Cut 5-6 medium onions into fairly large rings. The onions will shrink immensely and burn if they are too small so be sure to err on the larger side. Add about 1 tablespoon of oil per onion to a hot skillet. Add 1 tablespoon of butter (in total, not for each onion) and the onions and cook over medium-low heat until the onions have softened, turned light brown and caramelized, about 20-30 minutes. To prevent burning, stir occasionally and cover the skillet half way with a top. Remove the onions from the pan and set aside in a small dish.
When you are ready to make the pizza, grab one of the dough balls, lightly flour your work surface and begin to stretch the dough out with your fingers. Once the dough has flattened you can use your rolling pin to roll it out until it's very thin - about 10" in diameter.
Preheat the oven to 500F (260C). Place the rolled out dough on a greased baking sheet. Begin to top the pizza by spreading the honey and jam onto the dough. Follow the honey with the goat cheese and then the sliced figs. A lot of pizza making is about personal taste, so go with amounts that you think look good. After the figs add your caramelized onions. Place the baking sheet in the heated oven, keeping an eye on it. It should be ready after about 10-13 minutes, or when the crust has lightly browned. Remove from the oven, top with the arugula and shaved parmesan and sprinkle with salt and pepper. Cut and serve!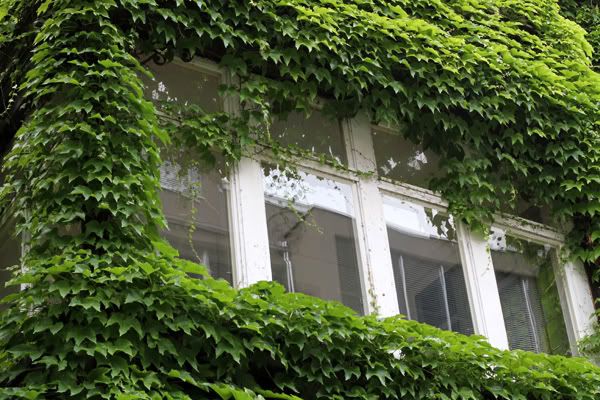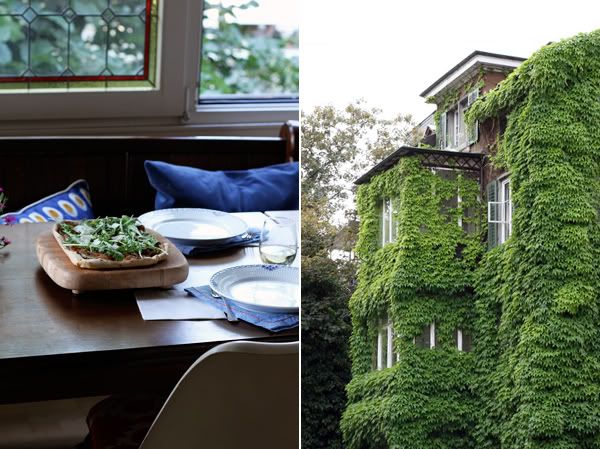 Don't you love these house that are covered in ivy? I thought these photos, long awaiting a blog debut, were the perfect pairing for this fig pizza that I topped with arugula.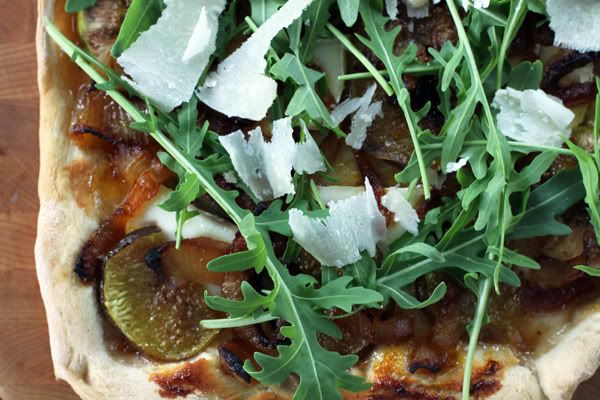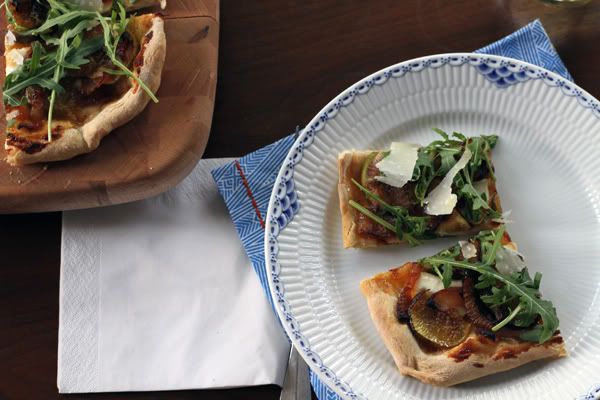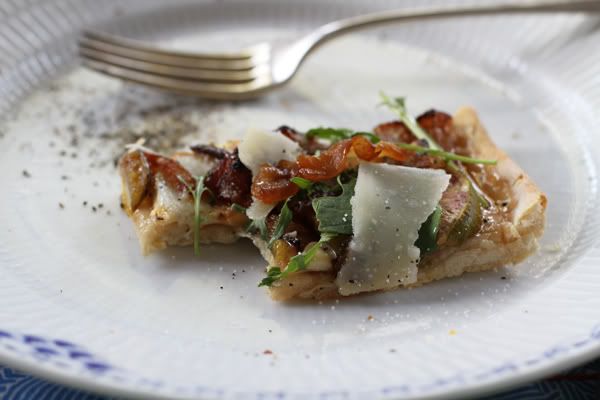 The arugula and parmesan turn a sweet pizza into a sweet AND savory pizza. Mmmm.
Wow' it's hard to write about these meals when I haven't even had breakfast yet. Now I want to make a breakfast pizza. Just imagine it...eggs and sausage and cheddar cheese! And I think I'd add caramelized onions to that. If only I was in Zürich I'd whip out one of those dough balls from the freezer and make it.
I had a wonderful and restorative weekend on Martha's Vineyard with some of my dearest friends. We've decided that next time we need to go for a week because two nights and one full day is just simply not enough time. OKay off to look at pictures from the weekend over a sad bowl of yogurt and fruit. Hmph.