I'm a traitor. I might never be allowed back in New Haven. Ever. For the last ten years, since I started my freshman year at Yale, the debate has always been Pepe's or Sally's. If you aren't a New Havenite or from New England then you might not know that this is a question, a serious one, about pizza. One of New Haven's claims to fame, aside from being the forth most dangerous city in the US (eek), is that pizza was invented there, right down in Wooster Square. Before Zach and I moved to Zürich we lived at 23 Court Street, right next to Wooster Square Park and right around the corner from both Pepe's and Sally's, which are only a block away from each other on Wooster Street. I think we got take out pizza, veggie special, from Pepe's at least twice a week, and probably three or four times in the summer. In truth, neither of us have been to Sally's. We picked our allegiance early and stuck with it. In my mind Pepe's is the best pizza on the planet. Or at least that is how I felt until last night, when I ate Grimaldi's pizza. It was not only the best pizza I've ever had, but probably the best thing I have ever eaten. I think it was all in the dough...or it could have been the sliced instead of shredded mozzarella cheese. Either way, it was heaven.
I went to Grimaldi's with some family...well they aren't really family, but Pete's best friend since forever, Mac is virtually family and we like to joke that our mom and mac's mom talk to each other so much that they probably talk to each other in their sleep. It's Mac's birthday on Saturday so he planned a little bday excursion across the Brooklyn Bridge. I'd never walked across the bridge before to Grimaldi's, it was a great summer activity. There was a long line, but Mac bought some drinks and it gave us some time to work up at serious appetite. We ordered four large pizzas for seven people and we ate all of them. Every single last bite.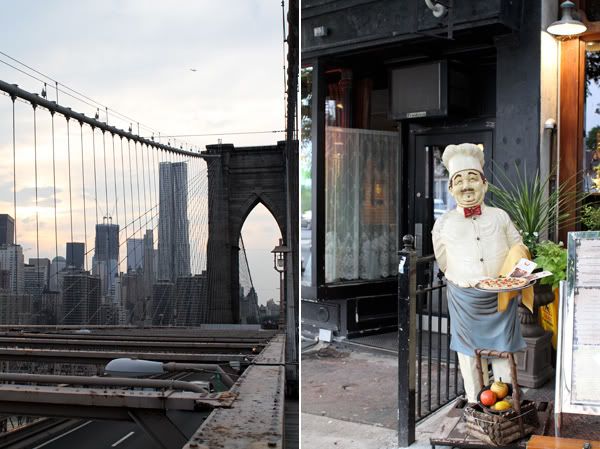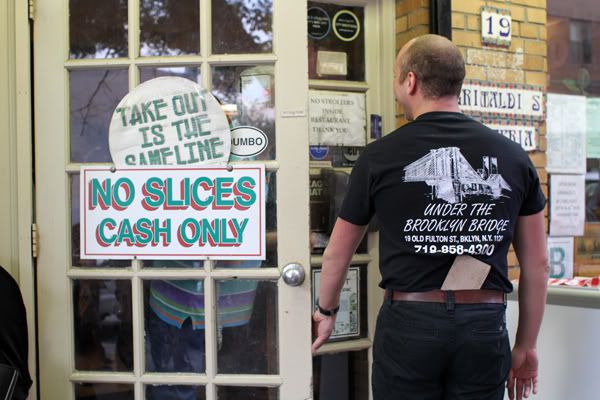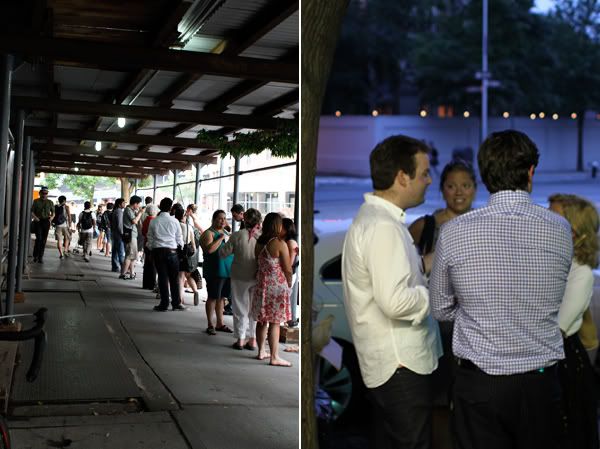 We probably waited in the line for about an hour, which wasn't so bad in my mind. I've waited in the Pepe's line for just as long. This is pete giving directions. It might not seem funny, unless you know Pete. Let me spell it out for you - upper east side Pete is giving directions in Brooklyn. He was very proud of himself. He dressed as hipster as he could, which meant he left his blue blazer and loafers at home, untucked his starched white button down, pulled on his dark jeans and wore sneakers. Perhaps there is a little hipster buried in him somewhere, deep deep down, but I don't think he'll be calling Brooklyn home anytime time soon. Oh Pete, too funny.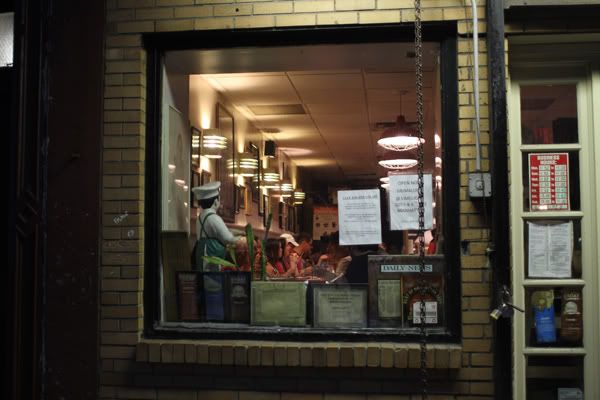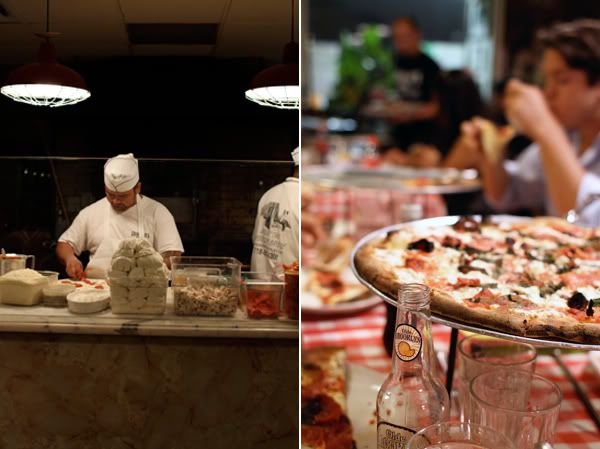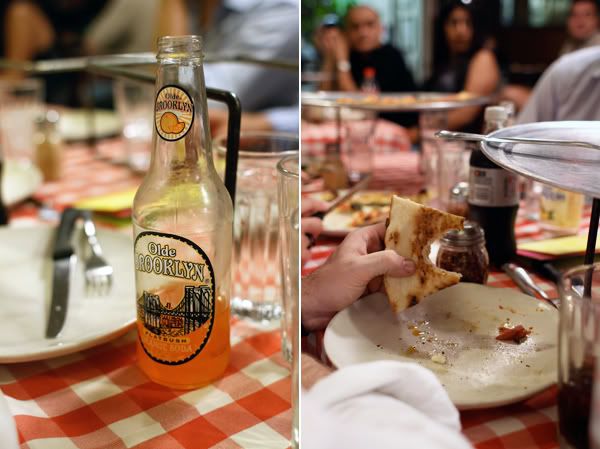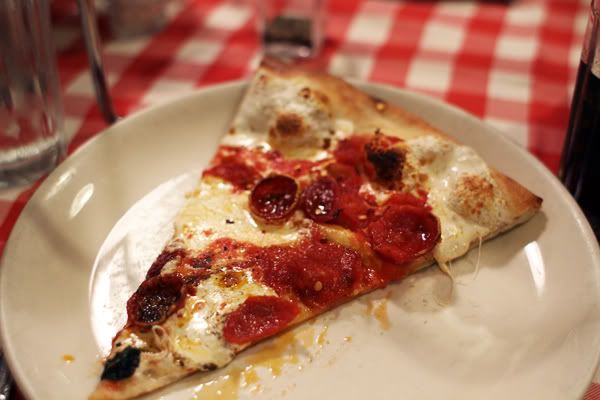 We ordered four pizzas: 1 pepperoni, 1 ricotta - sun dried tomatoes-basil, 1 meat lovers and 1 plain cheese. I could only manage two slices, but somehow all four pizzas disappeared. Pete did a quick calculation of how many pieces he had eaten and it came out to one whole pie. Oh dear. He had a couple 'moments' on the walk back over the Brooklyn Bridge. The pepperoni was my favorite. Delicious! So yes if you haven't tried Grimaldi's yet, go on a week night when the weather is nice so you won't mind waiting in the line. Happy Bday Mac!
Okay time to sign off and get my stuff together so I can head to Martha's Vineyard. I'm meeting my friend Kerry at the fast ferry in 45minutes. It's a funny name for a ferry that takes 5 hours. Yes, 5!!!! I packed trashy mags and barf bags- wish me luck. Happy weekend.