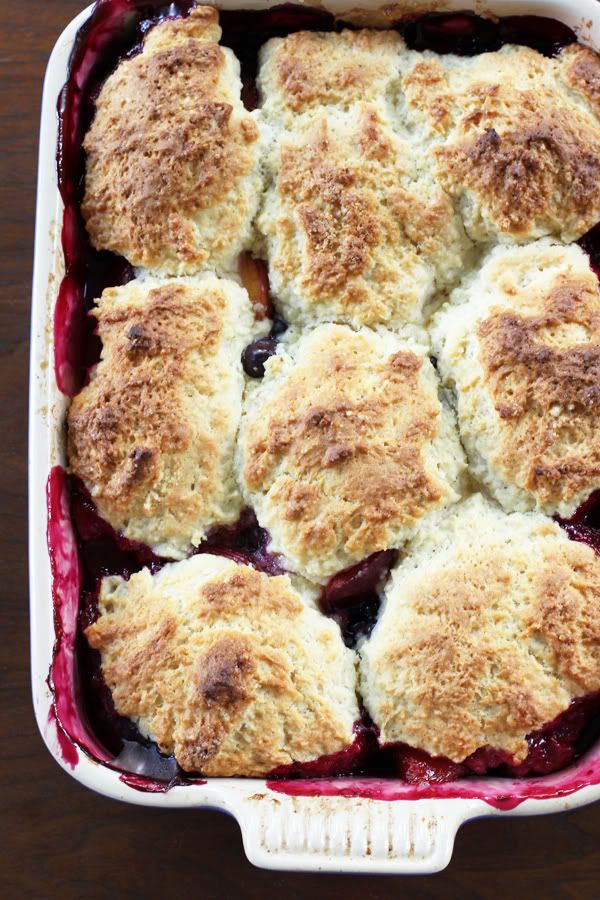 You know it's summer when there is peach juice dripping down your chin and onto your nice white jeans. But heck, those jeans have seen worse; like the dollop of ketchup that went swiftly from hamburger to pants or the grass stains from that intense game of lakeside badminton (btw badminton is waaay harder than it looks). So why not add a little blueberry stain to those pants and paint them patriotic in the spirit of July 4th. No summer evening picnic, especially a 4th of July picnic, is complete without a cobbler - an ooey gooey, blueberry bubbling, peach perfecting, buttery brown biscuit topped, cobbler. I dare you to find a more appropriate summer dessert. And did I mention the scoop of vanilla ice cream that goes on top and slowly melts into the hot fruit filling? No, I think I forgot that because I was too busy eating leftover ice cream out of the container with a spoon.
This is the perfect dessert to make this week as both the farmers markets and the super markets are laden with peaches, nectarines and blueberries. It's also very quick and easy to prepare, involving little prep time and utilizing ingredients you are likely to have on hand. I whipped it up, stuck it in the oven, put on my white jeans and by the time it was ready so was I, and off to Lake Luzern we went for a picnic by the lake. Zach's friend Andry and Andry's wife Andrea have a house in Beckenreid, right on the lake. It really couldn't have been a more idyllic spot for a Saturday afternoon picnic.
I also want to mention before diving into a sea of blueberries that this post is working double duty today. The cobbler is being featured as 'The Recipe of the Week' on '

My Girlfriend Guide to Zürich

' which is very fun and exciting. If you are a first time visitor to the Haus then welcome! And if you haven't been to My Girlfriend Guide (formerly American Girl in Zürich) then you should definitely check it out. Deja and Angelica are working away to make sure everyone is caught up on exciting Zürich happenings.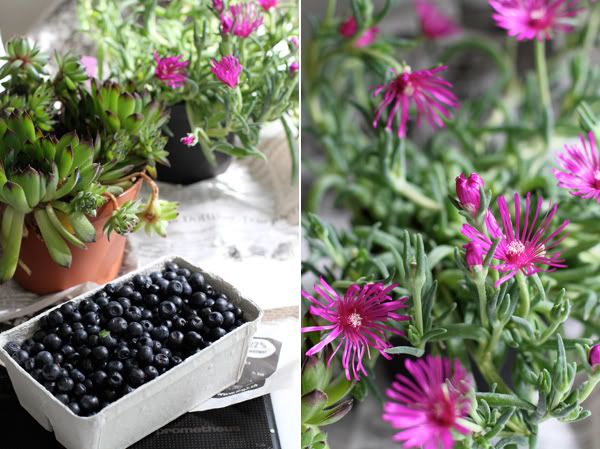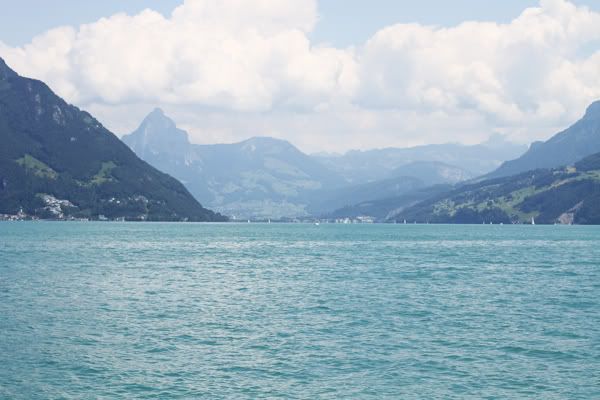 The View. Capitalized because I'm not sure there is any other view. Insane right? Especially considering that the lawn runs right down to the turquoise water. You could run out your door and straight into the lake every morning if you lived there. If you lived there...that's the goal. Upon seeing the house and the view I promptly told Zach that, please, thank you, I would like a lake house. Ooo and a boat. And yes a car would be good to, so that we can zip to the house whenever we please. Sigh, once again, Talley dreams...snap back to reality and back to that peach cobbler...
I went to the Bürkliplatz market on Friday morning, bright and early, or at least early enough to beat the 9am rush. I often forget about the market, too distracted by my morning cup of coffee to remember that only a few blocks away vendors are selling all sorts of fresh produce. It's definitely more expensive than the supermarket and I often suspect you are buying the same thing, but it's always fun to shop there, practice my non-existant German and do a bit of people watching.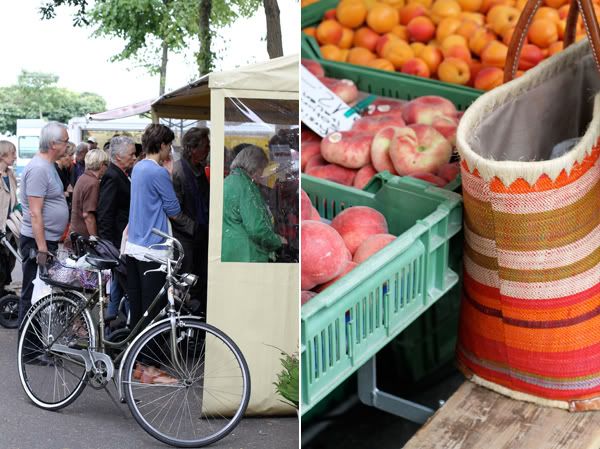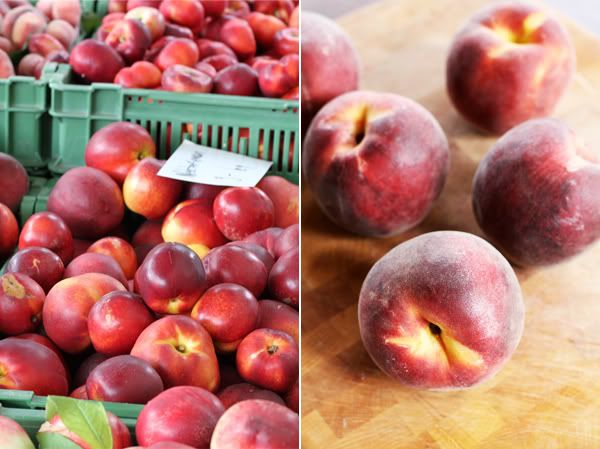 I was dead set on a nectarine-blueberry cobbler. But then I bought peaches. The nectarines were rock hard and since I wanted to make the cobbler the same day I had to find some riper fruit and that's where the peaches came in. I didn't realize when I bought them that they would have a bright red outer layer of flesh, but really it just made for a pretty picture as the taste is pretty much the same. What's really surprising is that although there are roughly 2lbs of peaches in the cobbler, the resulting taste is overwhelmingly blueberry. The peaches get left in the dust. They do help to add a bit of bulk to the dessert and every once and a while you get a great juicy peach bite and you remember that there are indeed peaches lost somewhere midst the oozing purply bluish bluberries.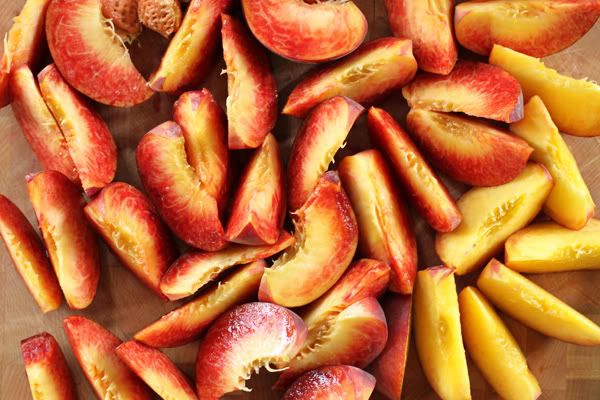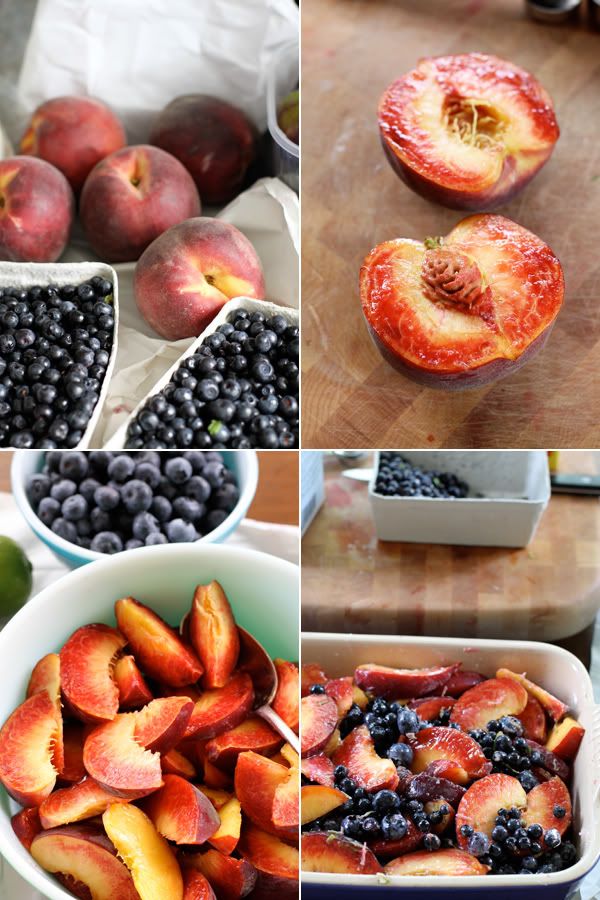 Recipe adapted from

alexandracooks.com
- 2 pounds peaches or nectarines
- 1 tablespoon cornstarch
- zest from 1 lime or lemon
- 1 tablespoon lime/lemon juice
- 2 teaspoons baking powder
- 1 stick cold butter (1/2 cup or 113g)
- 2 teaspoons coarse sugar
Preheat the oven to 375F (190C). While the oven is warming up slice your peaches into generous sections, roughly eight slices per peach. Mix the peaches in a bowl with the blueberries. In that same bowl add the sugar, cornstarch, lemon/lime zest, lemon/lime juice and salt. Stir until the fruit is evenly coated. Place that bowl aside.
In a large mixing bowl combine the flour, sugar, baking powder and salt. Once thoroughly whisked, add the butter. I use my hand to integrate the butter into the flour mixture, squeezing the butter between my fingers until there are no chunks of butter larger than a pea. In a measuring cup add the buttermilk and vanilla and whisk until incorporated. Slowly stir in the liquid into the flour mixture. The dough will be fairly sticky, but don't worry; the biscuits will end up fluffy, browned and absolutely delicious.
Place the fruit filling in your baking dish. I used an 8.5" x 10.5" dish. Dollop about eight balls of dough over the fruit. Sprinkle with coarse sugar and place in the oven for roughly 50 minutes. Begin to check on it after 40 minutes. When the filling is bubbling and the biscuits are lightly browned and toasted your dessert is done. Enjoy with vanilla ice cream!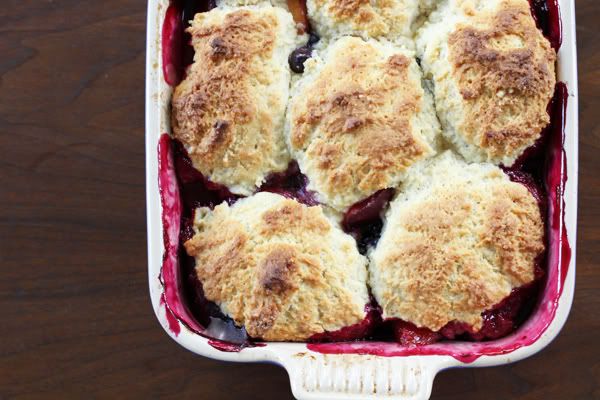 The German word of the weekend was schön. Schön means beautiful, and let me tell you everything was freaking schön this weekend; the steaks with seared grill marks, the prosecco, our new friends, the kräuter butter (herb butter) on bread, the kids running around with water-balloons and the view, oh that view! After eating and then waiting the mandatory twenty minutes Zach and I went swimming. Brrrrrrr, but refreshing. Sehr schön (very beautiful!).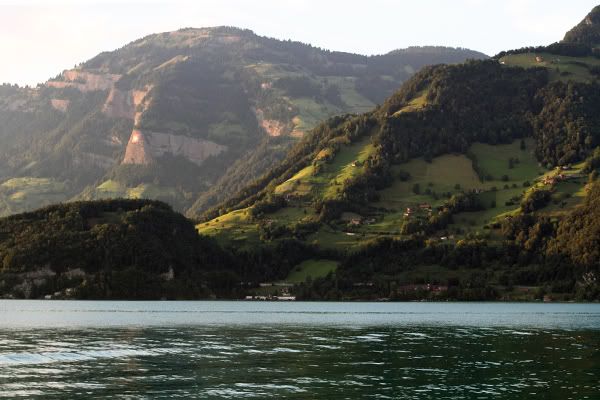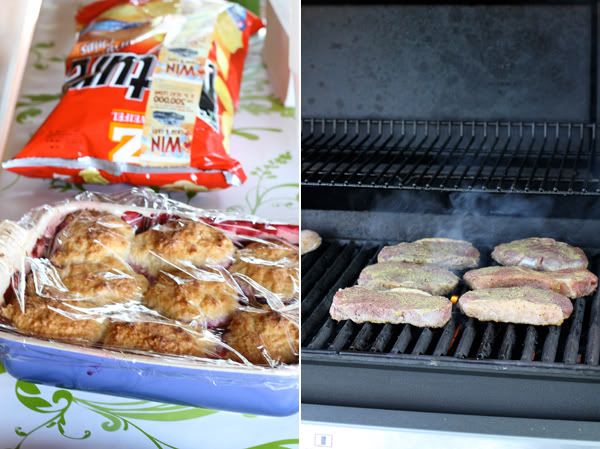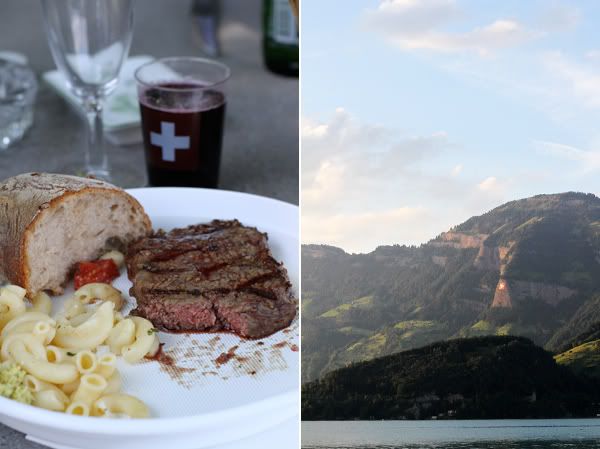 The cobbler was definitely a huge hit. Phew! You never know, especially since I couldn't really try it beforehand and offer it to our new friends with a big hunk taken out. I knew it smelled good and it certainly looked damn good so I'm glad it actually was good. I think someone actually referred to it as schön!! It was a bit precarious to transport on the tram then the train and then the car, but it held up well and thankfully Zach was keenly aware of making sure it was level at all times.
And finally...a picture of us! Much requested, but often hard to pull off. The camera seems to become an appendage and I often forget I can easily hand it to someone else so they can snap a picture of us. It's nice to have pictures of things besides food in my iphoto library!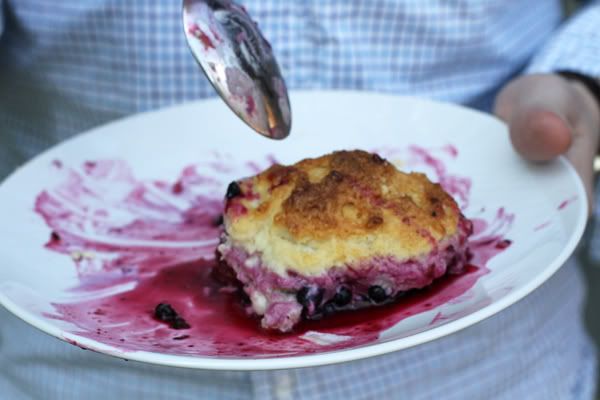 mmmm...buttermilk biscuit floating on a sea of blueberries. Unfortunately this time around we didn't get to add the ice cream because, well it wouldn't have faired very well on the hour long trip to Beckenreid. But it's a perfect reason to make it again soon, very very soon.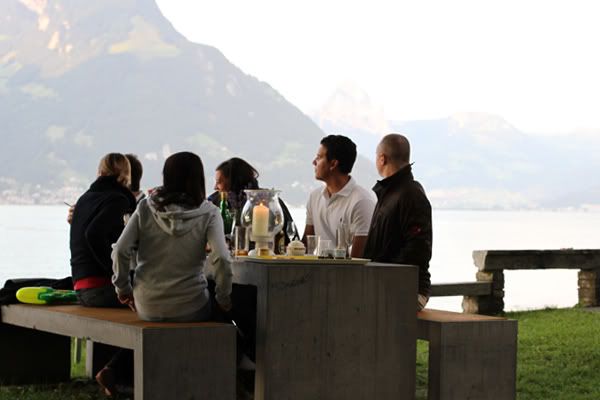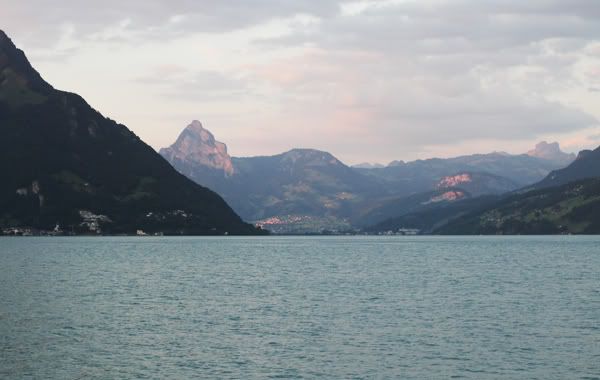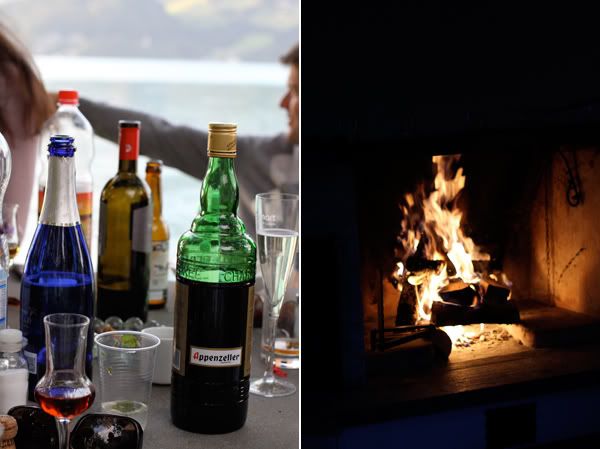 Pretty nice place to spend a day huh? We certainly thought so. Eventually the lakeside chill forced us inside with our Appenzeller. I'm guessing you're not familiar with Appenzeller, the drink not the cheese. I wasn't either until Saturday. It's made of 42 herbs (kräuter), you serve it over ice, and only two people know the secret recipe. Oh, and it's delicious and I definitely need to buy a bottle. Unfortunately I took a photo of the backside of the bottle, but the front side has a cool image of the mountains and even makes you think this stuff, and its herbs, might actually be good for you. Don't be fooled, it's potent.
Overall we had an absolutely amazing weekend and I hope you did too! If you're in the states it's still the weekend because today is the 4th!! Happy celebrating and would you please light a sparkler and eat a hamburger on the beach for me! oh the beach...I really miss the beach and the waves and even the seaweed that washes up on shore. Zach and I played a little game this weekend called 'What would we be doing if we were in Little Compton right now?' I think maple syrup was mentioned at least five times with jumping off the bluff a close second.
If you ventured over from

MyGirlfriendGuide

then I hope you enjoyed the recipe and accompanying pictures and that you'll be back again soon. If you ever need a friend to share a cobbler with just let me know. I'll bring the ice cream, and I just might even splurge on a 14franc pint of Haagen Dazs for you.