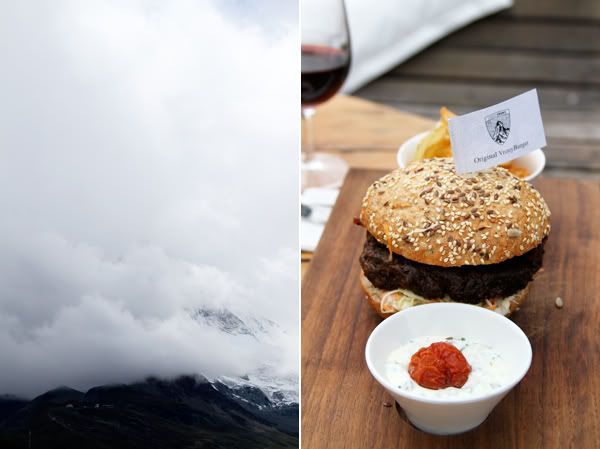 The Saturday we spent in Zermatt will be remembered for two things - the best burger I've ever eaten and one of the worst sunburns I've ever had. With every good comes a little bit of bad. When I develop premature wrinkles (convinced I already have them) I will remember Zermatt and that no-good-very-bad sunburn. Sure the wrinkles can be attributed to youthful days spent by the ocean, but my skin was young and eager to regenerate then. Now it's almost thirty, less eager to regroup and more content to just keep pushing on, letting those wrinkles and sun spots settle in for a nice life-long stay (until I zap them). Usually I can rely on Zach to remind me that you can still get burnt when it's cloudy and cold, but he fell for the change in temperature too. We are both red and toasty. It's ironic really, considering that I spent the last two weekends at the beach and the weekend I spend in the cloudy and cold mountains is the one that I get burnt. Go figure.
On to the burger. There almost aren't words to describe how amazing it was. Zach and I were both speechless, staring at each other with sheer delight and russian dressing dripping down our chins. It was the perfect burger. When we ordered it the waitress informed us that the cows live just down the road and eat grass on the hillside. Those were happy cows, I know because that meat was tender, juicy and just all around delicious and flavorful. The happy-cow-meat was paired with coleslaw, russian dressing, pickles and a perfectly toasted bun. In order to get the deliciousness/perfection across I think I'll call it the God of the In n' Out animal style burger. It had a lot of the same characteristics, but just way better. Perhaps In n' Out should consider raising their cows a pastoral hillside, scattered with wooden huts.
It's virtually impossible to tell, but the picture on the left, next to the burger, is of the Matterhorn. It was enshrouded in clouds all day. Had the clouds rolled away we would have had a perfect view while eating our perfect burger. But like I said before, with some good comes some bad. I'm not sure I would have appreciated the burger as much as I did if the Matterhorn had been sitting in my lap. We imagined it to be there and continued on our merry way eating and drinking, eating and chatting. It should be noted that what also made the burger so good was that we had just completed a three hour hike on the Seeweg (lake walk) trail and lunch at Chez Vrony was a much deserved treat!
The issue of deserved treat is what led me to make potato gnocchi for lunch today. I spent a good portion of Saturday and Sunday's hikes thinking about potato in some form - mostly in the form of rösti (hashbrowns), but there were some delicious gnocchi on the side of my lamb knuckle at Chez Vrony....there just weren't enough of them.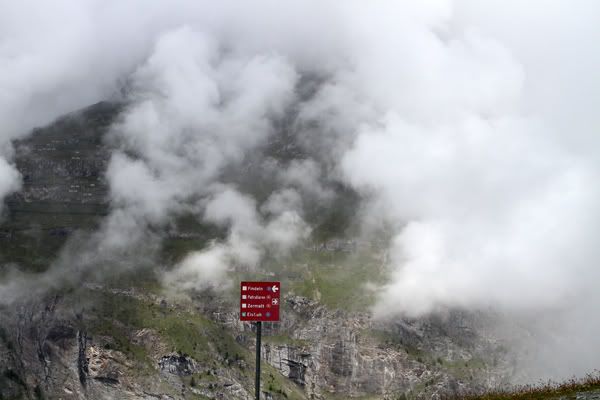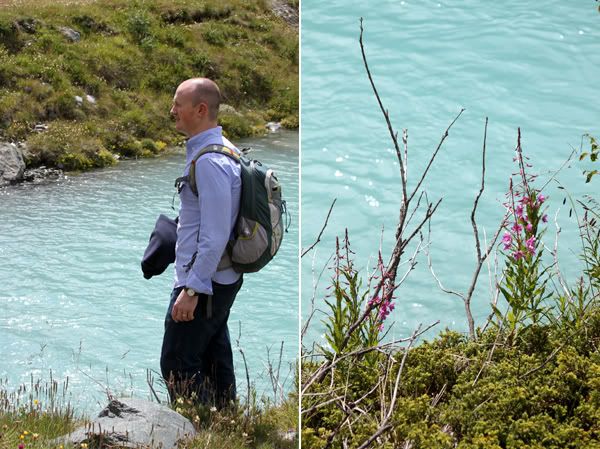 The lakes were really more like ponds, but they were all different colors - from milky turquoise, to green and black.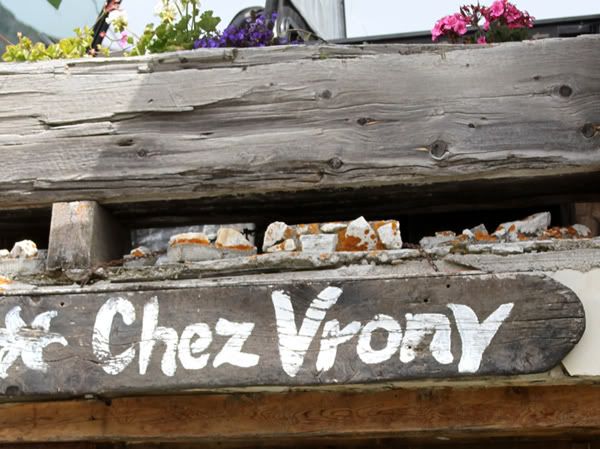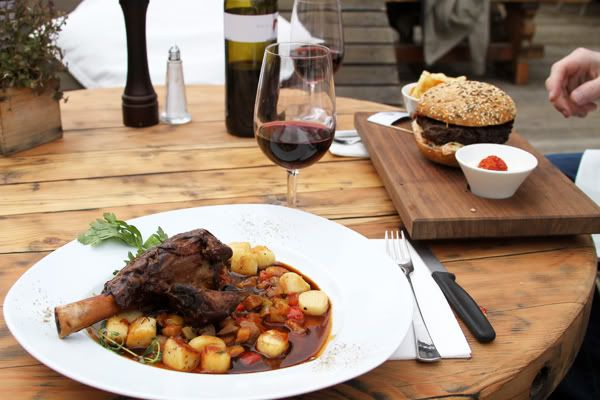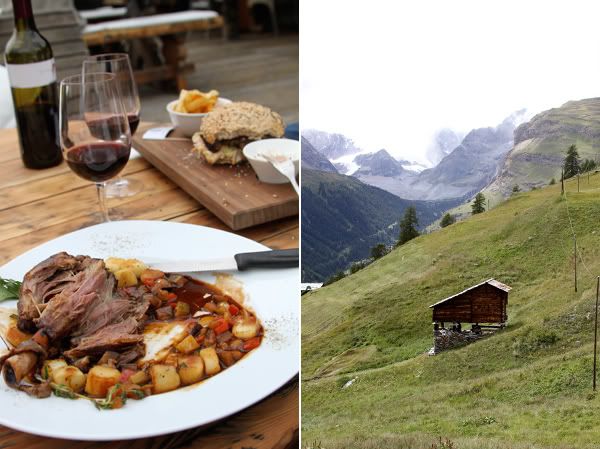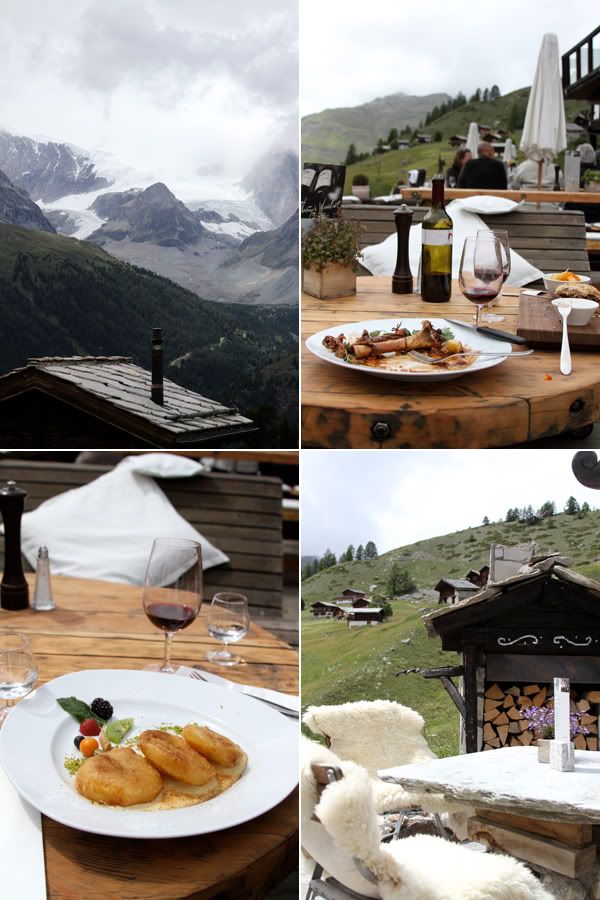 Although I had serious order envy for Zach's burger, my lamb knuckle proved to be a well-fitten post hike meal. It was rich and savory and full of deep flavors that reminded me of a cabin in the middle of winter. For those of you enduring the oppressive heat on the East Coast perhaps it might help to pump up the AC and make a savory dish...or perhaps not and just stick with the popsicles on the front porch. The jump from 100 degree heat in Connecticut to 50 degree chills in Switzerland was welcomed, but still a bit unsettling. I didn't realize I had moved to a place where a two week summer streak of 50 and rainy was possible. I hope Zürich gets rid of this cold snap before I come back in August (as I write this the sun is coming out - perhaps I'm having ESP with mother nature).
So speaking of that cabin in the middle of winter, take a look at these pictures that I snapped of the inside of

Chez Vrony

. The low ceilings and plaid pillows would be incredibly inviting after a morning on the slopes in February. Should I make a reservation now? Had I known how cute the inside was I would have suggested we eat there and avoid any more time in the sun.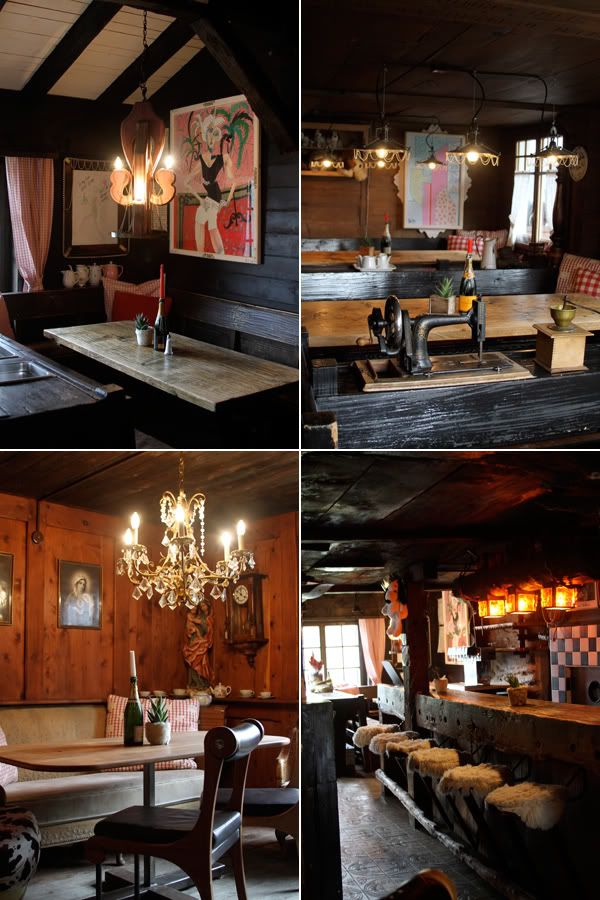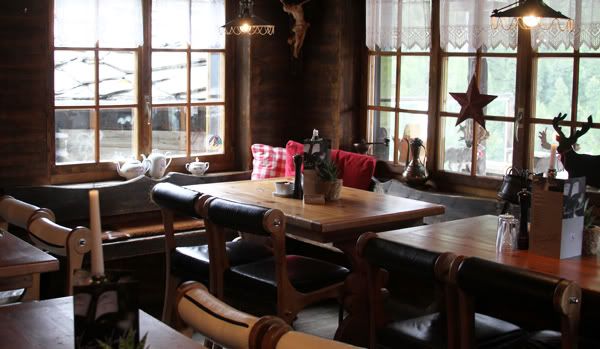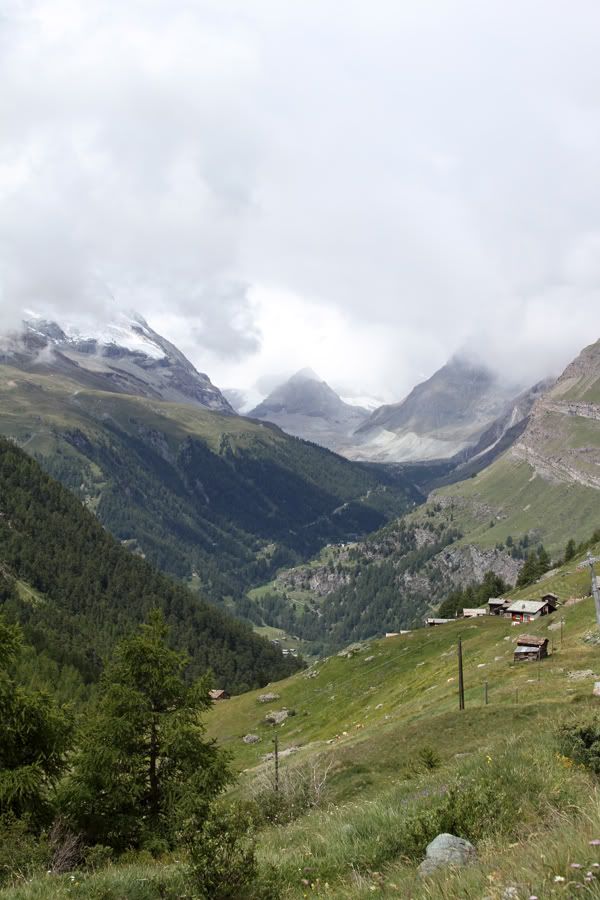 You can just glimpse the base of the Matterhorn on the left. Consider this post a teaser for tomorrows post, where there will be Matterhorn-a-plenty. Perhaps even too much.
I've tried potato gnocchi once before, a long time ago, and I remember it being a failure. I'll call today's attempt a partial failure. The gnocchi were pillowy and light and delicious, but I just couldn't put my finger on what to pair them with and ended up totally screwing things up. Initially I thought about the classic butter and sage, but then I thought a vegetable ragu sounded good, which it still does, but I just didn't get it right. So for today, just the potato gnocchi recipe.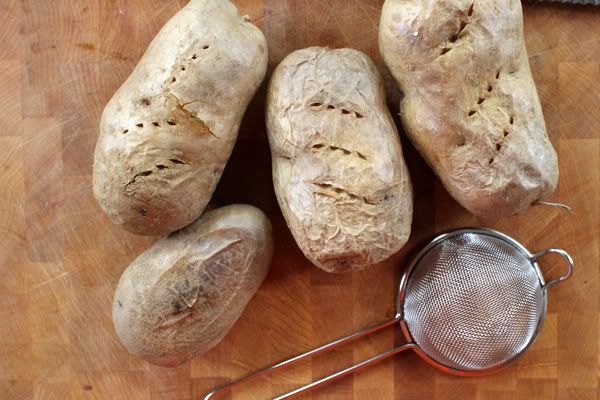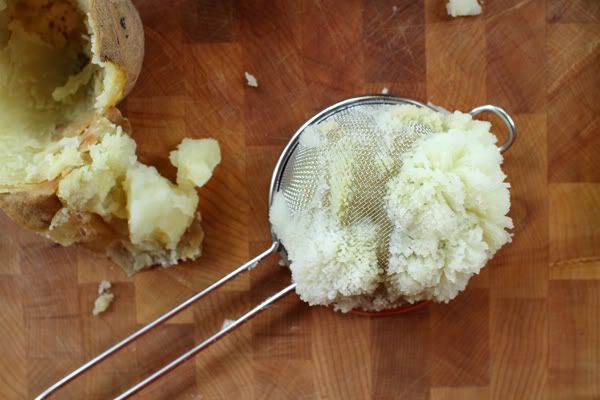 I don't have a potato ricer, so pushing the potatoes through the strainer was the most time consuming part of this recipe, aside from waiting for the potatoes to bake.
they say this serves 6-8, but consider I ate 1/4 of the recipe for lunch, I highly doubt that. Double the recipe if you want to serve 6-8.
- 1 1/2 lbs russet potatoes
- 3/4 cup flour (recipe calls for 1 cup but I found I didn't need that much - adjust as needed)
- 1 large egg yolk, beaten
Preheat the oven to 400F. Pierce the potatoes with a fork in several places before putting them on the baking sheet. Bake for about 1 hour or until they are soft. Soak them in an ice bath to cool them down and make them easier to work with. Cut them in half and scoop out the flesh into a ricer or strainer. Push the flesh through the strainer and on to a rimmed baking sheet. Allow the mash to cool to room temperature.
In a large bowl mix the potato and flour with a fork. Once combined make a well in the mixture and pour in the egg and salt. Mix with a fork until egg is evenly distributed. On a lightly floured work surface kneed the dough a couple times, just until it comes together. Form into a disc and cut into four even pieces. Roll each piece into a 3/4 rope and slice the rope into 3/4 pieces. Place the pieces on a parchment lined baking sheet until ready to cook.
Cook the gnocchi in a large pot of salted boiling water. Work in batches so that the gnocchi don't stick to each other. Cook them for just 2-3 minutes. Remove from the water with a slotted spoon and place back on the parchment paper.
Heat 1 tablespoon of butter and 1 tablespoon of olive oil in a cast iron skillet over medium-low heat. Place the gnocchis in the pan and lightly brown them on each side.
For a simple sauce, toss with parmesan cheese, a bit of olive oil and some red pepper flakes.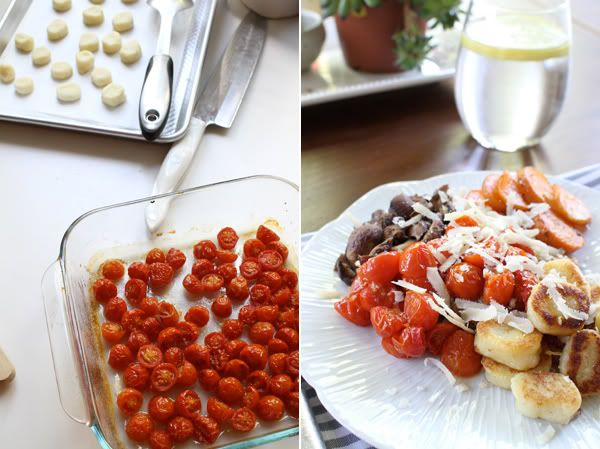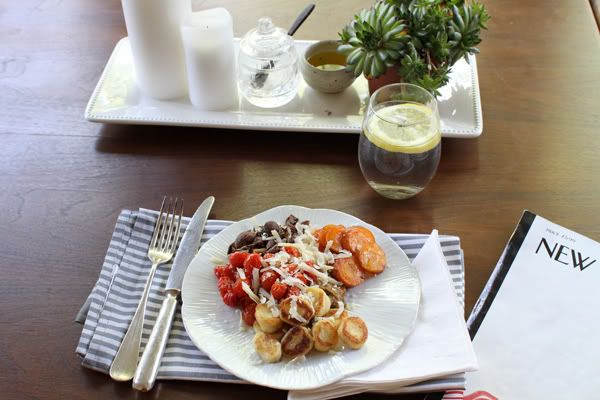 I ate all the gnocchi off of this plate and left all of the vegetables. Perhaps I should have gone with the simple butter and cheese sauce. I had the best intentions for the roasted veggies, but they just didn't seem to come together as I imagined it all, late last night, in my bathrobe eating scrambled eggs and toast after midnight (still not over jet-lag).
It appears the sun has come out and that it is out to stay. The crisp fall breeze is still around, but I think I'll head out for a quick walk before dinner. Off to put on lots of sun screen, like an entire tube.