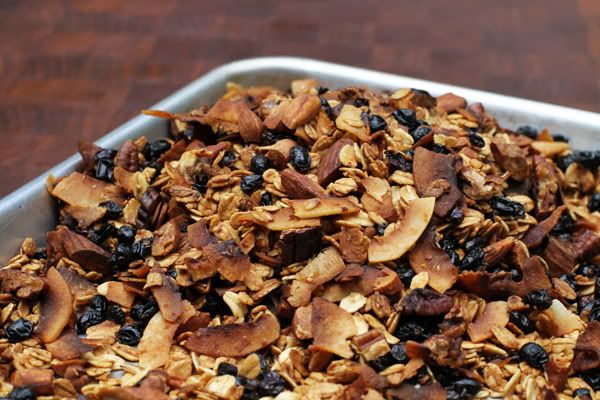 Girls love granola. I think we must have a granola gene that turns on right around the time the comfort food gene turns on. There is something so satisfying about a bowl of granola covered greek yogurt with some fresh berries and a scoop of peanut butter. It has to be good for you right? It's made from whole rolled oats and nuts, which means it should be an A++ on the healthy scale. But what about all of those lurking ingredients, like sugar and corn syrup? My mom must have five different types of granola in her pantry and the one defining feature of all of them is that they are loaded with sugar. I might as well eat a bag of gummy bears with a side of peanut m&m's for breakfast. It really is like eating candy, and perhaps that is why she likes it, but there has to be a better solution to the granola craving crunch. I decided to stick to my 'why buy it if you can bake it' motto and set out to find a recipe without so much sugar. There are a ton of granola recipes out there and I perused a few and combined a bunch and came up with one that I consider pretty guiltless. Yes there is some butter and sugar in the form of maple syrup, but after all it's granola not muesli.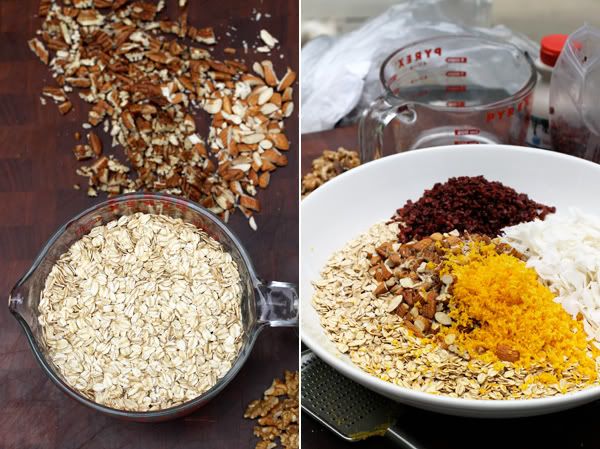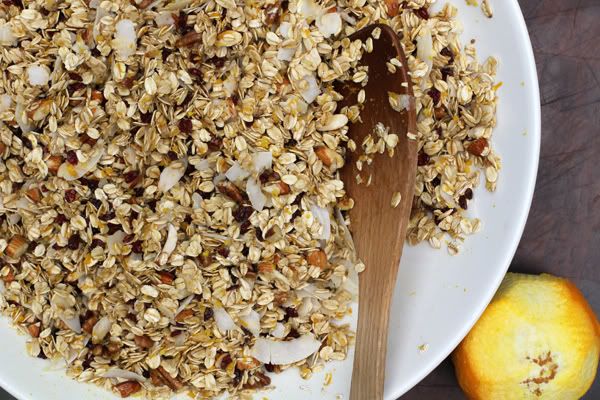 Granola is super easy to make and you can include any favorite ingredients that you want. It's almost like making a salad. Just throw in whatever ingredients you have on hand and you're good to go.
- 4 cups whole rolled oats
- 1/2 cup chopped almonds
- 3/4 cup dried fruit of choice, I used barberries. It was the only dried fruit I could find that didn't have added sugar. Chopped apricots would also be delicious
- 1 cup unsweetened coconut flakes
- 1/2 cup pure vermont maple syrup - the real stuff, not aunt jemima
Preheat your oven to 300F and position two racks in the oven.
Mix the oats, nuts, dried fruit, coconut and orange zest in a big bowl. In a small saucepan melt the butter and then add the maple syrup, whisking until combined. Poor the butter/syrup mixture over the oats and stir well, making sure that it is spread throughout the mixture. Poor the oat mixture onto the two baking sheets, spreading out in a thin layer until covering the sheets. Place in the oven for about 40-50 minutes, but stir occasionally and check to make sure it's not burning. You want the oats to be toasted, but not too brown. I over toasted one of my sheets by accident, but it still tastes good.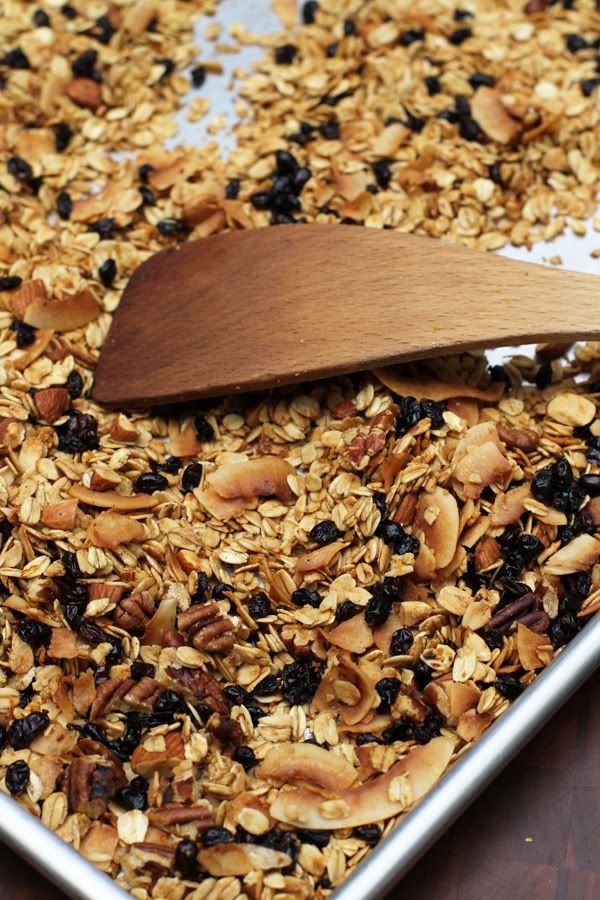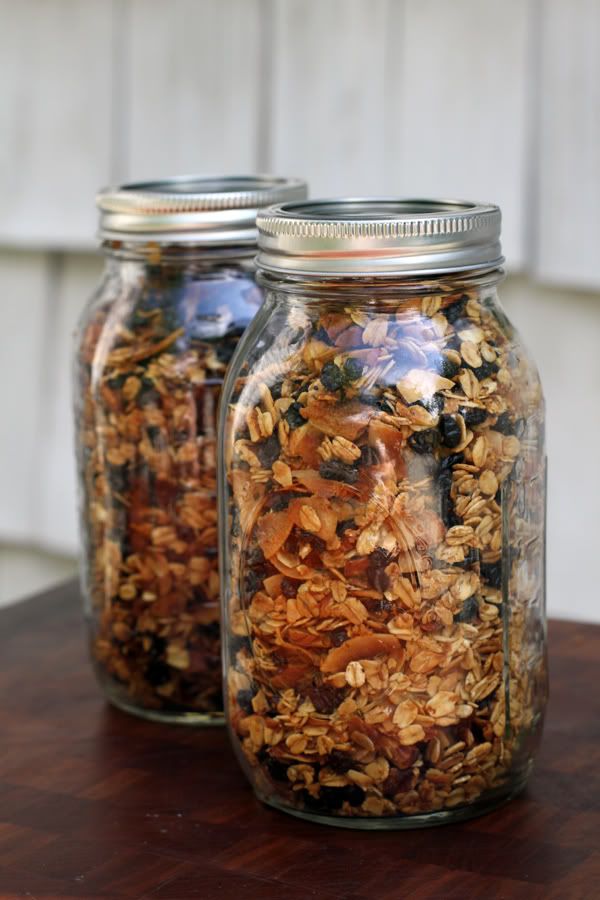 My mom just got home and before even sitting down she made herself a bowl of granola. I told you, granola runs in our genes.
I've been home for about a week now and I go back to Switzerland a week from today. Of course I love being home, but I miss the flow of life in Zürich. I miss walking to the grocery store and anywhere else I might want to go. I miss that the produce in Zürich is all from Switzerland and not shipped 3000 miles from California. And of course I miss Zach.
ps - Mayer family...did you see that the granola has Barberry's in it, like Barberry Hill, your old home and your soon to be new home?!