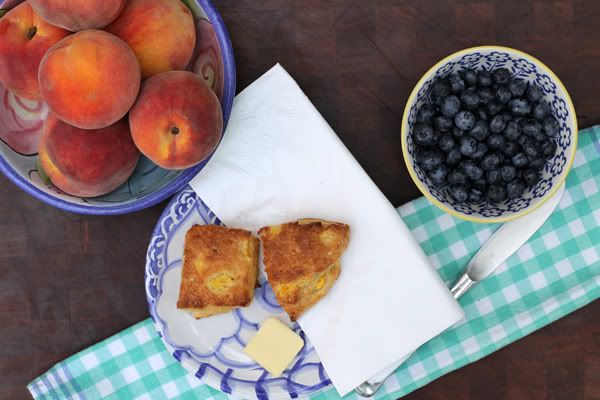 I whipped up this biscuits yesterday morning as a little treat for

Amanda

, who so nicely came to the house to help me pick out photos for our wedding albums. There are so many amazing photos it was pretty much impossible to narrow them down to one album, evidenced by the fact that we are going to go with two albums. In truth it's really three albums, one for the rehearsal and two for the wedding. Okay, anyway, back to the biscuits. They were soft and flakey and perfect for a morning browsing photos. I found the recipe in

Super Natural Everyday

and thought they sounded light and summery, especially since I had a bowl of South Carolina peaches waiting to be cut up and thrown in the batter. When I ate the first one I was smiling so much from the photos that the biscuits basically fell out of my mouth. I ate another one on the terrace outside as a little afternoon treat. And I'm getting ready to pack up #4, 5 & 6 for a cross Atlantic journey. They will be eaten somewhere over the Nova Scotia or Iceland. I'll try not to elbow the people next to me as I dig them out of my bag and shove them into my mouth.
- 1 1/4 cups whole wheat pastry flour
- 1 1/4 cups all purpose flour
- 1 1/2 tsp fine-grain sea salt
- 1 tablespoon aluminum free baking powder
- 1/3 cup blond cane sugar
- 1/2 cup/ 1 stick unsalted butter
- 1 1/3 cup Greek style yogurt (i used 1/2 whole and 1/2 2%)
- 2 peaches, skin removed and sliced
Preheat the oven to 450F (230C) and place a rack in the middle. Preheat the baking sheet as well by placing it in the oven while it is preheating
Mix the flours, salt, baking soda and sugar in a bowl. With your fingers mix in the butter until there are no pieces larger than the size of a pea (you can also do this in the food processor.)
Mix the sliced peaches into the yogurt and then mix that into the flour mixture, slowly folding in until well combined. Avoid over mixing. Knead the dough into a ball and then place on a floured work surface and kneed five
more times. Shape into a 1" rectangle. Here comes the important part - the stacking and flattening, which will make for flakey biscuits. Cut the rectangle in half, stack one half on the other and then flatten into a rectangle again. Repeat two more times, adding flour as needed. Press the dough into a 3/4" rectangle and cut into 12-16 squares.
Transfer the biscuits to the preheated baking sheet and bake for about 15 mintues or until the tops and bottoms are golden and the biscuits are cooked through. Eat with a bit of butter!
So off I go, back to Zürich for a week. Yes, only a week. I will be back in the 'house' next Wednesday night. It's crazy, and hectic, but it will definitely be worth it. Zach and I are heading to Zermatt this weekend.