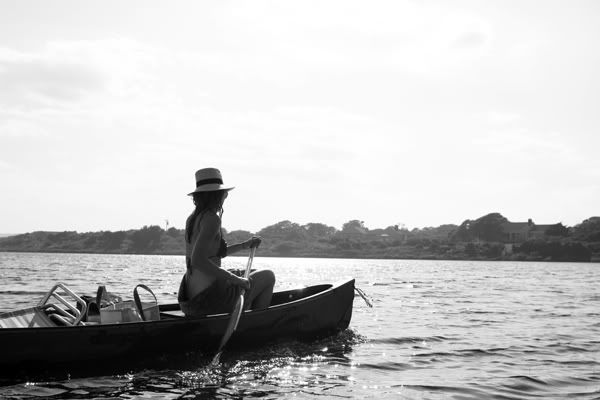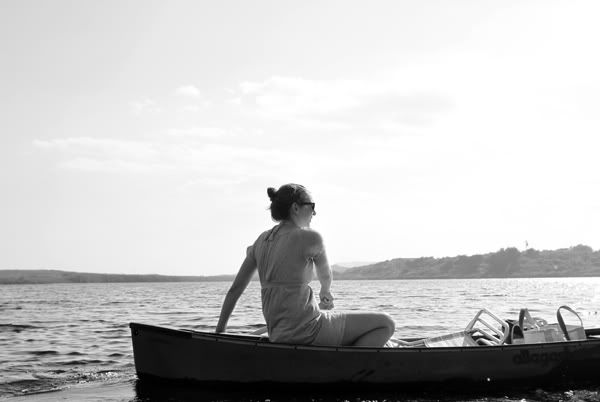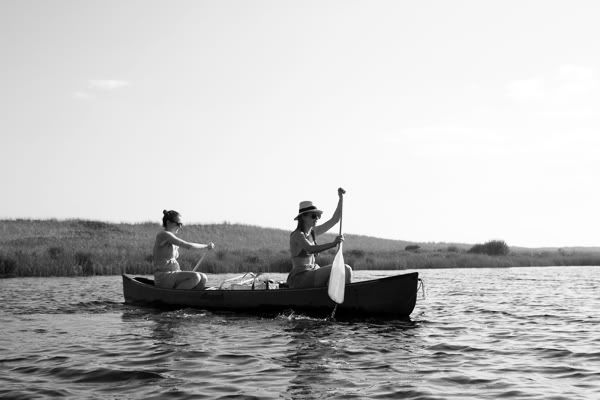 It was quick, but it was wonderful. We gathered 'up island' at my friend Hannah's family house in Chilmark and settled in for a restorative weekend of beach walks, porch chats and delicious meals. Once upon a time in college (it really was like a fairy tale) we used to see each other all the time - in class and out of class - but now we only see each other sporadically, a few times a year and only ever for a weekend at most. It's always hard to gather the whole group, and we weren't even able to do it this time, but next summer we want to plan a week long getaway! These little scattered reunions are just holding us over until we start our commune, a dream that we've been thinking about ever since we had to part ways at graduation. We're not sure where the commune will be but we talk about it frequently and consider it advantageous to communal living that we are all pursuing different careers: there are two doctors (essential), one lawyer, one architect (me!), a professional chef, a lover of the land, and a few business-marketing-entreprenuerial experts who will be essential in helping us make the commune profitable. Now all we need is some land and agreeable spouses and we're ready to go! Until then, just wonderful weekend getaways to keep us together...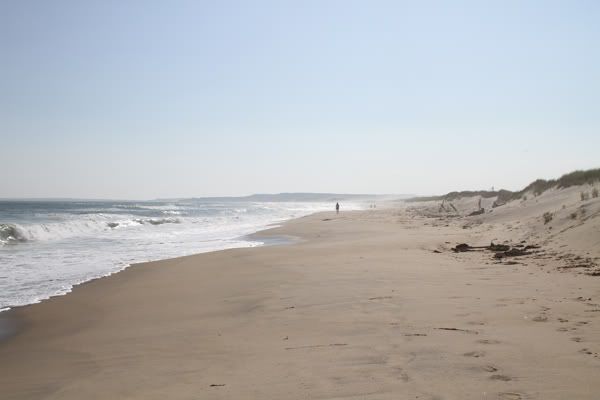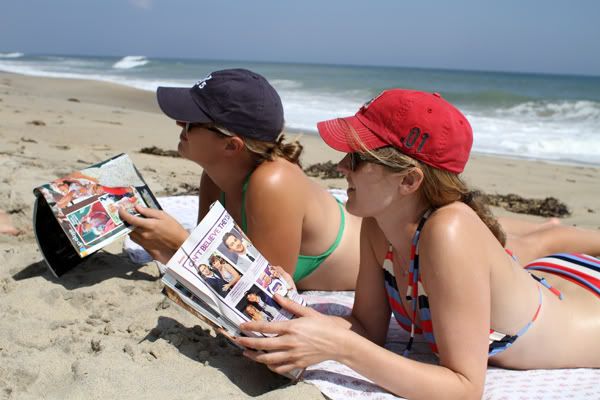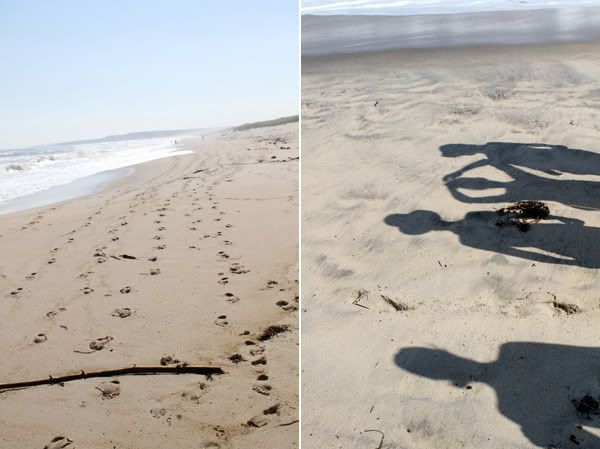 Martha's Vineyard is an island, a fact that makes it nice to be there but frustrating to get too. Poor Hannah, our host, was supposed to leave on Friday afternoon, but her flight was cancelled due to rain and fog, stranding her in New York City until Saturday morning. The four of us who did make it on Friday traveled by ferry, a safer, but slower way to get there. I took the fast ferry from New York City with Kerry. By fast they mean five hours. I kept joking that we could have had the reunion in Iceland for the same amount of travel time. Thankfully Kerry packed dramamine for the ride since we certainly didn't want to contribute to the 'vomit comet' nickname of the ferry.
Before picking Hannah up at the airport Saturday (where we spotted Chelsea Clinton and her hubby) we had a peaceful morning and a delicious breakfast of chocolate chip sourdough bread with strawberries.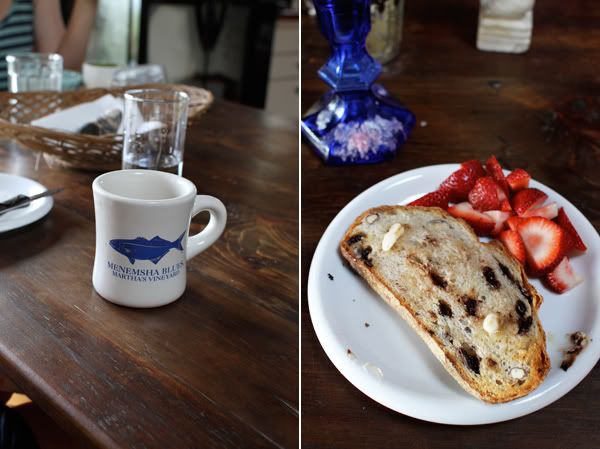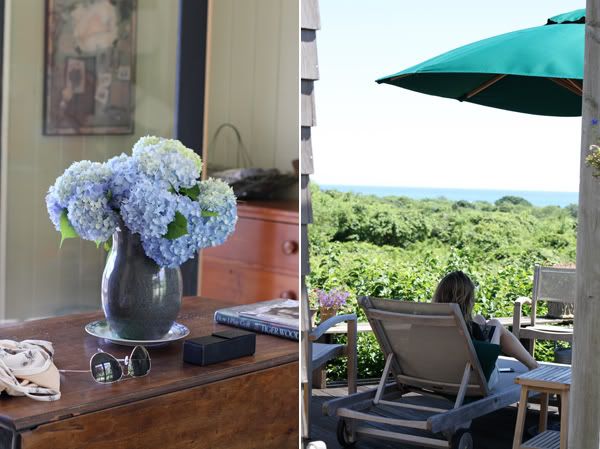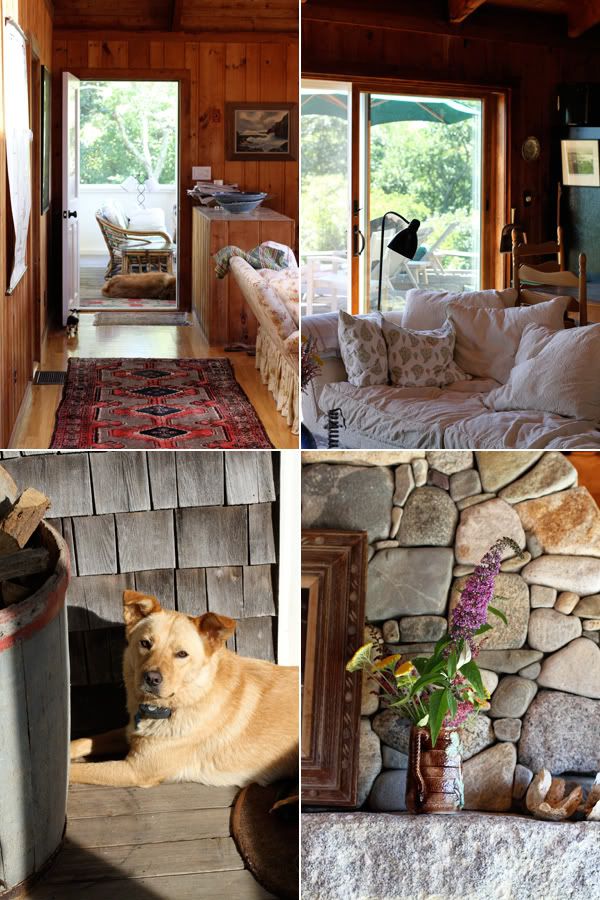 That's Rosie Marie, a shelter dog that Hannah's family adopted last summer. Isn't she cute? It's almost as if she's talking to you with her ears.
Farmer's markets and farm stands are scattered all over Chilmark, making it easy and enjoyable to eat local while on vacation. Some think of vacation as a time to get out of the kitchen and into restaurants, but there aren't many restaurants in Chilmark and the produce is so fresh that it's nicer to cook simple farm-to-table meals at home. Kerry bought a bunch of kale at the farmer's market and introduced us to her favorite summer snack - kale chips.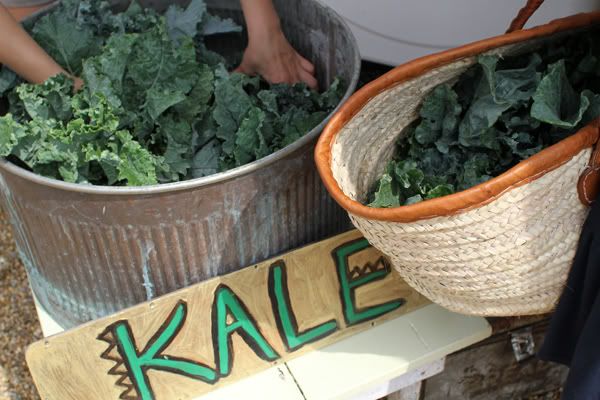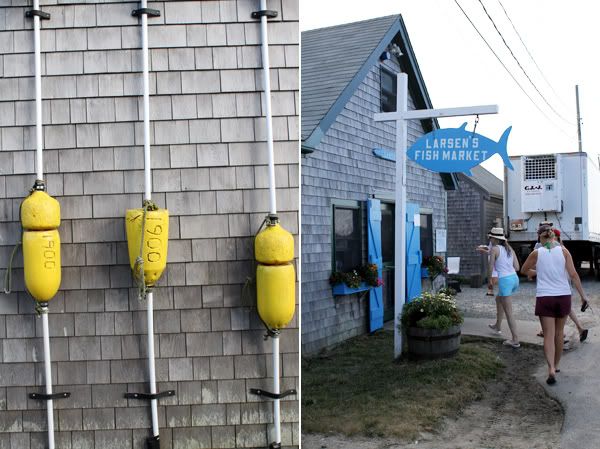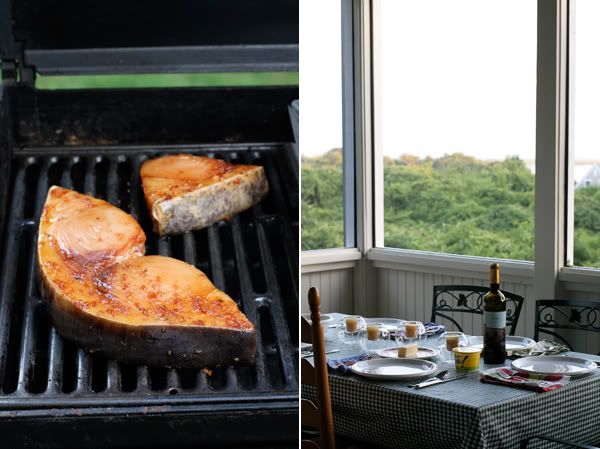 We bought sword fish at the local fish market. It's probably not local fish, but it still felt good to support a local market.
Aside from the beach walk, dinner was really the main event of the trip. It was fun to gather together in the kitchen and prep the meal and then gather on the porch for a cocktail while we waited for the swordfish to cook. True to fresh summer ingredients, the meal was quick and easy to prepare while we chatted about anything and everything. There was steamed squash, a leafy salad, caramelized onions from the grill, pasta with pesto, freshly baked bread and soy glazed swordfish. To top it all off we had a blueberry crumble. It was heaven, but even better than the meal was spending an evening with some of my favorite people. I'm often lonely in Zürich, but I never forget what amazing, wonderful friends I have. Now if I could only get them to move to Zürich...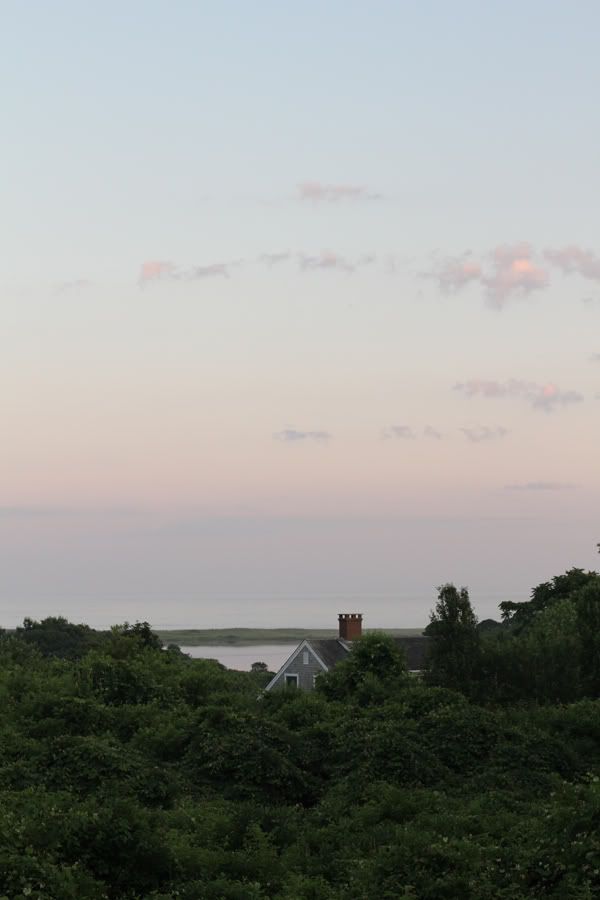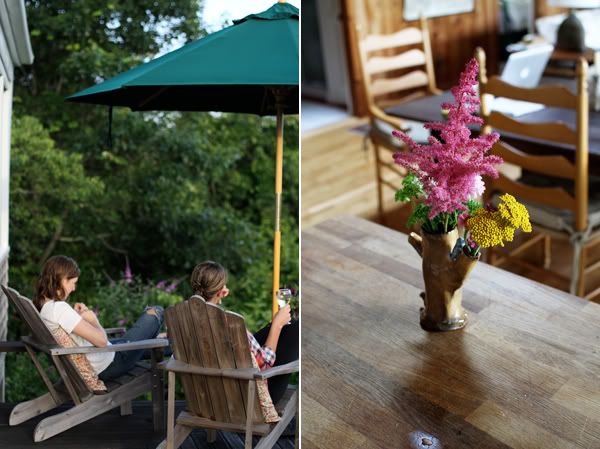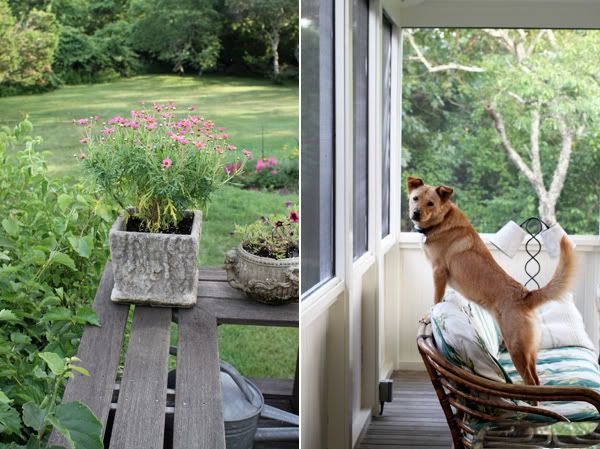 In all honesty I would have been happy sitting on the porch all weekend. The view over the pond to the ocean is so peaceful and soothing and there are so many different little groups of chairs to sit in that I think I would have been content for a few days. Fortunately there was a push to go to the beach because it was incredibly pleasant and breezy there as well. The best part about going to the beach is the little canoe ride over the pond.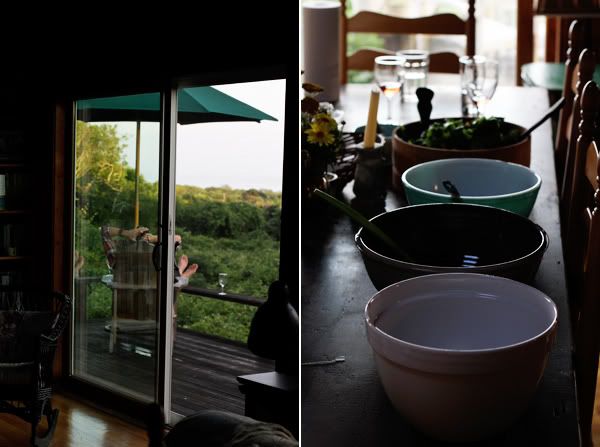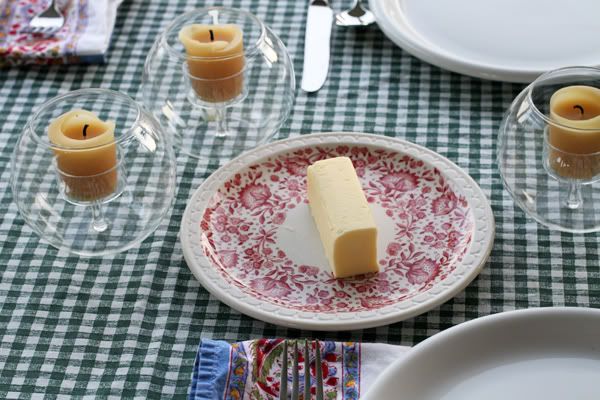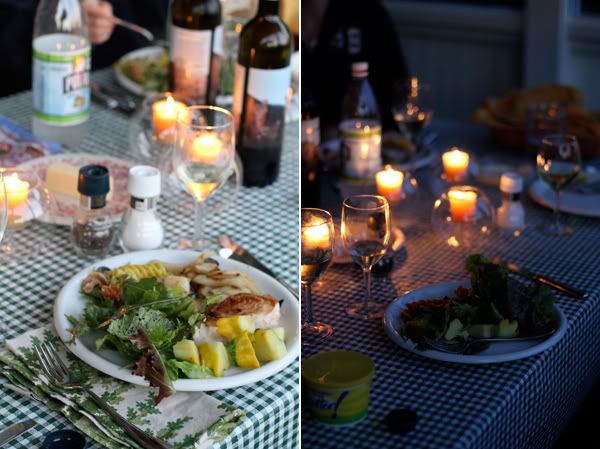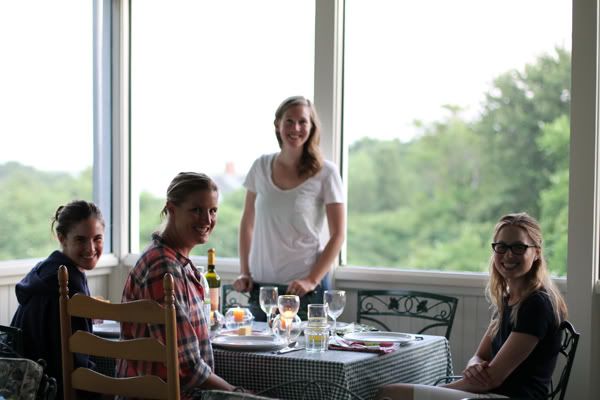 Here are the girls - Hannah, Katie, Kerry and Crem. Crem's a little fuzzy standing there in the background, but I still love the photo. It was such an amazing dinner, one of those dinners you just don't want to end. That is where the commune comes in...dinners that don't end, but are simply paused until the next night.