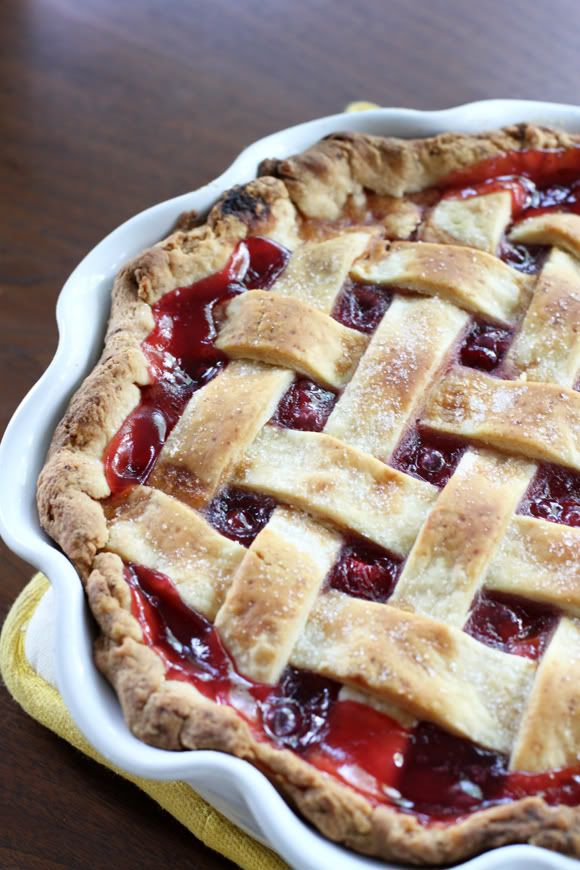 We have basil and mint growing in a planter that is perched on the window ledge of our third floor apartment, and a bit of parsley struggling for sun on the terrace off of our bedroom, so aside from mint for mojitos and basil for salads we have to buy all of our produce. I dream of the day when we can get up from our farm style breakfast/lunch/dinner table, which is cluttered with newspapers and coffee cups, and wander out into the orchard of fruit trees and pick our own breakfast. Imagine. I'd like the table to be inside, but with enormous doors that open up on to the patio that is bursting with herbs and flowers. I'll put my New Yorker down or the memoir I'm reading (currently Blood, Bones & Butter) and meander, barefoot, among the apple, cherry, plum trees and reach for a cherry, eat the flesh and spit the seed on the grass. Perhaps there will be a little diaper clad red head wandering and wobbling behind me, with cherry juice dripping from her chin. Deep in fantasy land, Zach asked about a view of the beach, and I agreed that the ocean should be visible in the distance, past the fruit trees and the hayfields...ooo and the wine vineyards. A girl can dream...right?
Well how about a little garden shack, with a view of lake Zürich and the Alps beyond, with a cherry tree sagging with the weight of hundreds of bunches of peach and red colored cherries. It's not a dream, it's not fantasy land, that place exists! So remember when we went to the

garden for a bbq

, well that same garden has a cherry tree that is absolutely bursting with fruit. We must have stood under the tree for a good twenty minutes, reveling in the absolutely amazingness of a cherry tree in the city, and reaching up, pulling a few cherries at a time, eating the flesh and spitting out the seeds. We followed our cherry appetizer with sausage, corn salad and lemon tart, and of course a lot of white wine, all from the French part of Switzerland. I'm a lover of all things carbonated and I swear that the wine tastes like it has a touch of bubbles in it. It's heavenly. So heavenly that when Zach and I were in Lausanne last week for the day we bought an entire case!
So as you can see this post is about a cherry pie that I made this past weekend. Jacque, the owner of the cherry tree, invited me up to pick as many cherries as I could carry because he was heading out of town and they would soon be past their prime. I wandered up to his garden on Friday, hopped the locked fence (eek), and picked enough cherries to fill two large zip-lock bags. I contemplated all sorts of cherry desserts and even cherry flavored dinners, but Zach really wanted a cherry pie and how can a girl say no to a request for a simply sweet cherry pie?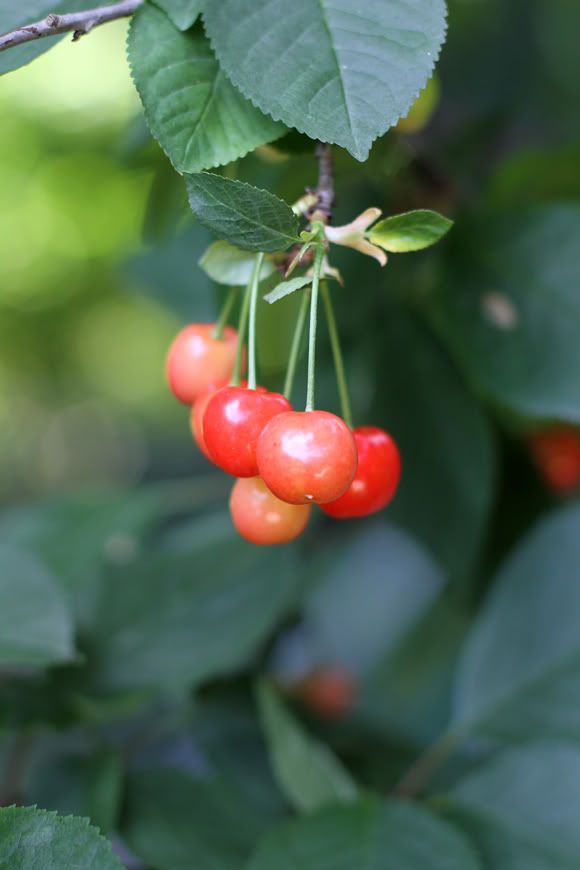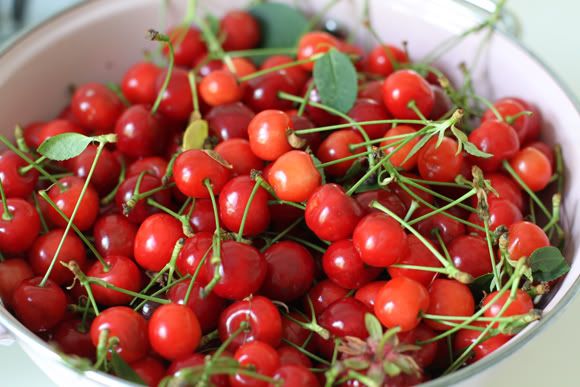 I'm not a cherry expert, but I believe, based on taste and a bit of google-image research, that these are sour cherries. They taste slightly sweet and tart and didn't seem to have as much flesh as the cherries I'm use to, but that's probably because the cherries I'm use to are hyped up on pesticides and growth hormones.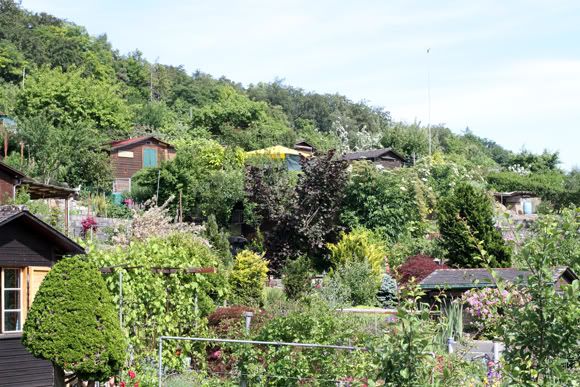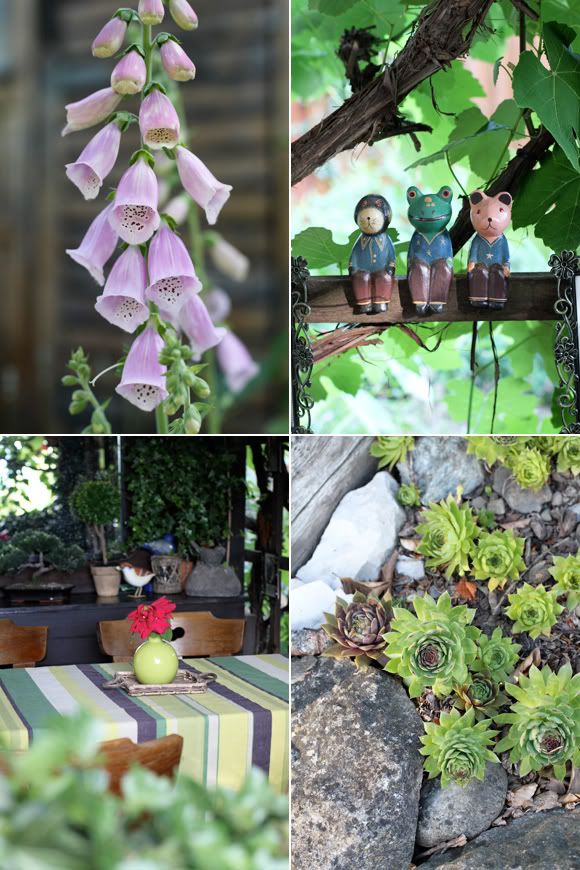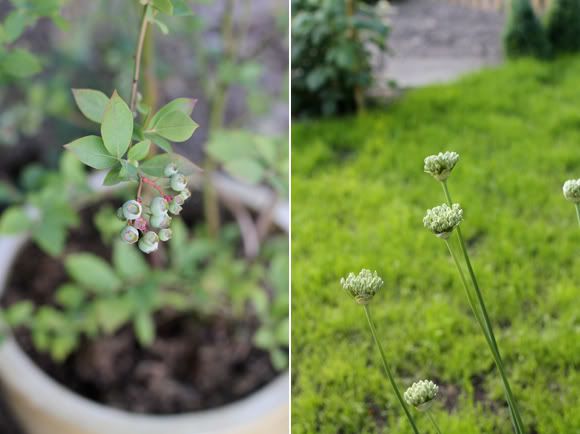 We had a lazy, but wonderful, weekend at home this weekend. We have been jumping all over the place recently and it was nice just to settle in and enjoy a quite day. Saturday morning we wandered around town looking for a grill and then we had a light lunch out on the terrace and shortly after that I began my cherry pie prep. I've never made pie before so I didn't really know what to expect, but it was fun to make and with friends come over for dinner, a fun dessert for a summer dinner party. Maybe in my application for a garden I will send them this post and go on and on about Alice Waters and her farm-to-table principles. I will say that all of the food we grow will go towards dinners with friends, hosted on the weekends, at our apartment, with the stain glass windows flung open and an endless flow of my new favorite cocktail - campari and white wine with an orange wedge. Mmm sounds lovely....I should do that anyway...with food we buy at the grocery store, that is grown on a farm...somewhere...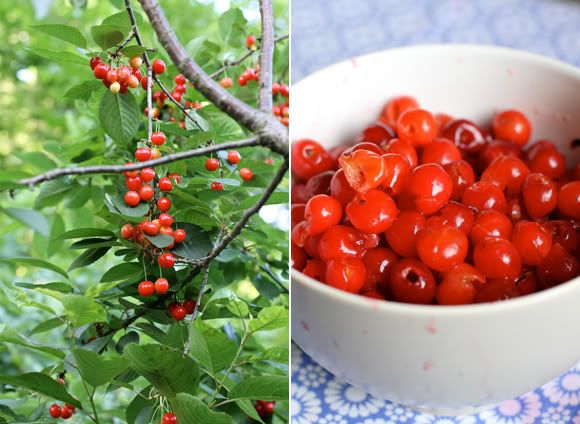 To make cherry pie, you have to pit cherries. Thankfully I found a cherry pitter, otherwise I think I would have gone batty. That was a lot of cherries, almost two and half pounds.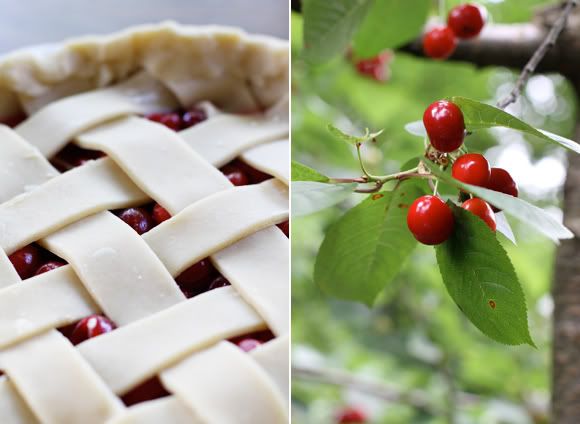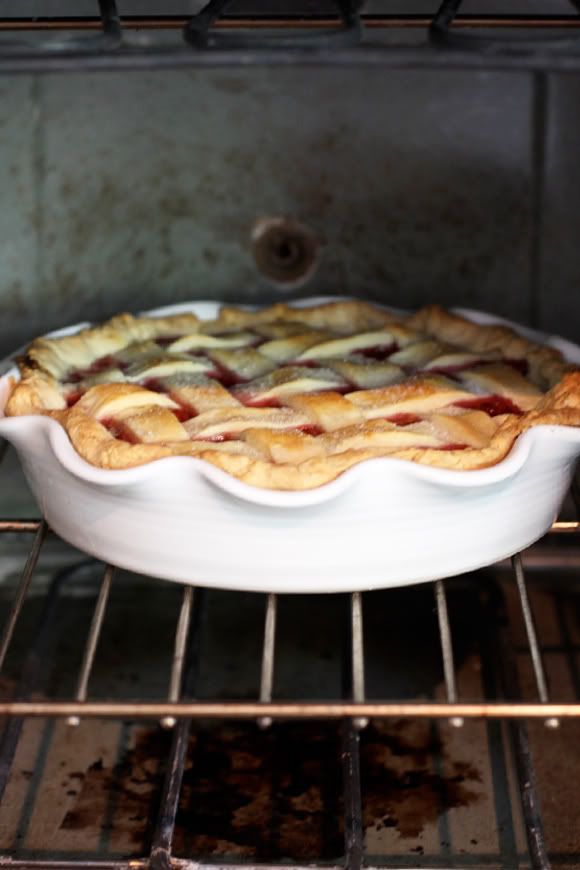 I think Zach gets his love of pies from his dad. Dave, his dad, does not limit his pie intake to desert on a summer evening, no, he eats it for breakfast if it's available. I think Dave's ideal meal might be ginger cake and a slice of pie with perhaps some grilled salmon for dessert, if he has room. I've always been intimidated by pies, but it was actually quite easy to make.
- 2 1/2 cups all purpose flour
- 3 tbsp corn starch (for thickening)
- 5 cups whole pitted cherries, about 2lbs with pit
- 1 tsp fresh lemon juice
- 1/2 tsp vanilla extract
whisk flour, sugar, salt in a large bowl. Add butter and rub with your fingers until small pea-sized clumps form. Add the 5 tbsp of water and mix with a fork until the dough holds together when pressed between fingers. If it is not holding then add a bit more water. Gather dough together, divide in half and form a ball and then flatten to a disk with each half. Place in a plastic bag and let rest in the refrigerator for at least 30 mins.
Preheat oven to 425F. While dough is cooling, mix your sugar, cornstarch and salt in a medium bowl and add your cherries lemon juice and vanilla.
Roll out one of the dough balls on a well floured surface with a well floured rolling pin. Roll until it is roughly 12" in diameter. Place the dough into your 9" pie dish and trim the edges so that the dough only overhangs by 1/2". Pour your cherry mixture into the dough lined pie dish, mounding slightly in center. Dot the cherries with butter. Roll out the second dough ball into a 12" round. With a knife of a pastry wheel cut 3/4" strips. Arrange this strips on top of the cherries by simply overlapping or by weaving, trim to 1/2". Fold the dough from the bottom crust up and over the edges of the lattice, pressing with your finger tips to seal the dough. Brush the lattice, not the edges, with milk and sprinkle with sugar.
Place pie on a rimmed baking sheet (incase it gurgles and drips) and bake for 15 minutes. Lower the heat to 325 and bake until the filling is bubbling and the crust is golden brown. If the edges are burning to quickly you can cover them with foil. Should be about another 1hr of baking time. Remove pie and let it cool. Serve with vanilla ice cream!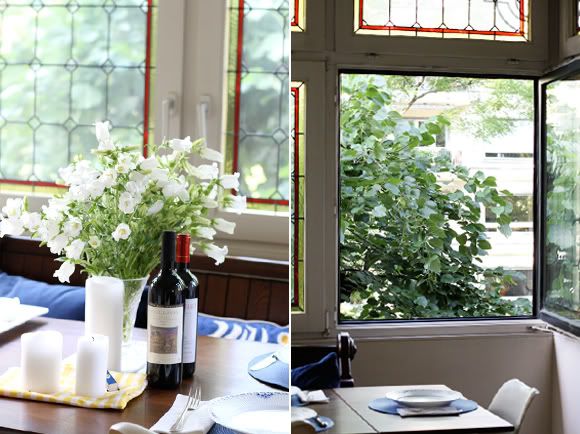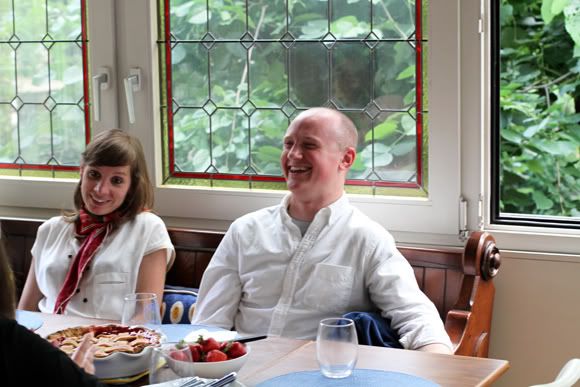 I've gotten in the habit of opening as many windows as possible. The big stain glass windows that open by the dinning room table are the best. I love that there aren't any screens. It really makes the apartment feel open. Granted a bird could fly in at any minute, but that's party of the fun I guess.
The crazy thing about the above photo is that I took it at roughly 9 or 9:30 on Saturday night. It has been staying so light so late here, it's incredible. Our little dinner party was fun. I love when Zach's laughs. Thankfully he laughs a lot!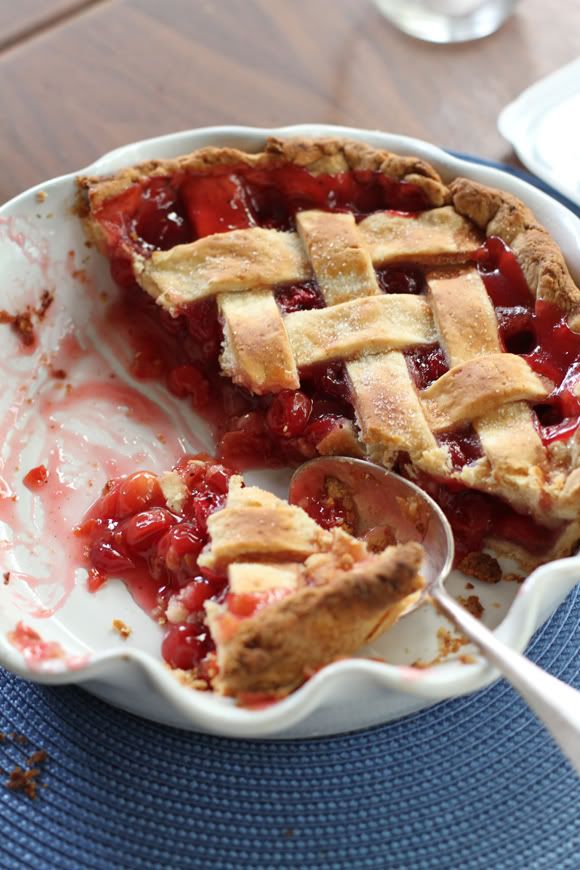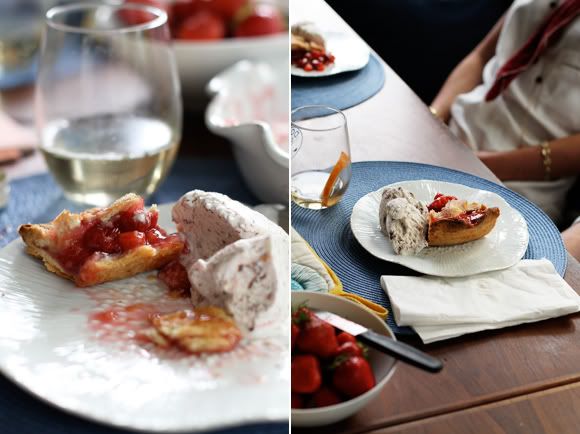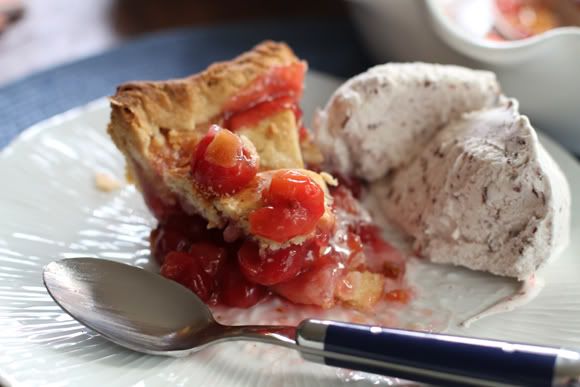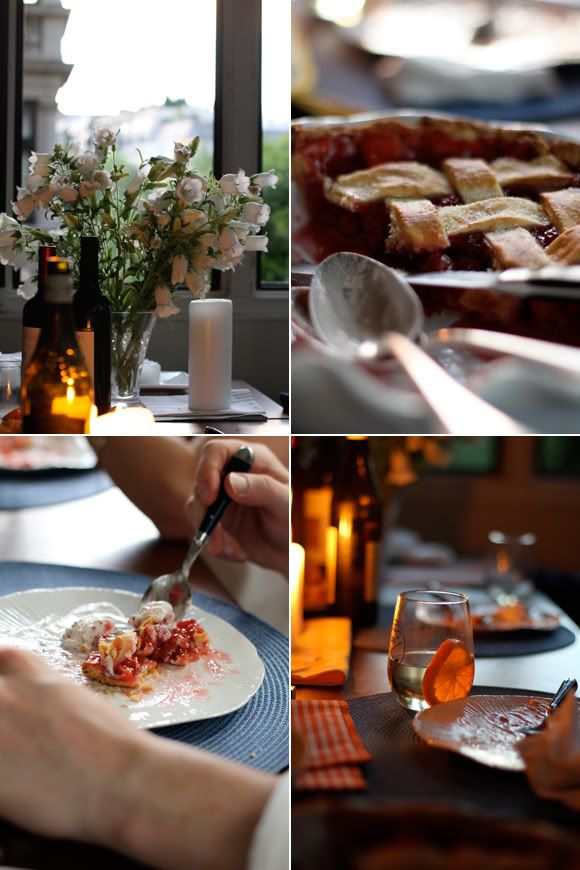 The dinner party was a huge success, thanks in part to the case of wine and the scrumptious pie. I'm often hesitant to have people over. I'm the type who stresses over the meal (we had chicken marbella, orange cous cous, green beans and salad) and worries about things too much, but this time I just went with the flow, had a campari-wine spritzer and cooked easy/quick food and enjoyed every minute of it. I am always so impressed by people who, generally on a whim, invite a slew of people together and throw together an amazing little food fest. I have to remember that guests are happy just to be out and socializing and aren't worried about the fact that you don't have cushions on half of your dinning room chairs (need to get on that) or that the green beans are slightly cold. Here's to having more dinner parties in the future!