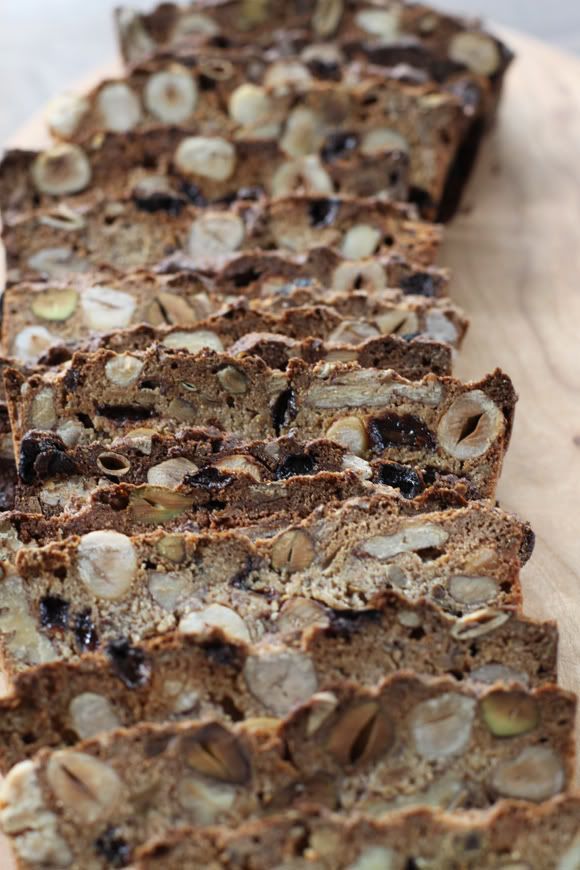 Healthy. That isn't a word that has occurred to me much while we have been living in Switzerland. It's not that we don't want to be healthy, it just that I actually don't think we need to think about it here, it's automatic. The produce is fresh and pesticide free (stay away from those stray cucumbers and tomatoes though), we walk absolutely everywhere, and we rarely eat out, preferring to cook and eat together at home. Those things make for a pretty healthy lifestyle, however, there is the stray trip to Rome where you eat absolutely everything insight and give in to your inner bread demon and eat as much pasta as you can possibly consume in three days. Not so healthy. We did walk, but jeeez I think we would have had to walk to the tip of the boot and back to work of all of that carbonara and bucatini with pan fried prosciutto.
In an effort to regain some composure in the face of pasta and wean the bread demon just a little bit (let's not kid ourselves I live for bread and probably always will) I decided to make a healthy snack. These nut biscotti/crackers are delicious, satisfying, and certainly help to calm any cravings I might be having to consume the entire loaf of bread that is sitting in my kitchen. I found the recipe on 101cookbooks, a site I visit for inspiration of all sorts, and after searching for biscotti and contemplating an almond chocolate biscotti recipe I saw this recipe for nut + seed biscotti and immediately knew I had to make them. I think they are the only thing I've baked that I haven't put any butter into. None, not even to grease the pan. They do have sugar in them, but I even think you could replace the sugar with honey if you wanted. They taste good plain, or with cheese and I imagine they would be the perfect accompaniment to a cobb or waldorf salad.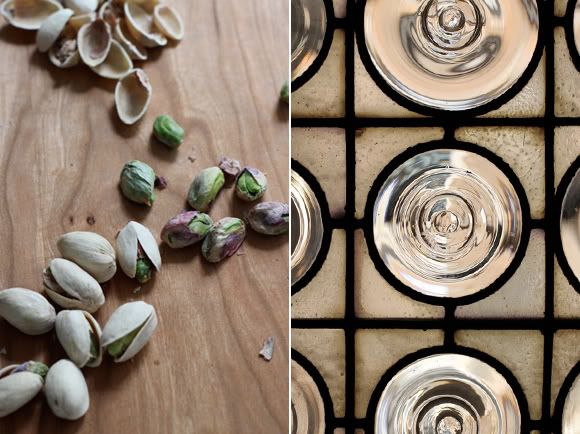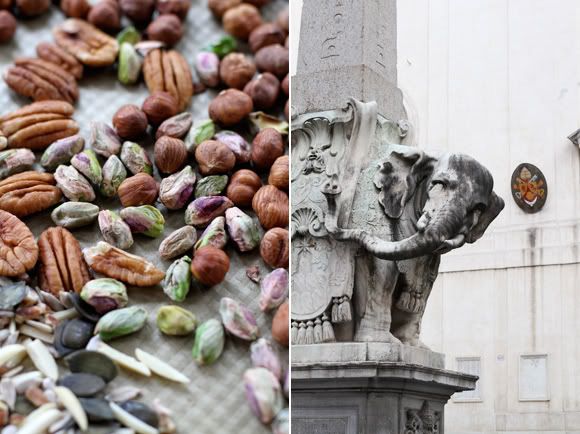 The post earlier this week on Rome highlighted the cities bold and bright street-scapes, which were good company to the focaccia photos. This post is more about some of my favorite places - Sant'Ivo alla Sapienza, the Pantheon and the Tempietto. I could walk into the Pantheon everyday for the rest of my life and still be completely captivated by the spherical space under the dome. Similarly, I am not a religious person, but if I lived in Rome I would go to mass every Sunday at Sant'Ivo.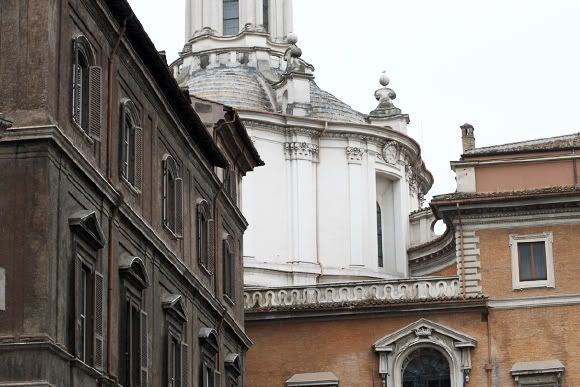 Sant'Ivo also holds a lot of peaceful-happy memories for me. I focused on three churches for my final project and Sant'Ivo was one of them. I spent an entire two hour mass staring at the dome, drawing the undulating shells of the ceiling and contemplating the awesomeness of Borromini.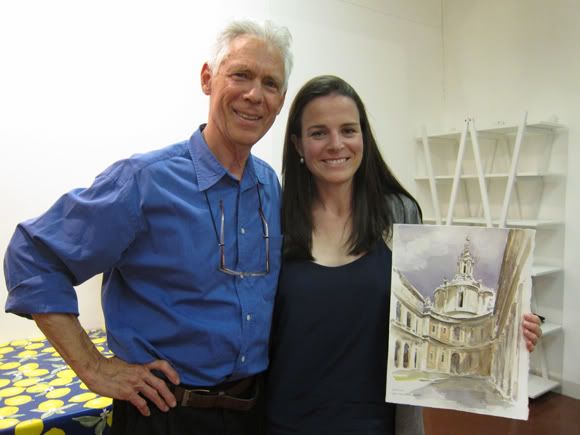 My parents, aware of how that month in Rome meant to me and how much I loved Sant'Ivo, commissioned my professor, Alec Purves, to paint the church for me as a wedding gift. There really aren't words for how much I love this painting and how much it means to me. What a wonderful reminder of my month in Rome and also of the power of painting. Thinking about breaking out my pencils and watercolors again soon.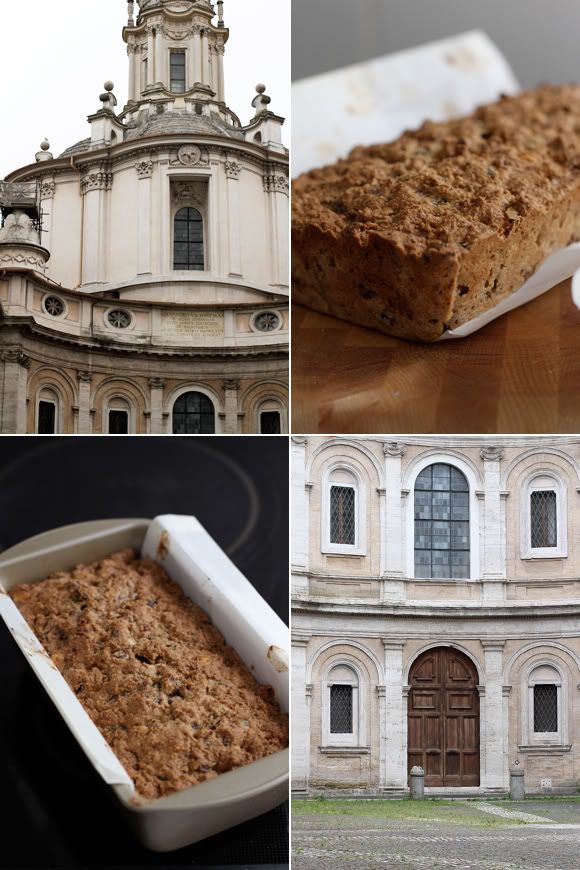 It started raining as I was making my way to the Pantheon for my first of what would be four visits, and I pretty much started running in the hopes that I wouldn't miss the rain that I was sure was pouring through the oculus. Unfortunately it wasn't raining quite hard enough to really see or experience the showers in the building and they also rope of the center space just under the oculus, presumably so people don't slip on the wet floor.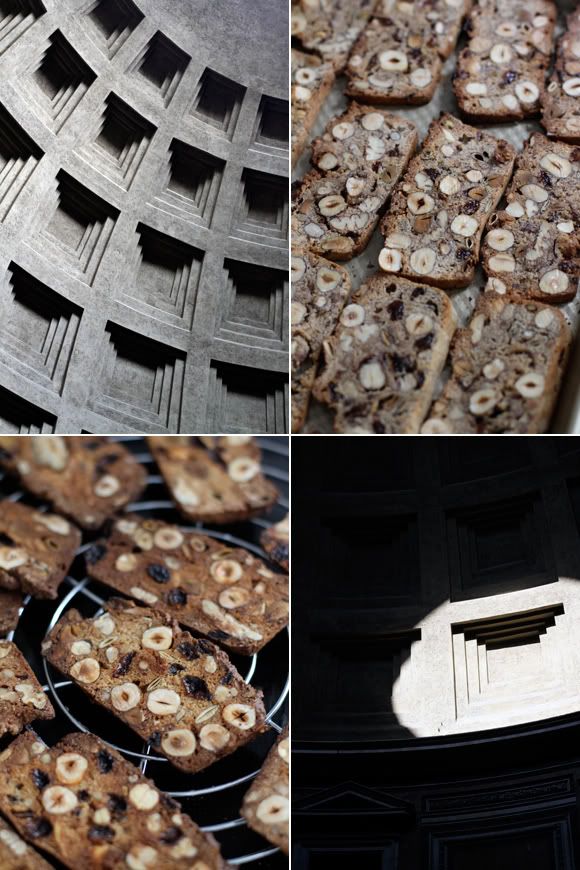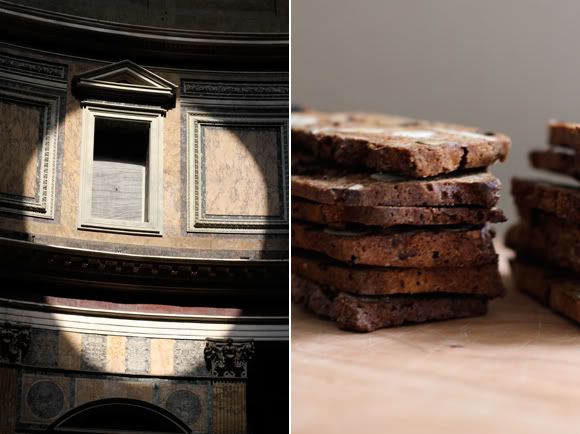 Taking pictures inside the pantheon proved to be a challenge. The photos from the point and shoot weren't crisp and the color was weird and then the photos from my dslr don't show enough of the space because I had the wrong lens with me. Just a reason to go back again soon I guess.
So the recipe for the crackers. I adapted it from

101cookbooks

, but the bones are very much the same and unaltered.
- 1 1/3 whole wheat flour (Heidi calls for white whole wheat flour, but I didn't have that)
- 1 cup lightly toasted hazelnuts (you can toast all the nuts at the same time)
- 1/3 cup lightly toasted pecans
- 1/3 cup light toasted pistachios
- 1/3 cup nut and seed assortment - pumpkin seeds, sunflower seeds, flaxseeds. I bought a premixed bag from the grocery store and just used that instead of spending a fortune on a bag of each of those types of seeds
- 1/3 cup raisins - my personal touch
-2/3 cup natural cane sugar, fine grain
Heat the oven to 300F and prepare your 1lb loaf pan by lining it with parchment paper or greasing it with butter if you don't have parchment.
In a medium sized bowl mix the flour, salt and nuts. In a larger bowl whisk together the eggs and sugar until well combined. Add the flour mix to the egg mix and stir with a wooden spoon until combined. The dough will be stiff and tough to work with, but that is good. Spoon the dough into the loaf pan and pat down and smooth out. To ensure there aren't any air bubbles in the dough using your fingers to push down on the dough. Bake the loaf for 40-50 minutes (I had to bake mine for more like 60-70 minutes). You really want the loaf to be completely cooked otherwise you will have a difficult time slicing it. Remove the loaf from the oven and turn the oven up to 425.
Remove the loaf from the pan immediately. Turn upside down and with a serrated knife being to cut 1/4 slices. If your loaf is completely cooked this should be easy, if it is falling apart, put the loaf back int the oven until done. Place the slices on a baking sheet, as many as will fit, and brush lightly with olive oil. Place the sheet in the oven and bake for 4 minutes, then remove the pan, flip the crakers, brush the other side with oil and stick in the oven for another 4 minutes or until lightly toasted in color.
Top with goat cheese and honey or boursin and strawberries and eat away!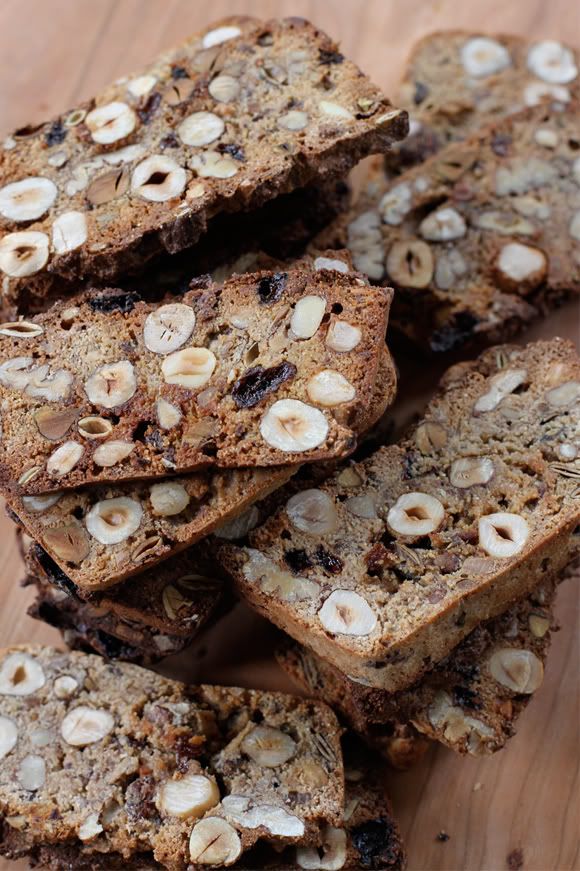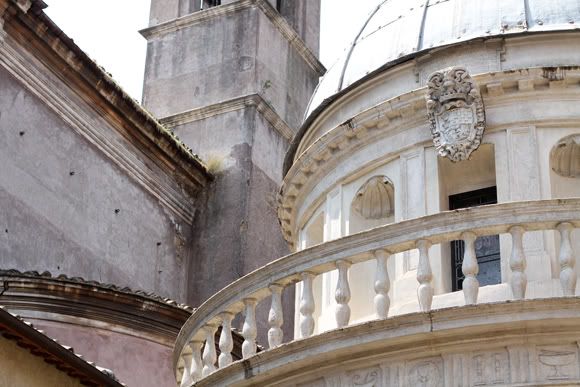 We spent one morning with the drawing class at the Tempietto. They were having a watercolor workshop with Tim Clark and we just sat there and soaked it all in.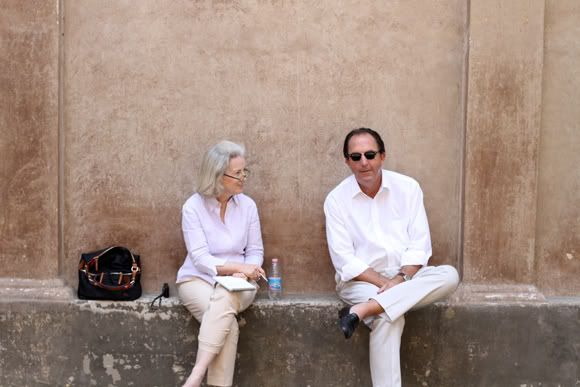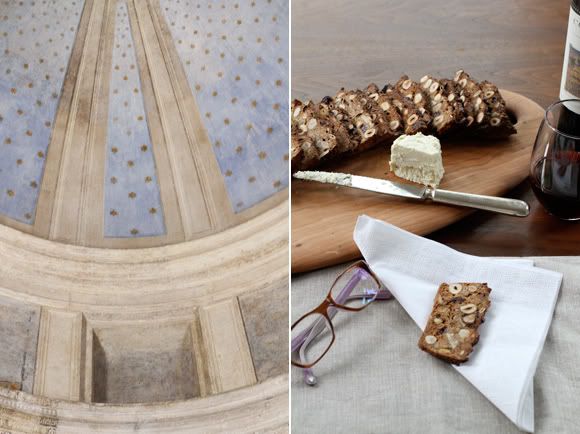 This was the first time I had been inside the Tempietto and it was interesting to see. The interior was much plainer than I expected, but I loved the simplicity of the painted dome.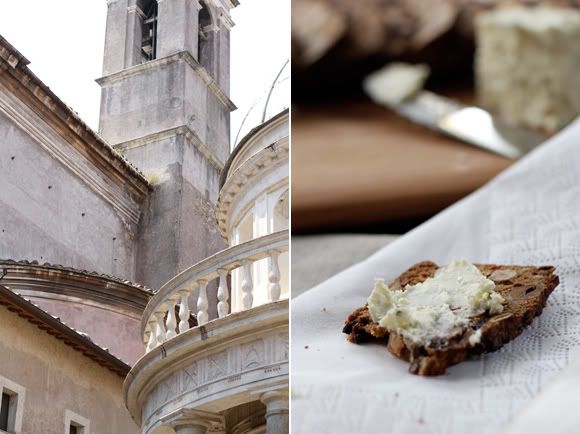 Mhmm...churches and cheese! What a wonderful combination.
This photo is funky, but I like it. The trees, that are just outside our apartment, really make our dinning room table a wonderful spot to sit in the summer. We can open all of the windows and it almost feels like you are on a porch and not inside.
The weather here is still a bit questionable, dark clouds threatening rain will be followed by a quick burst of sun and then it's back to imminent rain again. I hope you have better weather where you are and that you have fun plans for the weekend! Anyone have any fun cooking projects lined up? I'd love some inspiration for some weekend meals.