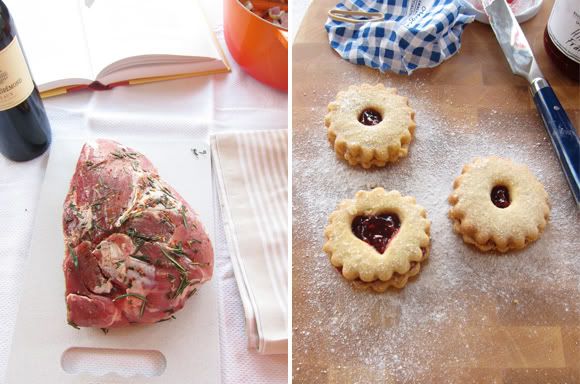 Happy Valentine's day! This post is a little bit savory, a little bit sweet and very delicious. Zach and I were feeling adventurous yesterday so we bought a 3lb pork shoulder. We are not adventurous meet eaters or meat cookers and we had never tried to cook a pork shoulder before. We consulted Mark Bittman and Alice Waters and decided to braise the shoulder in wine and chicken stock and it turned out much better than we expected. And then there are the cookies, the flaky, gooey, scrumptious cookies, which were simply another expression of my love for swiss butter - 3/4 of a pound of swiss butter in fact!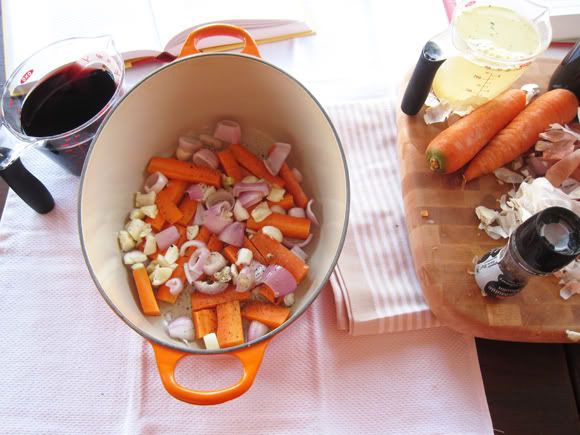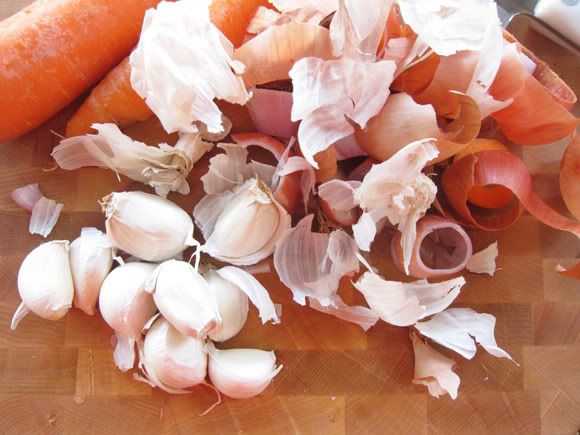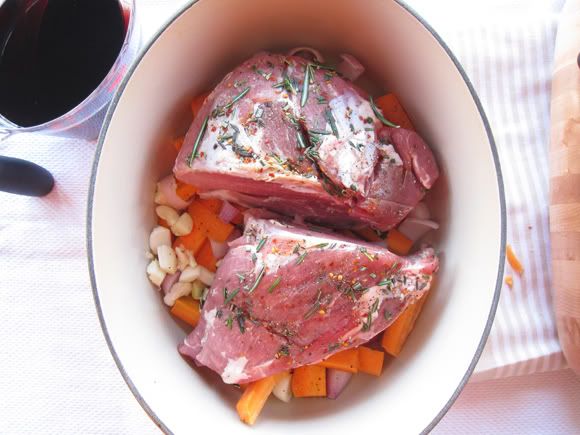 It's pretty lucky that we ended up with a pork shoulder around the weight we were looking for. A lot gets lost in translation when trying to order meat in broken German. The butcher initially pulled out a 3kg (6.6lb)shoulder and Zach told her that he only wanted 2, he was thinking pounds and she was thinking kilos. We walked away with a shoulder that weighed roughly 1.5kg, which still turned out to be an enormous piece of meat, but it shrunk substantially when cooking and came to be referred to as the incredibly shrinking schweiz schwein.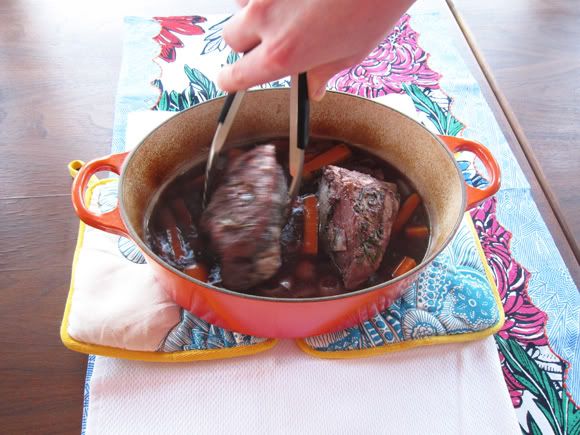 Sorry I don't have any pictures of the juicy pulled pork shoulder when it was finished. After cooking it for 4.5 hrs we were desperate to eat it and unwilling to take the time to photograph before pigging out...on pig.
For the recipe we combined two recipes, taking our favorites of each, and combining them. We liked Bittman's ingredients - red wine, chicken stock, carrots, garlic and onions, and Alice Waters technique - slow braising the meat in the oven, turning every 30 to 45 minutes.
- 3lb pork shoulder. Ours did not have the bone in. Just getting the pork shoulder was enough of a challenge without asking for it with the bone in
- 4 carrots coarsely chopped
- 3 scallions coarsely chopped
- one entire head of garlic
- salt, pepper, rosemary, thyme and sage
The best thing to do is buy the meat a day before you plan on cooking it. Remove any extra fat, season with salt and pepper and selected herbs, wrap it in plastic and let it sit overnight.
Preheat the oven to 375 degrees F. Place carrots, scallions and garlic in a cast iron pan, one that is just the right size for the meat, not to large or too small. Take your meat out of the refrigerator and place on top of the veggies. Pour in the liquid until it is roughly 1/4 of the way up the meat. Depending on the size of your plan you might need more or less than the quantities I listed above. Now comes the hurry up and wait part. Put your meat in the oven and let it sit for 1.5hrs. Turn the meat so that the side sitting in the juices is now facing up and cook for another 30minutes. Repeat this process 3 to 4 more times or until a knife easily pierces the meat and the meat seems to want to fall right off the slab. EAT!
Potato hash makes a delicious side dish for this meal, absorbing the juices of the pork.
ON TO THE COOKIES!!
If love was a cookie it would be a Linzer cookie. Buttery, flaky, sweet and oh so delicious, this cookie is dangerously good. Here I am again, talking about butter, but I can't seem to avoid it. Perhaps it's because I grew up in a margarine household and never really knew or appreciated how delicious real butter is, or perhaps swiss butter really is just that good. Floralp is my favorite brand. And if you've been reading this blog, then you know I was considering switching from cheese to butter on my afternoon piece of toast, and I have and I'm never looking back!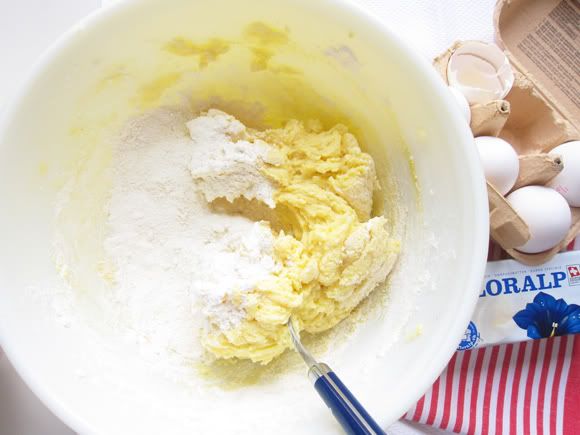 Some might consider a linzer cookie just another use for shortbread, but in truth the dough for this cookie is much more rich and flavorful than a shortbread. Ground hazelnuts, lemon zest, vanilla bean, eggs and cinnamon all find their way into the butter-flour mixture to give this cookie some umph. The linzer cookie is a relative of the linzer torte, a traditional Austrian dessert.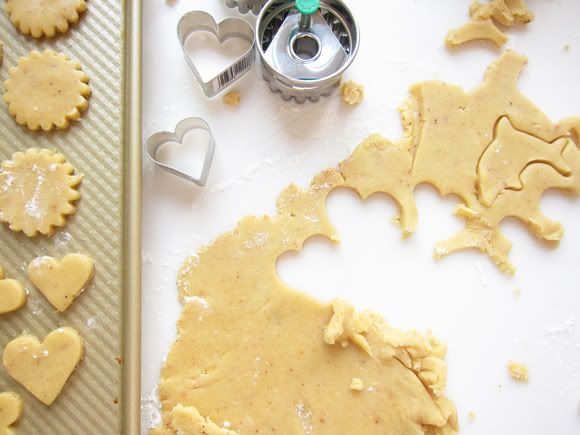 Because it's Valentine's day and because we are getting married in Florida in a couple months, I decided to sneak in a couple dolphin cookies into the heart mix.
- 3.5 cups of all purpose flour
- 2.5 cups whole hazelnuts
- 3/4 lb of butter room temp (3 sticks or 340g)
Prep the hazelnuts by toasting briefly 5-7 minutes in the oven at 350. If the still have skin, remove the skin, if not then proceed to grind them as finely as you can. I don't have a cuisinart or a coffee grinder, so I used a rolling pin and did the best I could. Set grinds aside. To avoid enormous chunks I put the grinds through the sifter.
To make the dough first beat the butter and the sugar together with a fork until combined and a bit fluffy (although there isn't much that's fluffy about 3.5 pounds of butter!). Add the egg, egg yolk, vanilla bean and lemon zest and mix. Follow by adding the flour in small increments until fully mixed. Mix in the baking powder, cinnamon and your ground hazelnuts! voila -- linzer cookie dough!
Divide the dough into to balls, flatten the balls into 1" thick discs, wrap in plastic wrap and stick in the fridge for at least an hour. After an hour or more remove the dough and roll out to roughly 1/4" thick and proceed to cut your cookies - half full and half with holes/hearts cut out.
Bake at 350 for 8-10 minutes, or until the edges of the cookies brown slighly. Remove from oven and let them cool before assembling. For assembly simply spread jam on the bottom cookie, place the top cookie on top of the jam, and sprinkle with powdered sugar. Follow by adding a touch more jam in the hole. EAT
HAPPY VALENTINE'S DAY! loads of love