I arrived back in Zürich yesterday after a wonderful week at home with family and friends. Our wedding is only two months away and I cannot believe how quickly the time is flying by. All of the details for the weekend are coming together and it has been satisfying to check things off our seemingly endless list. It's hard to believe that the next time I see most of my friends and a good part of my extended family will be in Florida for our wedding. -- after posting this I realized that our wedding is EXACTLY two months from TODAY - wow!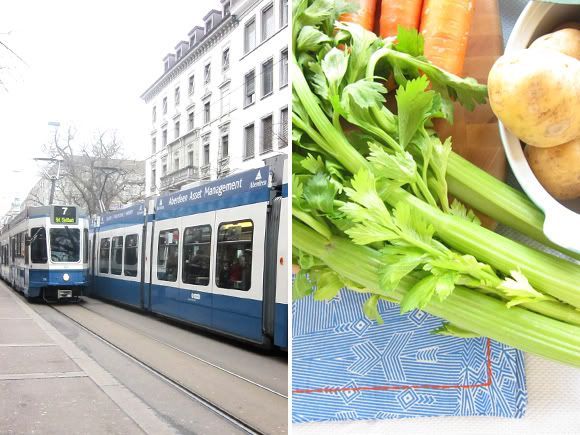 The blog got lost in the shuffle of last weeks happenings, but I'm excited to be posting again. When I got home yesterday I was greeted by a loving fiancé and a completely empty fridge. Assuming that Z survived on cereal and pasta for the entire week, I decided to make a nice hearty shepherd's pie for dinner. Growing up my brother Pete and I had an Irish nanny who would make the most delicious shepherd's pie for us. I think it was her way of tricking us into eating vegetables, but it worked and now I double the amount of veggies that the recipe calls for.
ingredients:
- roughly 2lbs of russet potatoes. I couldn't find russet potatoes in my local swiss market so I used a standard small-medium sized potato.
- half and half or cream to liking
Dice the potatoes into 1/2 pieces, place in a saucepan and cover with cold water. Cover the saucepan and bring the water to a boil. Once boiling, uncover and lower the heat to a simmer. Cook for an additional 10-15 minutes or until you can easily pierce the potatoes with a fork. Strain the potatoes and then return them to the saucepan. With a fork begin to mash the pieces. Add the butter and continue to mash. Depending on how you like your potatoes - chunky or creamy - add half and half or some milk. I added a bit of both until the potatoes were a consistency I liked. If you aren't using salted butter then add some salt to taste as well as a bit of pepper. Once mashed add the egg yolk and mix in. Place potatoes to the side until you are ready to cover your filling
- 2 celery stalks chopped
- 1 1/2 lbs ground sirloin or lamb (I used sirloin)
- 1/2 cup frozen corn (not canned corn, frozen corn - which I couldn't find)
Pour the olive oil into a large saute pan. Let the oil heat for about a minute and then add the chopped onion, carrot and celery to the pan. Cook until the onion is translucent, about 6ish minutes. Add the sirloin to the pan and cook until browned through. Once the sirloin is cooked add the tomato paste, chicken broth, rosemary and thyme. Bring the liquid to a boil, reduce heat and allow to simmer for 10-15 minutes or until the sauce has begun to thicken. Uncover and add the peas and corn to the mix.
Spread the filling into your favorite bake dish. Choose a deep dish if you like a thick layer of filling and potato or use a shallow dish if you like a thin layer of each. I chose a deep dish for thicker proportions. Once the filling is in add the mashed potatoes on top with a plastic baking spoon, making sure to seal the edges to prevent bubbling over (you can see that I did not do this successfully and the filling bubbled up onto the mashed potatoes.) Bake for 25 minutes at 400 degrees or until the potatoes begin to brown. In the states we add some French's onion rings to the top, but the swiss must be too healthy because I couldn't find them in the store. I sauteed some shallots until crispy for a replacement.