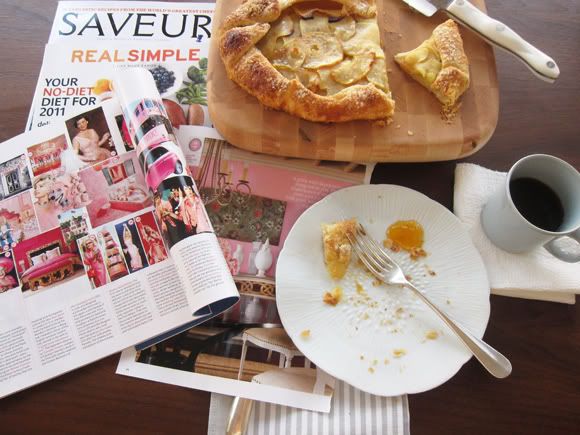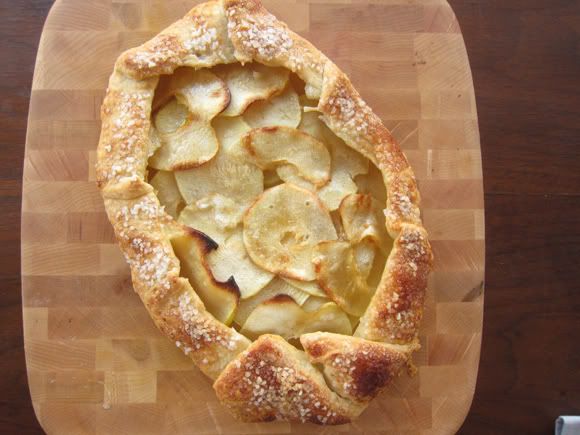 It's a bit crazy to think that even though I'm currently unemployed I still have a hard time carving out a bit of time in my day to just relax and indulge in the little things that I love - like a cup of coffee and a stack of deliciously glossy American mags. I went a little overboard in Hudson News at JFK and treated myself to upwards of 18 magazines, from food to fashion and everything in between, and I decided to read a few of them yesterday with an afternoon coffee. Add a flakey, buttery apple tart to the mix and I'm in heaven.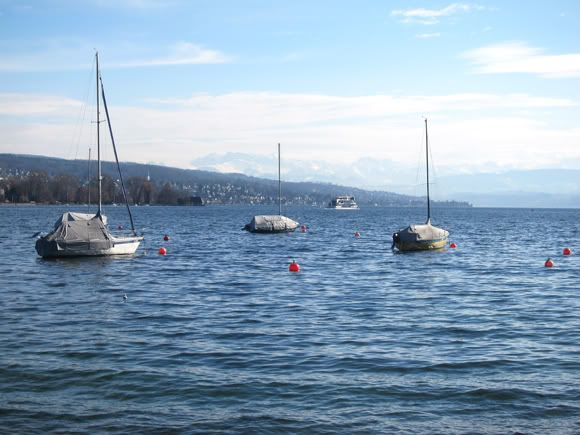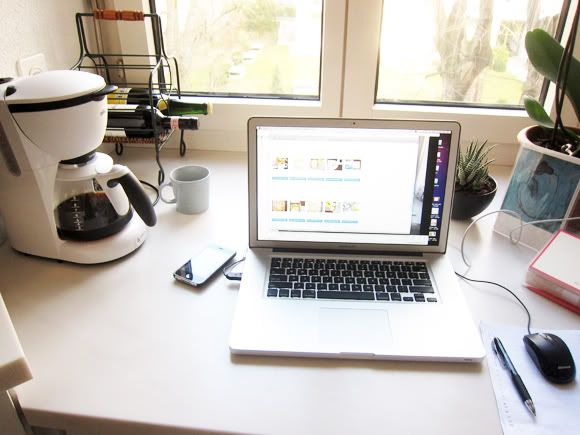 Speaking of heaven, the weather in Zurich has been absolutely incredible AND I finally bought a coffee maker.
I was having a hard time spending $100 on a cheap plastic coffee maker, but I couldn't find a cheaper one that looked half decent and I NEEDED coffee
. I'm not sure all my lovely blog readers in the states realize how rare a nice big cup of coffee is in Zurich. If you order café you are going to get a tiny, milk-less shot of espresso, which is certainly delicious, but an entirely different drink all together. Add some steamed and foamy milk to that café and call it a cappuccino and I'll drink it up in a second, but I'm not quite ready to sip the dark and strong straight-up espresso. Something to aspire to...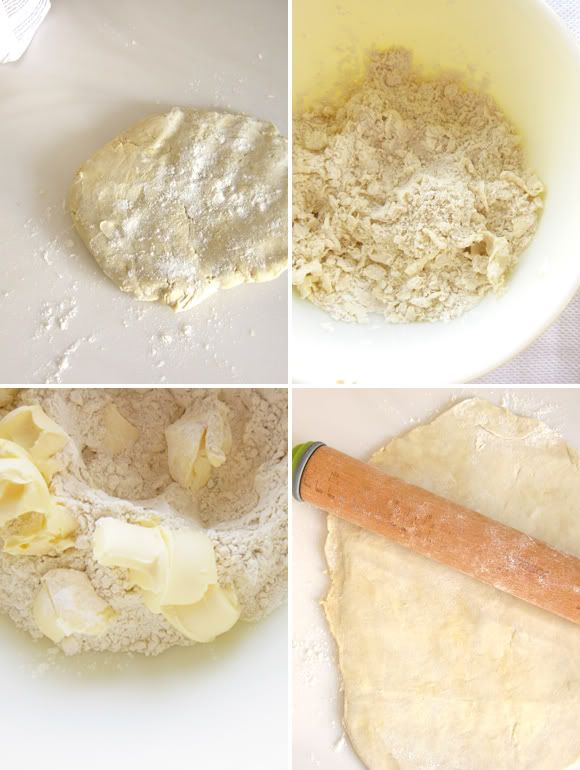 If the mention of butter makes you jump on the stair-master then this recipe is not for you. This tart is o-so-buttery and delicious. First it's the butter that goes in the dough and then it's the butter that is rubbed on the dough once it is formed around the apples and even then it's the butter that is poured over the apples once they are in the tart. Since moving to Zurich I have actually found a love for butter that I never new I had. The butter here is yellow and creamy and I wouldn't be surprised if it replaces the cheese on my afternoon piece of toast.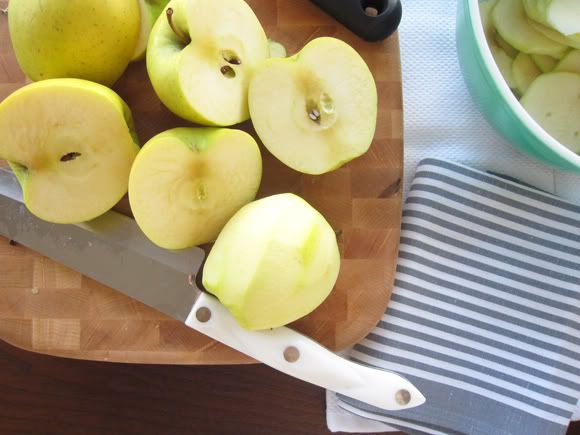 apple tart ingredients:
I used a combo of recipes from Mark Bittman's
How to Cook Everything,
Alice Water's
The Art of Simple Food
and an apple tart recipe from the most recent
Savour
- 2 cups all purpose flour
- 1/2 tsp salt if using unsalted butter
- 12 tablespoons (1.5 sticks) of butter
- 1/2 cup of ice cold water
this recipe makes two balls of dough, enough for two 11" tarts
Work the butter into the flour with a couple of knives and then with your fingers, leaving some fairly large, irregular pieces (1-2 minutes). Pour 3/4 of the ice cold water in a little bit at a time, stirring continuously with a fork. Keep adding water until the dough begins to form clumps. Add the remaining 1/4 of water if needed. Divide dough into two balls, form each into a ball, wrap in plastic and flatten them into disks. Refrigerate for at least an hour. I made my dough the day before and let it sit for a night.
-
4 apples, peeled cored and finely sliced. I sliced way too many apples, but I also realized that I could have added some more to the tart before baking
- 2 tbs of chunky sugar for the crust
- 2 tbs normal sugar to sprinkle on the apples
- 2 tbs butter - melted to spread on dough
- 3 tbs strained apricot preserves
Roll out the dough until it is approximately 1/16" - 1/8" thick. Place apples in a spiral pattern, leaving a 1.5" border around the edge. Continue concentric circles until apples are roughly 1.5"-2" thick. Fold up the edges and pinch to keep in place. Brush the melted butter on the dough butter - be generous! Pour any additional butter over the apples. Sprinkle chunky sugar on the dough and fine sugar on the apples. Bake for 30 minutes at 400 degrees or until crust is golden brown. While tart is baking heat up the preserves over low heat with a tablespoon of water. While tart is cooling brush on the apples, or serve on the side.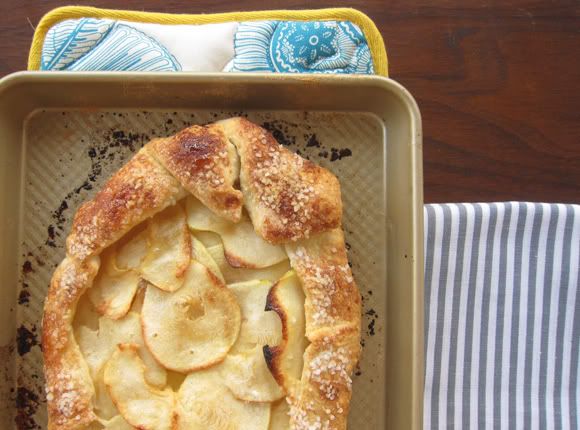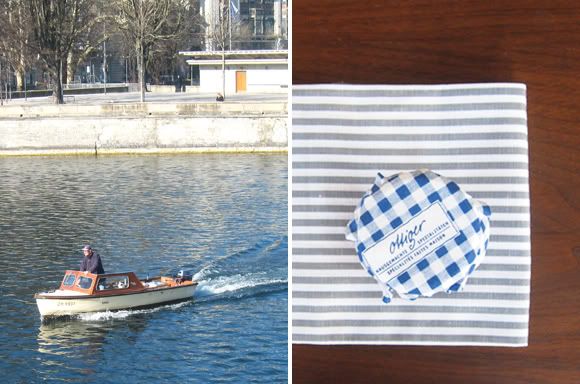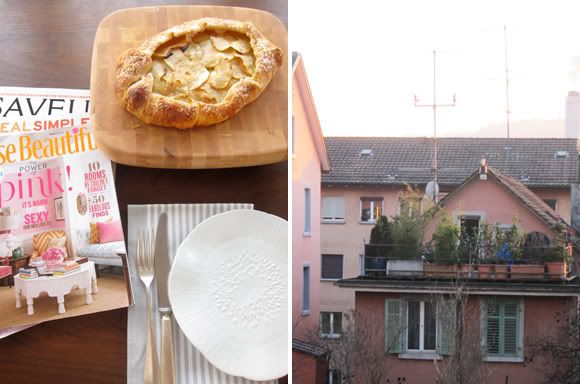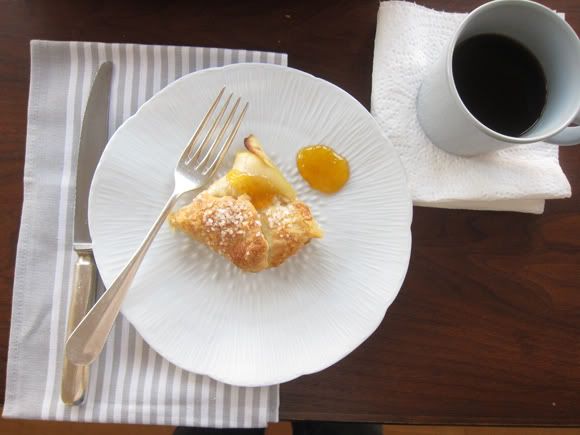 Don't worry Zach helped me eat the rest of the tart last night for desert, after our dinner of leftover shepherd's pie (leftover shepherd's pie is almost better than fresh out of the oven shepherd's pie).
Coral peonies in House Beautiful...wedding inspiration!!! Eat, read, sip some coffee and enjoy.