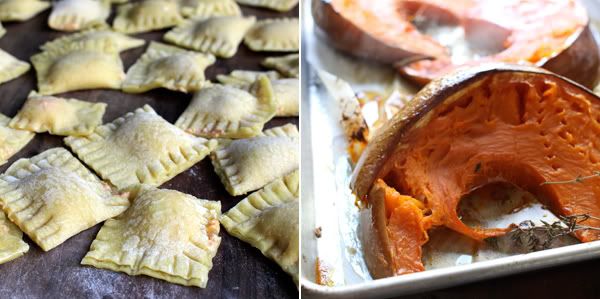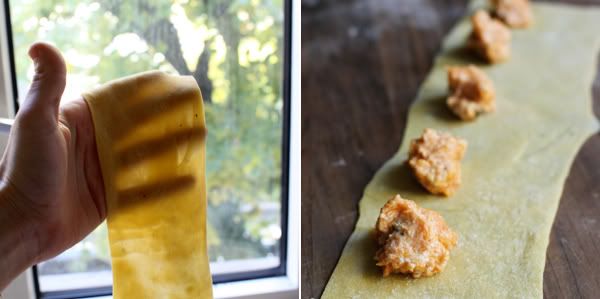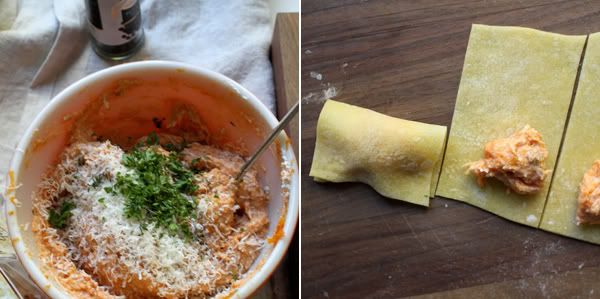 Consider this post a brain/photo/recipe dump. These past few weeks were busy so instead of taking my time with recipes I rushed through them, only snapping photos when I remembered that I have a blog where I like to share things like food, and travel and life and pictures of the Alps. Oh Yeah, THE blog. Whooopsy daisy.
My mom (and #1 fan) was wondering what happened to my posts, and I told her not to worry, that she should think of it as she would a little kid at sleep away camp who is not calling home. Not hearing from someone can actually be a good thing. When I wasn't locked to my desk cutting and gluing little house models I was out spending time with new friends. So blog silence, a bit like radio silence, can be good, every once and awhile. The only bad thing, for me, is that it results in a serious backlog of photos and discussion points, so many that I inevitably forget what I was going to say and look at photos and wonder 'hmmm where the heck did I take that.'
Anywaaaaay back to the photo dump at hand, fall pumpkin cooking. I bought a pumpkin slice at the farmers market a couple weeks ago and went to town, first roasting, then mashing, mixing and pureeing, and finally stuffing. It was my first time working with pumpkin and I must admit I was a bit clueless and definitely a lot experimental, but everything came out okay, if not exactly what I had planned or expected.
pumpkin ravioli with ricotta
the dough (or you could buy wonton wrappers)
from Alice Waters The Art of Simple Food
Mix the eggs and the egg yolks in a bowl. In a separate bowl add the flour and make a well in the top. Pour the eggs mixture into this well, and with a fork combine add the flour to the egg bit by bit. When the dough becomes too stiff to mix, turn out on to a lightly floured surface and knead by hand. You can also do this in a standing mixer, adding the eggs to the flour while mixing at low speed. If the dough is dry and crumbly (mine was) you can add a few drops of water until it comes back together. Shape the dough into a disc and refrigerate for at least an hour
Roll out by hand on a lightly floured surface. You want the dough to be fairy thin. Roll as thin as you can and then begin to stretch the dough by pulling the edge over the rolling pin, anchoring your forearm on the rest of the dough, and pulling the rolling pin with the dough on it away from your forearm. Do this about six times, working clockwise around the dough. Roll out again. And then stretch again. When you hold the pasta up you want to be able to see through it. You can always test the thickness of the dough by dropping some in boiling water and testing it. If it's too thick, keep rolling.
When the dough is thin enough cut into strips about 3 - 4" wide, or big enough for you to drop some filling and then fold the dough over. Place a damp paper towel over the strips until you are ready to use them.
the filling
this is where the guess work comes in
10 oz/300 g pumpkin slice, roasted until soft
1/4 cup parmesan cheese, grated
8-10 mini Italian amaretti cookies pulverized (place in a plastic bag and roll over with a rolling pin) 2chf at Migros...
sauce
to roast the pumpkin, place it on a baking sheet lined with parchment paper, drizzle with olive oil, sprinkle with brown sugar and fresh thyme, stab it with a fork in a few places and then roast it at 400ºF/200ºC for about 30 or until it is soft. Let it cool to just about room temperature. Once cool remove the skin and mash with a potato masher or with a fork until fairy smooth.
In a large bowl mix the mashed pumpkin, cheeses, crushed cookie, thyme and salt and pepper. This is your filling! Taste it before proceeding and add anything else that you might fancy.
Spoon the filling onto the rolled out pasta dough, keeping the filling in the lower 1/3 of the dough. Keep about 1 1/2 inches between each blob of filling. Spray with a fine mist of water. Fold the upper half of the dough over the lower half, then starting at the fold coax the air out of the ravioli and press the two layers of pasta together with your fingers. When the sheet of pasta has been formed and pressed use a knife or a pasta cutter to cut the individual ravioiis. Use a fork to seal the edges if you used a knife. Lay them out on parchment paper until you are ready to cook them.
Cook the ravioli in salted simmering water for about 6-7 minutes, until the pasta is done. Melt the butter in a sauce pan and pour over the pasta with the grated parmesan cheese. Enjoy.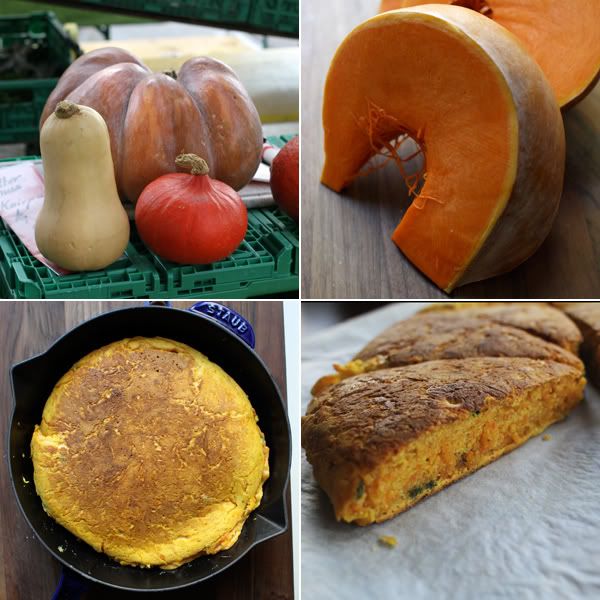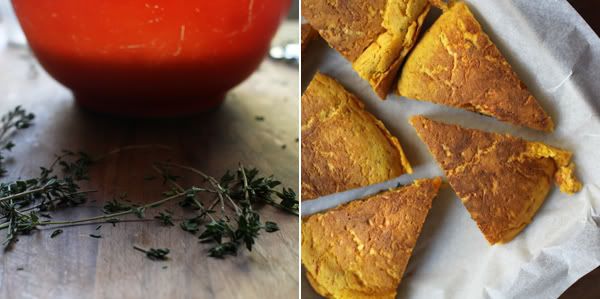 pumpkin pancake
recipe from Nigel Slater, Tender Volume I - he refers to it as a scone, but it wasn't very scone like in my mind so I'm going to go ahead and call it a pancake)
1 cup/ 140g all purpose flour
90ml milk (tough conversion to cups - about .4US cups - over 1/3 under 1/2)
Steam the pumpkin, cut into large chunks, until it is tender enough to mash. Preheat the oven to 400ºF/200ºC
Mix the flour, baking soda and salt in a large bowl. Cut in the butter, as though you were making pie dough, using your fingers to blend the butter into the flour.
Crush the pumpkin with a potato masher, then beat in the egg, then the milk, then the thyme. Pour this into the flour mixture and mix well. Season with salt and pepper. (at this stage I panicked that the dough wasn't stiff enough and I added an addition cup of flour. Of course this changed the nature of the scone to more of a muffin...I say stick with the recipe and see what happens)
Warm a heavy non stick 8-9" skillet with a metal handle over low to medium heat. Melt a little butter or oil in it then scrape the dough in and smooth it flat. Let it cook until the underside begins to golden.
You are going to need to 'flip' the scone so lightly oil a dinner plate, slip the scone out of the skillet on to the plate or flip it out of the skillet and then slide flip it back into the skillet with the uncooked side down. Cook for another 4-5 minutes.
Place the pan in the oven until the scone is lightly set, another 7 or so minutes. Turn it out of the pan, cut it into wedges and serve it warm with a slice of cheddar cheese and some bacon.