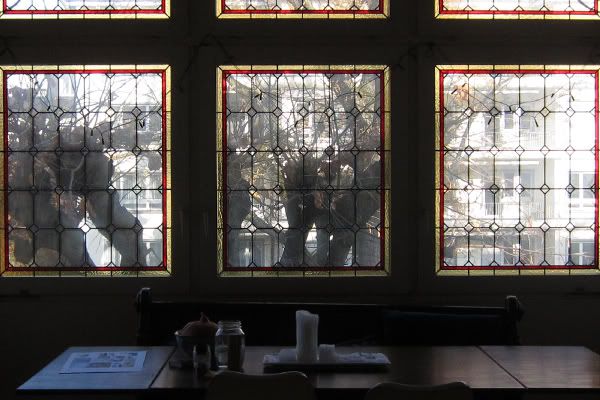 *panic* (I like to think of the asterisks as hands flailing in the air). The leaves are gone. All of them. From yellow to bare in one weekend. When we left on Thursday the apartment was bathed in a nice yellow light and now it just feels bright and exposed. Ugh. I guess this means our neighbors can officially see into our windows, although I think they've always been able to since they always have their curtains drawn, which I figure to mean they can see us and they don't want us to see them. But if they have their curtains drawn it means we don't need to use ours right?!
I think it's almost better that we were away when the last leaf fell. We weren't here staring at the tree, willing it to hold on just a liiiiittle bit longer. Nope, we were home enjoying the company of friends and family. So remember when I said that this was the first time Zach and I have traveled back together? Well it's funny because the flight is the most time we spent together all weekend it feels like. We had our own agendas and people we wanted to visit with. We did come together briefly throughout the weekend, but never for an entire day. I guess that's what happens when you live abroad and your time at home is precious. I see a lot of Zach, more than I ever saw of him when were living in New Haven, and I obviously love spending so much time with him, but when we whisk home for a weekend it's impossible to compromise on our wish-list, so we each go our separate ways. Until we have kids I kinda think that is how it will go...
These are a few pictures of my weekend with the girls in New Haven. I didn't take many, because once again I completely forgot, too wrapped up in living it I guess. It was heaven. Air mattresses squeezed together on the floor, mornings around the table with coffee, toast and eggs, afternoons strolling through East Rock and evenings eating anything that was edible. Friday night

Crem

cooked a chicken surrounded by Brussels sprouts, potatoes and squash and then tempted us with whole wheat chocolate chip

cookies

for dessert.....mmm. Saturday we went to

Caseus

, my favorite restaurant in New Haven and shared a bunch of delicious plates, including more Brussels sprouts. It was perfect. I can't wait for the next reunion/bachelorette/wedding.
It's always hard to come back from a weekend like that. Zach and I were both a little bummed when we boarded the flight. It's just so nice to be home sometimes, especially when all your friends make the effort to see you. We often get caught up thinking that is what it would be like if we lived in the states again - that we would be showered with dinners and drinks and get togethers. It's easy to forget that people are busy, like really busy, and it's often hard for friends who live in the same city to see each other, let alone see each other everyday.
Pair a touch of sadness with a pinch of jetlag and a whole lot of fallen leaves. It was time for a pick me up and I'd been wanting to bake an apple cake for a while, ever since the leaves changed from green to yellow. I found this recipe in Dorie Greenspan's cookbook Around My French Table, which I've been browsing/using a lot recently. It's quick and pretty easy, made with ingredients you likely have in your pantry. The dough to apple ratio is also wonderful in this cake. It's as if the dough is just there to take up the extra room between apples and the nooks they create amongst themselves.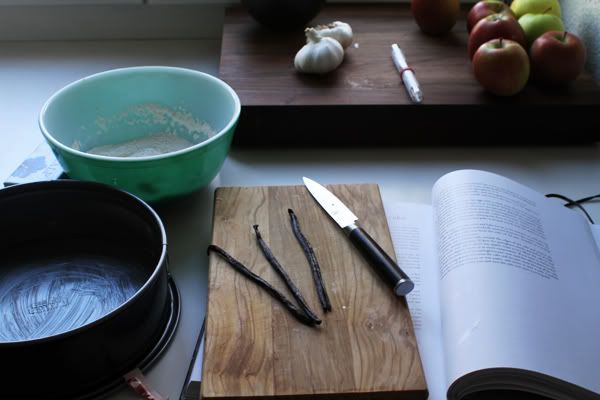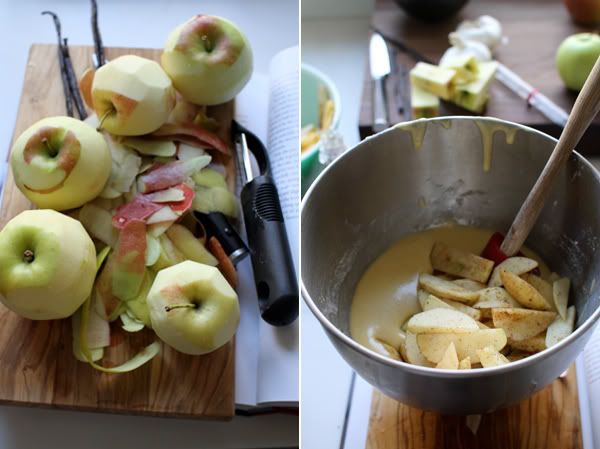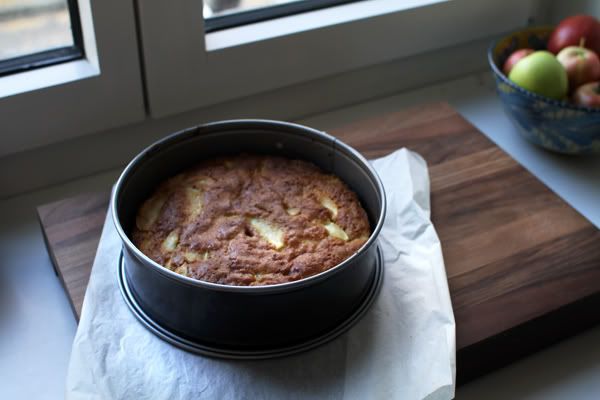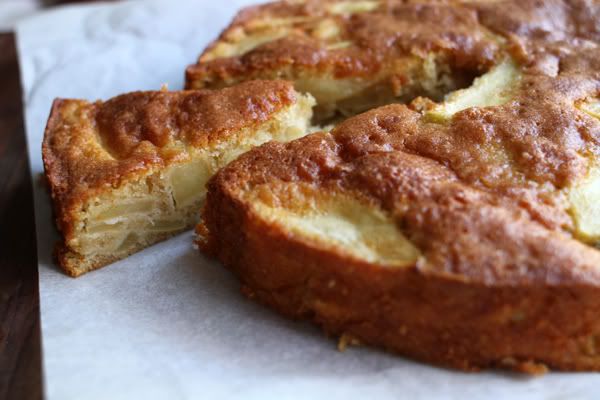 apple cake
adapted from Dorie Greenspan's Around My French Table
8 tablespoons / 1 stick / 113 g butter, melted and cooled
1 vanilla bean or 1/2 tsp vanilla extract
3/4 teaspoon baking powder
4 large apples, different varieties (I used 5 because 2 were really little)
1 tablespoon of cinnamon, more if desired
Preheat oven to 350ºF. Butter an 8" - 9" springform pan.
Peel the apples and slice them into fairly thin slices, about 1/8" - 1/4" thick (you can really cut them however the heck you want). Place them in a bowl, sprinkle with cinnamon and mix well.
Place the butter in a small saucepan over medium heat. Add the vanilla bean, sliced lengthwise (if you are using extract you will add it later). Once melted remove from heat and allow to cool and then remove the bean, scrapping out as much vanilla 'dust' as you can
Whisk the eggs until foamy. Add the sugar and whisk until incorporated. Follow with the rum and vanilla extract if using.
Mix the flour, baking powder and salt in a bowl. Add half of this mixture to the batter, whisking gently until incorporated and follow with half of the melted butter. Mix gently so that you have a smooth batter rather than a thick batter. Repeat with the rest of the flour and then the rest of the butter. Switch to a rubber spatula and fold in the apple slices, making sure to coat them evenly with batter. Pour into the buttered pan and place in the oven for roughly 50-60 minutes, less if you are using a 9" pan. You want the top to be golden brown and a cake tester to come out clean when tested.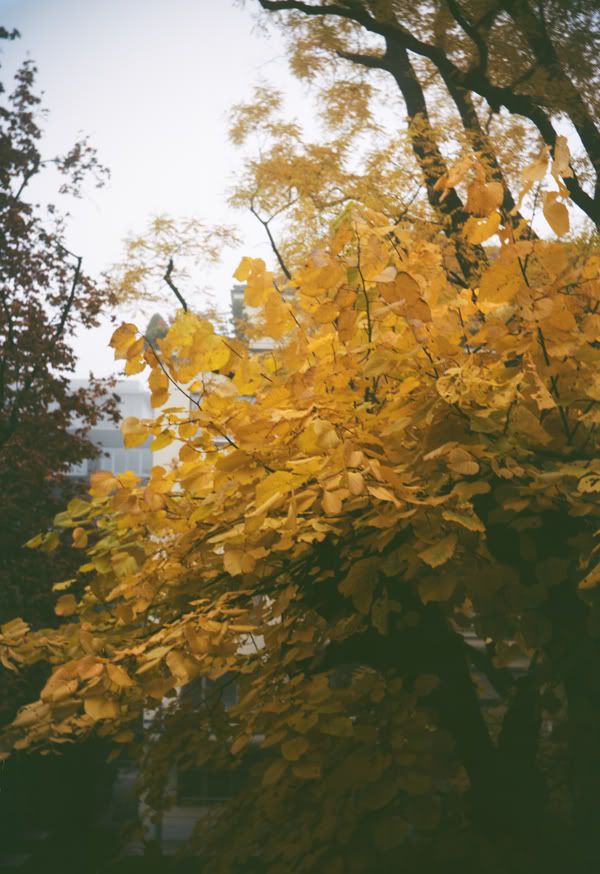 Those were the leaves. Don't you think you'd miss them to0? They quickly became a part of our apartment decor. Now I might just have to paint some big canvases yellow and hang them everywhere.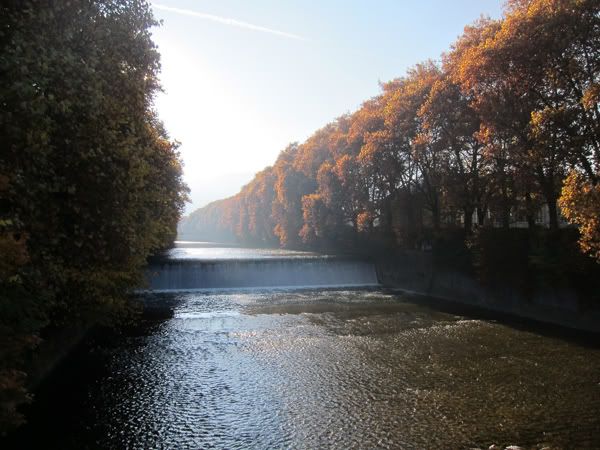 And this is just a favorite fall photo that I snapped on one of my walks, walks which are already getting colder, cold enough for scarves and soon mittens.