Let's set the scene. It is 4:30pm and night has fallen, already. The air is cold and your cheeks are red and ready for some time indoors, as is the rest of you, which has been chasing the light all day. You are tired. It is time to go home. Rest awaits you, and so does an apple-streusel cake that you baked earlier that morning while you were waiting for the grey and the fog to lift. It was easy to make and heck the apartment still smells like cinnamon when you walk in. Job well done; afternoon snack and cozy-seasonal-scented apartment all in one. Pat yourself on the back, put some tunes on, press the button on the espresso machine, cut a slice of cake, put your feet up, and relish the little perks of a cold fall night.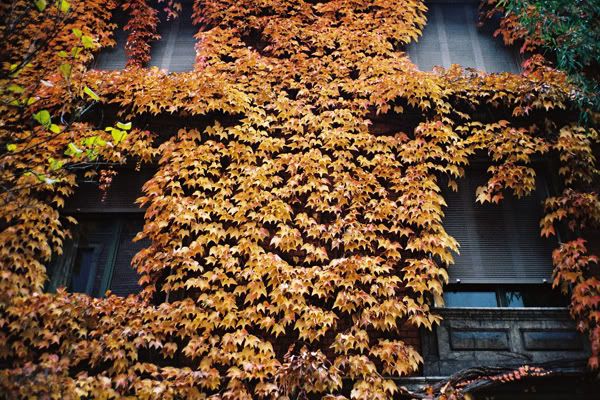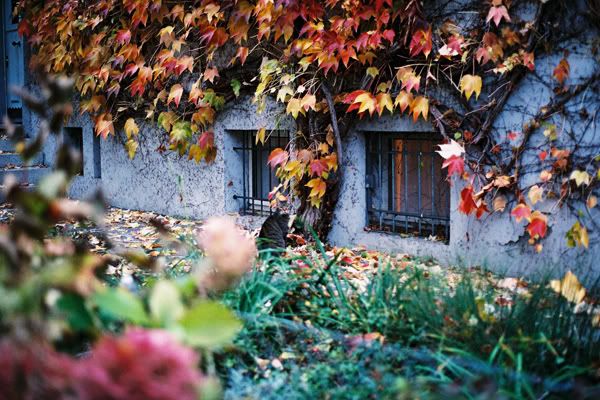 Check out the kitty in this photo....I caught him jumping for swallows that were flirting about in the leafy vines. Admittedly I'm jealous of his house, if this is indeed his house, all leafy and colorful.
I know I just recently posted another apple cake

recipe

, but I didn't really have an option when it came to baking this cake. I had to do it.

Ali

and

Jess

both made this cake within a week of one another, both raving about it's hearty, moist, deliciousness while cooing over their new babies. How can I resist new babies and apple-cake? I can't. Hence today's featured cake. And since I don't have a newborn to coo over I added a little extra sugar in the form of a pecan streusel filling.
Teddie's apple cake, adapted from the

NYTimes
* cooks note - I followed Ali's lead and left the walnuts and raisins out, but then of course pretty much replaced them with the streusel filling. Just do what feels right. It will be good
- butter for greasing the pan
- 3 cups flour, plus more for dusting pan
- 1 1/2 cups vegetable oil
- 1 teaspoon vanilla (I used about 1/4 tsp vanilla seeds, which are cheeper and easier to come by here in Zurich)
- 3 cups peeled and cored and thickly sliced tart apples
streusel filling (you might have extra, that's okay)
- 3/4 cup pecans, chopped
- 3 tablespoons brown sugar
Preheat the oven to 350ºF/180ºC. Butter and flour a 9" tube pan.
Beat the oil and sugar with a mixer (fitted with a paddle attachment) while assembling the remaining ingredients. Add the eggs and beat until creamy, about 5 minutes
Sift together the flour, salt, cinnamon and baking soda. Stir into the batter. Add the vanilla and apples.
Make your streusel by combining the chopped pecans, brown sugar and cinnamon in a small bowl.
You are going to place the streusel filling in the middle of the cake so spoon about half of the dough into the tube pan. With a knife create a little well for your streusel filling. Sprinkle as much of the filling as will fit, making sure it doesn't touch the sides (it will burn). Cover with the remaining dough and smooth out with a spatula
Bake for an 1 hour and 15 minutes, or until a cake tester comes out clean. Cool in the pan before turning out. Serve at room temperature for breakfast or dessert.
I love this last photo. The trees were given a haircut, just enough so that the leaves hover over your head. And while you are wandering under the leaves you can have some water. I don't think I've mentioned them before, but there are a whole network of water fountains in the city which are completely safe to drink out of. I like to think of it as my own little Evian spring, right from the Alps.