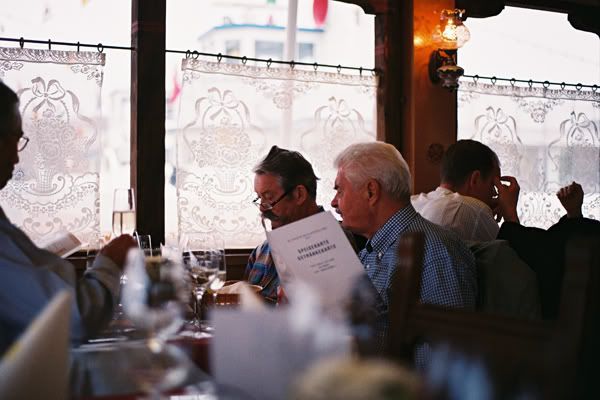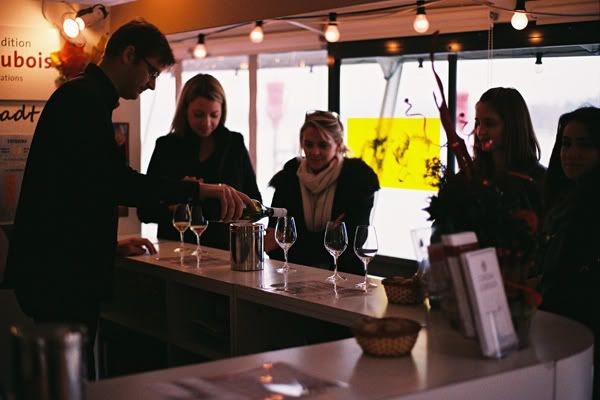 Red in fall-winter-spring, white in summer, not too fruity, not too bold, fairly smooth. That's what I like in a wine. Descriptive huh? Ha! I know nothing about wine, just that I like most of it and that I like sharing a bottle with friends.
I've been to the wine boats twice. I first went last week with some girlfriends for lunch and tastings, where the highlight was definitely the group of old men with mustaches, donned in plaid, having lunch next to us (see picture above). After lunch we tried some champagne and then moved quickly to Chilean, Spanish and South African red wines. I think I pegged a Spanish Rioja as my favorite, but now I can't remember.
Last night Zach and I went back with some Swiss friends who knew a lot about wine and we staked out the Movenpick booth (where one of our friends was working) and we sampled a whole variety of reds. Our favorite was a malbec from Mendoza which was upwards of 100chf a bottle. Zoinks. Won't be getting a case of that one, or a bottle for that matter.
For those unfamiliar with the boats, they tie up all of the commuter lake boats right at the Zurich dock, set up a gazillion wine booths inside, and open them up to the public for two weeks of tastings. The boats/booths have a cozy atmosphere, which can be great or just really crowded.
There are only two more days - Wednesday and Thursday - to visit the boats. If you go before 12:30 you can get in for free. Zach and I were thinking of going back tomorrow so I might even wander over there sometime before noon so I can get in for free and then walk right back out with a bracelet that will let me back in for free all day and night. Sneaky, aren't I?