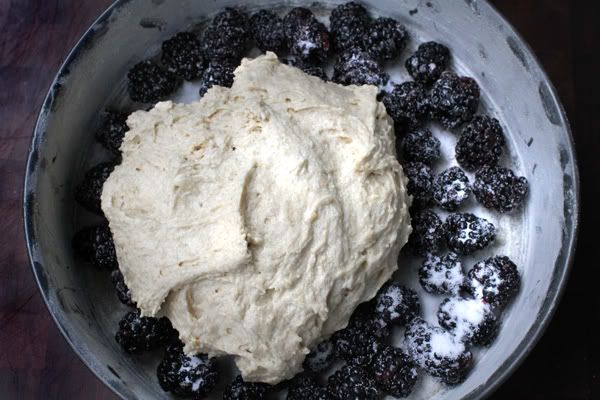 I was only in Zürich briefly on my last trip, a quick week, but I was there long enough to sense the early arrival of fall and the accompanying sense of panic. Not a weather related panic because really the cool and wet days were a nice relief from the heat dome that had settled on the East Coast during the third week ofJuly, but rather the panic that arrives when you realize that the vibrant berry season is coming to an end. Is it really true? If fall arrives in July, as it has in Zürich, does that mean there won't be any August berries? panic panic panic I had the urge to buy my local markets out of every type of berry and quickly teach myself how to can and make some serious jam.
Typically my morning yogurt is 60% yogurt, 20% blueberries and 20% muesli, but for the last few days it has been 10% yogurt and 90% berries. I've been eating blueberries like they are going out of style, or rather out of season. I have been keeping a bowl out on the counter and eating them by the handful.
At this point, in full panic mode, I am stuffing berries into any and all places - salads, scones, quinoa, couscous, corn salad, and buttermilk cake. I spotted this buttermilk cake on my friend Darcy's blog, shortly after I had made a berry buttermilk cake that turned out terribly, and I immediately marked it as a 'to-make-soon.' But then when the panic really set in, I bumped it up from soon to now. I suggest you do the same! The recipe called for blackberries, which I used, but I think it would be good with any berry, or a mix of berries, and perhaps even stone fruit such as peaches and nectarines.
If you are in Zürich and feeling the panic too, the go buy some berries, make this cake and then go visit My Girlfriend Guide to Zürich (where this recipe is the recipe of the week) and distract yourself from the early onset of fall by browsing all of their great ideas for activities in Zürich.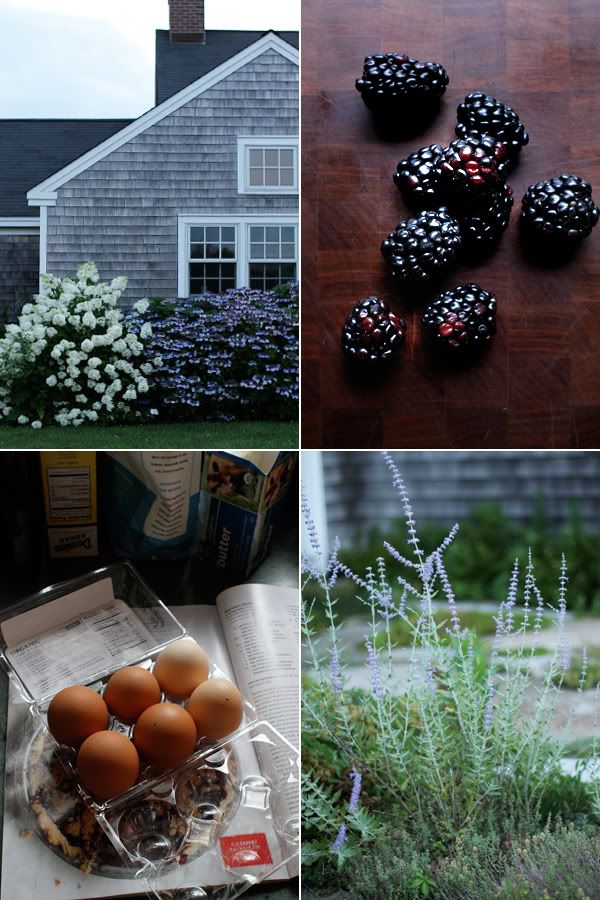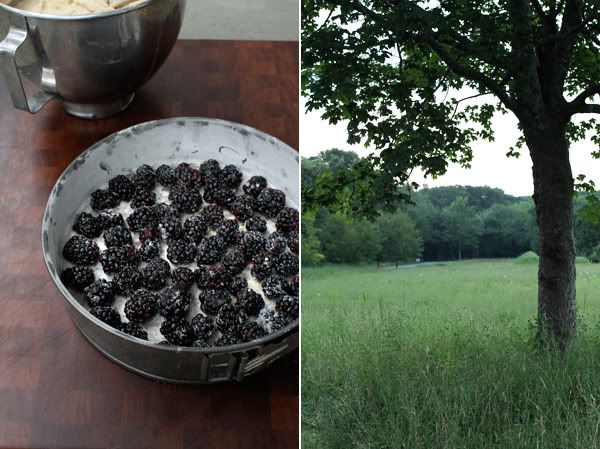 I'm currently back in the steamy states, but I'm enjoying a bit of respite in Little Compton, with Zach's family, but without Zach. This is our favorite summer retreat. When we were living in New Haven we came up almost every weekend. It's a simple place, but that is exactly what we love about it. Zach does the jumble in the morning while I read the style section, then we go to the beach and jump off the bluff and do some reading under the umbrella and then we come home, hang in the shade, play a little tennis and have an amazing homemade dinner. It's bliss and it's probably one of the things we miss most living in Zürich.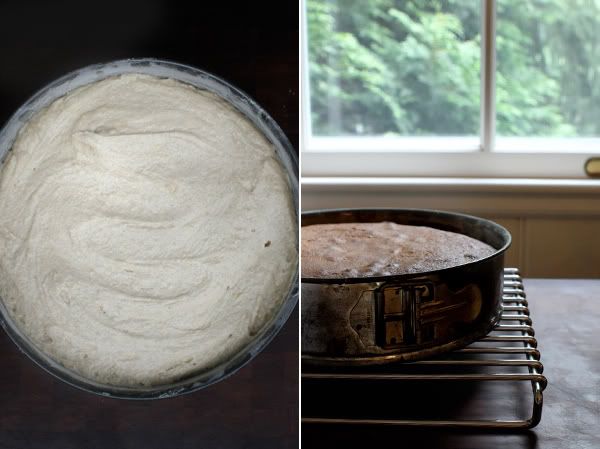 Unlike the last buttermilk cake I made that was dry and bland, this cake is incredibly moist and flavorful.
- 3/4 cup unsalted butter at room temperature + more for pan
- 2 1/3 cups cake flour, sifted then measured
- 2 1/2 fresh blackberries, or raspberries/blueberries
- 1/4 cup plus 1 1/3 cups sugar
- 1 1/2 tsp baking powder
- 3 large eggs at room temperature
- zest from one medium orange
- powdered sugar for dusting
equipment - 9"-10" springform pan
Preheat the oven to 350F and place the rack in the middle. Butter your springform pan; line the bottom with a round of parchment paper (use pan as a stencil and then cut out the circle and place in bottom of pan). Butter the parchment paper and then dust the pan with flour, tapping out the excess. Arrange the berries in a single layer on the bottom of the pan and then sprinkle with the 1/4 cup of sugar.
Sift the flour, baking powder, salt and baking soda in a medium bowl (not the bowl of your standing mixer), set it aside. In your mixing bowl mix the 3/4 cup butter and remaining sugar on med-high speed until light and fluffy, about two minutes. Mix in the eggs one at a time, beating well after each addition. Add in the vanilla and orange zest, mix and then reduce the speed to low. Alternate adding the flour mixture and the buttermilk, beginning and ending with the flour mixture. Pour the batter over the berries and smooth with a rubber spatula.
Bake until the cake is golden brown and a tester comes out clean, roughly 1 hour 25 minutes. Let it cool in the pan for 15 minutes, then run a thin knife around the edges. Release the spring edge and invert the cake onto a wire rack. Remove the pan bottom and the parchment paper. Let the cake cool completely and only add the confectioner sugar dusting just before serving.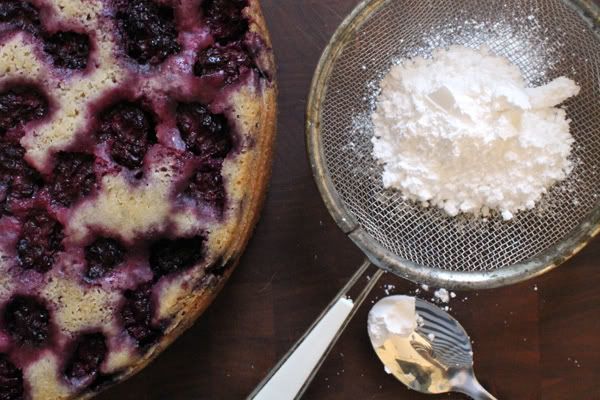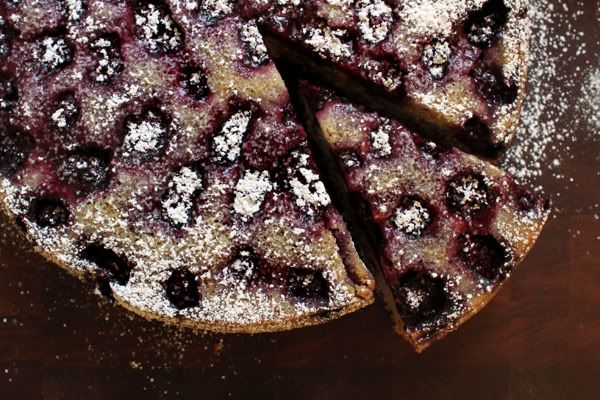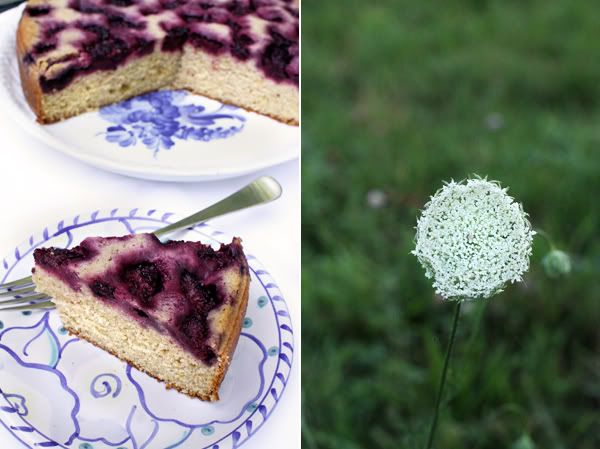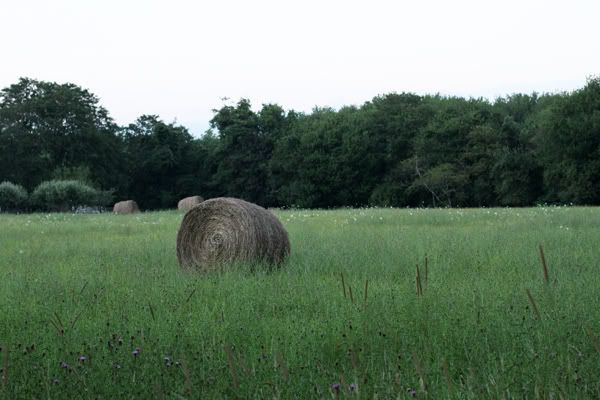 It was twilight when I took most of the outside photos and now it's well into evening and I'm ready to go to bed and wake up to full day in Little Compton. I'll likely have a piece of cake for breakfast, for although it looks like dessert, it doubles as a breakfast cake. After breakfast, before the heat settles in for the day, I think I'll go for a long, leisurely walk with my camera to some of my favorite spots and then, of course, to the beach for a jump off of the bluff. Blissful, really.
help calm my panic and let me know if you have any creative ideas for berries!