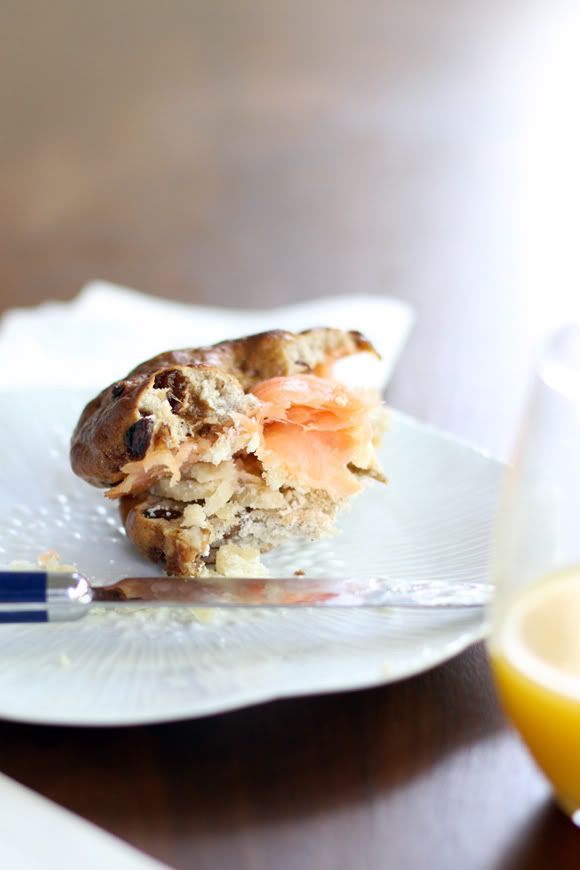 It hasn't been easy, but I've gotten use to life without peanut butter, Annie's Mac & Cheese, Goldfish and Kashi cereals. I've basically replaced my love for the aforementioned foods with my new love for bratwurst and muesli. However, I will never, for as long as we are living in Zurich, be able to get use to life without bagels. You read that correctly, there are no bagels in Zurich. No bagels in the grocery store, no shops dedicated to the perfectly toasted and cream cheese topped bagel and no little bodegas cooking up the perfect bacon egg and cheese and sandwiching it between the chewy halves of an everything bagel, because like I said, there are no bagels in Zurich.
Bagels bring me back to certain places. There were the plain bagels with peanut butter and jelly that I use to pack for school trips in grade school. Always toasted and always pb&j because I didn't like cream cheese and I use to have a fear of cold cuts (I sort of still do). There were the bagels in college, which were at first toasted with cream cheese and then took on a new role as sandwich bread, stuffed with veggies and cheese. Then there are the bagels of Architecture school. Wow. Bagels use to be a treat, something saved for brunch on the weekends, but in architecture there was a long, three years long, stretch where I had one every morning. I never strayed from my order of an everything bagel with cream cheese. Bagels are truly the ultimate comfort food. A bagel and a coffee from Book Trader on Chapel Street became the only way I knew how to start a morning in the studio. A bagel and a coffee and at least 3 hours procrastinating by wandering around the internet.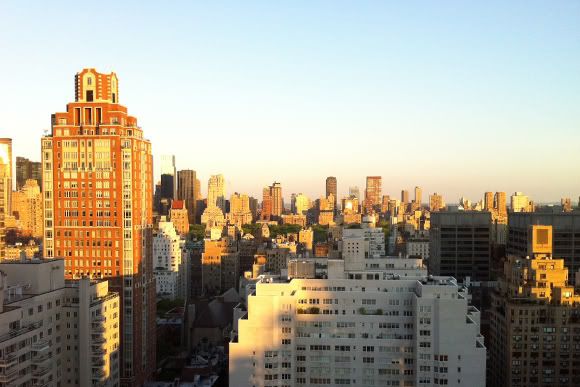 My brother sent me this photo of the view from his apartment on seis de mayo, the day after cinco de mayo. If cinco de mayo is known for corona and corn chips then seis de mayo is known for bagels slathered in cream cheese or topped with eggs and bacon, anything to combat the too- many-strawberry-margarita headache. It wasn't his intention, but I took it as a form of email torture. Just think of all of the bagel shops on the streets below, there must be hundreds, thousands if you count the ones on the Upper West Side, which is shockingly visible from his apartment. Admittedly my first thought was of bagels, but my second thought was 'holy ***, look at that view" and my third thought was 'is it too early to look at apartments in the West Village?' and my forth thought was 'there better be a good bagel shop/bakery on our block and ooo I hope there's a terrace or roof deck in our new apartment".....the though train went on like that for a long time...you get the idea.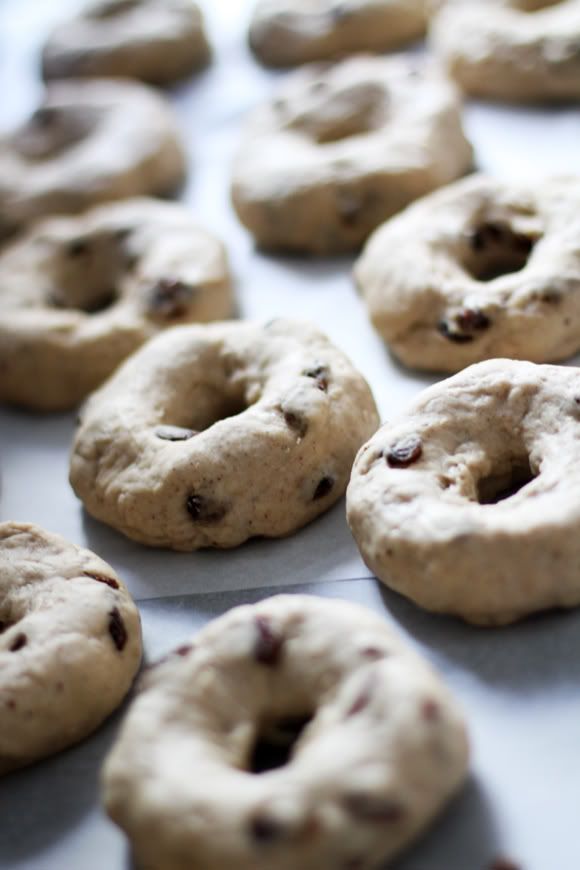 Desperate for a bagel I searched the internet and found this recipe for cinnamon raisin bagels on smittenkitchen. The dough bagels need to sit in the fridge over night so unfortunately I didn't get to eat them on seis de mayo, but they were ready just in time for Saturday brunch.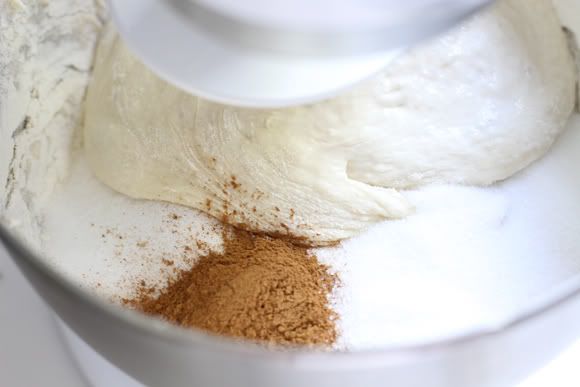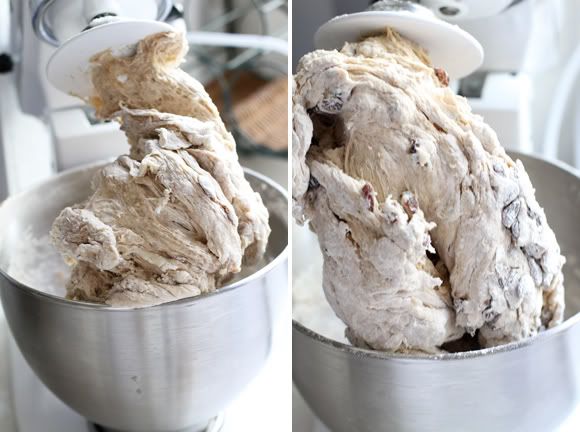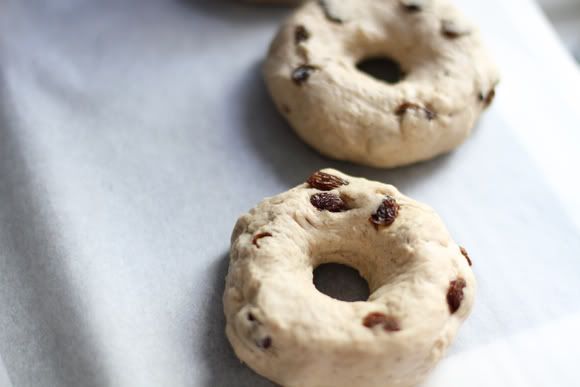 We stayed in Zurich this weekend and ate bagels. A whole lot of bagels. There were brunch bagels, lunch bagels, I need a snack bagels and certainly dinner bagels. I had at least four and Zach had three or four yesterday alone. This baking project got a firm stamp of approval from Zach who found it both delicious and entertaining. All of the different steps, especially the ones at the end, make for a visually exciting process.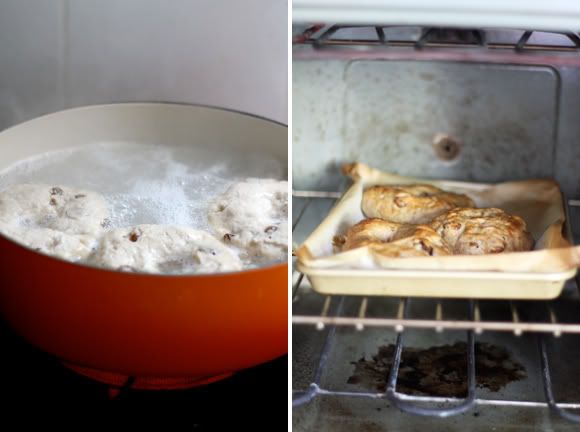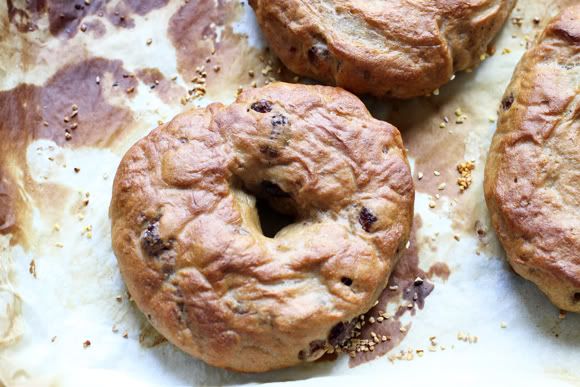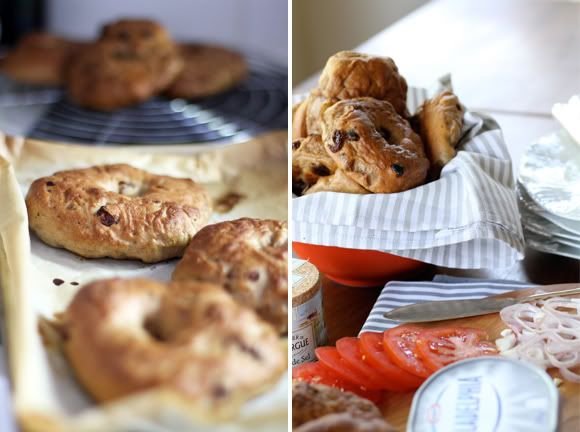 I will be the first to say it so you don't have to sit there and wonder about it - these bagels are lumpy and weird and not perfectly round and puffy. I know. I'm embarrassed, but unlike my episodes with
this cake
and with
this one
, I couldn't start again because the steps are so spread out and the dough needs to rest overnight in the fridge. So please excuse these lumpy bagels, which I promise are just as scrumptious as non-lumpy bagels. I mean once you put cream cheese, a tomato slice, some scallions and a dash of salt and pepper, does it really matter that they are lumpy? The approximately 10 bagels we ate between us this weekend would say not. Although maybe that is just bagel deprivation speaking.
Okay so fine I admit that the lumpiness irks me and the perfectionist in me has done a lot of research on why my bagels might have turned out lumpy. I think it's because I didn't use high-gluten flour, which is apparently a must. I used all purpose flour, but according to
smitten kitchen
and
expatchow
the gluten content of the flour is especially important for bagels. That is why when my parents come next week I am having them pack some vital wheat gluten flour in their suitcase along with the brown sugar and blocks of cheddar cheese.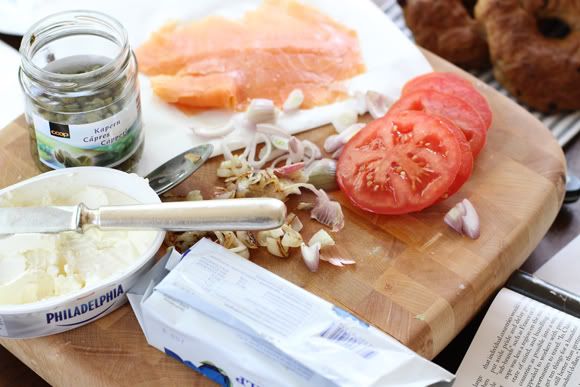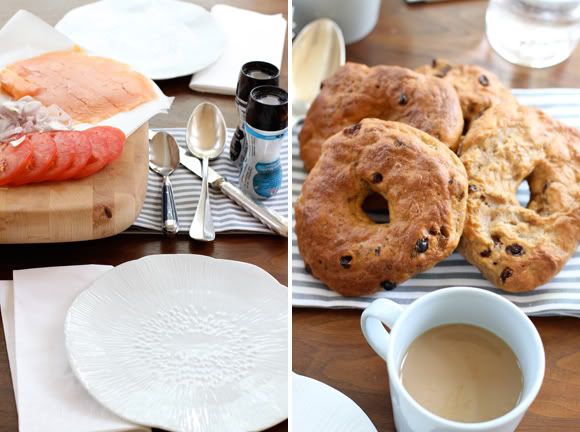 This was bagel-feast #1, which little did we know would be followed by 2, 3, 4, 5, and 6.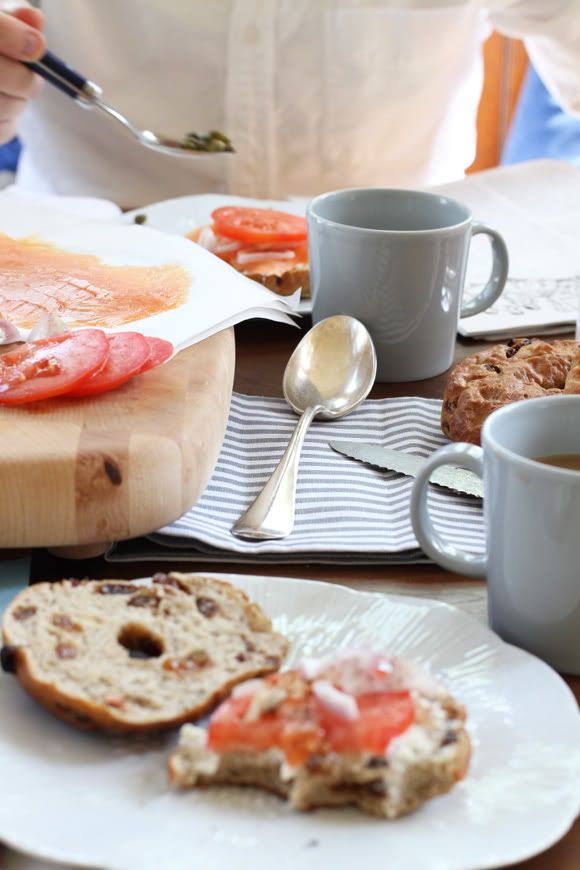 One bagel condiment that I can't get on board with is smoked salmon. I just can't do it. The smell and texture really throw me. I'll leave the salmon and the capers to Zach.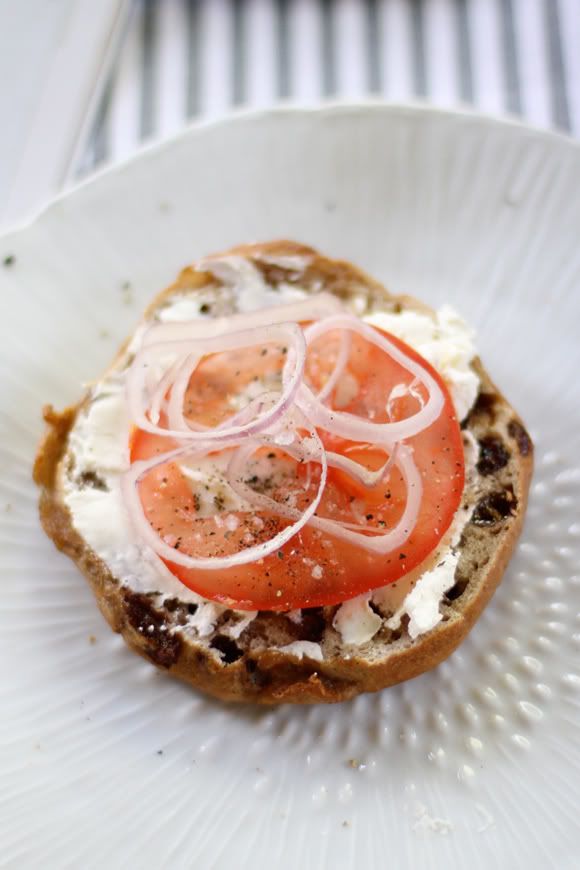 I prefer my bagels with a healthy coat of cream cheese, a thin slice of tomato, some scallion rings and a good amount of salt and pepper. This is actually one of the few instances in which I like plain, uncooked, tomato. I've never been a huge tomato fan, but on a bagel and with fresh buffalo mozzarella and balsamic in the heart of summer, those are my two tomato love anomalies.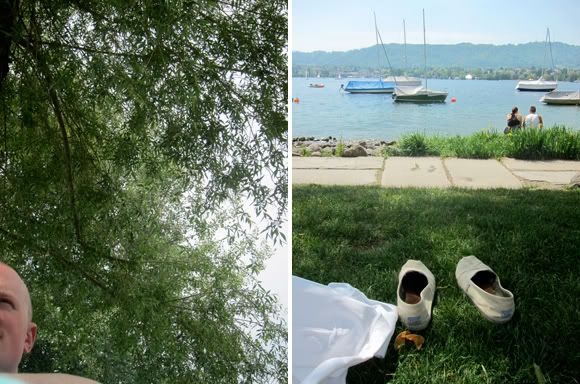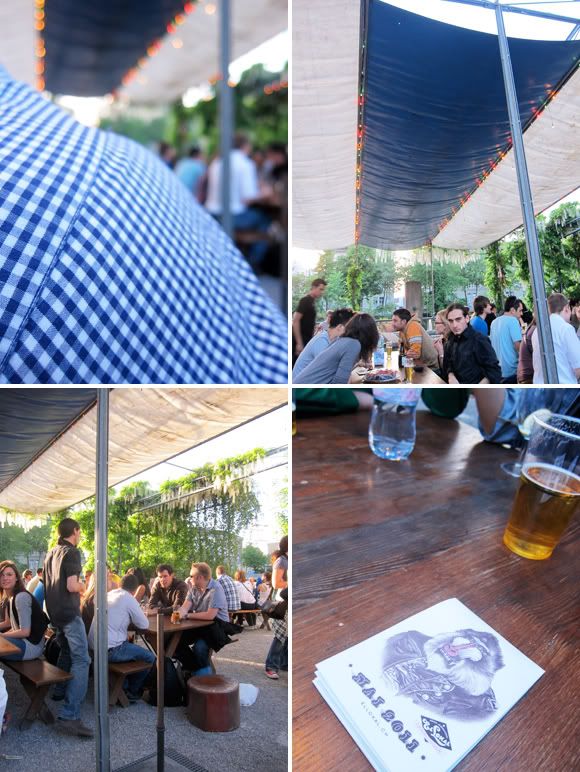 Our bagel brunch was followed by stroll and lounge in the park, which then to more bagels and then ultimately to a great night out with new friends. We went to a couple of places that we hadn't been yet, including El Local, which we absolutely loved and will likely become regulars at.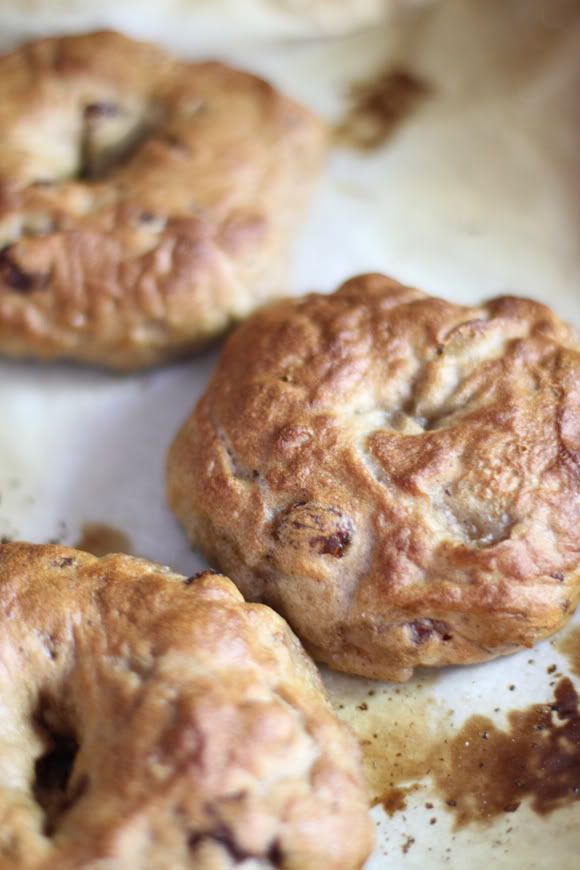 so lumpy....and these ones don't even have holes. These are the the Sunday morning, bagel feast #4, bagels. At this point we just wanted more bagels and didn't care that the ones that had sat in the fridge for an extra night came out extra funky, but still delicious.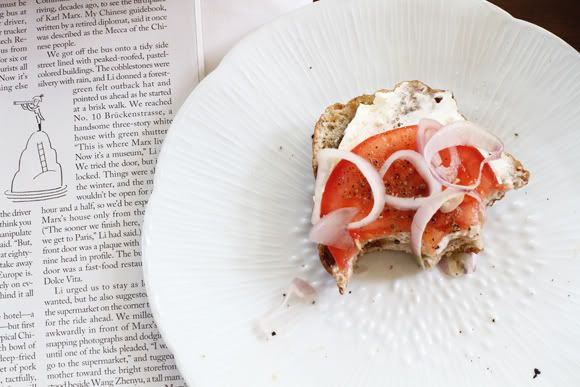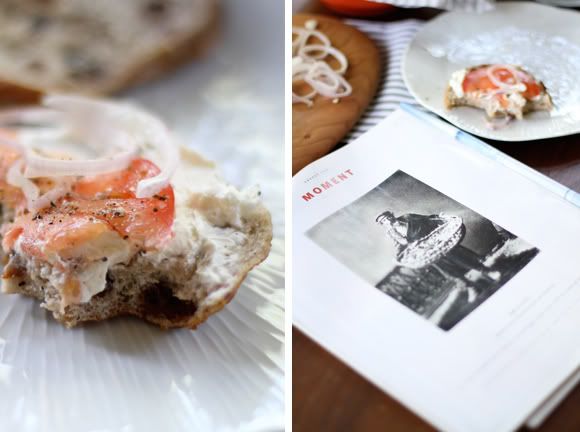 I was reading an old issue of Saveur and on the last page there was this picture from the late 1800s of a Jewish bagel vendor in what was Kishinev and is now Moldova. It might be time for a trip to Moldova to sample bagels!!
Too. Many. Bagels. Time for a nap on the couch!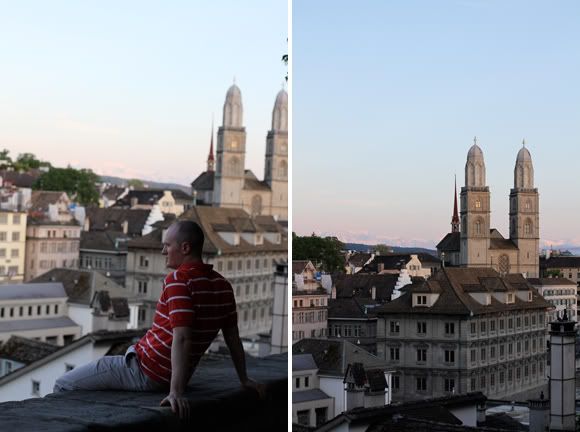 The nap (during which I ate another bagel) was followed by a walk around the city. We've gotten in the habit of going for both pre-dinner and post-dinner walks, where we inevitably find ourselves by the lake and then up in old town.
and now for the recipe which I'm posting at the end because it's long.
- 4 cups unbleached high-gluten flour
- 2 1/2 cups water, room temp
- 3 3/4 cups unbleached high gluten flour
- 1 tbsp honey or brown sugar
- 2 cups raisins, rinsed.
This is a multi day baking adventure so I'm going to break it down by day
Day 1
: make the sponge by mixing the yeast into the flour and then adding the water. Stir the dough only until it comes together as a smooth, yet sticky batter. Cover the bowl with plastic wrap and let it sit for two hours, during which the sponge should double in size and become foamy and bubbly.
Once you have your sponge, add the additional yeast and stir. Transfer to your standing mixer and proceed to add 3 cups of flour, cinnamon, sugar, salt and brown sugar or honey. Using the dough hook, turn the mixer to low speed and continue to combine the ingredients until the dough begins to form a ball and pull away from the bowl. Add the remaining 3/4 cups of flour, slowly, to add stiffness to the dough. Once the flour is integrated add the raisins. I had to add a little water at this stage because the dough was too stiff.
Knead the dough for 6 minutes with your mixer or transfer to the counter and knead for 10 minutes by hand. Adjust the flour/water content of your dough until you get a dough that is neither sticky or dry, bus is smooth and pliable.
Once kneaded, divide the dough into 16 pieces and roll into balls. Place the balls under a damp kitchen towel for 20 minutes. After the 20 minutes begin to shape the balls into bagels by using your thumb to poke a hole in the center and slowly working into an evenly stretched donut form. Place the bagels on a sheet of parchment paper that has been lightly greased with olive oil to prevent the dough from sticking. Place the bagels on the sheet, with room between them for growth, and then cover the sheets with pastic wrap and let sit for another 20 minutes.
Now for the "does it float" test. Place one of your dough bagels in a bowl of water. If it floats within 10 second then your bagels are ready to go into the refrigerator. If not then you need to check back every 10 to 20 minutes and perform the test again. Once they are ready place them on a sheet of parchment, on a sheet pan, and cover them fairly tightly with plastic. I placed mine inside a plastic bag.
Day 2:
preheat the oven to 500 and put a large pot of water on to boil. Once the water is boiling and 1 tablespoon of baking soda. It's bagel time! Remove the bagels from the refrigerator and with a slotted spoon transfer as many as will fit into the boiling water. After 1 minute flip the bagels and boil for another minute. Take them out of the water and place them back on the greased parchment lined baking sheet. Place the sheet pan in the oven. The bagels should take somewhere between 5-7 minutes. In the middle of the baking time rotate the sheet pan. The bagels are done when they are a nice toasty brown. Remove from the oven and let cool for at least 15 minutes. Then slather with cream cheese and devour.
PHEW! long post, but hopefully it will keep you entertained for the next few days. I am heading back to
Tuscany
to visit a bestie who is traveling there with her mom! I am just so excited I can barely wait. I jump on the train tomorrow at 7am and you can be sure that I will be packing some bagels with me!