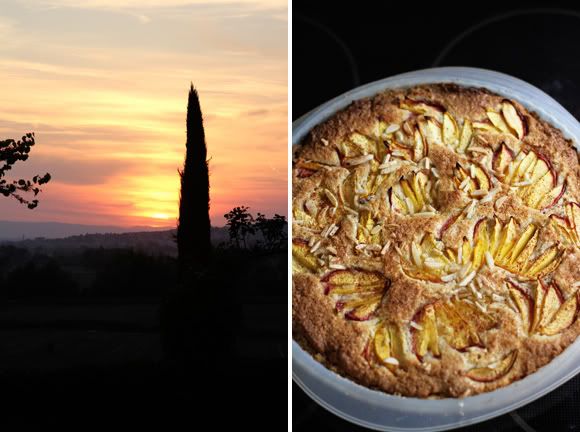 While I wasn't looking - ironically I was too busy cooking, photographing and eating - this little blog turned into a food blog. And then even crazier, said food blog was noticed by someone other than my mom. Whoa. People find housetohaus in all sorts of funny ways. Google analytics tells me that one person was lead to it after googling 'I really like this girl Vanessa from Lugano,' which made me wonder if perhaps I should start an expat singles blog (nah, singles are too demanding). I imagine there will always be the random internet wanderer poking their nose into the haus and then quickly ducking out, but yesterday I noticed a spike in readers, and they were being referred by Saveur.com! Desperate for an explanation, I clicked the link which led me to a

page

titled '50 more food blogs you should be reading' and there under

Honey and Jam

and above

Hunter Angler Gardner Cook

, was House to Haus. Excuse me as I skip around the apartment and pinch myself. The haus has found a home among readers! Hooray!
I had no idea what this little blog would be when I started, heck I had no idea that I would fall head over heals in love with salami after cringing at the thought of it for last twenty-eight years. But crazier things have happened. Like when your fiancé asks you what you think about a little (huge) jaunt across the Atlantic to a little (itty bitty teeny weeny) city nestled in the middle of Europe (panic at first and say no and then regret that decisions and say yes.) I started the blog as a way of keeping up with family and friends at home and as a means of documenting this crazy, whoa-is-this-my-life, experience of being an ex-pat in Zürich. Four months ago I would have told you it was going to be a design-architecture-travel blog, but then the desire for a routine took over and I realized I love to cook and even more than cooking I love to have dinner with my husband at the end of the day. I've also been having a lot of fun learning how to take photos, and food is a wonderfully agreeable subject. It even looks good half-eaten and as a pile of crumbs.
Back to that whole 'while I wasn't looking thing' - I had no idea how much butter would find its way into this cake. Not a clue. I didn't read the ingredients for all of the different cake components before beginning, and if I had I'm not sure I would have continued. Are you an eskimo looking for some extra pounds to help you through the winter? Looking to expand your derriere? Hoping to be a contestant on the next season of Biggest Loser? No, not you? Then perhaps you should just look at the pretty pictures and skip making this cake. Zach even said, "wow, I can actually taste the butter." That all said, this cake is absolutely delicious, to die for, we-both-had-two-pieces-last-night good, and are now considering the cabbage soup diet
.
When I wasn't eating salami and parmesan last week, I was eating cake. There must have been six different types of cake at breakfast, all of which I sampled (all in the name of blog research.) Most of the cakes were similar to pound cakes, not disimilar from the

one

I made a couple weeks ago, but the majority had fruit hiding under a wonderfully crusty top. I didn't want to make another pound cake, so I set about to find another recipe. After leafing through way too many cookbooks, I came across Jamie Oliver's Crostata di Fichi. I can't imagine that as the Naked Chef he has eaten very much of this cake. A couple pieces and he'd be known as the Please-dear-lord-put-your-clothes-back-on Chef, which is a bit to long and cumbersome to say. Stick with the lemon sorbet recipe on pg 299 Jamie.
Take note of the soft cake hiding under a crusty top. The texture of this cake is part of what makes it so unbelievably good. I didn't have figs, so I used some ripe nectarines that I found in my local grocery store. I might go so far as to say that the cake might be better with nectarines or peaches than with figs. I'm not sure I can make another one of these cakes, so I might never know. Perhaps one of the derriere desiring folk out there can make both and let me know.
The little kitchen scale in the photo on the right is another

present

I bought myself. Just like the KitchenAid, I
neeeeded
it. Ha. It's a lot harder to measure butter by tablespoon when the stick doesn't have those handy little tablespoon tick marks on it.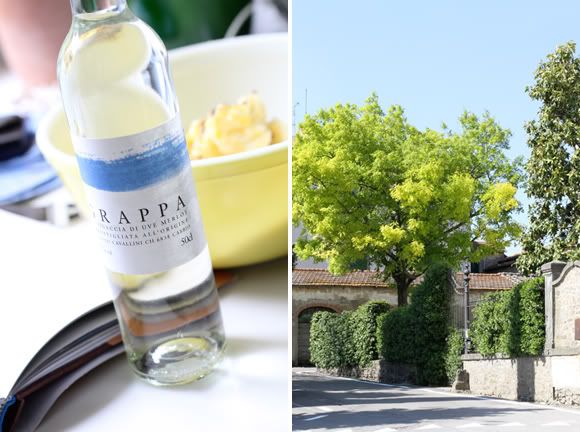 About those tablespoons of butter. There are approximately 27 tablespoons of butter in this lovely (it is pretty isn't it) cake. Holy cow! The butter is actually measured in cups, not even in tablespoons. I estimated the amount with a cup to gram conversion and used my handy kitchen scale. Most of the butter is in the frangipane, the actual cake that is baked in the pastry shell. The pastry shell has a good amount too, but not nearly as much.
The villa that Katie and her mom chose for the first stint of their trip epitomized Tuscan architecture and gardening. It was built in the early 1500s and I believe the first owner was some how related to the Medici family. The villa is still family run, although not by the Medicis', and maintains an intimate and homey feeling. If only it was my home! house-to-villa has a nice ring to it.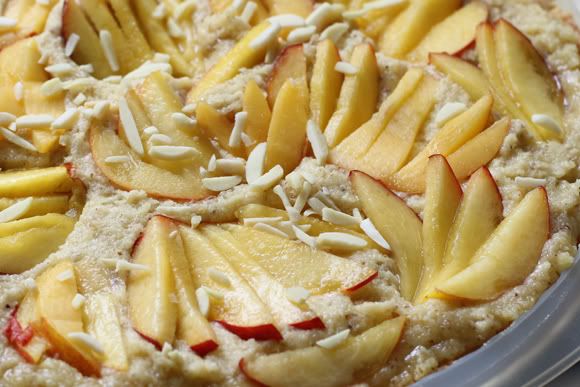 Since you've been warned about the butter and you know what to expect if you go ahead and make this cake, I will give you the ingredients and recipe.
- 6 ripe nectarines, sliced, I kept the skin on, but you can remove it. too lazy
- dash of cinnamon to sprinkle on top
- 2 cups all purpose flour
- 1 vanilla bean, scored and seeds removed
- 9 oz pure almond flour (you can make in a food processor with blanched whole almonds if you can't find in your store)
- 1 cup + 2 tbsp butter (whoa)
- 2 large eggs, lightly beaten
- 1 vanilla bean scored and seeds removed
Using a little of the butter grease an 11" tart tin (I used silicone and do not recommend it - the cake is too heavy). Make your pastry by creaming together the butter, powdered sugar and salt and rub in the flour, vanilla, lemon zest and egg yolks. You can easily do this by hand or in a food processor. Mix until the dough looks like loose, hearty bread crumbs and then add the cold milk. Do your best to assemble into a ball. If the dough is too crumbly you can add a touch of extra milk. Be sure not to over work the pastry otherwise it will be chewy and not flakey. Wrap your dough ball in plastic wrap and stick it in the fridge for an hour. Remove it from the fridge, roll it out (if you even can, I just pressed into the tart pan) and line your tart tin. Place in the freezer for an hour.
Preheat your oven to 350 and bake the pastry shell for about 15 minutes or until the pastry is lightly golden. Remove from the oven and turn the temp down to 325.
To make the frangipane mix the butter and sugar until it is light and creamy (love you KitchenAid mixer!). Then add to the flours, almond and all-purpose, and add in the eggs, vanilla seeds, and the grappa. Fold everything in until completely mixed and smooth (I did that with a spoon). Place the mixture in the fridge for 30mins to let it firm up. While you are waiting slice up the nectarines. I cut them in fan shapes in an effort to spread the fruit out but also to make the cake pretty. You could also use much bigger chunks than I used and it would be delicious and probably extra fruity.
Using a spatula spread the frangipane into the pre-baked pastry shell and lightly push the nectarines in. Heat up the sugar and water and pour this over the fruit, followed by a sprinkling of cinnamon. You can sprinkle any additional chopped almonds on the top if you wish. Bake for 40 - 50 minutes, or until the frangipane mixture has become firm and golden on the outside, but is still soft on the inside. I recommend eating it with ice cream - might as well!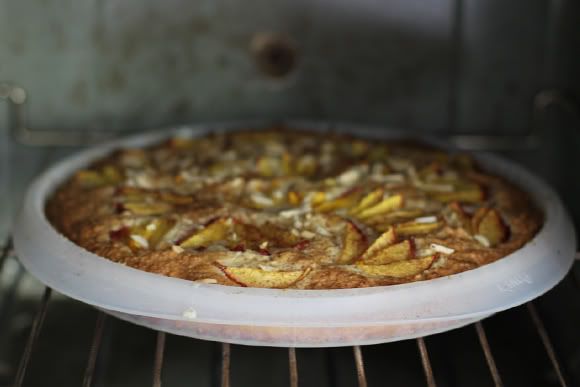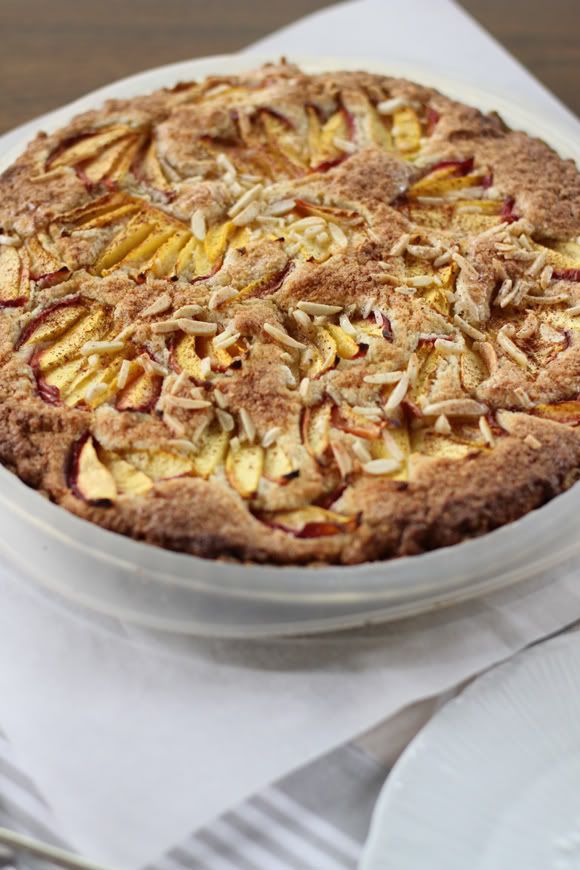 I attempted to remove the cake from the silicone mold, but there was no chance of that happening. The cake is super heavy and dense and threatened to come apart at every fruit-frangipane seam.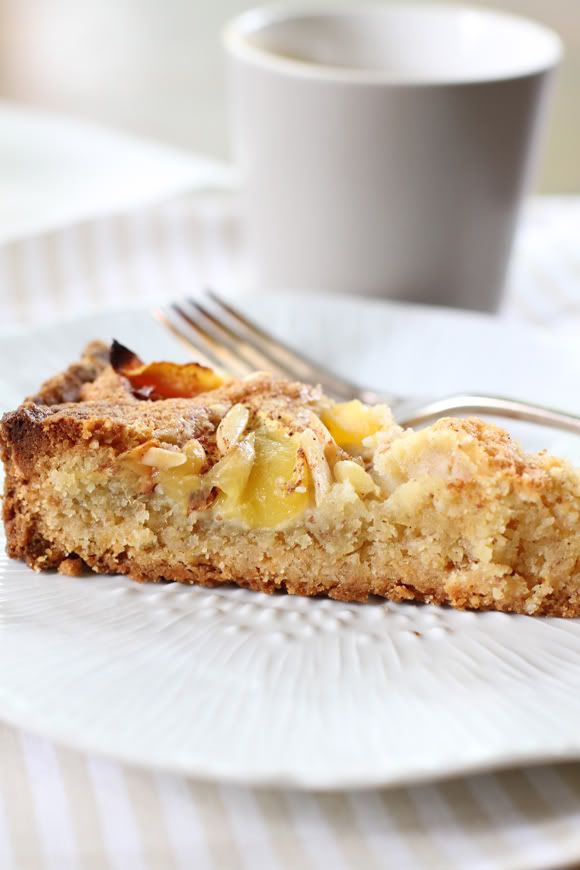 I wasn't really sure what the cake would taste like to be honest. I knew it had a lot of butter and that the almond flavor would certainly find it's way into the mix, but I didn't expect it to be quite as good as it is. It's like a subtle, cakey marzipan. Light and fluffy and fruity and If I hadn't eaten two pieces yesterday, I'd be tempted to go grab another one right now.
No need to explore the countryside when you can sit and relax by the pool! We did a lot of chatting and Katie's mom, Betty, did a lot of knitting for an up-and-coming grand daughter. I'm inspired to pick up my knitting needles again, although I might wait until the cold dark days of winter. It was so nice to jump on a train, wind up in Tuscany and then sit by the pool with dear friends for a few days.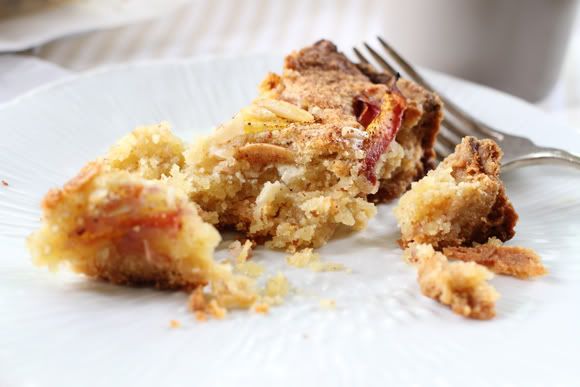 Zach and I both gave this cake a double thumbs up, so plan a trip to the North Pole and then bake away! If you live in Zürich shoot me an email and we can set up a little tea-cake time, which we can follow up with a long walk by the lake.
If you've found house-to-haus through Saveur then I hope you've enjoyed it and that you will stop by again.I'm going to spend the afternoon reading through the other 49 blogs. It's so nice to be handed a list of blogs to read and explore. One of the blogs

A La Mode Journals

has a long post about Istanbul and Zach and I just booked a trip there for the end of June so I can't wait to check that out.