I've titled this post 'the piazza and the stomach' because that is really what our trip to Sienna was about. We sat in the Piazza del Campo and ate, a lot. Il Campo, as it is more commonly called, is to an architecture student what a first incision or stitch is to a med student. It is a 'wow - amazing -isn't it special - these buildings actually curve to form the semi circular piazza' type of place. Three years of architecture school and 'il campo' will be as frequently heard as 'design' or 'building.' Okay, that might not quite be true, but it is certainly one of the more frequently discussed urbanism precedents. I was expecting to be overwhelmed and I was, sort of. I think somethings are better seen in the dead of winter or at dawn and not during peak tourist season. I can imagine how the space would be breathtaking, but not when I am being overwhelmed by all the wrong things, like pushy tourists, crazy photographers or nightmare tour groups running me over as I peacefully gaze upwards. It was a bit of a zoo, and not in a cute petting fuzzy rabbits way, nah, this was hectic. If you know me, then you know I'm not good in a massive crowd. I would guess Katie and her mom fair better in a mob of people, but even they were overwhelmed. We decided it was best to find a spot to eat and sit and watch the madness instead of being part of the madness. It was the best decision we made the entire trip - a glass of wine, a sausage and peperoni covered pizza, a salad and a giant plate of cheesy pasta made for a lovely view of Il Campo!
That giant plate of pasta was absolutely incredible. I don't think it was cacio e pepe because it was too creamy, but it inspired me to come home and make cacio e pepe, which is just as good and not quite as gooey.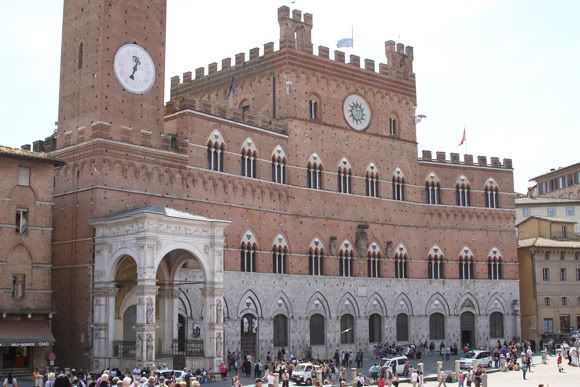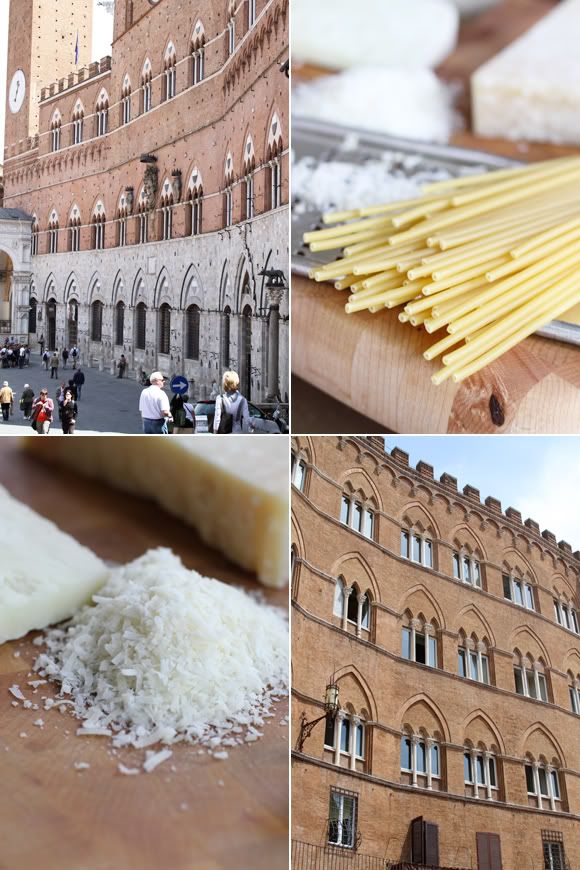 It's too bad we didn't get a view of Il Campo from above, because that is the vantage point from which you really begin to see and understand how the piazza is shaped by the buildings around it. The view from the piazza itself is pretty great too though, especially when you get close to the buildings themselves, instead of simply viewing them from the center of the piazza.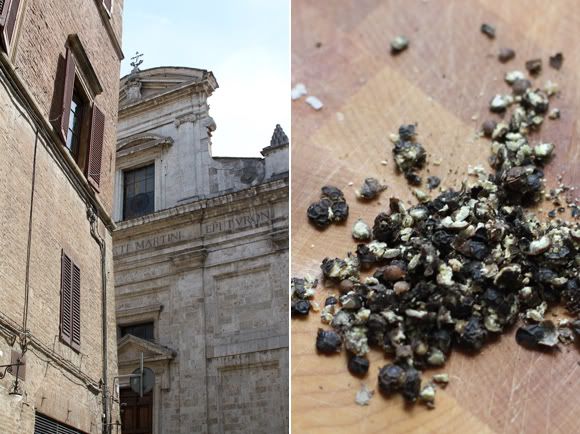 Aside from Il Campo, this was my favorite little view, which we discovered down one of the narrow streets that lead away from the piazza. The image on the right is of the crushed fresh peper for the pepe part of the cacio e pepe.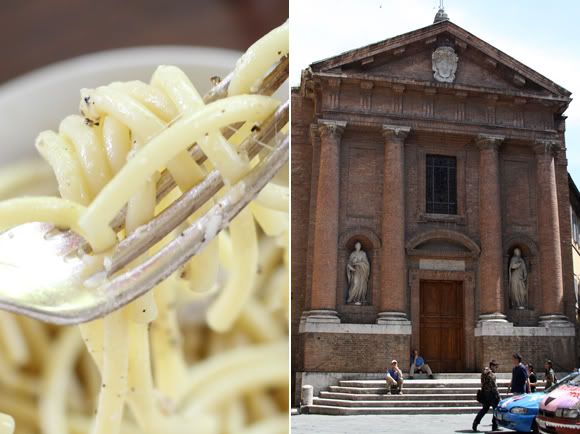 Cacio e pepe is delicious in its simplicity. Aside from making it for lunch today I made it last week for dinner. When I told Zach what we were having he responded (over email), '
That sounds wonderful. Cacio e Pepe. If it tastes half as good as it is fun to say we're in for a fantastic meal.' It is fun to say, but it's even more fun to EAT!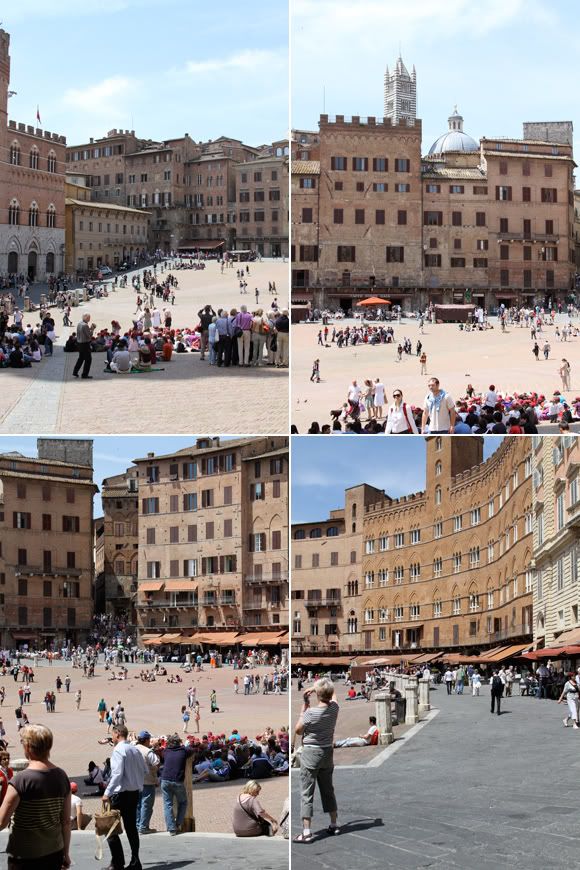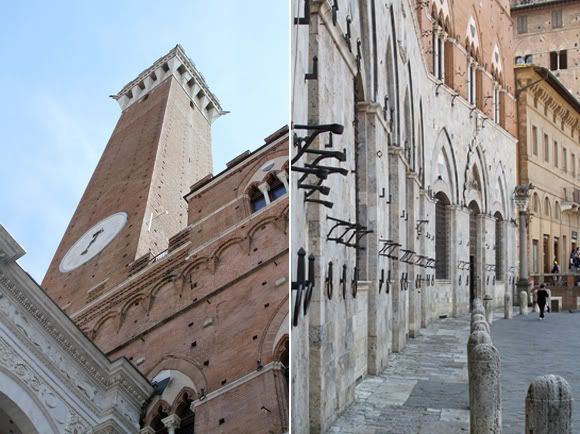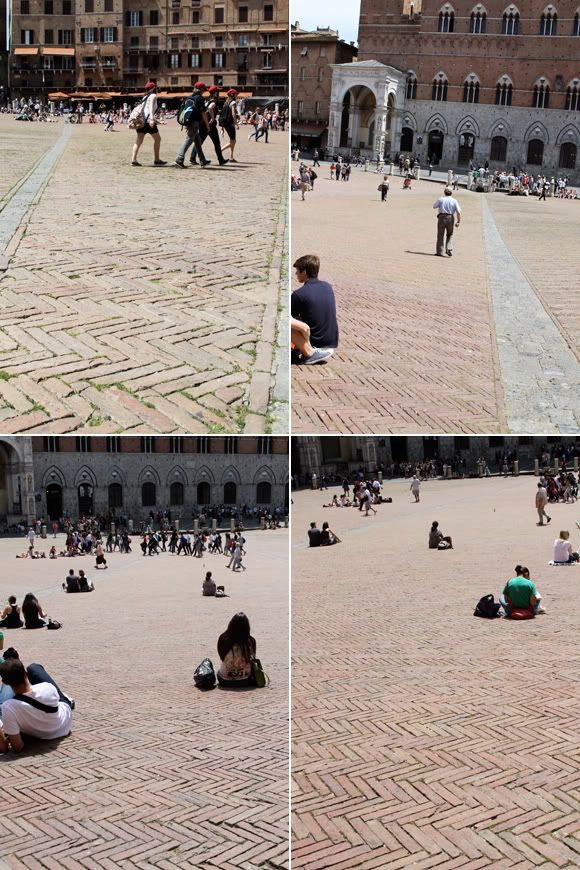 I know these pictures make it seem calm (and now that I look at them it seems peaceful) but I promise it was crowded, especially on the walkway around the piazza. These people who are sitting in the piazza must have just arrived from Singapore or some other crazy hot as hades place, because it was really hot in Siena, but for them it must have felt cool.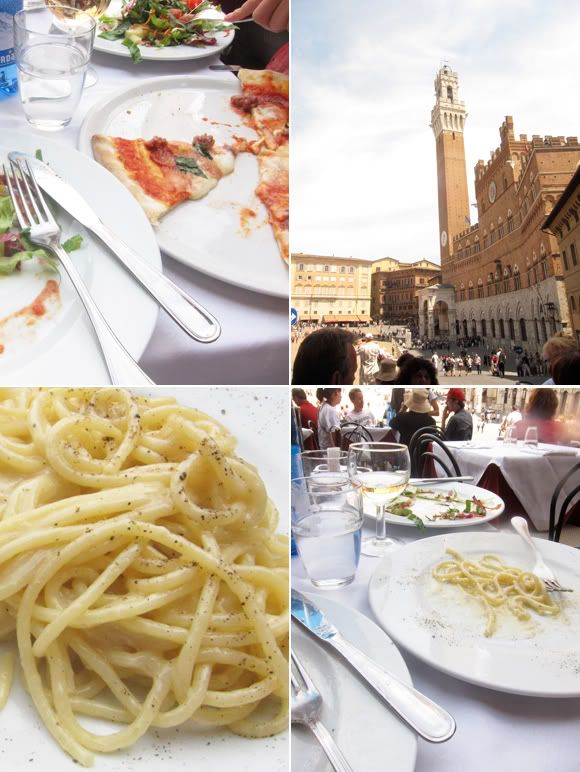 The food! After doing a bit of looking for a spot to sit, we picked a random restaurant that had tables available in the shade. The food was surprisingly good for such a tourist hub. We started out with just salads and a pizza to share, but then we saw someone else's cheesy pasta dish arrive at the table next to us and we grabbed the waiter and ordered one! I mean...'when in Rome'....at least I think that is what my friend Becky says when she is in Rome and eats it every single day for every meal. Seriously she's hooked! Not even a meaty ragu or a peperoni pizza can sway her away from cacio e pepe.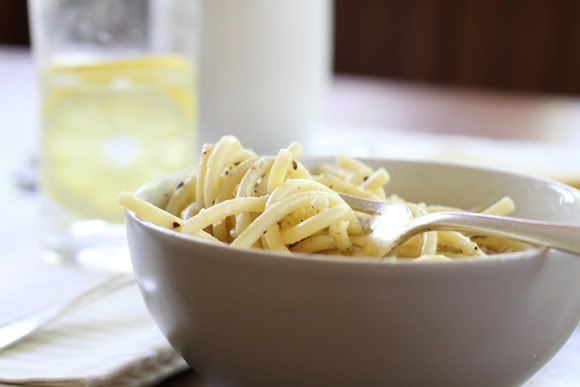 I made cacio e pepe for lunch today. It was the perfect meal to get me excited for my upcoming trip to Rome! I leave tomorrow first thing in the morning and meet my parents somewhere near the Piazza del Popolo. Heaven. I absolutely adore Rome. I lived there for a month during architecture school and could have stayed for an entire year. The history - the architecture - the food - it really doesn't get much better.
- 3/4 lb of pasta. I used buccatini, a thicker version of spaghetti that actually has a hole in it. I like the texture of the thicker shape. But feel free to use spaghetti
- about a cup of the pasta water
- 2 tbsp freshly ground black pepper
- 1/2 cup freshly grated Pecorino Romano
- 1/2 cup freshly grated Parmesan Reggiano
Boil your pasta until perfectly al dente. Strain, saving some of the pasta water. While the pasta is cooking heat up the olive oil and butter in a saute pan. Once the butter is melted and the olive oil begins to glisten add 1/2 of the pepper and cook for a few minutes over low heat until fragrant. Pour about 2/3 of a cup of pasta water into the oil/pepper mixture. Allow the water to simmer and then come to a boil. At this point add your cooked pasta in, tossing to coat. You are trying to avoid sticky pasta, so if you need more pasta water then add it in. Once mixed toss in your cheese and the remaining pepper and toss until melted and the pasta is coated. Plate your pasta and sprinkle with more cheese if desired. Eat!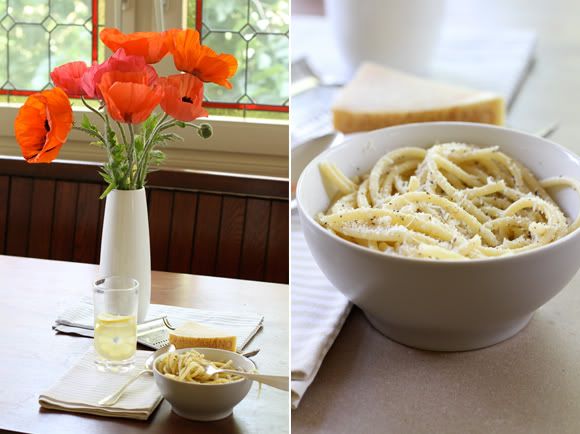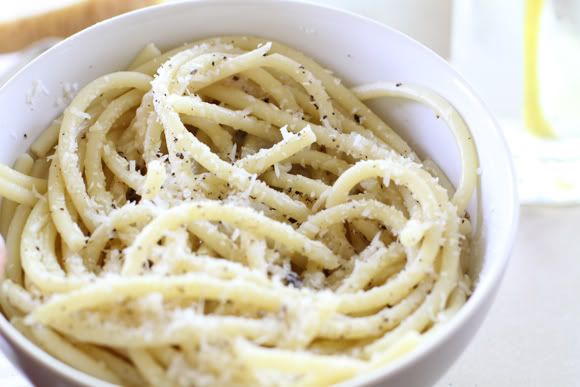 Zach just got home from work and is sitting behind me munching on the leftovers while he waits for dinner (chicken and salad) to cook.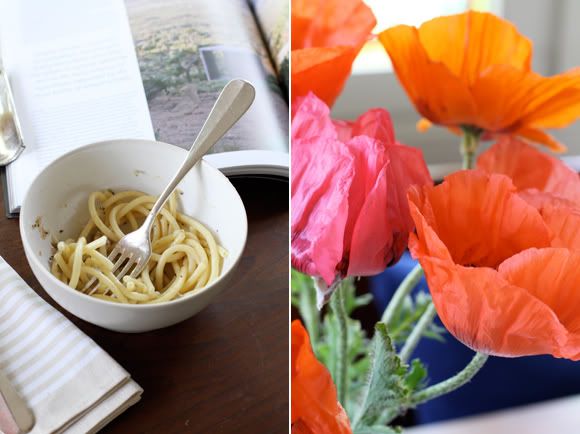 Okay off to check the chicken in the oven and pour myself a glass of wine. I'll be gone all week wandering the streets of Rome and then touring my parents around Zürich. Perhaps I'll be able to sneak another post in one of those days, but if not have a fabulous week!