I woke up this morning on a mission to make cacio e pepe for the Siena post, but then I went for a walk. It was just too beautiful out not to. As I was walking along the lake I remembered that the Bürkliplatz farmer's market was in full swing and I hustled my little booty on over. The flowers. Oh. My. Goodness. First off peony season is in full swing over here. They are everywhere - pink, white, magenta, coral - and everyone was buying them. I imagine there are peonies placed in every living room and powder room across Zürich. There must have been thousands. I already splurged on peonies last weekend and I was beginning to think I'd leave the market without any flowers at all, especially since I'm leaving on Tuesday to go to Rome, but then I came across these poppies (?) and I had to have them. Kinda like I
neeeeeded
the kitchen scale, I
haaaad
to have them. Besides they were only 10francs. A steal in this insanely overpriced city.
And then there is the cake that I baked when I got home from buying flowers. I'm meeting up with some new friends tonight for margaritas and enchiladas and I was put in charge of dessert. I guess that's what happens when you blog about baking. Duh I was more than happy to bake away and I was actually excited for the opportunity to test out a chocolate cake recipe that I had been eyeing for a while. Everyone needs a go-to chocolate cake recipe - the little black dress of baking - and so I decided to give it a test run for our girls dinner. Girls and Chocolate and Switzerland....I figured it was a good bet. Besides chocolate goes with everything, including margaritas!
Chocolate cake and flowers...hmm not sure it get's much better than that on a sunny Friday afternoon. I have been desperately trying to restrain myself from cutting into the cake. It's just sitting there on the table asking to be eaten. You know me, I always post half eaten pieces of cake and piles of crumbs, but I figured I better bring a full cake tonight and not a cake with one slice cut out. After all I don't expect to be served a half eaten enchilada...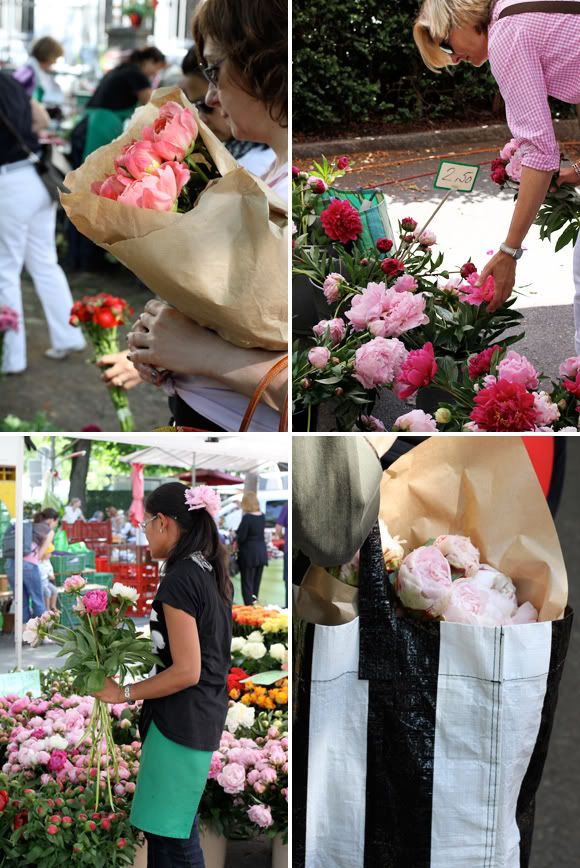 I wasn't the only one buying flowers this morning. Zürich is generally a very quite and peaceful (read: sleepy) city and it was nice to feel some bustle this morning at the market. I even saw people fighting over a bunch of peonies. And I thought this country was neutral. A fight? oh dear.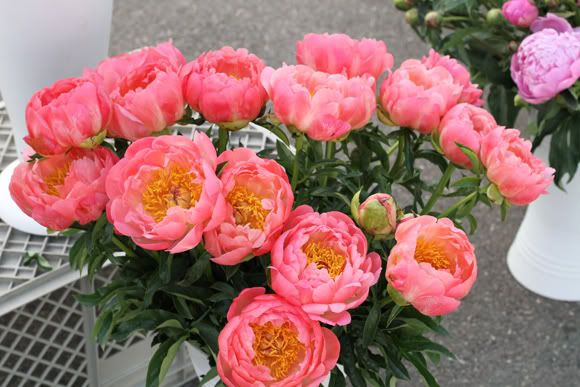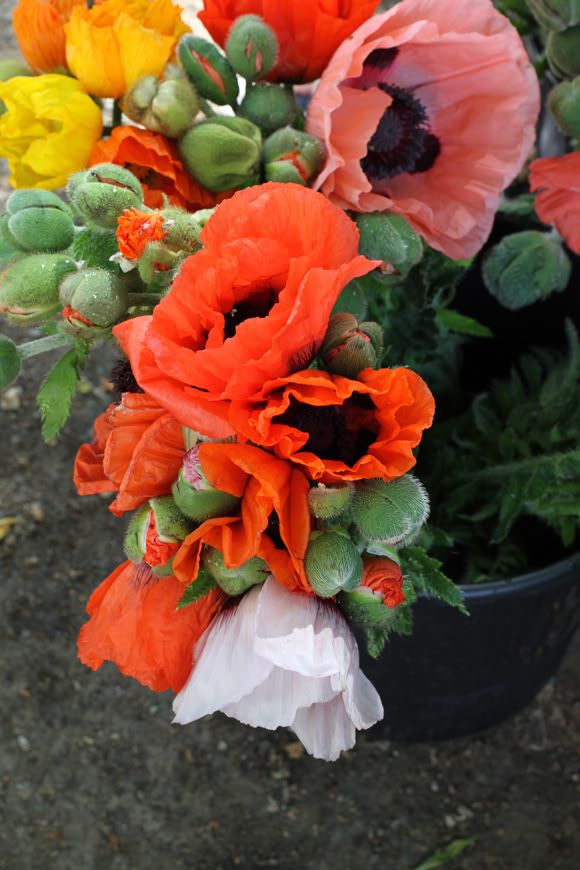 So this is kind of funny, but the cake calls for curdled milk. Weird right? I'm really not an expert baker and that seemed like a bizarre request - milk with lemon juice - but what do I know I just follow the directions. La di da... lumpy milk into the batter! eek! Zach poured lumpy milk on his cereal yesterday and was less than excited about it. And to think he threw it away when I could have put it in the cake. I do think it's a bit different though...old milk vs. freshly curdled with lemon juice? Is that right? I have no idea, I'll stop rambling now.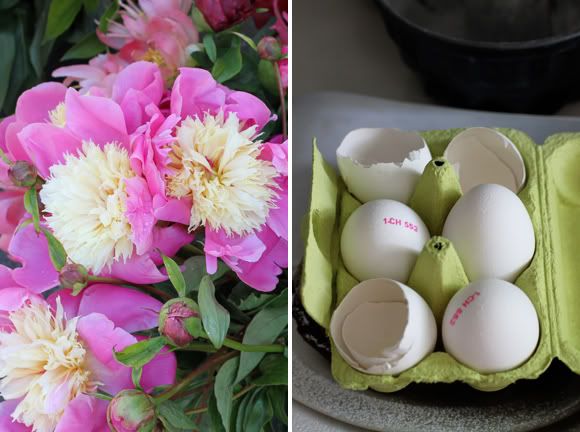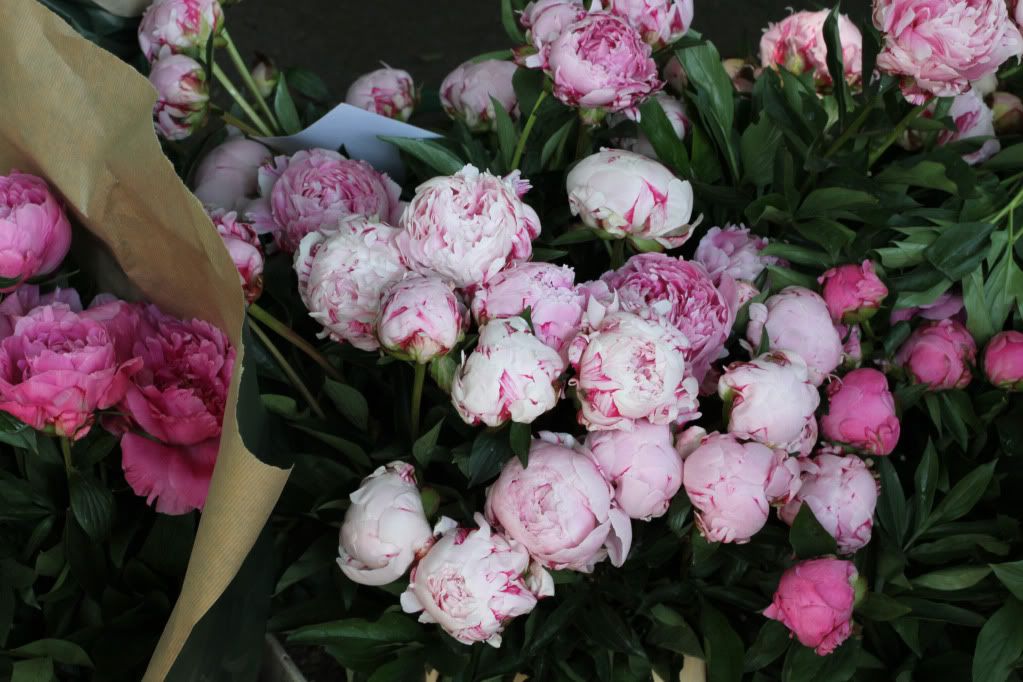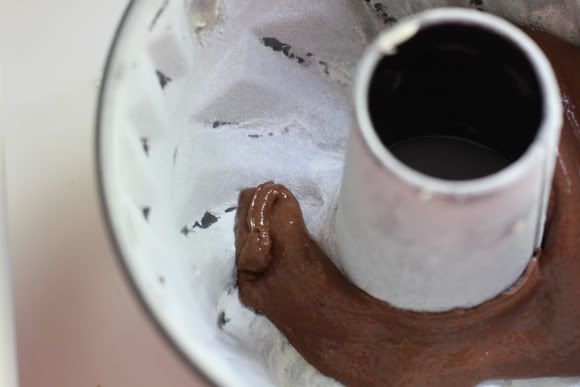 Chocolaaaaate...mmm. I was a bit hesitant to eat the batter with the lumpy milk, but I did it anyway. Delicious!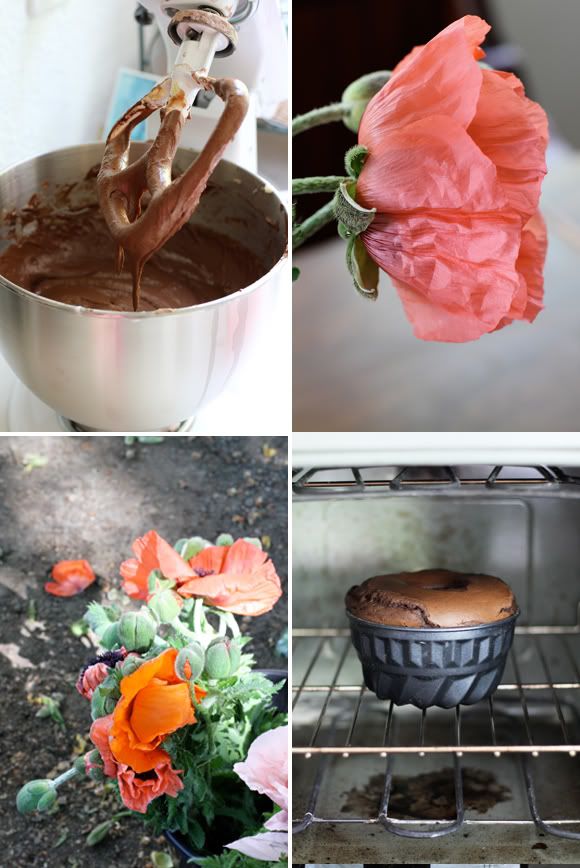 I love the photo on the upper right of the wrinkled poppy. The petals really are like paper and they are tucked inside that hairy pod for so long, no wonder they wrinkle and thank goodness they do, I love the texture of them. Also, so the cake in the oven photo must have been taken just before the entire thing overflowed and dripped on to the floor of the oven. Great, just great, burnt smoking cake batter on the bottom of the oven.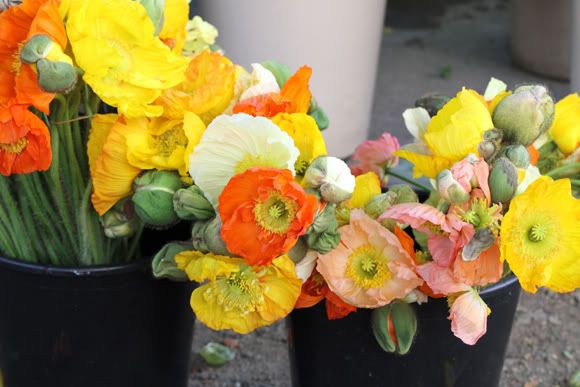 It's a miracle I didn't walk away with the entire bucket full. If I wasn't going to be gone all next week I probably would have.
I have to run to the enchilada party so I don't have time to post the recipe right this minute, but I will post it when I get back. Hold the lumpy milk until then....Okay it's Sunday and I'm back to post the recipe. Let me tell you...those enchiladas were to die for. In a country without mexican they were a gift sent from a texas goodess (my new friend!) anyway ah-mazing. The cake, you ask, how was the cake? Well it was O-K. It was a bit dry, but it was good and if we had ice cream it might have been perfect. That said I'm not sure if I've found my 'little chocolate cake' yet
Adapted from Sarabeth's Bakery
- 1 tbsp fresh lemon juice
- 2 1/2 cups all purpose flour
- 1 cup unsweetened 'Dutch process' cocoa powder
- 1/2 ounce unsweetend chocolate, finely chopped. I used Lindt 99%
- 10 tbsp unsalted butter
- 1 3/4 cups superfine sugar
- 3 large eggs, lightly beaten
- confectioner sugar for garnish
Preheat the oven to 350. Butter and flour an 8-10 cup fluted tube pan (to measure the size of your pan, pour water into it. The amount of water you can fit, based on cups, will determine how big your pan is.)
Curdle your milk! - combine the milk and lemon juice in a glass bowl or cup and let it stand in a warm place while you prepare the batter.
Sift the flour, cocoa, baking soda and salt together in a medium bowl. Bring 1/2 inch of water to simmer in a small saucepan and turn off the heat. Place a small heat proof bowl into the water and add the unsweetened chocolate that you chopped. Allow the chocolate to melt and help it along by stirring occasionally. Once the chocolate has melted remove it from the water. While the chocolate is cooling beat the butter in the bowl of a standing mixer. After about 1 minute start to gradually add in the sugar and vanilla, continuing to beat until very light in texture and color. Then slowly beat in the eggs. Once the eggs have combined turn down the speed to low and beat in the melted chocolate. At this point begin to add your dry ingredients - in thirds alternating with two equal parts of milk - beat in the flour mixture. Be sure to beat until smooth after each addition. Spoon the bater into your cake pan and smooth with a spatula.
I made two smaller cakes by dividing the batter in half (in a 4 cup pan) so I estimated cooking time and found that roughly 40-45 minutes worked well. If you are baking the whole cake, bake for about an hour. The cake will be done with the top springs back when touched and when the cake tester comes out clean. Allow the cake to cool in the pan for about 10 minutes and then invert and release the cake from the pan. Let the cake sit until completely cool before dusting with confectioner sugar.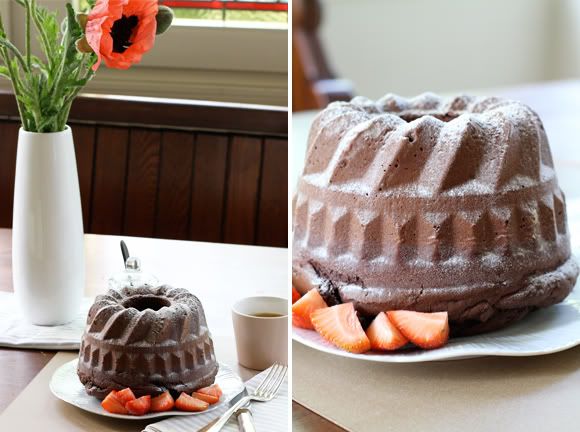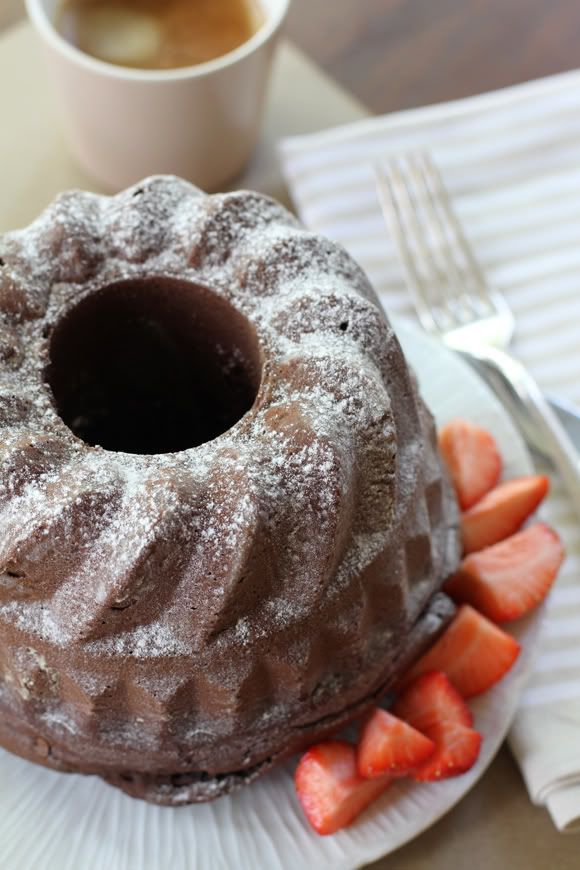 I wish I could tell you the cake is amazing and perfect and will be my go-to little chocolate cake, but I haven't tried it yet. Perhaps when I post the recipe I will up date you on whether or not it is good. Fingers crossed it is.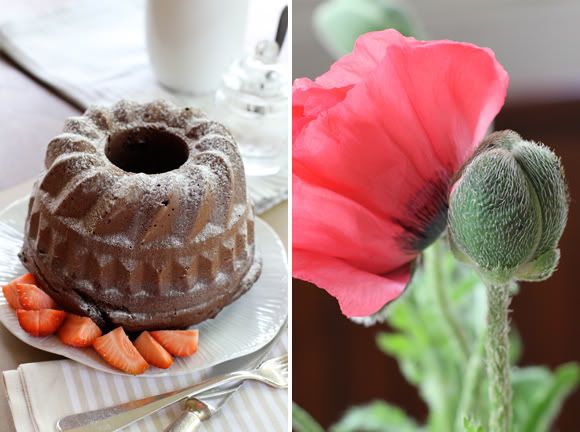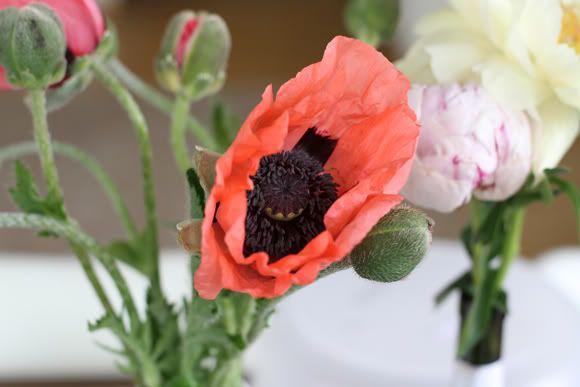 Happy Friday everyone! I hope you all have fun weekend plans. Not really sure what we are up to, but perhaps we'll go on that hike we've been talking about for the past month. If the cake is good, it will be coming along with us for a snack. See chocolate really does go with everything, even hiking. I guess the Swiss are masters at both, hiking and chocolate. Have I mentioned that the Swiss national past time is walking. Seriously, it is!