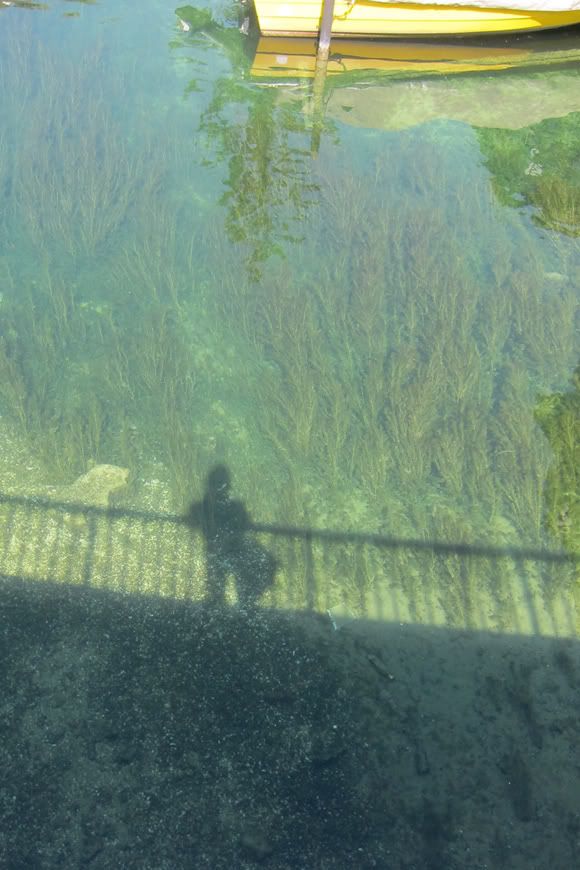 If I told you to go for a swim in the nearest body of water, would you? The New Yorkers out there just shuddered at the thought. Swim in the East River? Actually put my body in that flowing waste that is curiously called water? Oh the horror! Those of you considering Long Island Sound, the brown body of water of my childhood, don't have it much better. So then if I told you that the water in Lake Zurich is crystal clear, would you believe me? Because it is. Crystal clear, see-to-the-brown-ooey-gooey-moss-on-the-bottom type of clear.
Before our little foray into the middle of Europe, I was someone who would never consider living away from the coast, I never wanted to be too far from a vast body of water. And now here we are, sandwiched, tightly, in the heart of Europe, without a view of the Atlantic or the ability to escape to the beaches of Little Compton on a summer weekend. That's where the lake comes in. People escape to the lake, whether they are there for the whole day or just their lunch break, everyone is at the lake. They aren't just strolling and staring at it either, they are doing some serious laying out in teeny weeny bikinis and speedos (oh europe) and swimming!
These shots are of the lake during the winter, when it sits somewhat abandoned and regarded only as the separation between the city and the alps.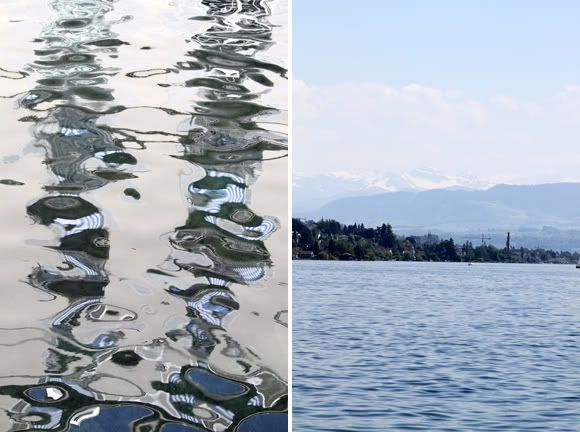 And then summer comes along and the boats, bikinis and beers are broken out and it's an all out Spring Break Daytona Beach type of scene in Zurich. Just kidding, but only about the Daytona Beach part, the three b's are in full effect!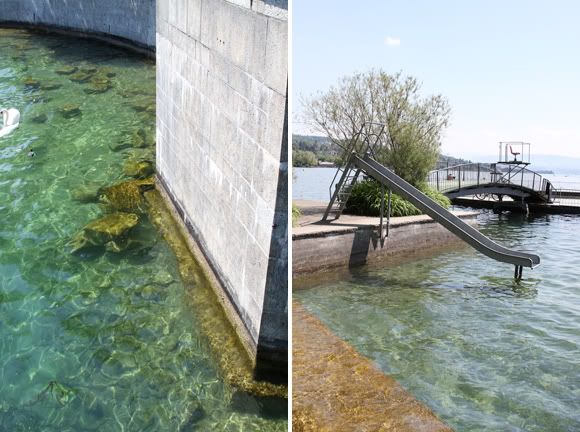 Like I said, crystal clear. It's a bit unnerving to think about swimming when you can see all the fish around you, but so far I've only seen little fish, not big toe-biting fish, yet. It truly blows my mind that a lake that sits on the edge of a major city and possibly be this clean, crystal clear clean. Do I sound like a broken record yet? Think about it though...clean water in a city. whoa. I'll stop repeating myself out loud and just continue the conversation in my head.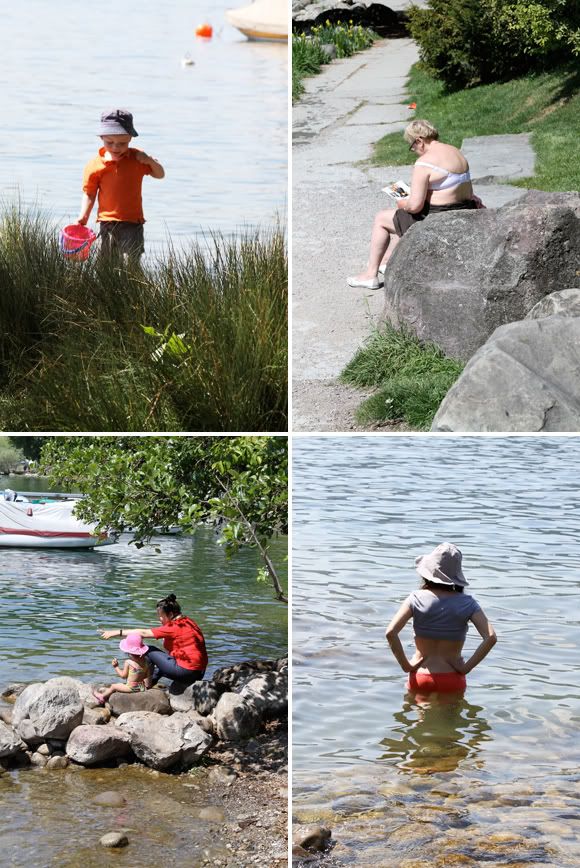 The lady in the top right cracks me up. Sunny weather, warm temps, just de-robe. No need for a bathing suit when you can just take your shirt off and sit in your bra.
Zurich doesn't really have a Central Park-Hyde Park type of park, but rather little parks that are scattered through the city and along the lake. Each park has it's own crowd, there is the "meat market" where all the singles go, and then the artsy park up on the hill and this apparently old peoples park (upper right photo) which I found today on my walk.
No need to buy a mop when I can just take this fellow home with me. I want a dog. That swims.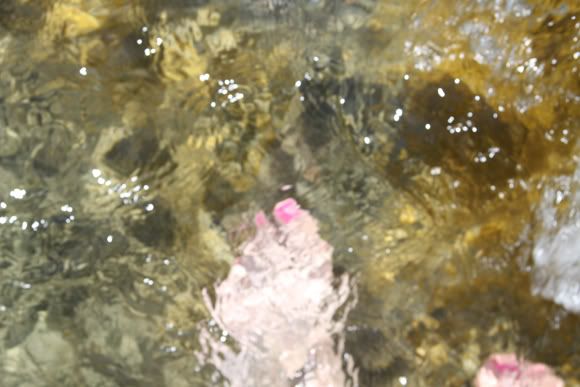 I had to test out the water. brrrrrrrr. Not quite toasty enough for Talley, but hopefully in a few months it will be warmer and I'll take a full on dip. I love how the second photo makes me look like I have six toes on my left foot. It's a good thing you can't really see my toes, I need a pedicure desperately. Did you want to know that? Probably not, but it's too late, already typed it. So if you are in Zurich reading this and staring down at your newly painted toes, please do advise on where on earth I can go to get a decent and cheap mani-pedi in this city.
Okay signing off and twiddling my thumbs until Zach gets home so we can go for a walk to the lake and then to Vorderer so I can get a bratwurst, which I will eat by the lake!