I'm taking our little adventure abroad as a chance to be a traveling gourmand. Hop on a train in Zurich, zip through the Swiss Alps and the Italian countryside, end up in Tuscany and eat. Not bad huh? I've been to Italy three times since we moved to Zurich, and I'm going again next week. Hopefully this trend will continue and we will find ourselves in Italy many more times this summer.

I love Italy. It was the first country in Europe that I ever visited and perhaps that has something to do with it, but truthfully I think I'd love it just as much even if I had been to France or Spain or England beforehand. To fall in love with Italy is to fall in love with the cuisine. It is one in the same. On my first trip, which I made with my friend Annie and her mom the summer after ninth grade, we toured Rome, Florence and Venice, and what I remember most is the delicious food. In Rome it was the pizza, in Florence it was the ribollita and gelato, and in Venice it was the pasta and seafood. Have you ever had ribollita? Literally it means reboiled and it refers to bean and vegetable soup that is reheated with the addition of stale bread. There is nothing better. Okay maybe pizza is better and probably a delicious hamburger too, but after that first trip to Florence ribollita cemented it's spot among my favorite foods list. We had just visited the Duomo and hungry after climbing the bell tower, we wandered into a nearby trattoria and ordered the ribollita soup. I don't think we spoke for a few minutes as we all relished in the delish soup. When Zach and I were in Florence, near the Duomo, after our mini-moon to Tuscany, I looked quickly for the trattoria but didn't see it. It's funny how a place can be so strongly associated with a certain dish.
Ribollita is a winter soup. It is hearty and hot and perfect for a farmer coming off the fields in the brisk days of a Tuscan winter. But has seasonality really ever stopped me? It must have been almost 80 degrees last week when I was in Tuscany, but I still I had some ribollita. I was there with one of my closest friends Katie and her mom who were on a mother-daughter Tuscan getaway. It was amazing. We toured the hill towns, sat by the pool, went on a little hike, drank the local wines and ate, ate and ate some more. There was salami at breakfast, pasta and pizza for lunch and ribollita and steak for dinner. Wonderful company, beautiful scenery and fabulous food. It really doesn't get much better than that. I only wish that all of my friends were planning jaunts to the Italian countryside so that I could eat fresh salami every morning for breakfast (and visit with friends!)
After an incredible warm spell the past couple weeks, this weekend in Zurich was chilly and rainy. Perfect weather for ribollita (as if I needed an excuse, I was going to make it anyway.) I searched a bunch of recipes and they were all quite varied, I think because it really is a 'reboiled' whatever you have in the cupboard type of soup. I picked my favorite ingredients and adjusted based on what I could find in the store and, if I do say so myself, ended up with an absolutely delicious soup. Funny enough the one ingredient that every single recipe called for, kale, was MIA in my local stores. Is that a season issue? I adjusted with extra cabbage and don't think I'm missing much. I think the superstar ingredients are the beans and the bread. I picked my favorite whole wheat loaf and chose to use canned beans because I wasn't forward thinking enough to buy beans the day before and let them soak overnight.
It's too hard to write about ribollita and not eat it. I just put the pot on the stove to heat up. Hopefully it will be hot soon and I can write about ribollita while eating it.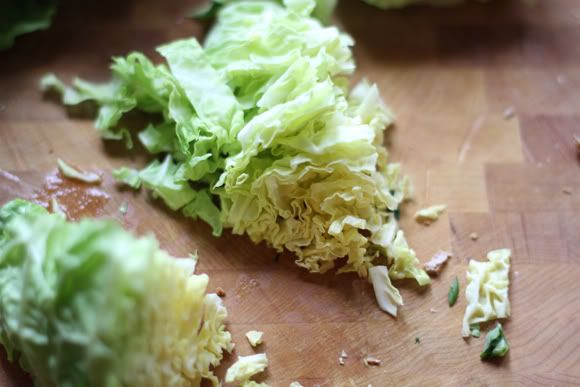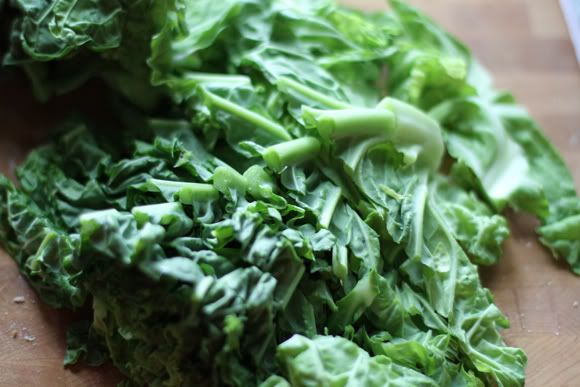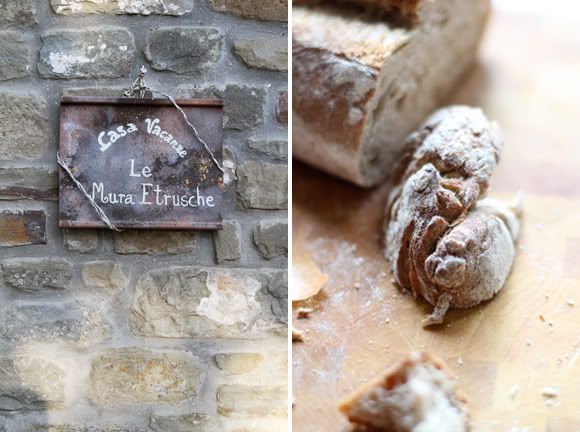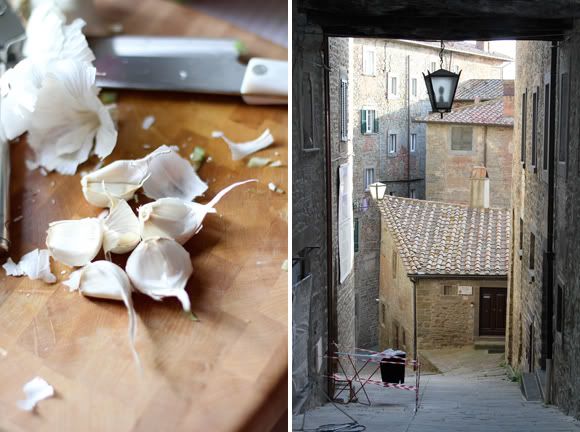 There is something so incredibly satisfying about chopping up a bunch of veggies and throwing them in a pot and letting them simmer until they are ready to be eaten. I also love that this soup has bread in it. I am someone who doesn't consider a meal complete without a slice of bread. Even if I have soup or a salad for lunch I eat the bread that is served with it, and if no bread comes alongside, I ask for it.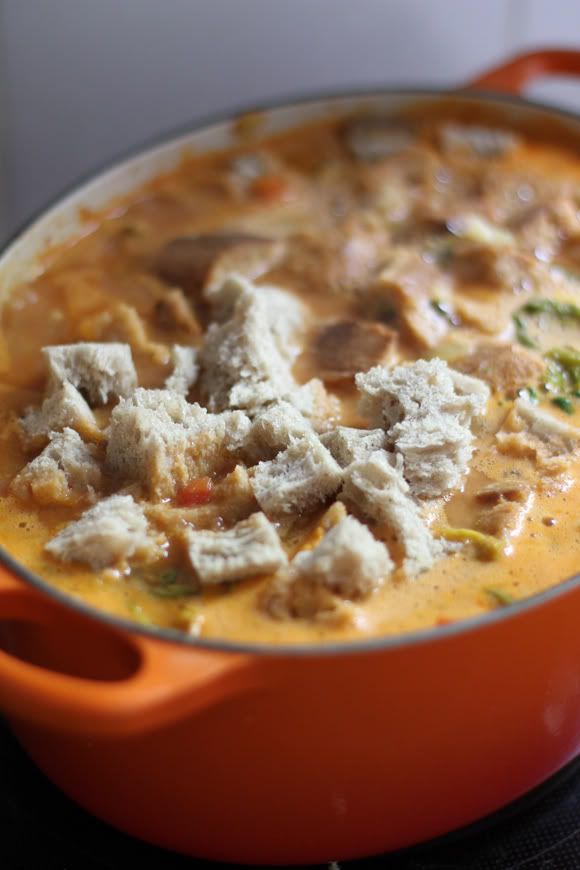 Katie and her mom picked me up at the Camucia-Cortona train station, we zipped back to the villa to change and then we ventured into the hill town of Cortona. It is a wonderfully little town, perfect for a meal at a local restaurant. It was at a little restaurant here that I had my ribollita. It was good, not the best that I have had, but it was still good. There wasn't enough bread and it was only cabbage and kale and no other veggies. It also was too soupy and not thick enough, but perhaps this is their summer version, meant to be lighter for the hot and sticky days of summer.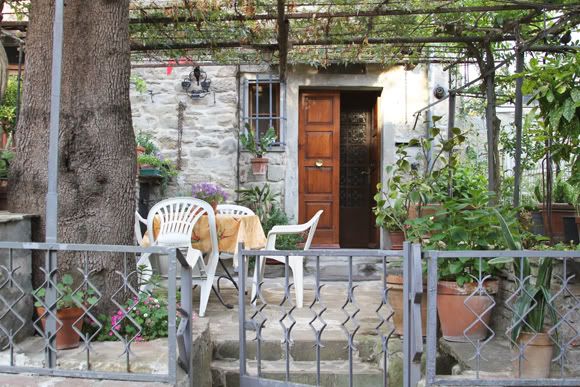 This table is just waiting to be filled with anti-pasta and some local red wines. I can just see it now, an older woman, a bit hunched, walking out the door with platters of pasta and meat to her children and grandchildren waiting with baited forks and spoons!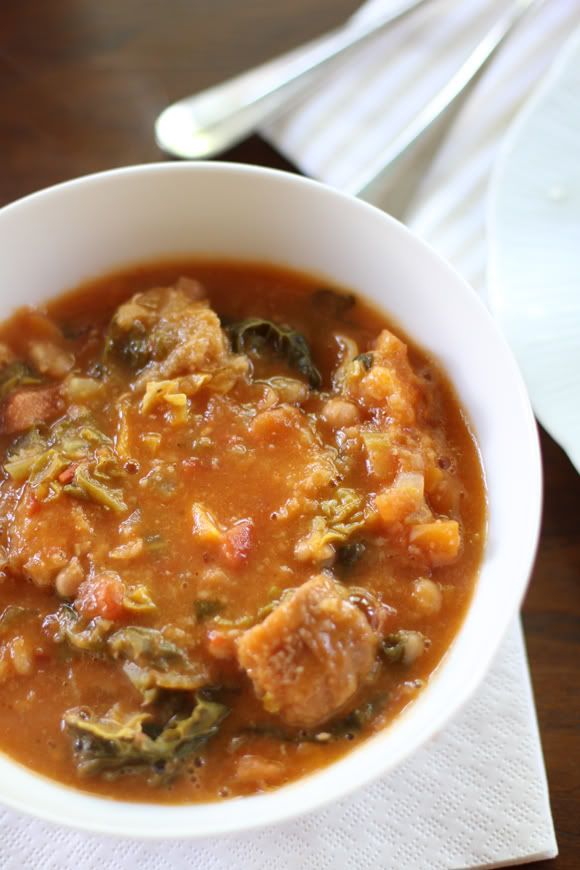 This photo was taken right after the soup was finished. Even the second bowl that I had for dinner was much hearty, with barely any broth to speak of. And the bowl that I'm eating now is thick with bread that has absorbed all of the juices.
recipe for ribollita a la Talley
- 2 yellow onions chopped
- 3 stalks celery chopped
- 1/4 tsp red pepper flakes
- 1 28oz can chopped tomatoes in puree
- 4 cups chopped Savoy cabbage, extra if you don't have kale
- 2 cans white beans (or you can use dry and soak overnight)
- 1/2 freshly chopped basil
- 6 cups cubed bread with crust removed (I added crusts in separately)
Heat the oil in a large pot and add the onions. Stir until they are translucent and then add in the carrots, celery and garlic with the red pepper flakes and a tbsp of salt and pepper. Cook over medium heat for 7-10 minutes until the veggies are tender. Once tender add in the tomatoes, with their puree, the cabbage, the kale and the basil. Cook for another 10 minutes.
While the veggies are cooking, drain your beans, getting rid of the can fluid. Put half of the beans food processor with some chicken stock or water or use your immersion blender (that's what I used) to create a bean puree. Add this puree and the whole beans to the soup once you have let it cook for 10 minutes. Pour the chicken stock into the pot and allow it to come to a boil and then turn the heat down to a simmer. Once the chicken stock is in you can add the parmesan rind for added flavor. Let the soup cook on low for about 20 minutes and then add the bread it and let cook for another 10. It's ready to eat although you can let it sit for longer so that it thickens up even more.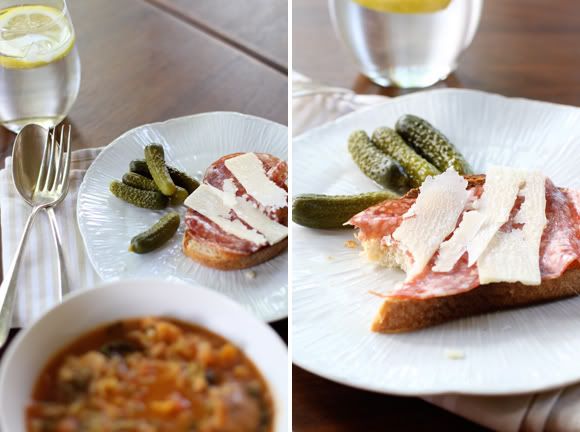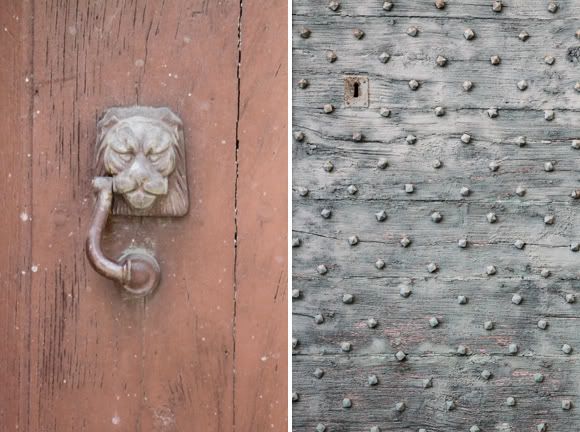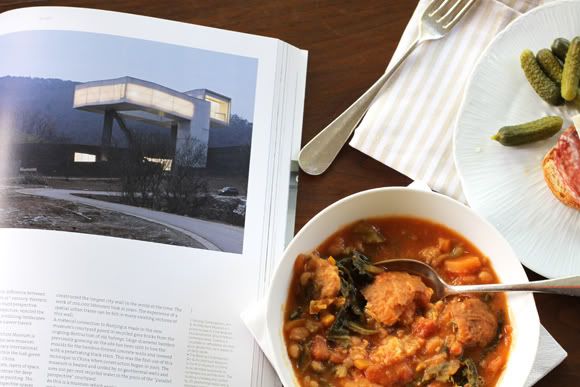 Two days of grey, rainy weather inspired me to brighten things up a bit with some peonies. I spotted them on a walk Zach and I took after our first bowl of soup and I knew I had to have them. I carried peonies in my wedding bouquet, white, light pink and coral, and so I bought a couple pink ones and three coral ones. Having flowers around the apartment reminds me what a wonderful addition they are. I'm always reluctant to buy them for fear that they are going to die soon, but really I need to keep it up and buy a few different varieties and place them throughout the apartment.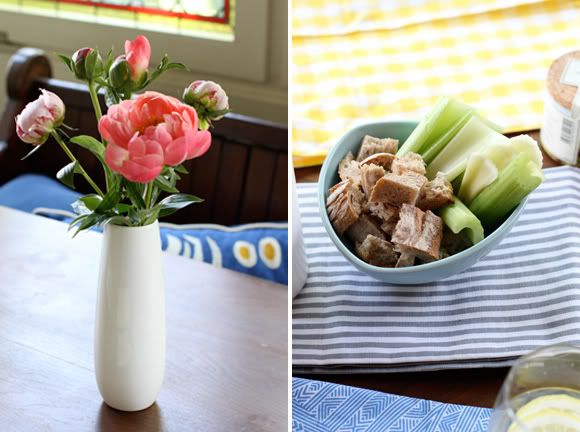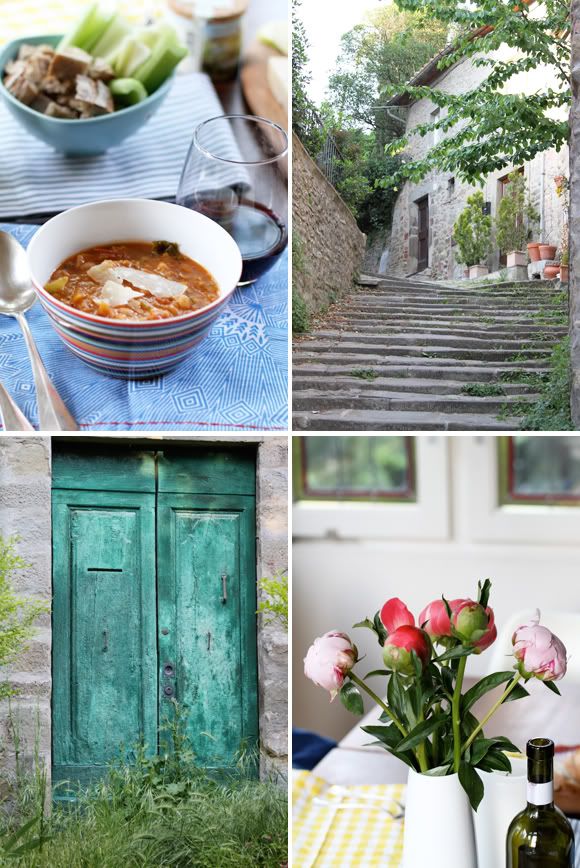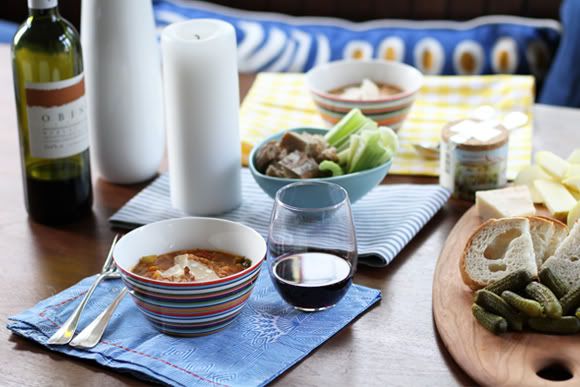 I am still looking through the wedding photos everyday. Every time I look through I find new favorites that make me smile. I can't believe it has been over a month, but I guess that is what happens, time goes by. Thank goodness for the photos, which have a way of transporting me back to those moments.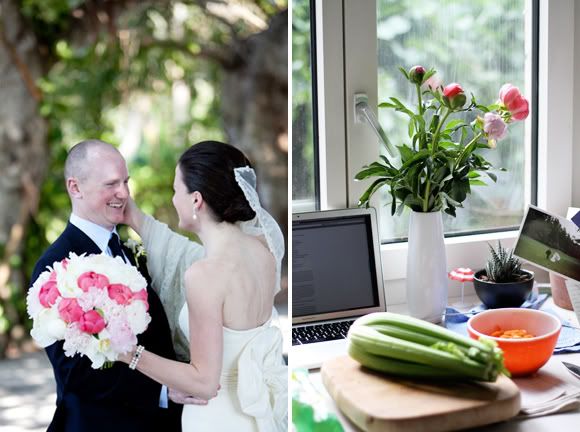 photo credit for photo of us: Amanda Herzberger -

Orchard Cove Photography

(if you click this link you can see more wedding photos)
I'm looking at the peonies now, as I finish my bowl of soup and contemplate a second one. I hope you all had a wonderful, sunny, weekend. I'm going to sign off now in the hopes that I can make it outside for a walk before it starts pouring. Every time Zach and I went for a walk this weekend it would start raining within twenty minutes of us getting outside.