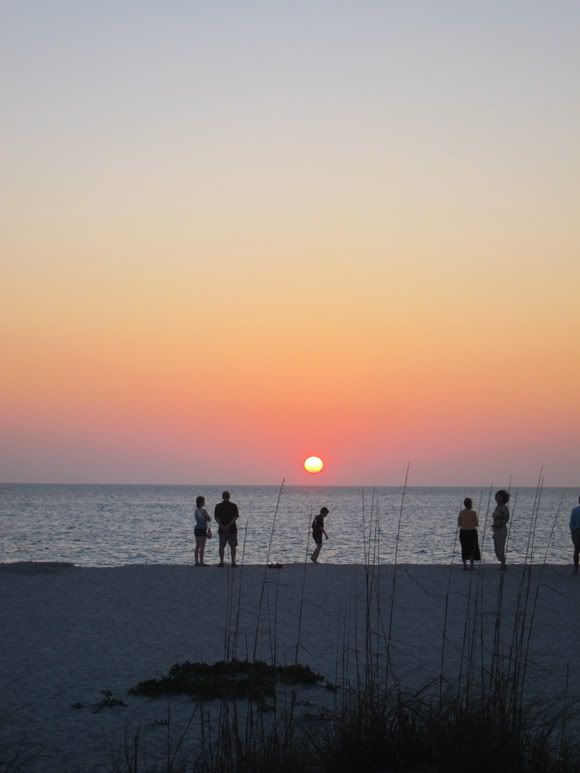 I cannot believe it has been almost two weeks since I last posted from the Lufthansa terminal in Frankfurt. Time flies, so much so that our sixteen month engagement is about to come to an end - we are getting married THIS weekend! I arrived in Florida on Saturday and Zach flies in from Zurich on Wednesday night. It is so nice to finally be in the place where the wedding will take place, a calmness settled over me the moment we arrived. We are so excited, our guests are excited and it looks like it is going to be a beautiful weekend!
This post was something I had planned to post right before I left Zurich, but I never quite got around to it with all the packing and organizing and chocolate buying that I was doing. Anyway, Zach's favorite food, next to bacon, is anything that has coconut in it. Coconut cream pie, mounds bars, coconut sorbet and of course coconut cake are all among his favorites. Not to ruin it for any weddings guests reading this, but one of the tiers of the wedding cake is coconut so I thought I would make us a coconut cake to celebrate our last night in Zurich together before I flew to the states. I like coconut, I don't love it, but I do love chocolate so I decided to add some chocolate into the cake. I mean why not?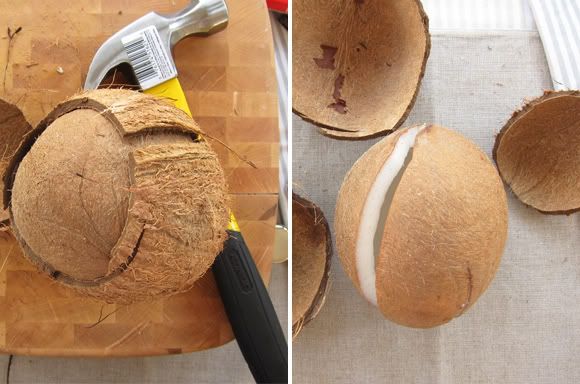 I was surprised to find coconut in the local Coop, just sitting there amongst the potatoes and apples. It only cost about 2 swiss francs, which I thought was reasonable, until I remembered that I had to figure out a way to crack it and get to the flesh. I ended up using a screw driver to make a hole in the bottom so that I could release the fluid and then I put it in the oven at 400 for about fifteen minutes, which helped with the cracking.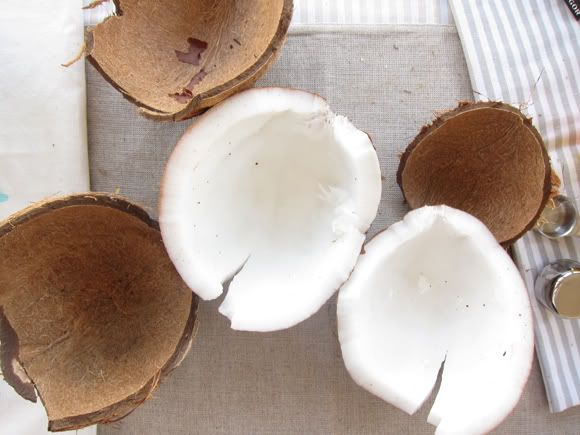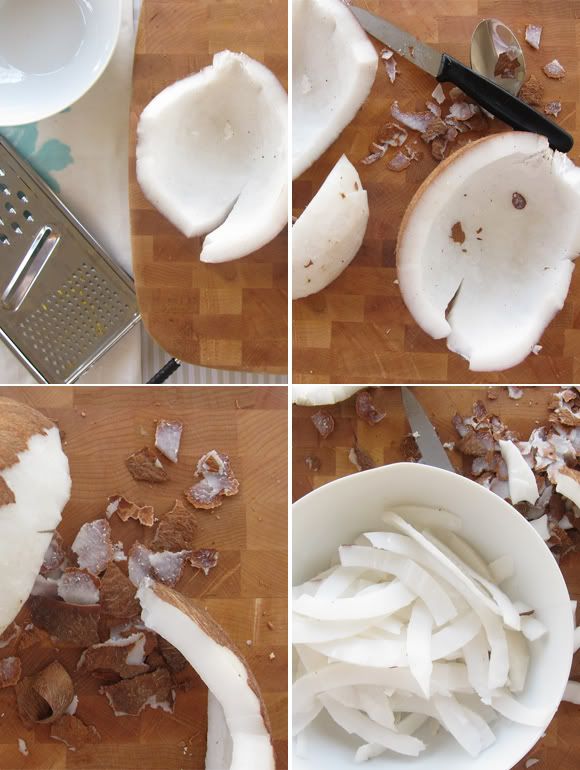 The flesh was good, but not as sweet as I had initially been thinking. The recipe called for sweetened coconut, which I was not able to find in the market, so I added a tablespoon or two of sugar.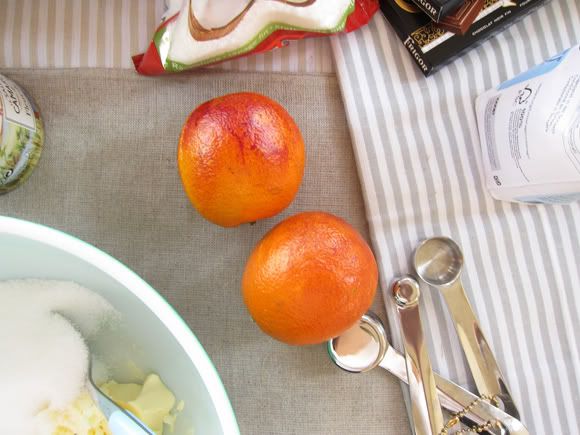 I'd love to post the recipe in this post, but it's been so long since I made it that I actually can't remember where I found the recipe. I will have to do some research and post it when we get back from the honeymoon. Although, at that point I'll be so busy posting pictures of giraffes and elephants that you probably won't care about the recipe for this coconut cake.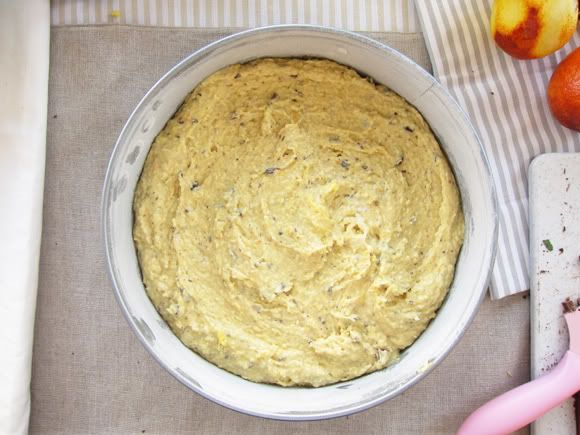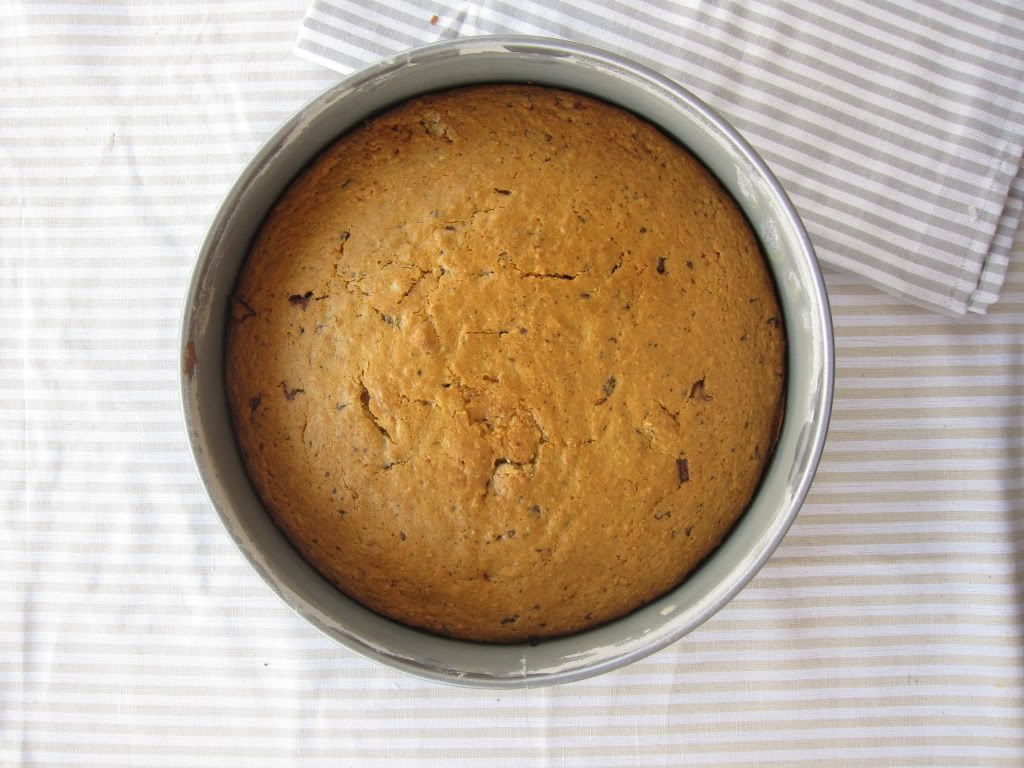 I initially planned on making just one cake, but then it came out of the oven and it looked so small that I decide to make a layer cake with two round cakes. The cake was incredibly moist, perhaps due to all of the canned coconut milk and butter!
The original recipe called for a buttercream icing, but I decided to substitute it for a white chocolate whipped cream frosting, which was absolutely delicious, and much lighter albeit not in calorie count.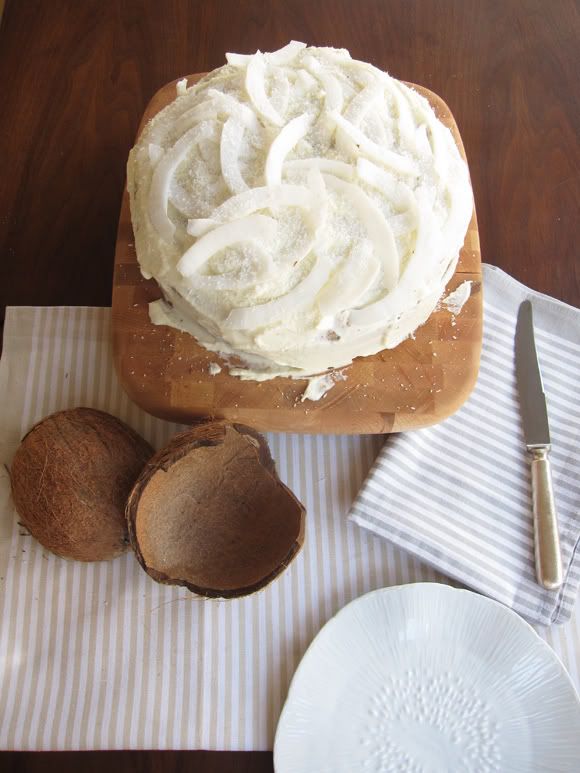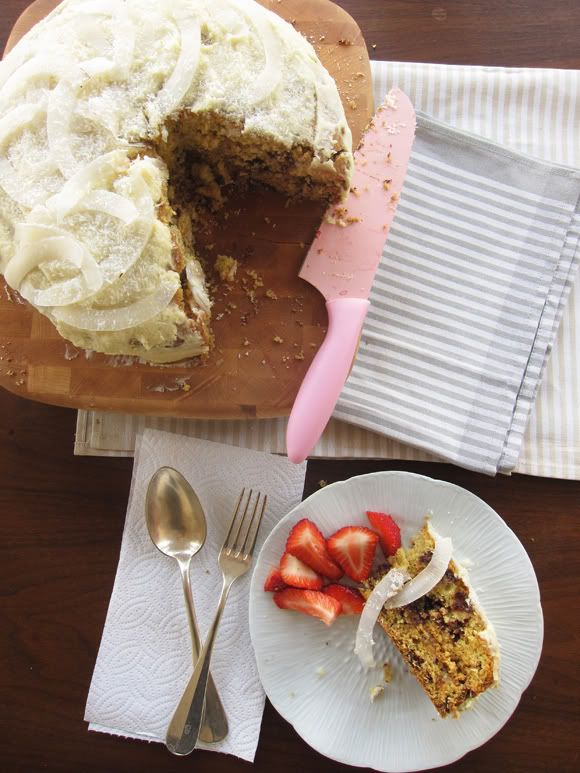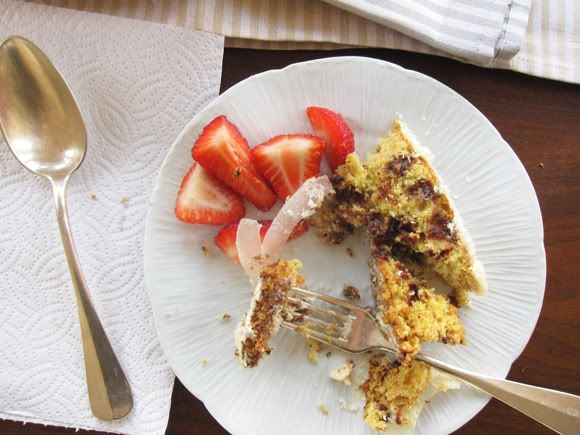 And so I leave you with this coconut cake. I don't think I will be posting again until after we return from our honeymoon at the end of April. I hope you have enjoyed my posts over the last few months and that you will come back to read it when I start posting again. Perhaps I'll lure you back with wedding photos and honeymoon shots?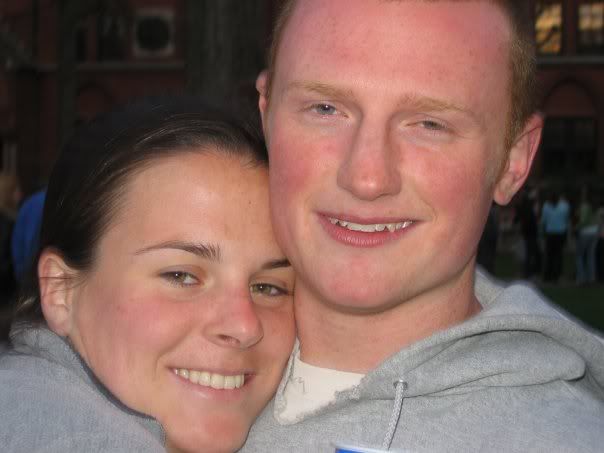 This photo was taken a long time ago, at the beginning of us, before the word marriage or husband/wife had even entered our minds. I believe this was taken in the spring of 2003, or was it 2004? I'm not quite sure, but I do remember that it was a sunny spring day in New Haven. So here I am hoping for a sunny spring day for Saturday.