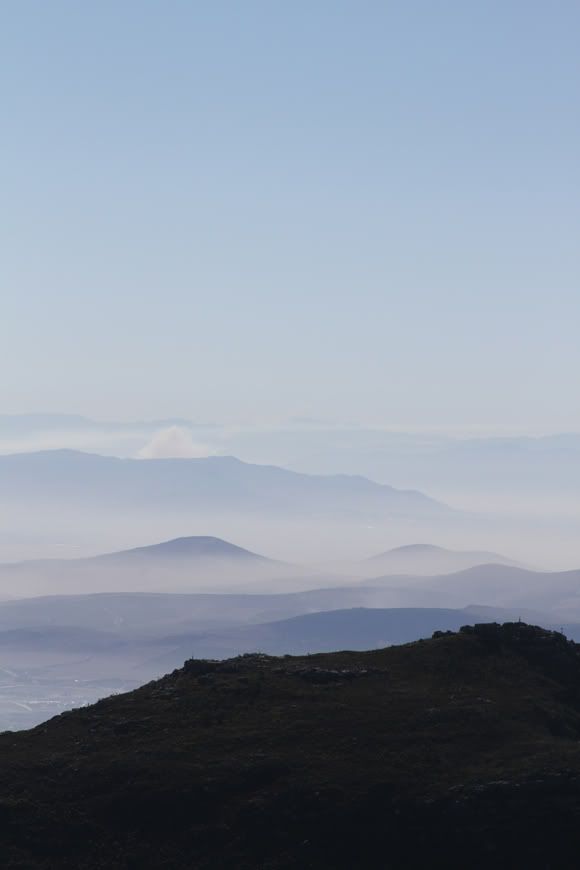 I had been so focused on the safari portion of the honeymoon that I barely thought about the time we would be spending in Cape Town, but it far surpassed any expectations we had or would have had had we done more research. It is an absolutely beautiful and unbelievably fascinating city. Our two days in the city were not nearly enough time to take it all in. I guess we'll just have to go back
!
My parents went to Cape Town last year on their way to a wedding in the Winelands and went on the peninsula tour and highly recommended it. My mom must have mentioned it a few times a week during the honeymoon planning process and continually suggested we schedule a driver for one of our days in Cape Town. In the midst of all the planning Zach and I never got around to it, but waiting for us in our room in Cape Town was a little note from both of our parents saying they had scheduled the tour for us - off we went! It was spectacular. I can't imagine not doing it. It really allows you to see so much of the coast line and the the little nooks and crannies and different towns that make up larger Cape Town.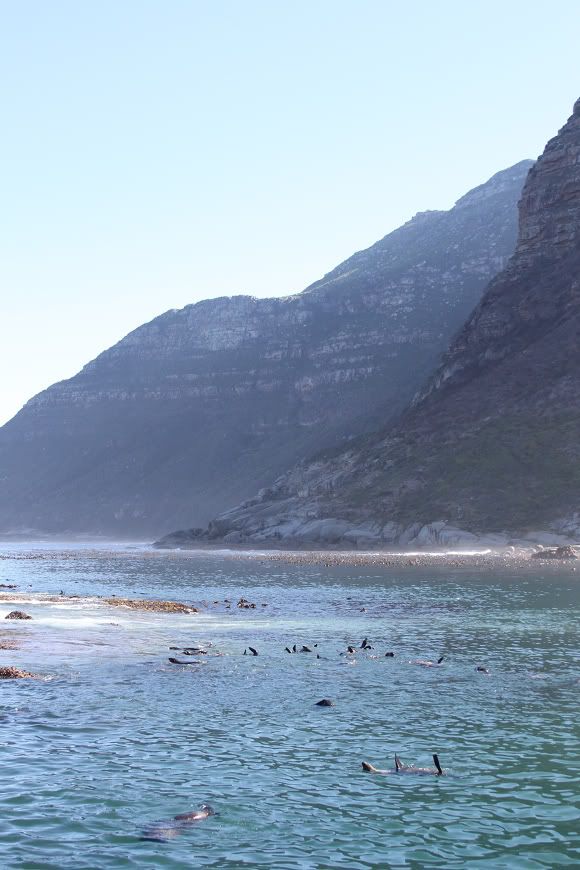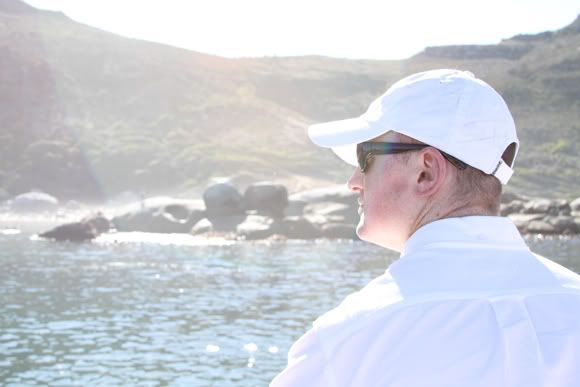 The first stop was Hout Bay to see the seals. It was quite a tourist attraction and the seals were super duper smelly, but the little boat ride out and back was worth the stench.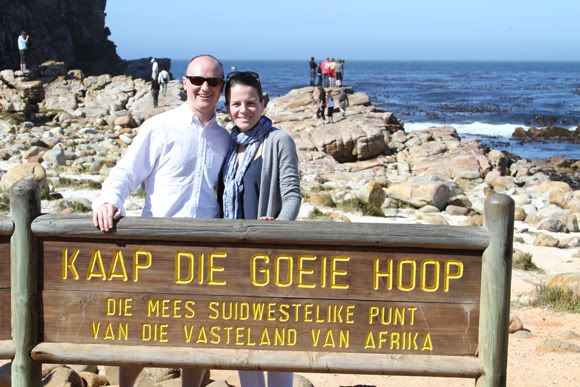 In case you can't read Afrikaans, the sign says 'Cape of Good Hope - the most Southwestern tip of the continent of Africa.' The more well known and frequently photographed English sign is right to the left in this picture, but the line was long and Zach thought the Afrikaans photo was more authentic. I agree!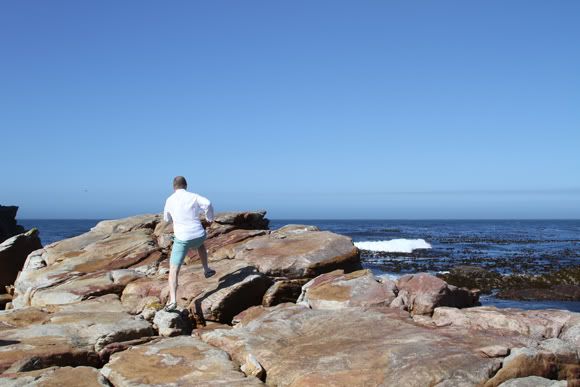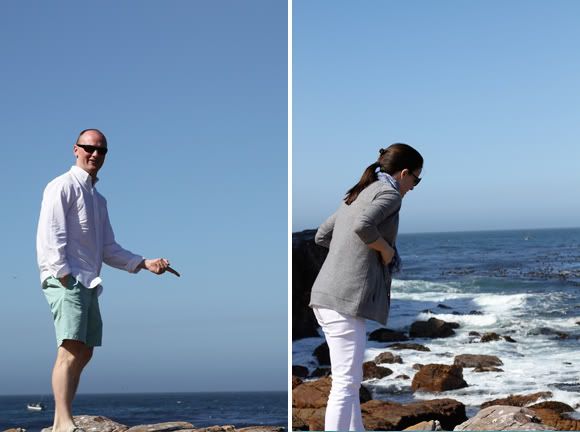 According to Ryan, our tour guide for the day, it is good luck to stand on this rock. Zach, apparently in need of some luck or just feeling agile, ran out to the rock ledge. Once there he noticed an icky mass of dead kelp that had washed up on the rocks. Ooey and gooey and icky - I want to see!!..it was pretty gross and completely full of bugs.
After the Cape of Good Hope we headed to Cape Point, which was our favorite spot of the trip. I think I was so struck by the scenery that I actually forgot to take photos.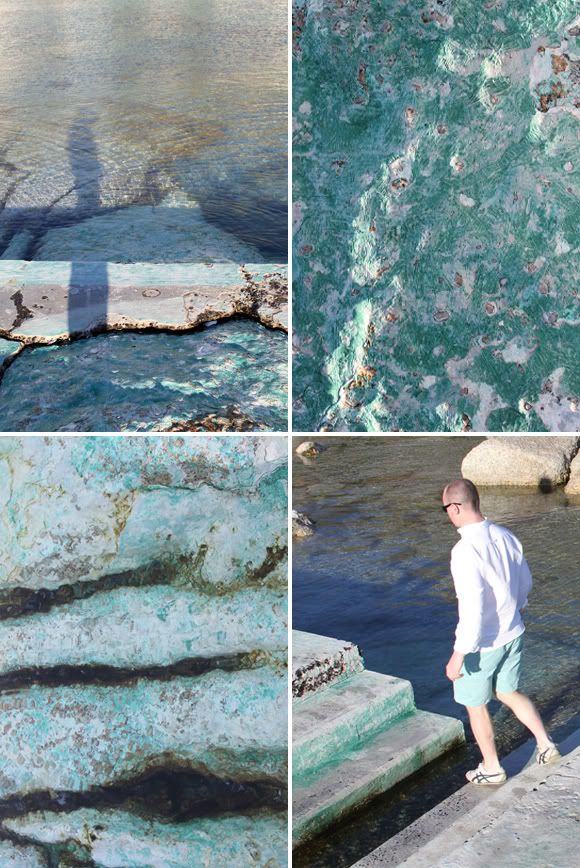 A little bit of turquoise at Capes Bay where we went for a walk before dinner.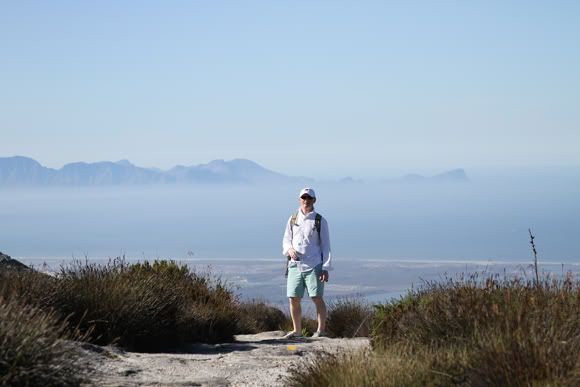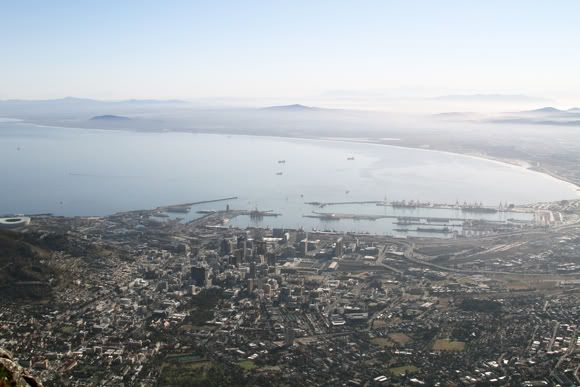 Our second day in Cape Town was brief, but we made the most of it by going up to Table Mountain first thing in the morning and going for a long (longer than we anticipated) walk along the top.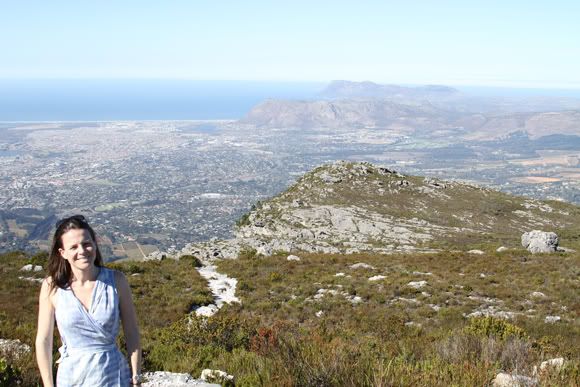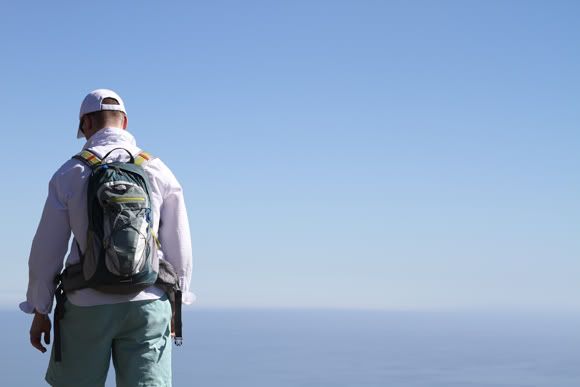 After finding our way down from Table Mountain we got in our rental car and I drove on the wrong side of the road (!!!!) all the way to Franschhoek in the winelands outside Cape Town (think the Napa of San Francisco). We spent the afternoon and night simply relaxing and taking it all in - after all it was our last night in South Africa!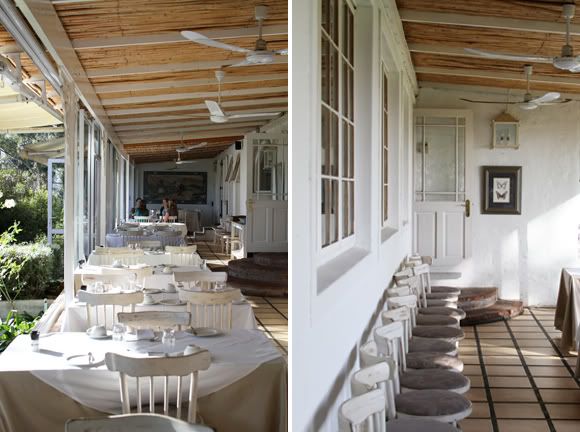 We stayed at the most amazing little hotel called Le Petite Ferme. Wow. First off the restaurant is incredible. It was far and away the best meal we had on the honeymoon, but also probably the best meal we've had in the last year. Scrumptious gnocci in a saffron sauce paired with a roasted butternut squash salad with feta and crispy croutons followed by slow roasted lamb and trout risotto. I was so engaged with eating that I forgot to take photos. Needless to say we also drank some yummy wines with our meal, my favorite was their house rose.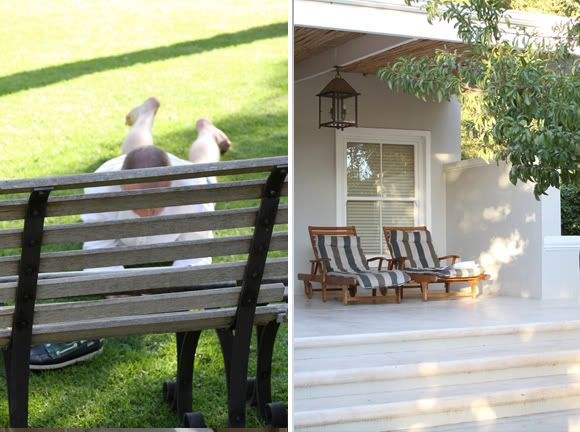 We lounged on the grass and then on the lounges on our little private terrace.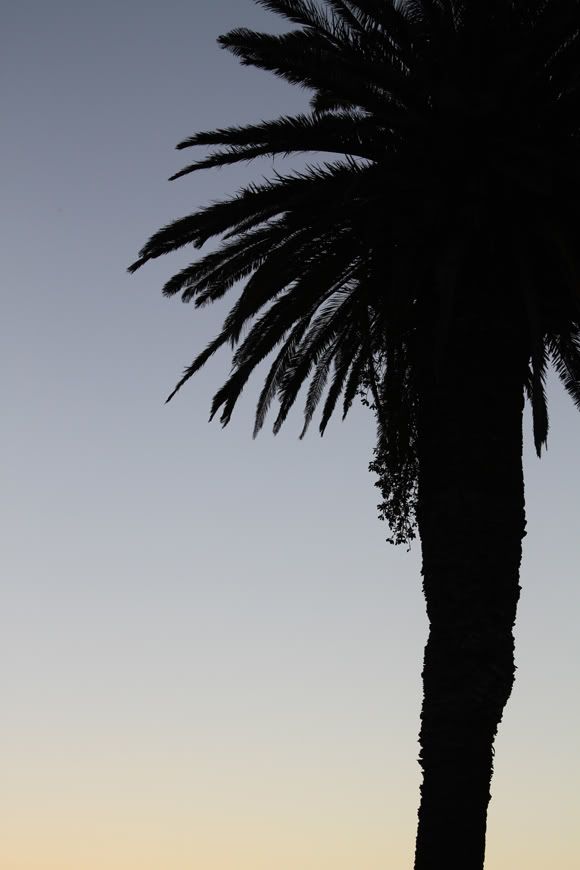 I think I might set a new rule that we only plan trips to places that have palm trees.