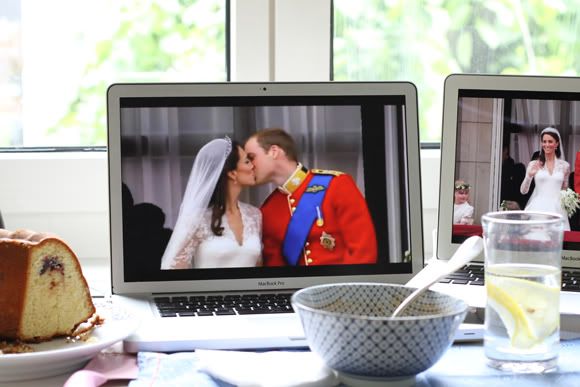 I have been
royally
distracted and entertained this morning/early afternoon/now bordering on late afternoon watching William and Kate tie the knot. I watched through of at least three pieces of raspberry-chocolate filled pound cake, five handfuls of Haribo gummy bears, too many dried apricots, a parmesan and salami sandwich (the yummy Italian kind that I am currently addicted to after our trip to Tuscany) and then finally some veggie soup to top it all off. Hopefully salami is one of the canapes at the wedding brunch...doubtful.
It's a miracle I caught the kiss on camera.If I had blinked I would have missed it,and the second one wasn't much different.
I only wish I had more pictures of the hats - the horrendous, horrible, hideous hats. Shockingly bad, but also, admittedly, wildly amusing. And the dress, oh the dress, it was stunningly perfect and simple yet elegant.
Oh and yes...I had two computers going, one with the abc live streaming so I could tune into the overly dramatic American babble and the other was simply a better live-feed from the Royal Wedding Youtube channel.