Khaki from head to toe we entered the South African bush! It was a long journey from the beaches of Florida to the red dirt earth of Africa, but I am so glad we decided to look at our honeymoon as an opportunity to do something we wouldn't do otherwise. We spent four nights at the Ulusaba Game Reserve in the Sabi Sands preserve in North Eastern South Africa, and we loved every single minute of it. I would say 98% of those minutes were spent sitting enjoying ourselves, whether on a game drive, at one of the six meals during the day or watching the hippos. Heavenly.
The photo above is of our tracker, Anios, who has been working in the park for over thirty years. During one game drive he got up out of his seat, with only a radio in hand, and disappeared into the bush in search of lions. Who actually looks for lions, alone, without a gun?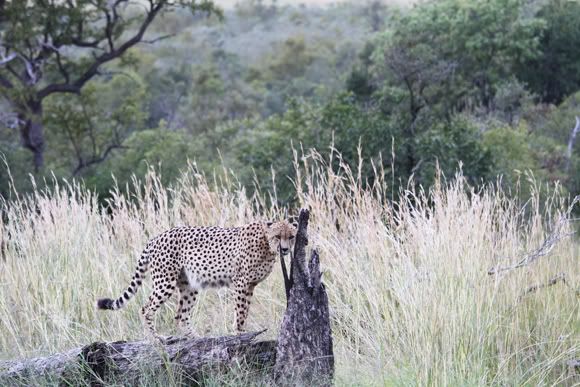 This is one of my favorite photos. The layering is wonderful, from dead tree, to cheetah, to tall grasses, to the denser bush in the background, it really capture the Sabi Sands landscape.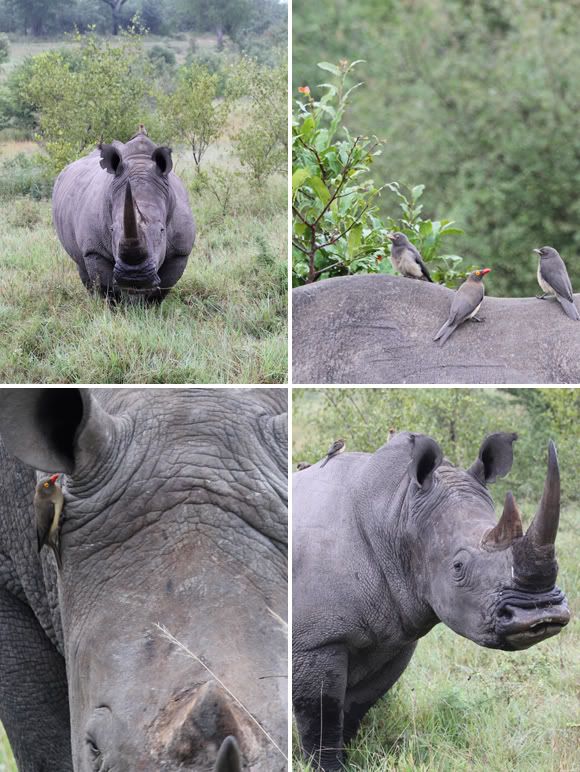 Where are the dinosaurs? When we spotted our first rhino we took a minute to look around the area for any signs of a stegosaurus. No really I almost did. The girth and armor like skin of the rhino recalls the time of the dinosaurs. Rhinos are really just cows in a different body, eating grass all day, everyday. I adore the bird tea party that is happening on this rhino's back
.
The look on Zach's face when we were on the game drives was my favorite part of our entire honeymoon. Excited. Curious. Happy. I had to remind myself that we were out to see the animals and that I could stare at my new husband later. This picture really captures Zach during those five days on safari.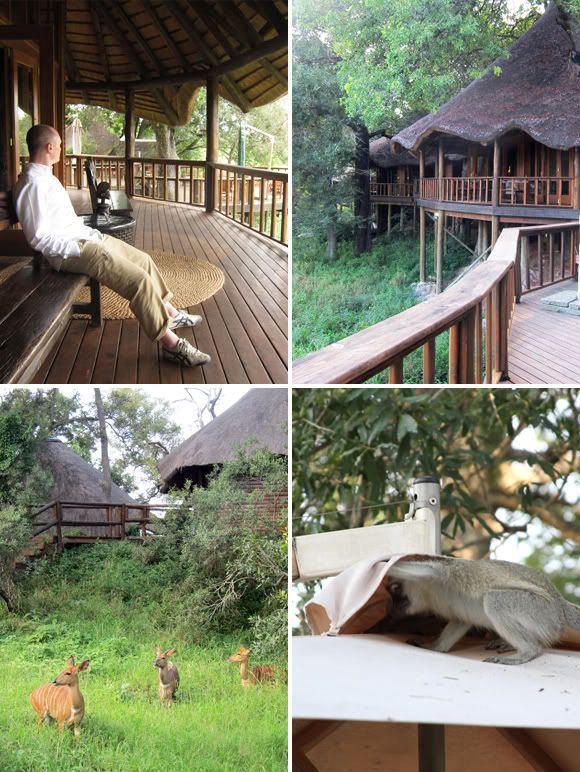 Here are a couple shots in and around our lodge. Ulusaba was unbelievable. Considering this was our first safari trip we don't have anything to compare it to, but we would highly recommend it! The lodge is composed of a series of low tree houses strung together with wooden walkways and rope bridges. Our room was its own little tree house, complete with mosquito netting around the bed, a claw-footed tub and a porch with a view onto the river and bush beyond. Monkeys and Nala were frequent visitors to the trees and grass around the lodge.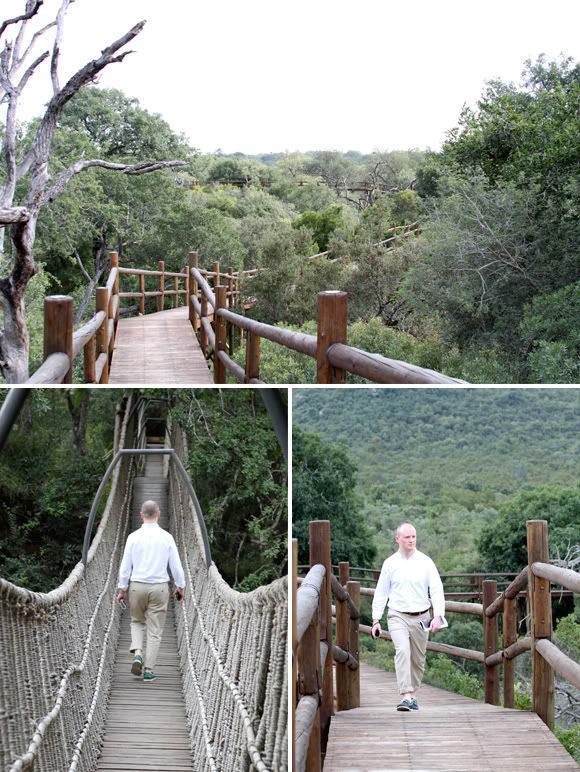 One of our favorite afternoon activities was to walk out along the raised tree-walk to the hippo pond. The top photo shows how long the walk is and the bottom photos give a little bit of context. Considering it is not advised to go for a walk in the African bush, having this elevated walkway above the bush allowed us to view the animals from above and also go for a little excursion after lunch.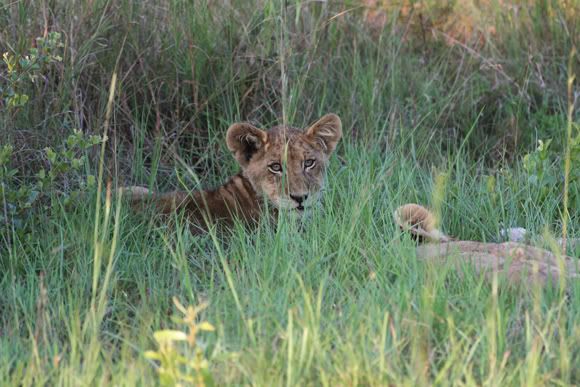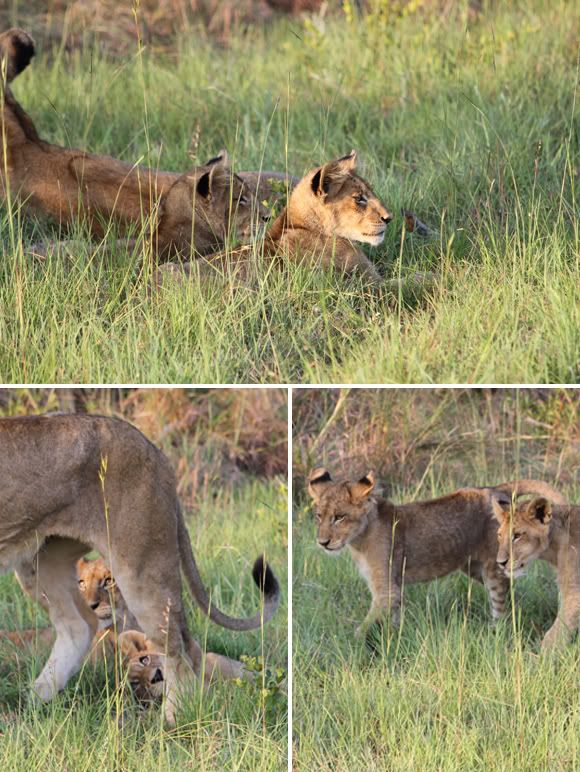 Cubs! The Lioness and her two male cubs were enjoying the afternoon sun in the grass when we spotted them.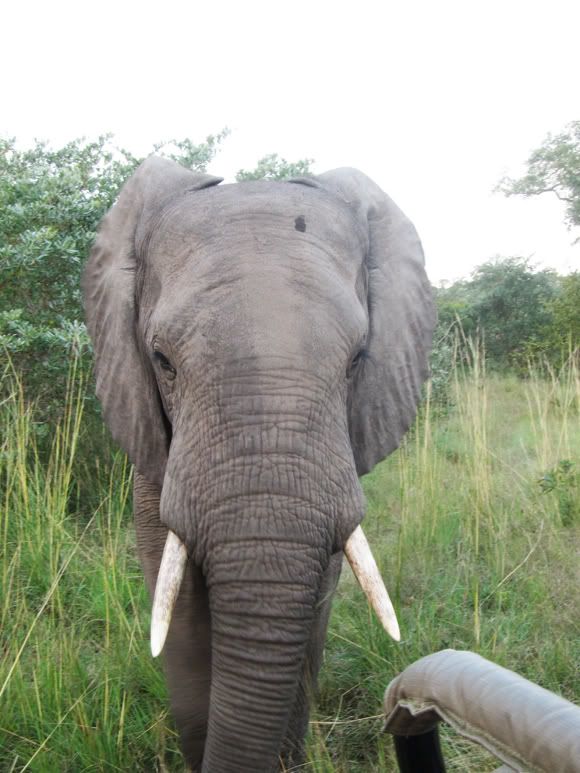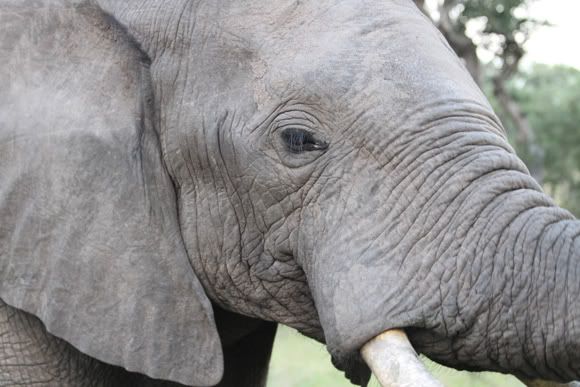 This elephant got so close to our Land Rover that I had a hard time taking a photo of him. Speaking of photos and cameras...I got a new camera as a wedding gift from my parents! A Canon DSLR complete with three different lenses. Not to worry I am still attached at the hip with my little Canon S90, but without the zoom lens of my new camera a lot of the photos in this post wouldn't exist!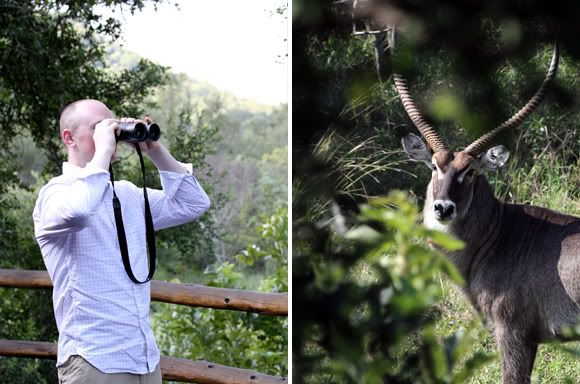 Zach spotted a kudu right from the porch outside our room. In addition to the kudu we spotted a couple warthogs, copious amounts of impala and some nala.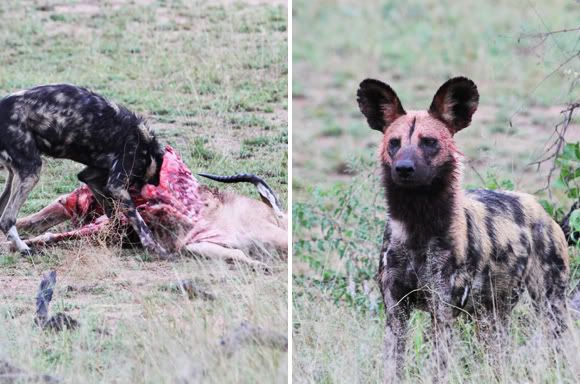 One of the highlights of the trip was catching a pack of wild dogs in the middle of dinner. They had just killed an impala and while some ate it others watched for unwanted guests. These pictures didn't come out that well, but this was Zach's favorite part of the safari so I thought it best to include them.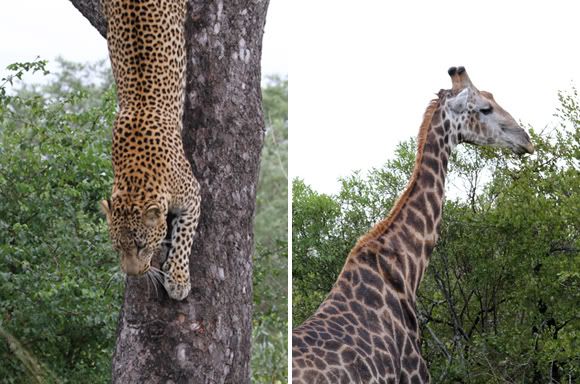 spots and stripes - such funny wilderness outfits!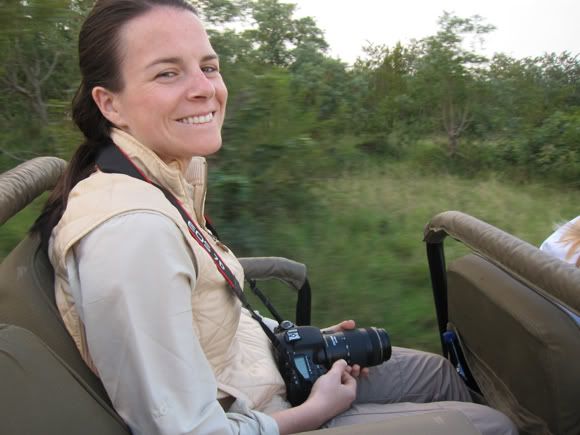 Me in all my khaki-coated glory! With my new camera in hand.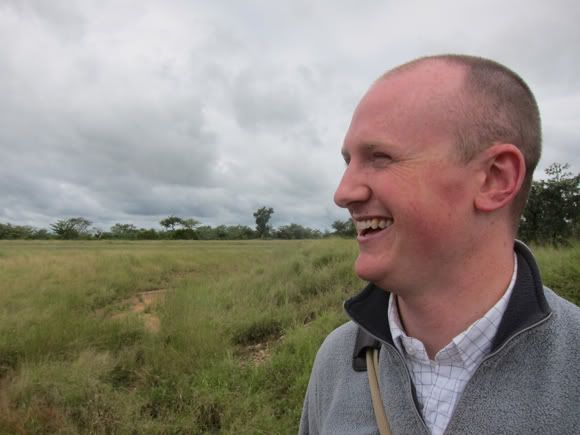 Zach's favorite sighting was the wild dog kill, which we were able to capture on camera, but my favorite moment was a bit tougher. Imagine sipping champagne in the middle of an open grassy field where the only light is coming from the headlights of the Land Rover and you hear a deep grunt. Yikes! A family of Rhinos had come to join us for cocktails!
Stay tuned for honeymoon part 2 and 3 coming in the days ahead.