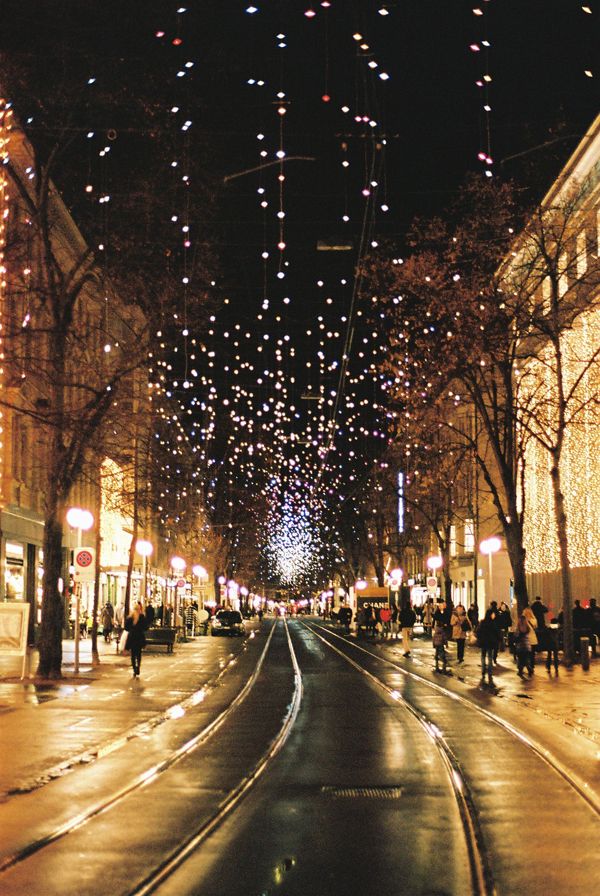 "Sleigh bells riiiiiiiiing...." - that is the subject line of the email chain that is buzzing around amongst my girl friends. I jump on the new emails as they come in, loving the good tidings they bring - mostly about life, love, Christmas plans and pictures of new nieces and nephews - and sending my own right back out on the gmail sleigh. It really is almost Christmas. I'm heading home on Wednesday to deck the halls with my family and then Zach arrives just in time for Christmas Eve dinner and then we head to Providence on Christmas Day to celebrate with his family.
Before we jet off for the States we are actually heading to Paris, in about 2 hours, for the weekend! I wanted to post these festive photos before I head to the airport. My fingers are crossed that 1) Zach will make it, he's cutting it close with work stuff and 2) that our flight isn't cancelled with all of this wind and rain. Maybe you could cross your fingers too, the more the better. Danke!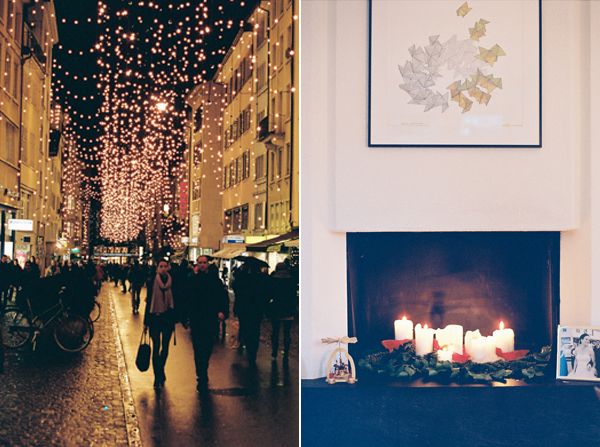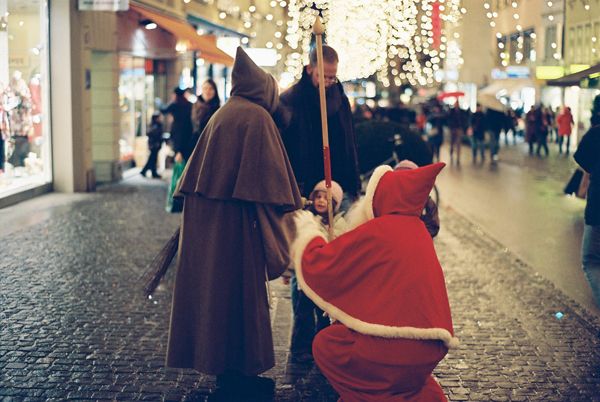 The Swiss really now how to make a city feel festive. In the center of town, on the Bahnhofstrasse, there are lights hanging from every possible spot imaginable. The ones hanging above the streets are called 'Lucy', I believe in reference to Lucy In The Sky With Diamonds. They really are quite spectacular.
Then there are also Samichlaus and his sidekick Schmutzli. Schmutzli, who paint his face back and dresses in a dark brown cloak, is pretty much the idea of coal personified.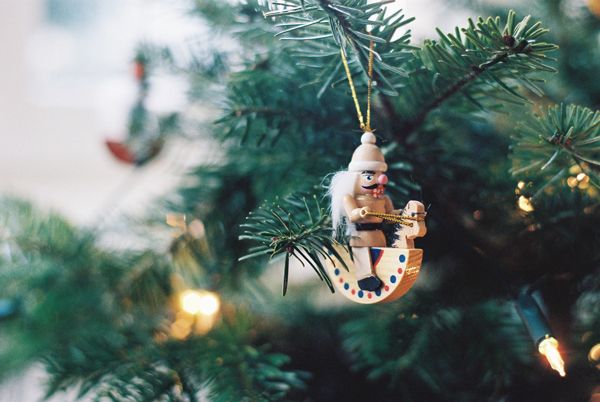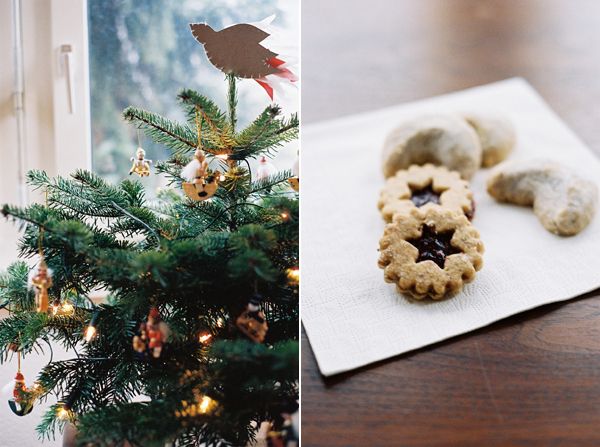 Since so many people commented on our tree I thought I would post some close-ups. The ornaments are from the Christmas market in Germany and they remind me of the ornaments we use to trim our tree at home. My mom has always loved little wooden ornaments, so I guess I inherited that from her. Although I can't imagine anyone who wouldn't like a nutcracker rocking horse ornament. Oh, and I made the bird on top. Zach's family uses a bird on top of their tree and we've always used an angel, but I thought a bird was really a good combo of both...in it's own way.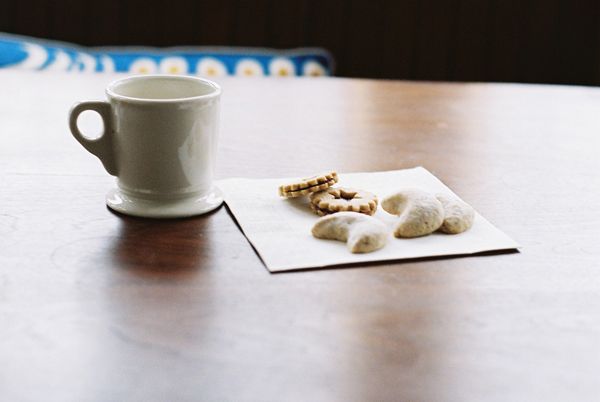 And then there is this amazing almond cookie recipe that I want to share with you that can double as Viennese Crescent cookies or Linzer cookies, depending on how you roll the dough. I have to rush to the airport in about 5 minutes so I will share the recipe with you when I get back from Paris....
Okay back from a wonderful trip to Paris. We almost didn't get there because our flight was canceled on Friday night, but thankfully we zipped off on an early Saturday morning flight, which gave us plenty of time to shop for breakfast croissants.
Viennese Crescent Cookies/ or Raspberry Linzer cookies
adapted from Irma Rombauer
- 8oz / 1 cup unsalted butter
- 3 oz / 3/4 cup powdered sugar
- 3 teaspoons vanilla bean powder, or 2 teaspoons vanilla extract
- 4 oz / 1 cup ground almonds
- 10 oz / 2 cups all purpose flour
- 2 oz / 2/3 cup powdered sugar for sprinkling
Preheat the oven to 350ºF / 180ºC and line baking sheets with baking paper
In a medium bowl beat the butter until it is creamy and light in color, then sift in the 3oz of powdered sugar over the butter and beat until incorporated
Add the vanilla and mix until smooth. Stir in the ground almonds. Follow with the flour, adding slowly, until mixed. Knead the dough until it is well blended. If the dough is very soft place it in the refrigerator for 30 minutes. You want the dough to be workable in your hands so make sure it is malleable when you take it out of the fridge.
For crescent cookies, take about 1 tablepsoon of dough and shape it into a crescent and place on the cookie sheet.
For the jam filled cookies, roll the dough between two sheets of parchment paper until about 1/4" thick. Using a cookie cutter cut an even number of shapes out of the dough. Using a smaller cookie cutter, such as a star, circle or heart, cut the center out of half of the cookies. Move to the lined baking sheet.
Bake the crescent cookies for about 13-16 and the linzer cookies for about 10 minutes, or just until the edges have lightly browned for both. Cool the cookies on a wire rack. When completely cool dust the crescents with powdered sugar. For the jam filled cookies, take the cookie without the hole and spread raspberry jam on it and then top with the hole-cookie.
This photos is terrible and blurry, but I had to share it with you because this my friends is The Santa Tram, or Märchentram (fairytale tram). Santa drives the tram while his angles read fairytales to the children in the back. Only children are allowed on the tram, no parents allowed. I absolutely love this little Zürich Christmas tradition. I guess the theory is that parents put their kids on the tram for thirty minutes and then they can run off and buy that last minute toy while the kids listen to The Night Before Christmas while zipping around Zürich.
okay time to run! remember, fingers crossed...