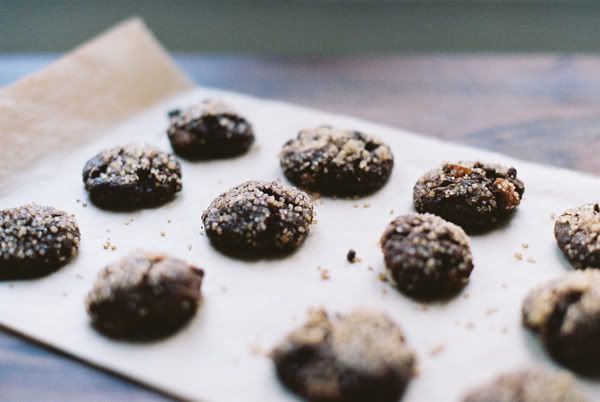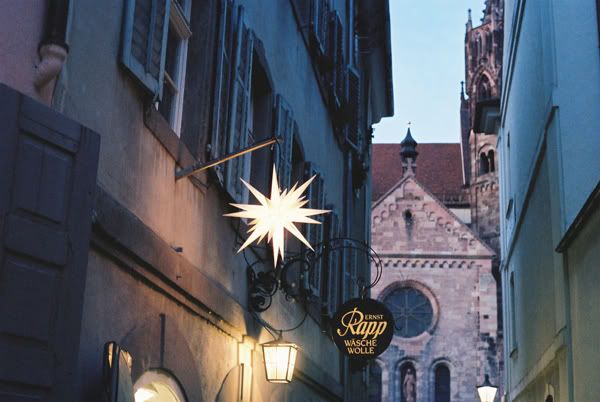 For as long as I can remember my mom has made Aunt Julie's sugar cookies. The key to Aunt Julie's cookies is to roll the dough really thin, as thin as you can, and then bake until just golden around the edges and sprinkle with sugar while they are still hot. They are superb cookies. At least we like to think so. We trade them amongst the family--my aunt Sarah will make some, pile them in a tin, wrap it with ribbon and gift it to my dad and my mom will make some and pile them in a tin, wrap it with ribbon and give it to my grandmother--they are family heirlooms that we make and eat every year at Christmas.
So as you can see these aren't Aunt Julie's cookies. It's just that it's not quite time for crisp sugar cookies. They are timed for the arrival of reindeer on rooftops. In the meantime I decided to make a different type of twinkling cookie, a molasses ginger cookie. This recipe is from Heidi Swanson's Super Natural

Everyday

. I was struck by the dark cookie with the chunky demerara sugar shell. These cookies are a wonderful mix of sweet outer crunch and chewy flavorful cookie. The molasses flavor runs deep, through the chocolate, the apricot and the ginger, which all act as punctuations to the long meandering molasses sentence.
So about the molasses. Expats will often do crazy things to find some semblance of home , like spending $12 dollars on a small jar of molasses. It's just the way things go here. You want it, you need it, and you finally found it hidden on the bottom shelf so you buy it. But as so often is true, the product just doesn't live up to your expectations: the molasses I bought was too strong, which I learned sampling a cookie from the first batch. I adjusted for the second batch, substituting dark muscovado sugar for a good chunk of the molasses, hoping that the molasses in the muscovado would shine through, and it did, wonderfully.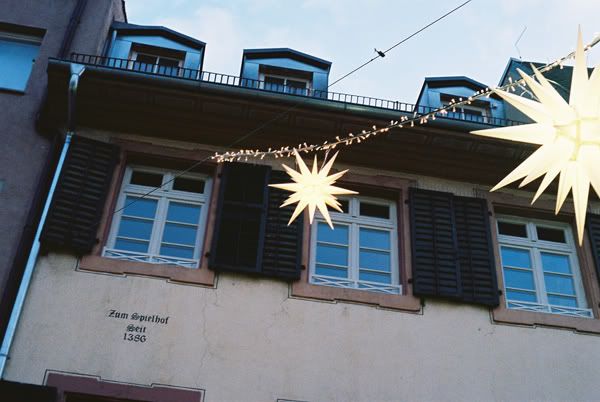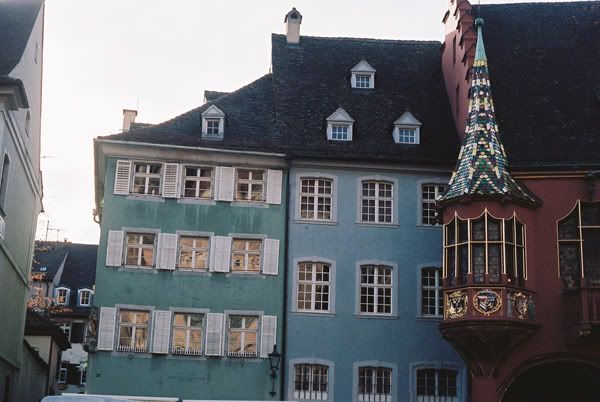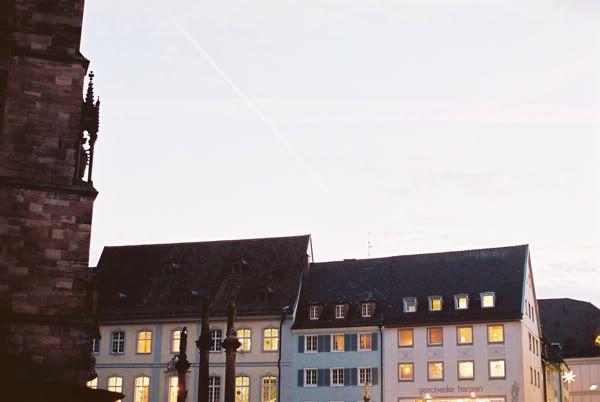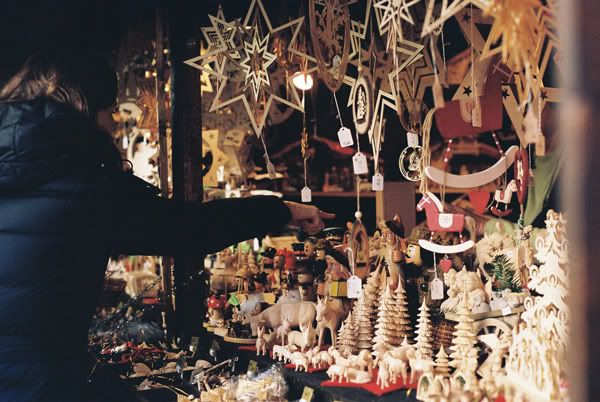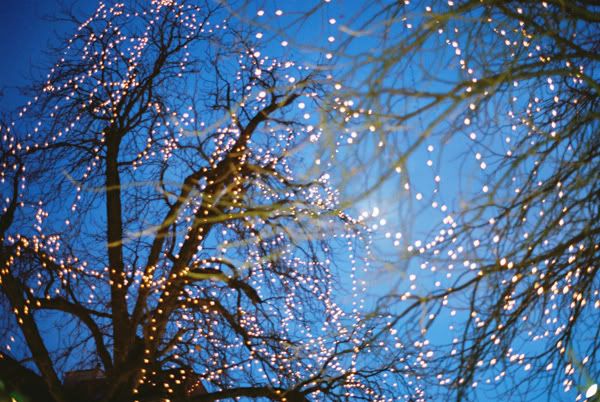 These pictures are from a recent trip to Freiburg, Germany, for the Christmas markets. Christmas markets are ever present this time of year. Little wooden huts are set up in rows, evergreen garlands are hung from the roofs, and lights are strung from hut to hut. It's wonderfully festive, seemingly homegrown and super duper charming. These little elf villages, as I like to think of them, spring up all over Switzerland, Germany, Austria and Eastern France, and while the wares might be a bit repetitive and sometimes hokey it's always a treat to walk through them

.

On this trip I spent more money on food - bratwurst, cookies, glühwein - than I did on Christmas goodies, but the food still put me in the Christmas spirit!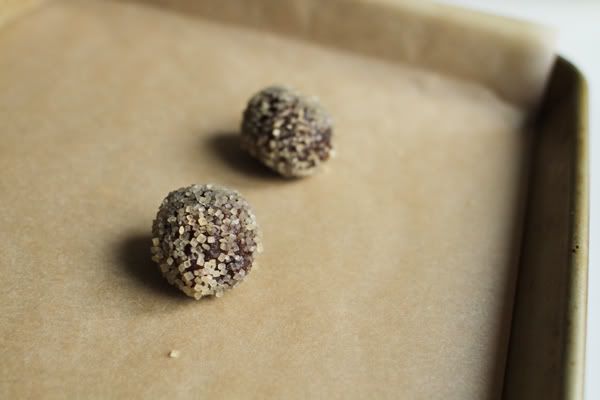 *note: I had to adapt the original recipe because the molasses I found here was very strong. I substituted some of the molasses with dark muscovado sugar. If you live in the states, you can go with the original (1/4 cup molasses) but be sure the molasses tastes good, not harsh, before using.
- 1/2 cup / 70g demerara sugar
- 6oz / 170g bittersweet chocolate (64%) chopped into chip size pieces
- 2 cups / 230g spelt flour (dinkelvolkohrmehl) or whole wheat pastry flour and I think all purpose flour would be fine as well
- 1 1/2 tbsp ground ginger
- 1/2 cup / 115 g unsalted butter, cut into small cubes
- 3 tsp unsulphured molasses
- 3 tbsp dark muscovado sugar
- 2/3 cup / 100 g fine grain natural cane sugar
- 1 large egg, well beaten
- 1 cup plump dried apricots, minced (after measuring)
Preheat the oven to 350ºF/180ºC and line a baking sheet with parchment paper
In a large bowl whisk together the flour, baking soda, ground ginger and salt.
Heat the butter in a small saucepan until just barely melted. Stir in the molasses, dark muscovado sugar. The mixture should be warm, but not hot. If it is hot to the touch, let it cool until just warm. Once cool whisk in the egg. Pour this mixture over the flour mixture and add the chopped apricots and chocolate and then stir until just combined. Chill the dough for about 30 minutes, until the dough has firmed up a bit.
Pour some of the demerara sugar into a bowl. Use a tablespoon to scoop the dough, split that tablespoon into two smaller pieces, and roll each into a ball. Roll each ball in the bowl of demeara sugar, using pressure if needed to make the sugar stick to the dough.
Place the cookies on the baking sheets a few inches a part. Bake for about 7 – 10 minutes until the cookies puff up, darken a bit and crack. Cool on a wire wrack.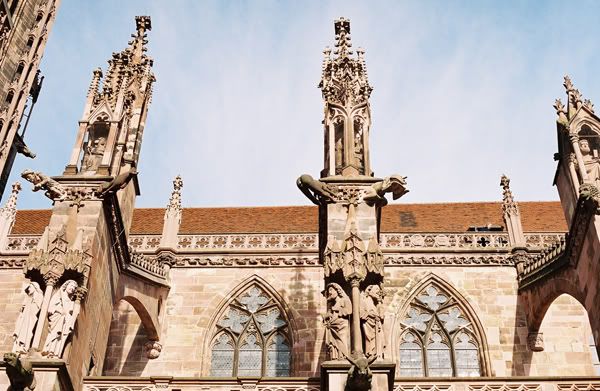 And a little something funny for your Friday...look closely at this photo, at the center
butt
ress (no pun intended, but perhaps it will give you a hit of what to look for)....at the gargoyles. Do you see what I see? The gargoyle on the left on the center buttress is facing the wrong way! Its butt is sticking out, towards us, and between the cheeks is a rain spout, so when it rains, water pours out of this gargoyles butt. seriously?! medieval humor?
On that note I hope you have a wonderful, glittering, weekend. And not to worry, I will post Aunt Julie's cookies soon!