This cake brings good tidings, to you and you and you and me. I imagine, writing this only a week after I made it, that I will always remember this cake. I will remember it because it is amazingly rich and fudgy and spotted with raspberry sweetness, but also because it was the cake that marked the end of our first Thanksgiving abroad. A Thanksgiving that also happened to be the first one that Zach and I spent together. There was no need to discuss whose family we would grace with our presence because we simply couldn't get back to the states for the holiday. Instead, we spent Thanksgiving with what we consider to be our new family, the group of friends we have made here in Zürich. And it was wonderful.
In truth we had two Thanksgivings, one on Thursday and one on Saturday, and both were wonderfully festive, full of laughter, gratitude and a lot of stuffing.
Behold the magic ingredient, nine eggs. Yes nine. Nine yolks whipped into the creamed butter and then nine whites, beaten into stiff white peaks, and folded into the chocolatey batter.
Our first Thanksgiving on Thursday, where this cake made its appearance, was at my friend Jess's apartment. It was an impromptu dinner. Her parents were in town and we all wanted to celebrate. She and her mom roasted a few chickens and whipped up some potatoes and green beans and I made some stuffing and this cake. Chocolate cake is not typical Thanksgiving fare, but Jess is gluten free, and so apple pie and pumpkin pie just wouldn't do. Besides we were already breaking tradition with our chickens we might as well throw a kink in it with chocolate, which really only makes sense considering we live in Switzerland.
Anyway back to my point about nine eggs. Jess's mom mom knew right away that there must be a lot of eggs in this cake. She is from Lima, Peru, and apparently there is a similar, traditional, cake made with eleven eggs. I'll have to try that one next.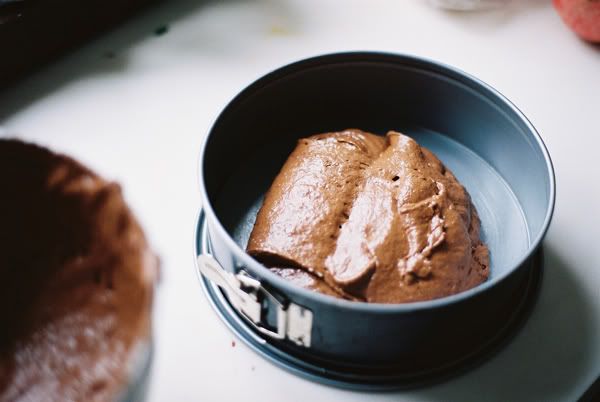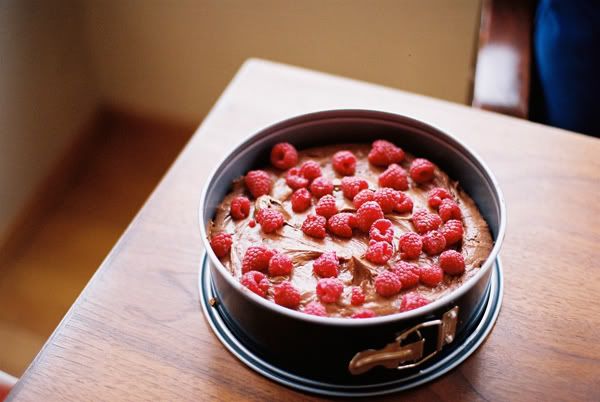 apparently this recipe is from the Macrina Bakery in Seattle Washington - that doesn't mean anything to me, but perhaps it will mean something to you.
* A note about the raspberries - I know, I know, they aren't in season right now and I almost skipped buying them, but then I found a little package for 2chf and grabbed them, and I'm so glad I did, they are essential. Don't skip them, hunt them down. Or print this recipe and save it for a summer day.
- 10 oz/285 g bittersweet chocolate (about 65%)
- 12 tablespoons unsalted butter
- 3/4 cup granulated sugar
- 1/4 cup dark unsweetened cocoa powder, sifted
- 2 cups fresh raspberries
- powdered sugar (optional)
Preheat the oven to 350º F / 180º C. Butter a 9" springform pan.
You will need to set up a double-boiler to melt the chocolate so find a heat proof bowl (stainless steal or pyrex) that fits perched on top of a pot, without touching the bottom of the pot. Pour 2 inches of water in the bot, bring to a boil and then place your bowl on top of the pot, making sure it does not come in contact with the water. Put your roughly chopped chocolate into the bowl and stir gently until the chocolate has melted. Remove the bowl from the pot, and turn off the heat.
Separate the egg yolks from the whites, placing each in separate bowls. If you only have 1 mixer, like I do, then poor the whites into the bowl of your standing mixer and beat with the whisk attachment until medium-stiff peaks form. Scoop out this mixture into another bowl so that they will be ready to use and you can use your mixer. Clean out the bowl of your mixer.
Combine the butter and sugar in the bowl of your standing mixer fitted with the paddle attachment. Mix on low for a couple minutes and then turn to medium for five minutes, which will cream the butter. Once the mixture has lighten in color and texture add the egg yolks, two at a time, mixing entirely before adding more eggs. Then mix in the cocoa powder, mixing completely.
With a rubber spatula fold in the melted chocolate. Then slowly fold in the egg whites, making sure each scoop is incorporated before adding more. Keep stirring until you no longer see white streaks. Pour the batter into the spring form pan. Scatter 1 cup of raspberries over the top of the cake. Push the berries down into the batter, until you can't see them.
Place the pan in the oven and bake for 45 minutes. Take it out of the oven and let it cool on a wire rack for 30 minutes. The center will collapse, but don't worry, that's okay. If you want to use powdered sugar let the cake cool completely before sprinkling. Serve with the remaining raspberries.
This cake lingered in our kitchen, not because it's not amazingly good, but because it's the type of cake that you eat by the sliver. It's rich and fudge-y and as such is a cake to savor, not to devour. The fact that it seemed to get fudgier as the days went by and not hard and stale also added to it's lingering personality, which happens to be a well suited personality for a two-person home.
And how about that cat, almost floating on the porch railing?!
I hope you all have a nice weekend. Zach has surprised me with a road trip to Dijon. We had our hearts set on going to Paris this weekend to visit our friend

Tala

, but then the trains were sold out and the flights were expensive and at bad times. Ugh, but not to worry we are still going to Paris, just in a couple weeks and since we had had our hearts set on getting out of the city this weekend we are off for a little adventure.