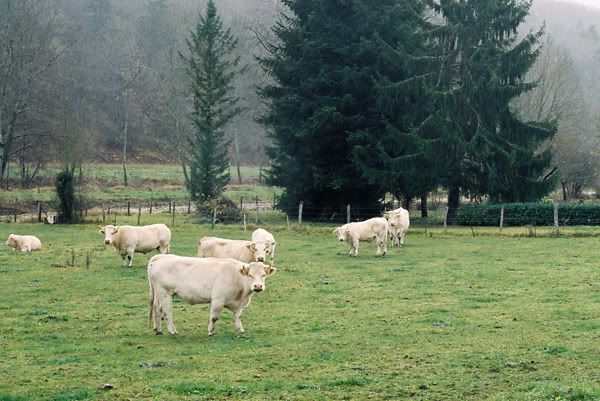 It was a wonderful weekend. Zach planned the trip -- rented a car and found an amazing hotel - on Thursday and we zipped off on Friday. Often short notice can mean stress and confusion, but our trip to Burgundy was nothing of the sort. It was peaceful and exciting, filled with new scenery and lots of opportunities to say 'bon appetit', which in itself should constitute a good trip.
Our hotel was nestled amongst the vineyards in a little town called La Bussière sur Ouche which is just between Beaune and Dijon. Initially we thought we'd spend our time in Dijon, but after doing some quick reading and learning that Beaune is a charming city and that there is a market on Saturdays, we changed our plan and headed south to Beaune.
Peak tourist season is long behind us and far ahead of us, which really made it seem like we had an authentic experience in little Beaune. We wandered through the market, bought a baguette and continued wandering through the streets, eating our baguette as we went. Unfortunately it was rather rainy and cold so we wandered ourselves right into a cozy little cafe called Le Bistrot Bourguignon. We were too early for lunch so we nestled with our books and a cappucino, which eventually turned into a glass of local red wine and to go with our second glass was the house special of Boeuf Bourguignon. And so since you couldn't be there with us (next time?) hopefully this post, and the recipe that follows, will help transport you, and your taste buds, to a little French village (now is a good time to pour yourself a glass of wine).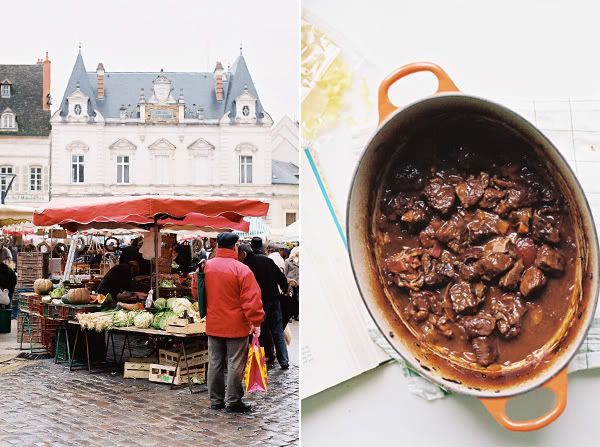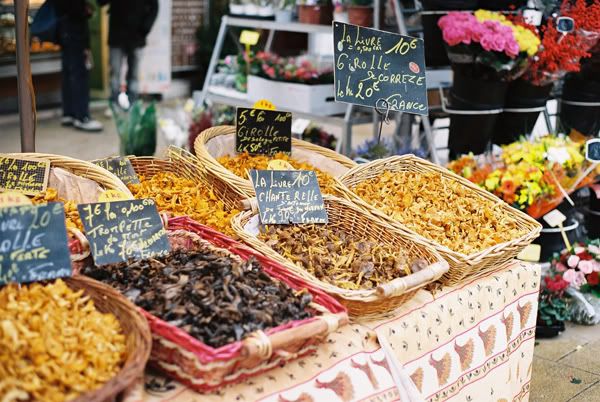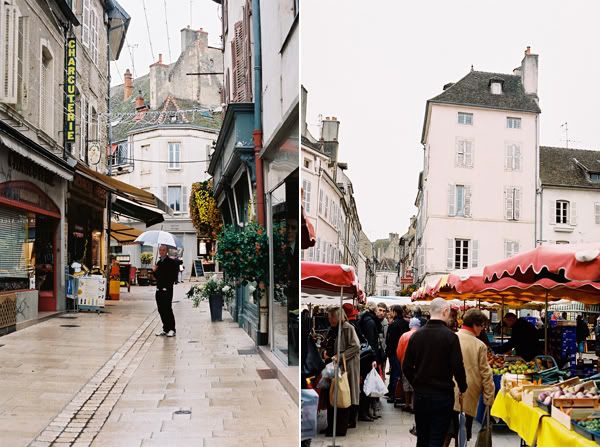 Beef Bourguignon is one of those dishes that can be made a variety of different ways, spun to your pleasure however you like it. I chose to use Julia Child's recipe from Mastering the Art of French Cooking. I borrowed (more like 'took' when you live 3000 miles away) one of my mom's copies of the book and there is only one post-it note peaking out of the pages, and it is firmly stuck to page 315, Boeuf Bourguignon, and that was reason enough for me to use Julia's recipe. And it turns out that was a great decision because her recipe is fairly simple and leads to a delicious, tender, and incredibly flavorful stew.
The scene at Le Bistrot Bourguignon was soul inspiring. We arrived at roughly 11:30 and there was already a group of people at the bar, market bags sitting on the floor or open on the counter, and everyone was talking and drinking white wine and enjoying themselves. We felt lucky to have happened on this convivial scene, but we remained to ourselves, in the corner, with a good view of everything that was going on.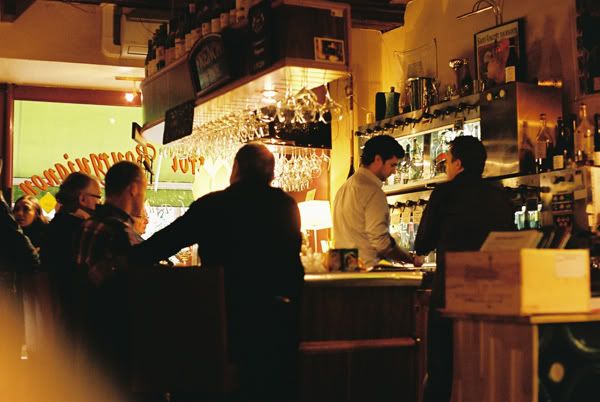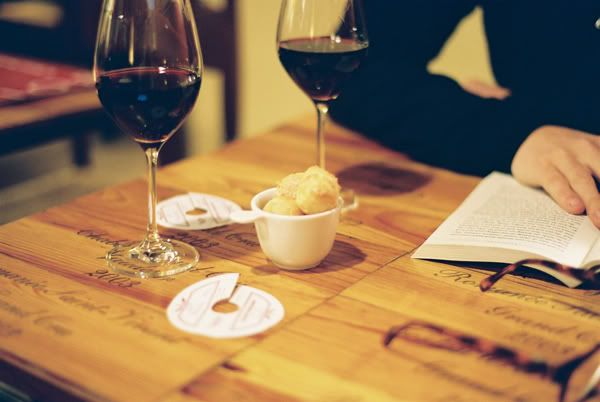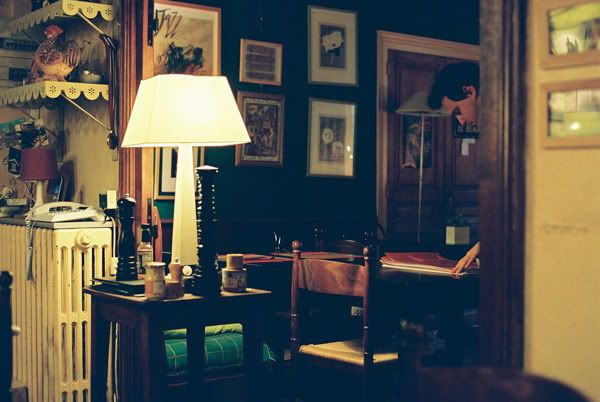 There was red wine and gourgères and lots of people-watching as we nestled into our little corner of the restaurant. And of course there was beef bourguignon, served in a little coquette along side a pile of egg noodles. We both polished our plates and glasses and then set out for a mini driving adventure through the countryside.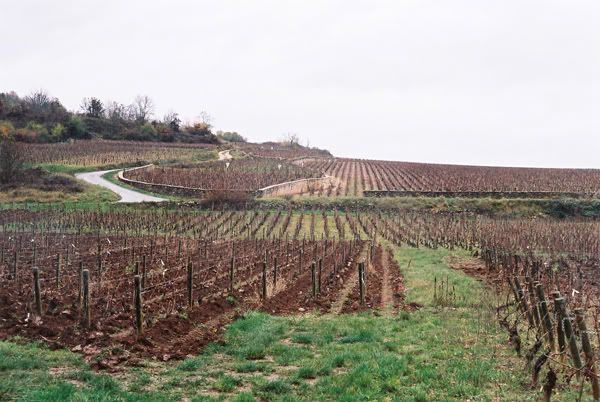 Just drivin' along and bam, a massive château appears in the distance. Jot this down as a you-know-you're-in-Europe-when moment. We drove through the stone town, up to the château and then walked around the perimeter since it was closed for the season. It is called

Le Château de La Rochepot

and it's definitely worth a driveby/walk around.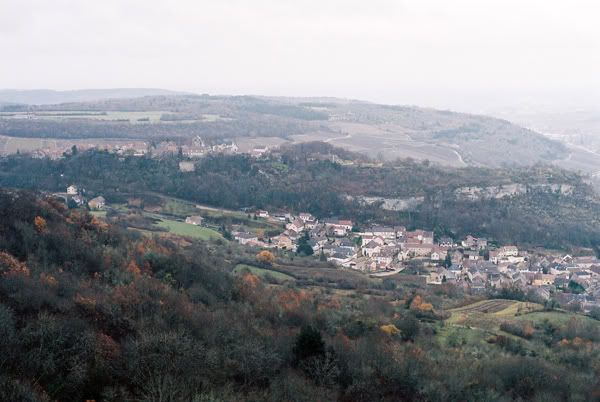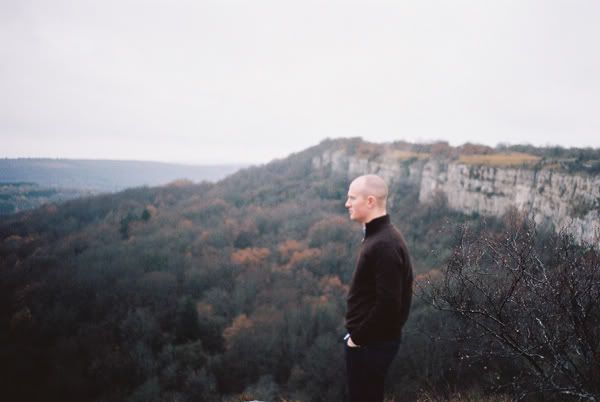 Sometimes rainy days make for better pictures. They give you a better sense of the atmosphere of a place. Sadly this picture of Zach is out of focus, but like a rainy day, I think it give the photo a sense of place, maybe even more so than if it was in focus.
I made Zach stop for photos shoots every once and awhile, but the one I was most adamant about was the stop for a cow photo-op. The pure white cows that dot the landscape are what give Beef Bourguignon its name; local eating at its best. I wish I had been able to bring some home, but with the lack of in-room refrigerator and a long drive back to Zurich it just didn't make sense. Perhaps next time we go we'll rent an apartment and spend the weekend cooking.
Julia Child's Mastering the Art of French Cooking
* note : since it is only the two of us and meat is a fortune in Zurich I only used 1 lb of meat and adjusted the recipe accordingly. The recipe that follows is the recipe as written by Child
* wine note : like the beef, the dish is traditionally made with ingredients from Burgundy, so a red wine from the region is a good place to start. Julia notes that you should use a full-bodied, young red wine, such as Beaujolais, Côtes du Rhône, Bordeaux-St. Emilion, or Burgundy.
- 3 lbs lean stewing beef cut into 2-inch cubes
- 2-3 cups beef stock or canned beef bouillon
- 1 tablespoon tomato paste
- 2 garlic cloves, smashed
- 18-24 small white onions (or canned)
- 1 1/2 tablespoons butter
- 1 1/2 tablespoon olive oil
- herb bouquet - 4 parsley sprigs, 1/2 bay leaf, 1/4 tsp thyme, all tied in a cheesecloth
- egg noodles or potatoes for serving
Begin with the bacon. Remove the rind and cut the bacon into sticks roughly 1/4-inch thick and 1 1/2-inch long. Simmer the bacon and the rind for 10 minutes in 1 1/2 quarts of water. Drain and dry.
Heat the tablespoon of olive oil in whatever oven-friendly bakeware you intend to make the stew in. Sauté the bacon in the oil over moderate heat until the bacon is lightly brown on all sides, about 2-3 minutes. Remove the bacon from the pan and set aside. Keep the bacon fat/oil in the pan.
Dry the beef cubes using paper towel. The beef won't brown unless it is dry. Sauté the beef in the bacon/oil a few pieces at a time, until nicely browned on all sides. Set aside with the bacon.
In the same fat brown the carrots and onions. Once browned pour out the fat.
Return the beef and bacon to the casserole and toss with salt, pepper and flour. Continue to toss until the beef is lightly coated in the flour, this will form a nice crust over the beef when it is in the oven. Place the casserole in the oven. Stir and toss the meat after 4 minutes. Return to the oven for another 4 minutes. Remove the casserole and turn the oven down to 325º
Stir in the wine and enough stock so that the meat is barely covered. Stir in the tomato paste, garlic, herbs and bacon rind. Bring to a simmer on top of the stove then cover the casserole and place it in the oven, regulating the heat as needed so that the liquid maintains a slow simmer. Allow it to cook for 3-4 hours until the meat is easily pierced with a fork and is tender.
While the beef is cooking prepare the onions and mushrooms. For the onions bring the butter and oil to bubble in a skillet, add the onions and sauté them over moderate heat for about 10 minutes. Toss the onions so that they brown evenly. Once browned pour in the stock, salt and pepper to taste and the herb bouquet. Cover and simmer slowly for 40-50 minutes until the onions are perfect tender but still retain their shape.
For the mushrooms...working in two batches, place a skillet over high heat with 1/2 the butter and the oil. When you see the butter foam subside add 1/2 the mushrooms (only as many as will fit). Toss and shake the pan for 4-5 minutes. As soon as they have browned lightly remove from heat and start with the second batch.
When the meat is tender strain the contents of the stew into a colander set over a pot (you want to save the liquid). Return the beef and bacon to the casserole (we kept the carrots and onions) and add the mushrooms and onions. Simmer the sauce for a minute or two. You should have roughly 2 1/2 cups of sauce. The sauce should lightly coat a spoon. If it is too thick add some stock and if it is too thin rapidly boil it down. Pour the sauce over the meat and vegetables and then pour yourself a glass of wine. Serve the meat with noodles or potatoes
Phew, this was a fun post to put together. And extra fun and special because all of the photos are film photos...as in I took a roll of 35mm film to get developed this morning and then ran to the store to pick it up this afternoon. I hope you enjoyed it...because there will be one or two more mini Burgundy posts.