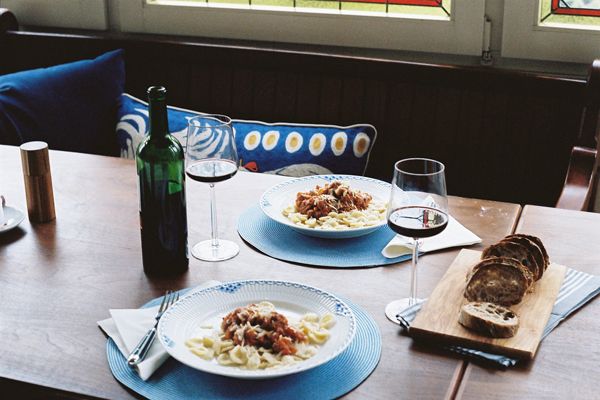 I grew up with an Italian-American grandmother. She wasn't my grandmother exactly, but she was a grandmother. Her name was Rose and she was our nanny. She was the type of woman who it seems was born an old woman. Do you know the type? I cannot for the life of me imagine Rose as a young woman. When she started working for us she was ten years younger than my mom is now, but even then she seemed ancient, and for the twelve odd years that she worked with us it seemed like she never aged, she was just old to begin with.
Funny enough Rose never actually knew how old she was. My five year old mind found this impossible to comprehend. I was measuring my age by the quarter - I was five and three quarters (!!) - and here was a woman who didn't know how old she was. Was she three years old for two years in a row? Did she have a lot of siblings and her parents lost track? How do you lose track of something so integral to your existence? It came out only about ten years ago that was three years older than she though she was. It really troubled her, which was surprising to me, because that was the whole problem, she didn't know how old she was.
Everyday Rose wore a version of the same shapeless dress. Today it might be called a moo-moo, but I think she would have preferred the term 'house dress.' As I remember them they were short sleeved with little rounded collars and were often light blue, patterned with small pink flowers. When she sat down her dress often lifted just enough to reveal the top of her nude knee high. I remember she always called them 'hose,' not 'panty hose' or 'stockings,' just 'hose.' She didn't wear heals or pumps, but white orthotic shoes, the ones with teeny white pettipoint holes and a slight white heal.
You are likely imagining a heavy set woman, but Rose wasn't heavy, she was sturdy. Her short auburn curls - dyed monthly and coiffed weekly - were always flush to her head and seemingly squared off and flattened on top, augmenting her build. If you are nearsighted you might have mistaken her for a cardboard wardrobe box, or perhaps a small light blue refrigerator.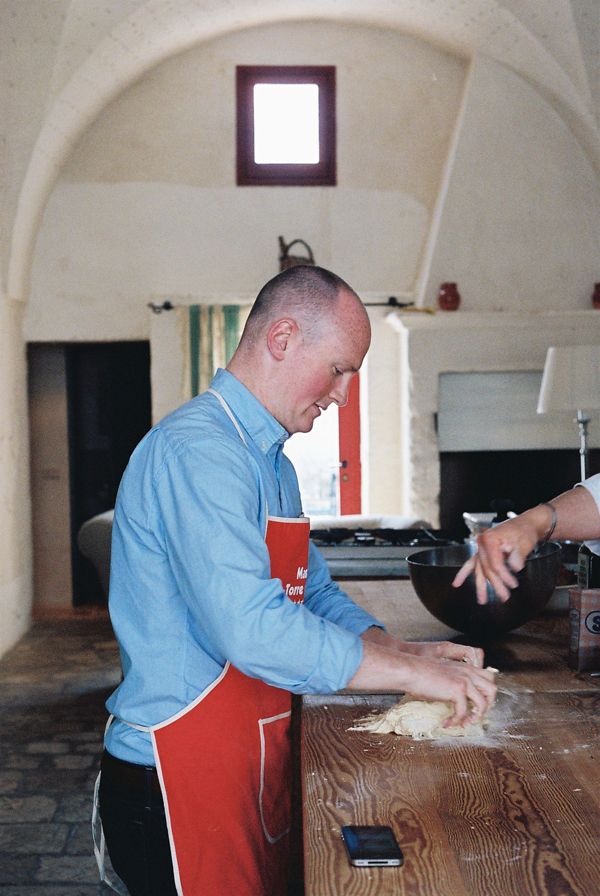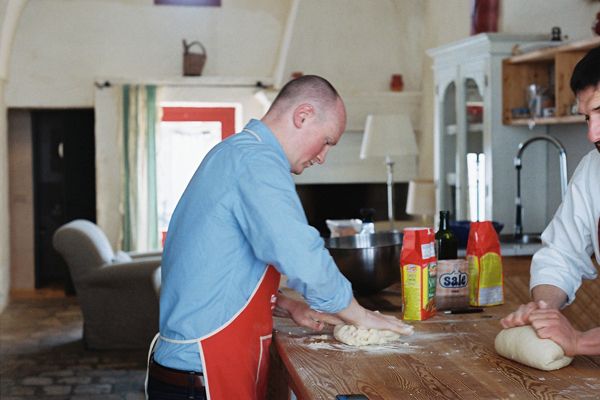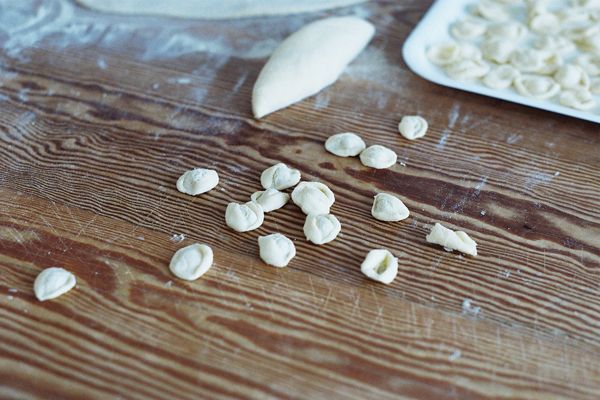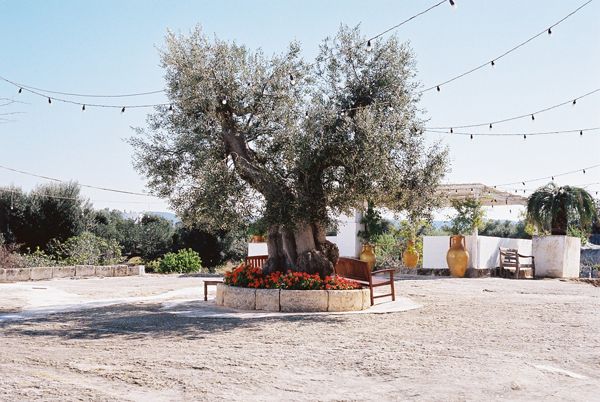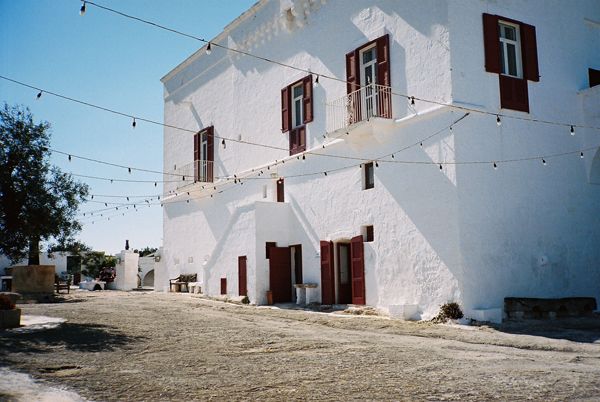 // pictures from our cooking class in Apulia //
Rose never went anywhere - the grocery store, church, next door - without putting makeup on. I think she was just playing it safe, because god forbid she run into Fabio at the corner store. You see, Rose was an avid reader of bodice rippers, the cheesy romance novels with titles like The Captain of All Pleasures and Savage Lovers. The small compact books were always a various shade of purple and always featured Fabio on the cover, bare-chested, clinging to a woman in distress while riding a white stallion, the whole scene reflected in a body of water. My little five year old mind must have assumed they were an adult version of My Little Pony, but now I find it funny to think that while we were napping Rose escaped to Fabio-land. She even read them while watching Soap Operas, perhaps to heighten their impact. Hopefully she still carried a little hope that she would meet her Prince Charming (or a naughtier version based on her reading materials), but in the years that she worked with us I think she only went on a few dates, and I doubt it was her coiffed hear and baby blue dress that won them over. In all likelihood it was her Bolognese sauce.
At just barely five feet it is a miracle that Rose could see over the edge of the tall stainless steel saucepot. She made Bolognese sauce for us once a week, and I imagine she made it for her own family just as frequently. She never used a recipe, she didn't need to, it was routine for her by that point. She chopped and stirred and let it simmer and then stirred some more until it was just as she liked it, not too soupy, but not so thick that the sauce didn't collapse into the spaghetti. My parents, who still eat spaghetti Bolognese once a week, adored her sauce. It is sad to say now, but my brother Peter and I cringed at the thought of it. We wanted our spaghetti with Ragu tomato sauce, the slick slimy stuff that comes in a glass jar and is more akin to watery ketchup than to tomato sauce. As I remember it, I think we actually liked her sauce, but that we were just trying to stir up drama. Did I mention that Rose was a bit dramatic with slight hypochondriac tendencies? Either way, we loved Rose - the little white shoes and all - and now we both love Bolognese sauce. I think of Rose standing on her tip toes peering into the saucepot everytime I make Bolognese, which although not once a week, is still quiet often.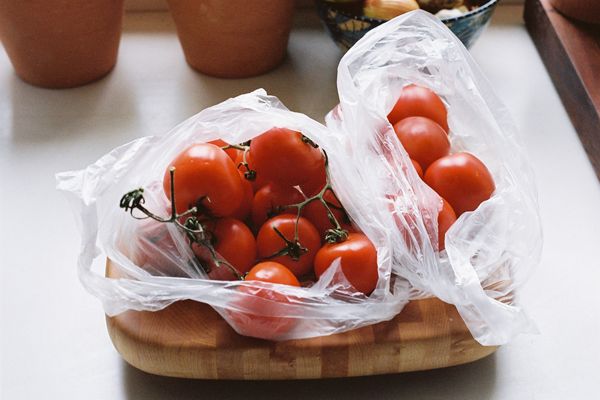 Writing about Rose and cooking Bolognese came about because I want to be an Italian Grandmother. I don't want to be old (I'm already panicking about turning 30 in 4 months and 24 days), but I want to make homemade pasta while talking about the merits of one sauce over another, whip up sheets of tiramsu without needed to reference a cookbook, cook a delicious five course dinner with the remnants of the crisper drawer, and stand over a pot of sauce while wearing a 'house dress' and orthotic shoes, because although they aren't fashionable, they look damn comfortable.
I figured the first step towards becoming an Italian grandmother, before the Bolognese, was to master a simple tomato sauce, a more elegant version of my old favorite, Ragu. This sauce is simple, just tomatoes, butter, onions and salt, simmered over low heat for 45 minutes. It is an incredibly light and flavorful sauce, with just enough richness from the butter and flavor from the onions. It is the type of sauce that will make you wonder why you ever used store bought sauce.
// simple tomato sauce //
Marcella Hazan - inspired by

Ali

.
I made it once and then ran out to buy the book
- 900 g // 2lb fresh, ripe tomatoes (I mix varieties, adding some San Marzano tomatoes if they are available)
- 75 g // 2 1/2 oz butter
- 1 medium onion, peeled and sliced in half
You need to peel the tomatoes and the easiest way to do this is to dunk them in boiling water for a minute. Before boiling, turn the tomatoes bottom side up and slice an X in bottom, not cutting through the flesh, but just the skin. This will make it much easier to peel the tomatoes. Drop the 'X'd' tomatoes in the pot for 30seconds to a minute until the skins just peel away from the flesh. Let them cool, and when they are cool enough to handle peel them, discarding the peels.
Roughly chop the peeled tomatoes and transfer them with their juices to a medium saucepot. Add the butter, the onion and a few pinches of salt. You can adjust the salt to taste as you cook so don't add too much in the beginning. Cook, uncovered, at a very slow but steady simmer for about 45 minutes, stirring occasionally. Mash up the larger pieces of tomato as you stir. Taste and correct for salt. Once done you can process with an immersion blender if you prefer a smoother consistency, I do.
So before this post was about Rose and Bolognese, it was about homemade pasta (oh how the mind can wander). When Zach and I were in Apulia we took a cooking class at Masseria Torre

Coccaro.

Our parents had jointly put money in our account so we could treat ourselves to an anniversary bottle of champagne and a nice meal, but instead of having someone else cook it for us, we made it ourselves, with help from Cossimo, our teacher. We made Panzarotti (fried calzones, when it's your anniversary, like your birthday, you can eat whatever you want, it's a rule), Homemade Orechiette, Sea Bass with tomatoes and potatoes, and a Ricotta tart. Hopefully all of the courses will find their way on to the blog in the near future, but I thought it would be fun to start with the Orechiette. Once you've had fresh pasta, like fresh tomato sauce, you'll wonder why you've spent so many meals eating the boxed stuff. Homemade pasta is light, like a little puff of flavorful air, it melts in your mouth almost before you have a chance to chew.
Apulia is one of the poorest regions of Italy. Zach read somewhere that if you separated North and South Italy, that the North would be the richest country in Europe and the South the poorest, that is how stark the difference is between the two. Apulian pasta is paired down to the simplest ingredients, just flour and water, no egg or butter of olive oil, just the basics.
// homemade semolina pasta //
orecchiette (little ears)
* in Zürich you can buy semolina flour at Schwarzenbach, it is called Hartweizen dunst.
* Zach and I have made pasta twice since the class, two different ways, one the class way, and one with ratios we learned at a pasta

class

here in Zürich. The results were the measurements were easier to obtain using the Laughing Lemon ratio method. A kitchen scale is a must when making pasta
* We found this to be enough for about 2 as a main course, but feel free to up the ratio 100g flour : 40 g water
* make sure to buy extra flour because you will need it for rolling/shaping/sprinkling
- 200 g // 7 oz semolina flour
Measure the flour and pour it into a bowl. Dig a cavity in the center of the flour, like a volcano and slowly add the water, mixing with a fork while you pour in the water. When the dough comes together just enough to form it into a semi-compact ball, turn it out of the bowl and on your work surface. Knead the dough for about 7-10 minutes. You are aiming for soft, smooth dough that is not sticky and that springs back when lightly poked with a finger. During the 7-10 minutes of kneading time you will likely need to add more flour if it is sticky or more water if it is dry (add water with a spritz bottle if you have one). If the dough is sticky at any point and the dough is sticking to your hands make sure to clean the dough from your hands by rubbing them together like you are washing them, and then incorporate that dough back into the larger ball.
Once you have achieved the right consistency wrap the dough in plastic wrap and let it sit for at least half and hour, which gives the glutens a chance to relax and for the dough to absorb the water.
At this point if you have a pasta maker/roller feel free to use that, if you want to make orecchiette keep reading
Remove the dough from the plastic wrap and have a damp kitchen towel waiting. The dough will dry out very quickly and must be kept under the kitchen towel while you are working. Slice off small pieces and roll into a skinny log, about 1/2" in diameter. Then chop the log into little 1/2" pieces. Flour your work surface, it will make it easier to form the orecchiette. Using a knife blade, with the serrated edge facing away from you, press into the dough, pulling it along the work surface until the dough wraps itself around the edge of the blade. Invert the wrapped dough onto a finger on your opposite hand to form your little ear or orecchiette.
If that was confusing, which it probably was, watch this

video

. Not only will it help, but it will inspire you to nail this technique so you can be an Italian grandmother too. It's harder than it looks.
Place the shaped pasta on a lightly floured baking sheet, making sure they don't touch each other and sprinkling lightly with flour, and cover with a kitchen towel until ready to cook.
Bring a pot of salted water to a boil (add more salt than you think, a few healthy teaspoons at least). Drop the pasta in and cook, stirring frequently, for roughy three minutes, until it is al dente and no longer tastes too doughy. Drain immediately and toss with sauce and serve.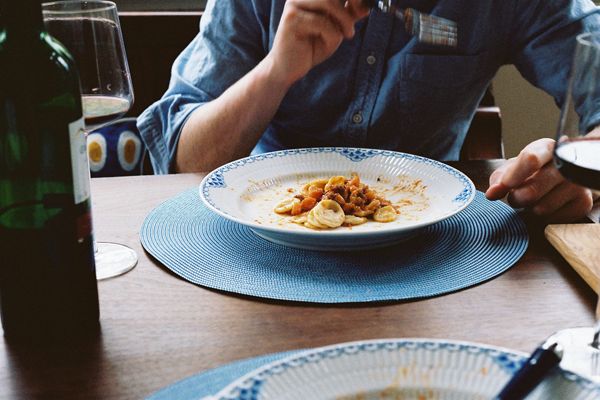 And last, the Bolognese. This isn't Rose's recipe, but that doesn't mean I didn't stand tip-toe for a just a minute while I peered into the pot. This Bolognese sauce is with pork sausage, red wine and a good dose of the simple tomato sauce featured above. The pork adds richess, the wine adds depth and the tomato sauce adds a fresh tomato flavor, that helps to highlight the pork and wine, really it's just a big circle, all the ingredients playing of the others.
// pork bolognese sauce //
adapted from Mario Batali,

Babbo
* this is the recipe cut in half, feel free to double it
- 225 - 450 g // 1/2 - 1 lb pork sausage, ground or removed from casing and broken apart
- 30 ml // 2 tablespoon olive oil
- 1 carrot, finely chopped
- 1 onion, finely chopped
- 1 celery rib, finely chopped
- 1/2 cup canned tomatoes.
- salt and pepper to tate
- 1 1/2 - 2 cups simple tomato sauce (see above) or basic sauce of your choice
In a Dutch oven or heavy bottomed pot, heat 2 tablespoons of olive oil. Place the sausage in the pan and cook, stirring occasionally to avoid sticking, until browned. (My pork did not produce that much fat, but if yours does be sure to empty the pan of excess fat to avoid deep frying the meat). Remove the meat and set aside. Remove excess fat from pan (I didn't do this as I didn't have that much). Add the chopped carrot, onion and celery to the pan and sauté over medium heat tender, but not browned, about 6-10 minutes. Add the red wine and scrape the bottom of the pan to dislodge the pork bits. Add the pork back to the pot and pour in the canned tomatoes and continue to stir. Bring the mixture to a boil and allow some of the wine to cook off. When the sauce is looking thicker, add the tomato sauce. Bring to a boil again and then reduce to a slow but steady simmer. Cook for 30-45 minutes, stirring once every 7-10 minutes or so to make sure the sauce doesn't stick to the bottom of the pan. If the sauce is too thick add some more tomato sauce until it reaches your desired consistency. Salt to taste and serve.
If you are using all the of the sauce, then pour your cooked pasta right into the pot, mix to coat, and serve!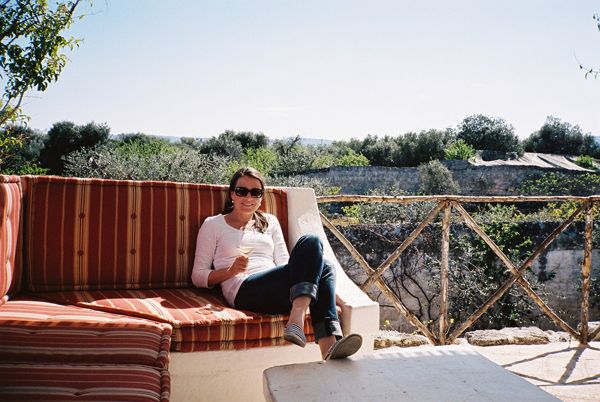 Phew, that was a long post and I wish I could hangout in the sun with a glass of wine. That was a good day. But today will be a good day too because I have a jar of that simple tomato sauce in the fridge and some potatoes that are begging to be turned into gnocchi.
Zach and I have a new rule, we can eat as much pasta as we want as long as it is homemade. Sounds like a good deal to me especially since he has taken on the role of kneading and I just get to shape it.
A note about our trip. If we were to go back, I think we would go when it's warm but not crowded (May, June, September) and stay at a Masseria, probably this

one

, but maybe this

one

, where we did the cooking class. That way we could enjoy the beach during the day and home cooked meals at night. We'd have the flexibility to explore, but we wouldn't feel like we had to go on an adventure everyday. Once all of the Apulia posts are up I will try and gather my thoughts in a single page and post it in the travel section.