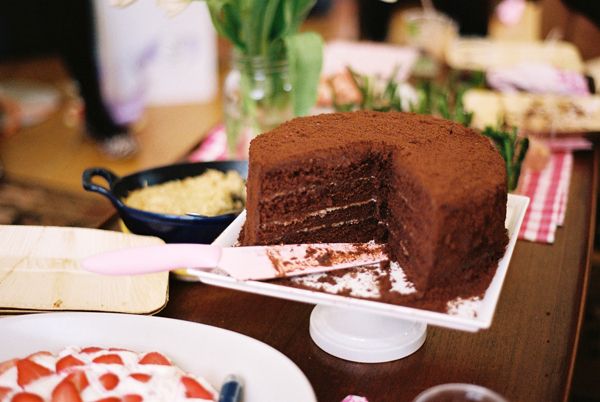 I read somewhere that pregnant women who eat chocolate have calm, well-tempered, easily pleased babies. With that sound piece of scientific research I went ahead and made Tartine's Devil's Food Cake for a little shower I hosted in honor of my dear friend Odette. Odette who is due in a matter of weeks (this whole baby thing

continues

to amaze me). With a 'better-safe-than-sorry' attitude, I figured it was probably wise that she eat as much chocolate as possible in the hopes of an even sweeter little baby girl.
On the topic of little girls, when I was a little girl I hated chocolate. I know. I hated chocolate cake and chocolate ice cream and chocolate bars. My favorite ice cream flavor was, and still is, strawberry, and I loved yellow cakes with vanilla frosting (have you had yellow cake recently? so good) and my favorite candy was anything of the gummi variety. Oh how things change. Now I love chocolate, so much so that I have to will myself not to eat it. Today, Sunday, is currently day two of a no chocolate stint, started after I ate an entire box of chocolate that I picked up at the Salon du Chocolat in Zürich. An entire box of little chocolate

prailines

, nutty chocolate

slivers

and orange

crinkle

chocolate thingys. I'd like to think that anyone in my situation (I mean you saw those chocolates right?) would have done the same thing, but I bet some of you out there have slightly more self restraint than me.
But I doubt you'd have enough self restraint not to have a couple of slices of this cake. Somehow this cake is more chocolatey than a plain bar of chocolate, and richer too. It could be described as chocolate covered in chocolate and caramel and sprinkled with more chocolate. The cake itself is perfectly moist and just dense enough to maintain a sensation of melted chocolate. It's not a cake you make on a whim because it takes some time and effort to make the separate components and then bring them all together, but I don't think you'd want this to be a whim cake, it is a special occasion cake. And whats more special than a new baby girl on the way?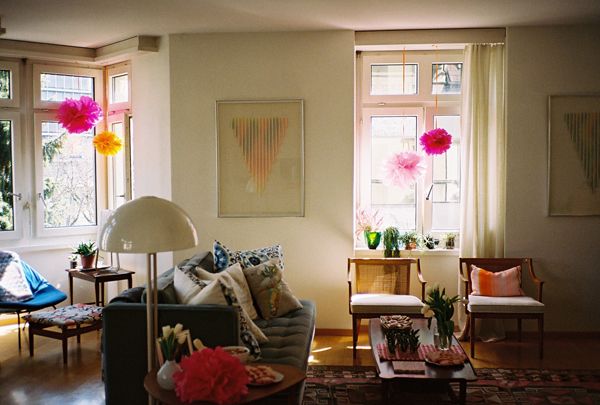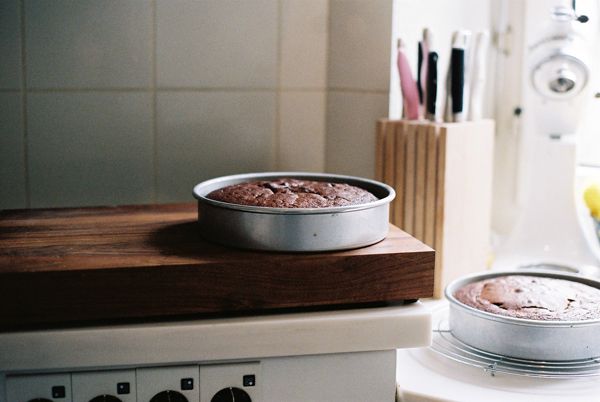 The domes of the cake are saved to make the crumb topping. I must have eaten about 1/4 of the broken up domes (sitting there on the cookie sheet to left in the photo). The cake was still slightly warm and the little pieces tasted so much like brownie bites. As I sat there munching away I contemplated a 'Devil's Food Cake' ice cream - yum!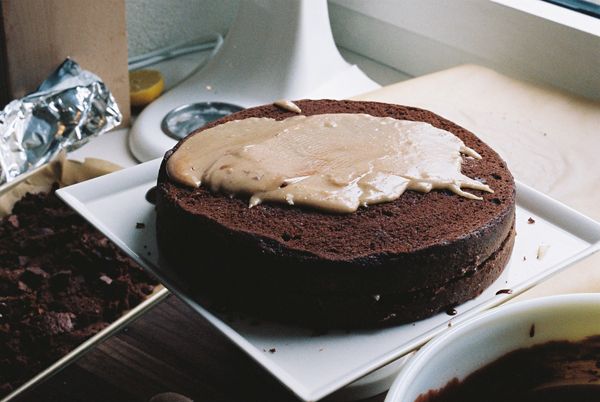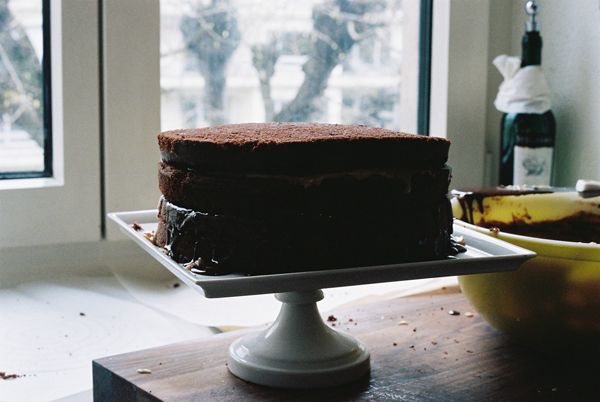 Over each layer you spread caramel and then chocolate ganache before topping with another cake layer. At the end you cover the whole thing in chocolate ganache (before covering with ganache I surrounded the cake with parchment paper to catch the drips and drabs, of which there were lots).
Devil's Food Layer Cake
*this is a fairly involved process so give yourself some time. It's worth it!
** I have given instructions for dressing the cake with the toasted cake crumbs. Tartine notes that you should make more ganache if you chose to skip the toasted crumb topping, but I found that I had plenty of extra ganache so I think you can stick to the recipe below even if you don't want to top with crumbs.
*** I have no idea how to keep this process clean. My cake was super messy, just go with it
1 3/4 cup // 250 g all purpose flour
4 1/2 tbsp // 60 ml cornstarch
1 tsp // 5 ml baking powder
1/2 tsp // 2 ml baking soda
1 1/4 cup // 115 g cocoa powder
1 cup // 225 g unsalted butter
1 1/4 cup // 310 ml buttermilk
chocolate ganache ingredients
3 cups // 750 ml heavy cream
2/3 cup // 150 ml heavy cream
2 tbsp // 30 ml light corn syrup
3/4 tsp // 4 ml lemon juice
4 tbsp // 55 g unsalted butter
Preheat the oven to 350ºF//180ºC. Butter two 9" cake pans and dust with flour, knocking out the excess. Cut a piece of parchment for the bottom of each pan - this will make getting the cake out much easier.
Sift the flour, cornstarch, baking powder, baking soda, cocoa powder and salt into a bowl and set aside. In a mixer fitted with a paddle attachment beat the butter until light and creamy and then slowly add the sugar continuing to beat until light in color and fluffy. Add the eggs one at a time, mixing until each is incorporated before adding the next. With the mixer on low, add the flour in 3 batches, alternating with the buttermilk. Stop and scrape down the side of the bowl every once and awhile.
Divide the cake batter between the prepared pans. Bake for about 45 minutes or until a cake tester comes out clean and the top of the cake springs back when lightly touched. Let the cakes cool completely on a wire wrack.
While the cakes are cooling you can make the ganache. Place the chocolate in a heat proof bowl. In a separate pan heat the cream until just under a boil. Pour the cream over the chocolate and let it sit for a minute or two before stirring, allowing the cream to melt the chocolate. Stir until smooth, light, and shiny.
let the ganache come to room temperature, or even a little cooler before trying to ice the cake.
Pour the cream in one sauce pan. Split the vanilla bean and scrap the seeds into the cream. Bring to just under a boil over medium heat, stirring occasionally. Reduce the heat to low to keep the cream warm
In a second heavy bottomed saucepan, combine the sugar, water, salt and corn syrup. Bring to a boil over medium heat, stirring to dissolve the sugar. Once dissolved stop stirring and cook until the mixture is amber colored, 5-8 minutes. Remove from heat.
Quickly, but carefully add the cream in a slow stream to the sugar mixture. The mixture will bubble furiously at first, so let it calm down before stirring. Whisk until smooth. Add lemon juice and cool for about 10 minutes.
Set the oven to 250ºF//121ºC. When the cakes have cooled turn them out of their pans. With a serrated knife slice off the domed portion of each cake, to make the top of each cake flat. The domes will be your cake crumb topping so place them on a parchment lined cookie sheet. Break up the cake domes. Place in the oven and bake for about an hour or until the crumbs are dry. Let cool and then process with a food processor until finely ground.
Slice each cake into two layers, so that you have 4 layers in all. Place one layer on your chosen serving plater. Spread 3 tablespoons of caramel evenly over the layer. Spread a thin layer of ganache, about 1/4 inch thick, over the caramel. Top with a cake layer. Repeat for layer 2 and 3. When you top with the final 4th layer you do not need to add caramel. At this stage refrigerate the cake for about 1-2 hours until the center seems firm and it's not slipping all over the place. Cover the ganache with plastic wrap and leave at room temperature.
Remove the cake from the fridge and use the rest of the ganache to ice the top and sides. In order for the crumbs to adhere the ganache needs to be soft. (you can use a hairdryer to soften things up if your cake/ganache has hardened). Sprinkle the crumbs evenly over the top and sides of the cake. The sides were challenging, I had to use my hands to catapult crumbs onto the side and then flatten them into the ganache.
Serve the cake at room temperature. You do not need to refrigerate the cake.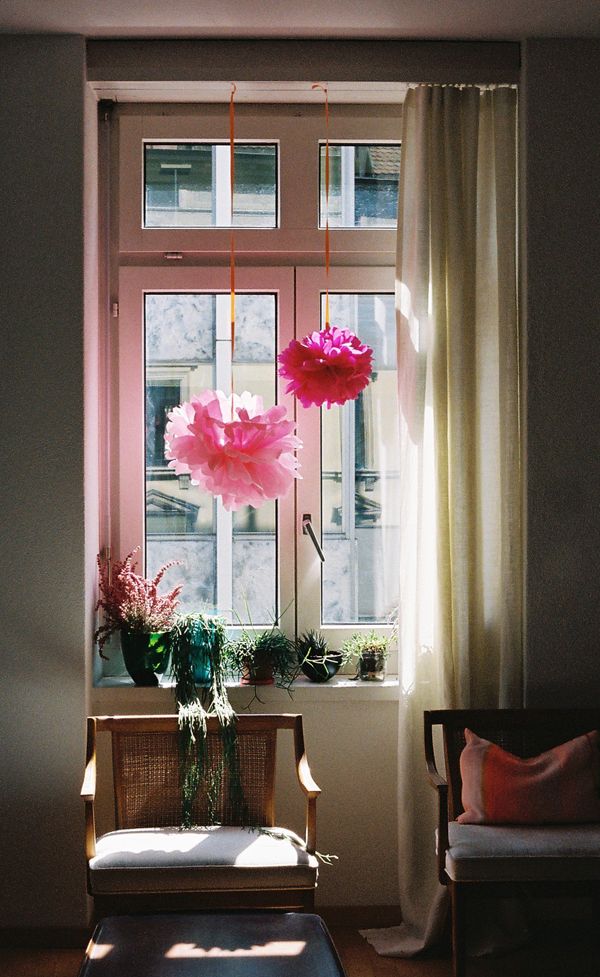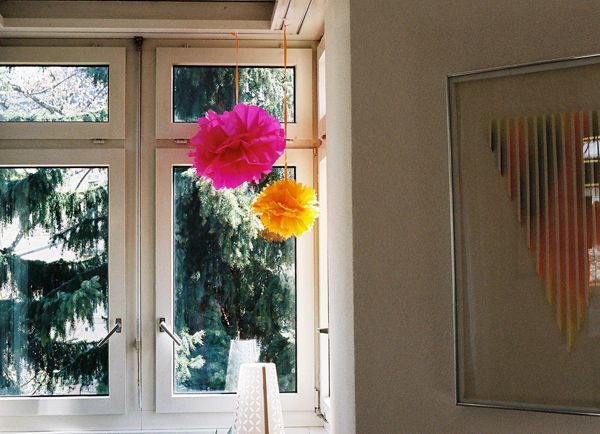 We had fun pom-pomming the apartment. Martha Stewart is always there when you need her for an idea.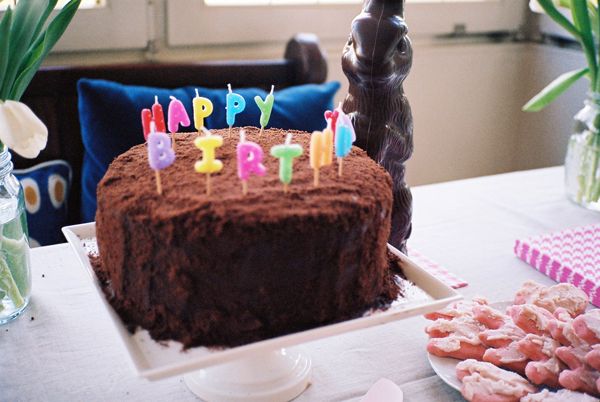 It was Katie's birthday so the cake doubled as a birthday cake, but don't worry there were plenty of shower-spefic goodies. We made scones, iced cakey cookies, lemon cake, another chocolate

cake

, a strawberry tart, chocolate birds nests with marzipan eggs, fig-ricotta crostinis, fennel and bean dip and just for good measure, a fruit salad.
Oh, and that life size chocolate bunny is currently sitting by my stove waiting to be turned into some sort of cake, or cookie, or mousse.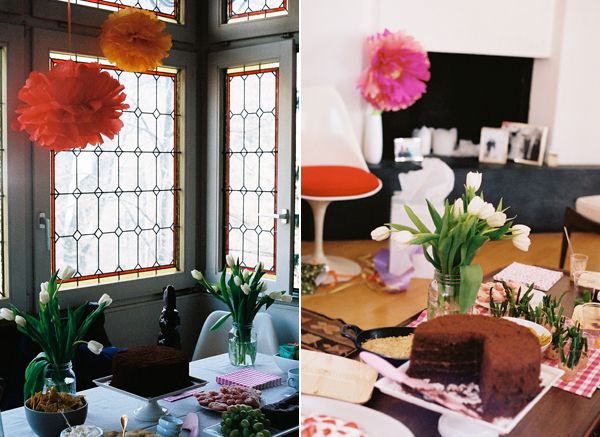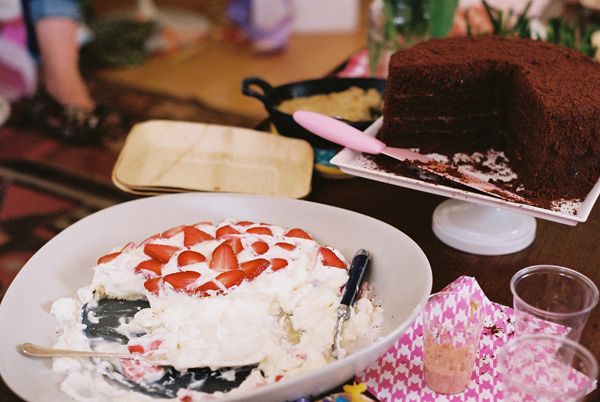 It was a wonderful shower and you can be sure that all of the food was enjoyed. The leftover cake found homes outside of my kitchen (thank goodness) and word make it back to me that husbands and kids and friends loved the cake too.
This is the chocolate bunny that kept us company at the dinner table. While we were away the bunny melted and we returned to a bunny with no back or tail.
Speaking of our trip....I'm planning on looking at the photos tonight so hopefully there will be a post soon.