If you've ever driven a Smart Car on an Italian highway then you can understand why we took the slow, albeit scenic route on our drive from Lecce to Otranto.
Really it was a combination of things that lead us to this place. It was raining. Lecce had been a disappointment. Our afternoon was free, except for an obligation to a bag of pistachio cookies. Overall we just had a feeling that something was missing, that there was more to be discovered, maybe ruins of an ancient civilization or a seaside town not scared by tourist shots or perhaps a view to behold.
It turned out to be the latter, and we almost didn't stop. There was a crumbling fortress that we both did a double take of, but we kept driving and only after we had rounded the bend did we look at each other and say "let's stop". There was nothing, no sign or billboard, to indicate that there might be something worth seeing, but we pulled over anyway and got out of the car.
First we saw the turquoise water, lapping underneath the rock face. It was beautiful. I took some pictures. Then we saw fractures, from the surface we were walking on down to the water beneath us, which were sensational. I took more pictures. Then, as we approached the edge, we saw this grotto
.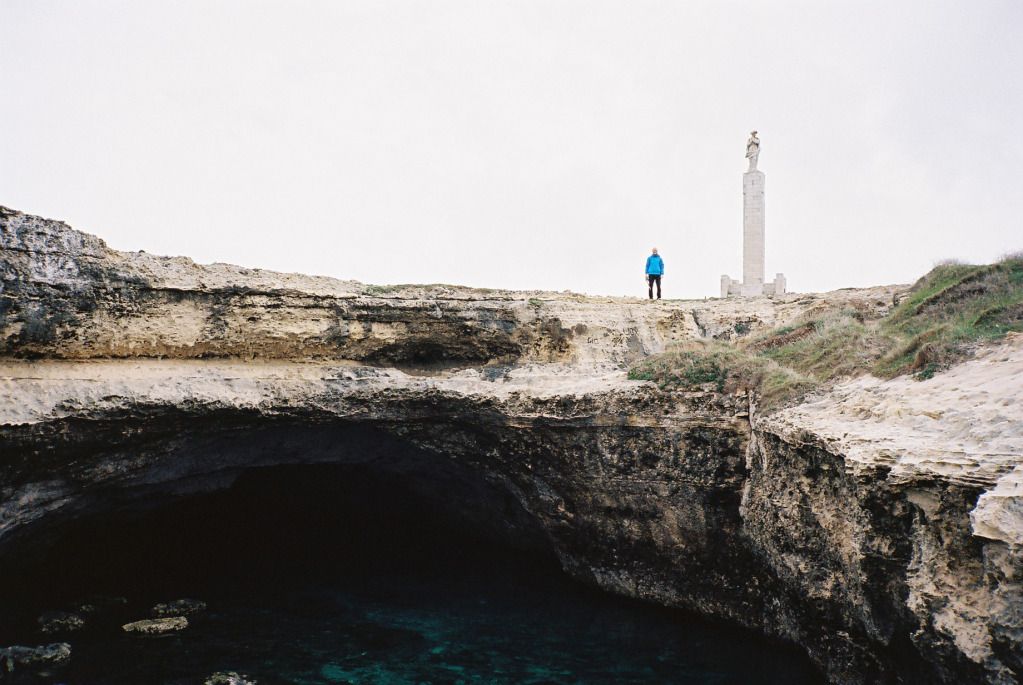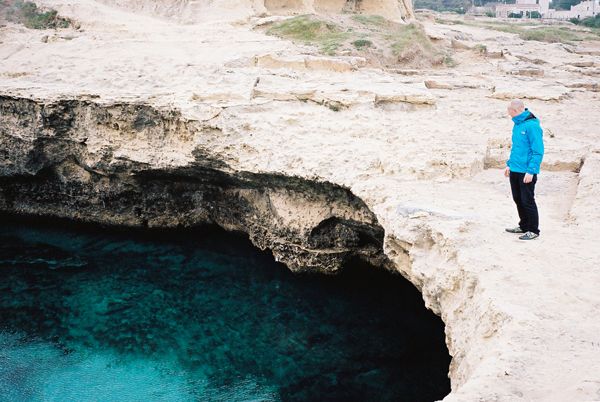 I didn't even take any pictures right away. We simply stared for a while and then proceeded to walk around the pool. Stairs had been carved in the rock and we walked down and put our feet in the crisp and clear water. I was half expecting to see a sea turtle or two. From the carved graffiti it was clear that this is a popular summer swimming spot, but for us, there during the low season, it was hidden gem, something we discovered.
It is those moments away from your guidebooks and to-see lists that can really define a trip and make it yours.
I am guilty of over-planning trips, eager to make sure we see and do everything that is recommended. I run us around until we are hungry and defeated. Having nothing planned and just going with the flow is great in theory, but it often stresses me out, that feeling that we might miss something. We often say that when we visit a city for the second time, when we are free from seeing the sites, we will stay in one neighborhood for the whole visit, that way by the time we leave we will know which bakery has the best breakfast and which café is perfect for an afternoon with a book and which old lady sitting on the stoop we need to say hi to and which we need to avoid. You know, the little things that give definition to a place.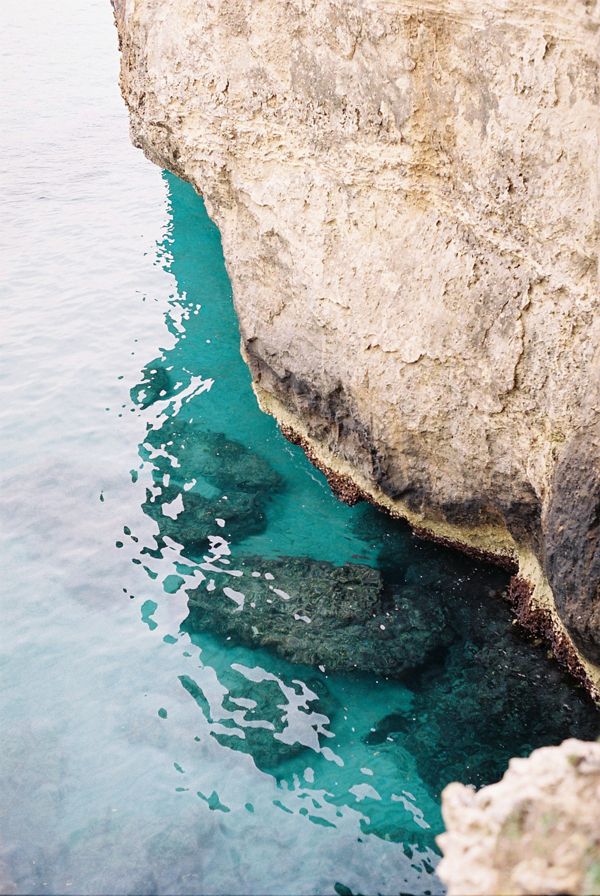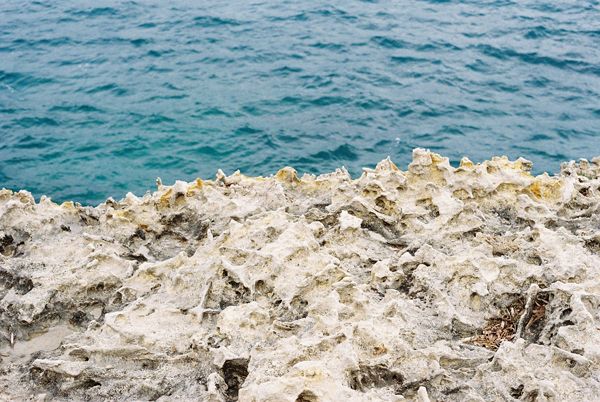 After we tore ourselves away from the pools and the cliffs we spent the rest of the day looking at the countryside through raindrops and windshield wipers. We got out briefly in Otranto, but again, we were disappointed and didn't stay long. At that point we turned around and headed North back to our hotel. Keeping us company on the long drive back were our excitement about stumbling upon the turquoise pools and that bag full of pistachio cookies. I guess you could say it was a little bit of luck and a little bit of guidance, because the cookies were from a bakery in Lecce that was mentioned in our guide book. Curious about the local treats I made sure we stopped in our way out of town. Zach picked out a cream filled cake and I chose the pistachio cookies. The cookies were nutty, dense, delicious, and surprisingly satisfying. The cookie was composed of a light crumb outer layer and a dense gooey inside, similar to a macaroon, but heartier.
/ / / pistachio cookie / / /
Almond trees are a fixture in the Apulian landscape, so almonds and almond flour are a common ingredient in regional confections. In Switzerland almond flour can be found at Coop or Migro and in the states I believe you can buy it at Whole Foods, if not other large grocery stores. I generally process the almond meal I buy, making sure it's fine and not coarse. I used roasted shelled pistachios that I shelled and processed in a coffee bean grinder (time to buy a food processor).
I fussed with this recipe until after three separate batches it finally felt right. The cookies aren't as sweet as the originals, but for me that is a good thing, because now you get little hints of their salty roasted nut beginnings.
80 g / 2.8 oz finely ground pistachios nuts
100 g / 3.5 oz almond flour
110 g / 3.9 oz fine sugar
50 g / 1.75 oz sifted confectioner sugar
35 g / 1.25 oz egg white (about 1 egg)
chopped pistachio nuts for rolling (optional)
Preheat the oven to 350ºF/180ºC.
Mix the nut flours and sugar in a bowl. Pour about 1/3 of this nut mixture into the bowl of your standing mixer. Add the egg white and mix until incorporated. While keeping the mixer on continue to slowly add the rest of your nut mixture, allowing the egg mixture to absorb the dry mix before adding more. The dough should be reasonably smooth. If it is sticky add a bit more almond flour.
Using a teaspoon scoop out the dough and roll into balls between the palms of your hands, aiming for about 18-19 cookies. At this point you can chop pistachio nuts to roll the cookies in, or you can leave them plain. Place the cookies on a baking sheet and bake on the middle rack of your oven for about 15-17 minutes. Let the cookies cool completely on a wire wrack before eating. When cool the inside should still be fairy dense and pasty. mmmmm, yum