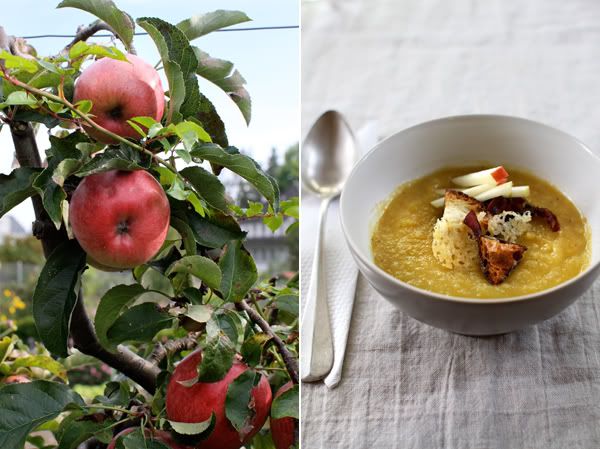 This past weekend wasn't particularly fall-ish, with it's muggy days and hazy skies, but then again it wasn't especially summery either with daylight fading before dinner was even served and chilly nights that make you thankful for a cozy comforter. The weather seems to have a hold on me these days. I think I've probably mentioned it in every post since I first 'felt' fall. No matter what the weather, it was a perfect weekend to spend exploring the city with our visitor! We went on a day trip (more on that later), we explored the flea market, we had a beer by the side of the lake and we went on a couple long walks. It was heavenly. Heavenly until I had to walk

Kerry

to the train and say goodbye. Off she went, towards the airport and eventually Kenya, and here I am still in Zürich. And of course she had to leave on a a Sunday, one of the more depressing days in the Swiss week, when everything is closed and the city feels deserted (aside from that weird bike/balloon fair that was happening alongside the Limmat). Obviously it was time to do some cooking, but what to cook? Ker and I had chatted a bit about our similar lunch conundrum, which is basically, 'what on earth to eat for lunch?' We both love yogurt with honey and muesli for breakfast and hot savory meals for dinner, but aren't especially keen on the cold sandwich or salad that typically make up lunch. I'm generally not a huge leftovers fan, but she convinced me, as we munched on day old risotto and pork tenderloin, that it is actually the perfect lunch. When leftovers aren't an option then it's soup for Kerry. She'll tell you that she happily ate the same lentil soup almost everyday for lunch when she was clerking in Brooklyn. It was warm and satisfying and when you include the pita that it came with, just enough to hold her until dinner, or at least until that afternoon snack.
Soup was the perfect comfort food for my mood yesterday. But I wasn't sure I'd be able to find all the ingredients at the train station grocery store, which is the only one open on Sundays. No trips to specialty stores or farmers markets, I'd be stuck with what they had, which always questionable on a Sunday because the market is packed to the gills with people, people who seem convinced that they'll never be able to buy food again. Thankfully the hoards of people left some butternut squash and apples for me and I set out to make this Autumn inspired vegetable soup.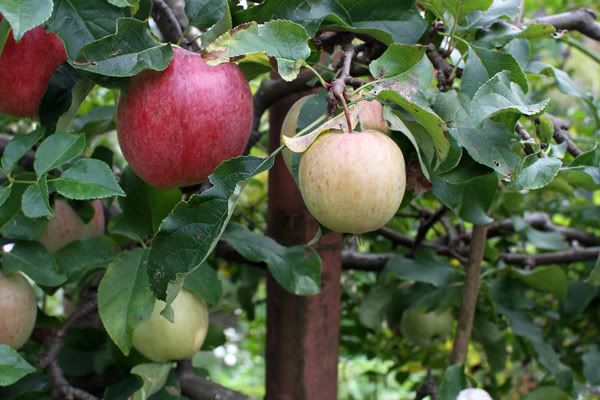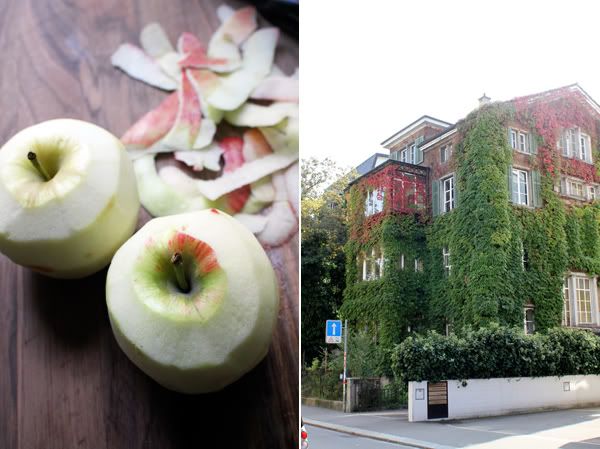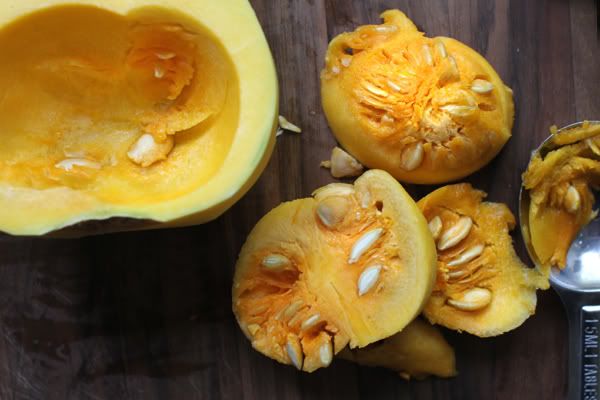 The soup is almost entirely vegetable based. It's delicious on it's own, but for some reason I have a mental block where I can't eat soup without some type of bread, whether it's a slice, a roll or a crouton. When a soup is smooth I need some crunch. That's where the cheddar croutons come in, oh yeah, and the bacon bits! crunch crunch. The bacon and the cheddar pair well with each other, obviously, but they also pair really well with the butternut-apple flavor of the soup.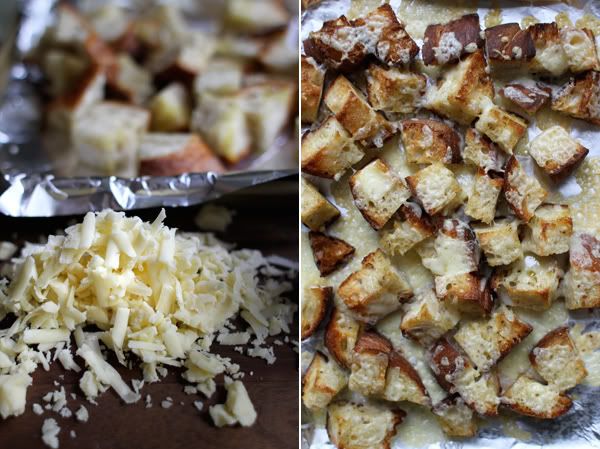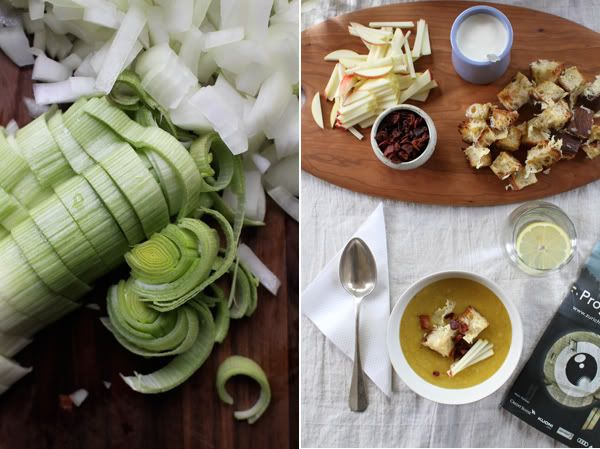 This recipe caught my eye when I saw that it started with bacon! It's from the Gourmet
website
.
butternut- apple soup - very slightly adapted from above recipe
- 8 slices of bacon, cut crosswise into 1/2" pieces
- 1 medium onion, chopped
- 3/4 lb boiling potatoes
- 3 medium Granny Smith apples, or other tart apples
- 1 1/2 lb butternut squash, peeled, seeded and 1/2" pieces (3 1/2 to 4 cups)
- 2 cups reduced-sodium chicken stock or broth (since it's hard to find in Switzerland and expensive when I do find it, I make my own roughly based on this
recipe
)
- 2 to 2 1/2 cups of water
cheddar croutons
- 1/2 loaf of wurzelbrot (twisted bread) or whatever leftover bread you have on hand, cut into 1"x1" pieces
- 1/4 tsp of ground cumin, more or less to taste
- 1/2 tsp salt
- 2 tablespoons olive oil
- 2/3 cup of grated cheddar cheese
Cook bacon in a heavy pot over medium heat, stirring occasionally so that it doesn't stick to the bottom, until crisp. Spread out on a paper towel to let the grease drain, leaving roughly 2 tablespoons of fat in the pot (add vegetable oil if your bacon doesn't yield enough fat).
Cook celery, carrot, onion and leek in fat in pot over low heat, keeping the pot covered and stirring occasionally. Cook for roughly 10-12 minutes until vegetables are soft and translucent but not brown. (If you aren't a bacon fan you can always use 2 tablespoons of olive oil instead)
While the vegetable are cooking peel and roughly chop 2 apples, the potatoes and the butternut squash. Stir into the onion mix, adding the stock, water, 1tsp of salt and 1/2 tsp of pepper. Turn up the heat and once the liquid begins to boil turn it back down to a simmer and let it simmer for 20minutes until the vegetable are tender.
While your soup is cooking make the croutons. Preheat the oven to 400ºF/200ºC and line a baking sheet with aluminum foil.
In a bowl mix the bread with olive oil, salt, cumin and olive oil. Place the bread on a baking sheet in one even layer.
Bake the bread for 5 minutes to toast it, keep an eye on it, you just want it to be lightly golden brown. Remove from oven, sprinkle the cheese over the pieces and then place back in the oven to melt the cheese. Don't worry about the cheese that lands on the aluminum foil and not on the bread, that will turn into nice little cheese crisps.
Using an immersion blender, puree the soup right in the pot. If using a blender, puree the soup in a few batches. Add additional water to achieve desired consistency. Serve hot with bacon, croutons, sour cream and some sliced apple.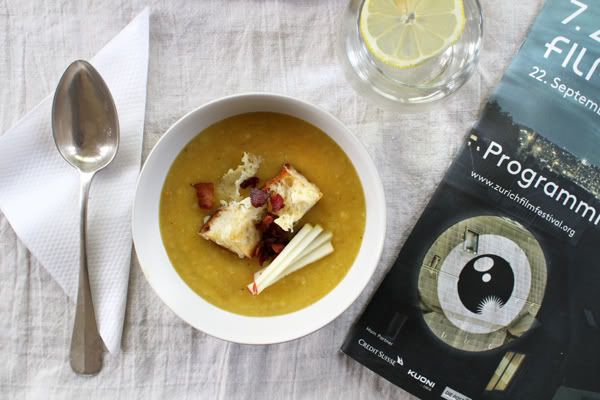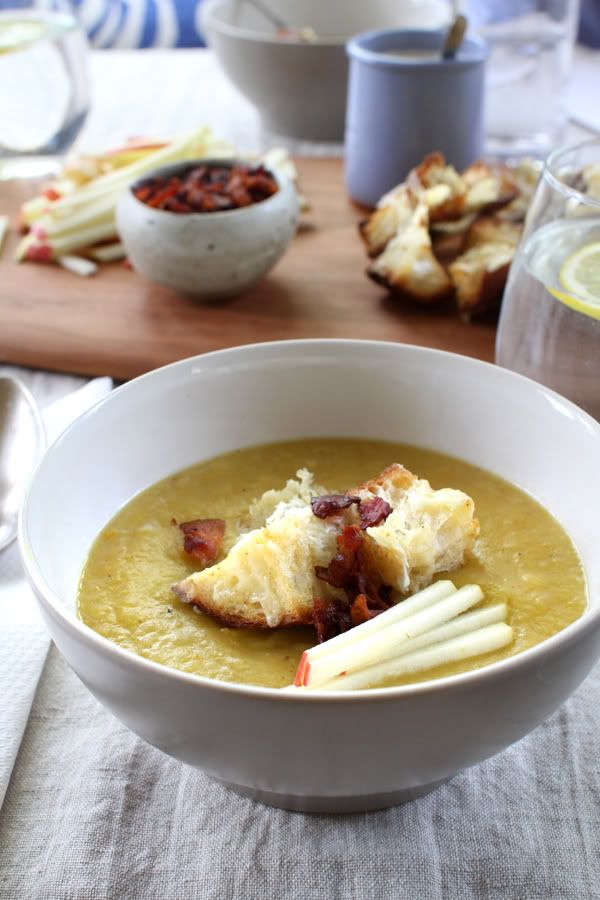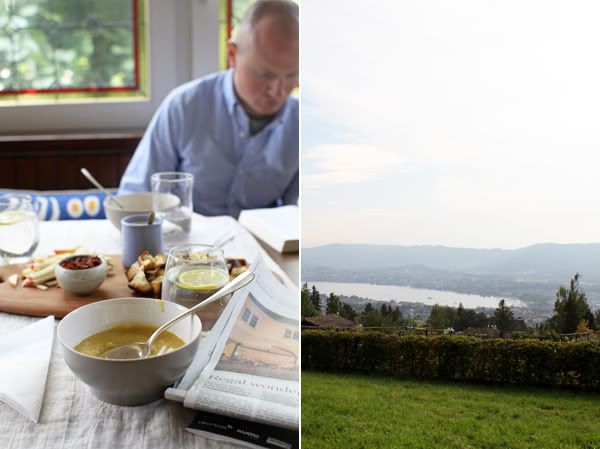 The soup quickly became a vehicle through which to eat bacon and cheddar croutons. We kept refilling on the toppings without adding anymore soup. Cognizant of our expanding waistlines and of the preciousness of these fleeting summer days we went for a long walk up by the zoo. The haze obscured our view of the mountains, but it was still nice walk and a relaxing, albeit sweaty, end to a wonderful weekend.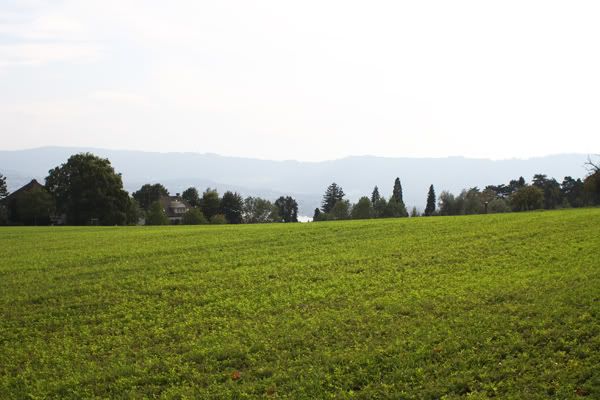 I'm cozied up here with my second cup of coffee, but I'm thinking I should switch to ice coffee. In the time it has taken me to write this post the weather has shifted from cool and foggy to hot and hazy. And wow, I made this second batch of coffee really strong. Maybe it will propel me to actually get some things done today, or maybe it will just get me so riled up that I can't accomplish anything at all.
If you are looking for some events to put on your calendar this week be sure to visit

Girlfriend Guide to Zürich

, where this post is being featured as the recipe of the week. I know they have a Zürich Film Festival offer and some upcoming Girls Nights Out.
Okay off to try and check some things off the to-do list.