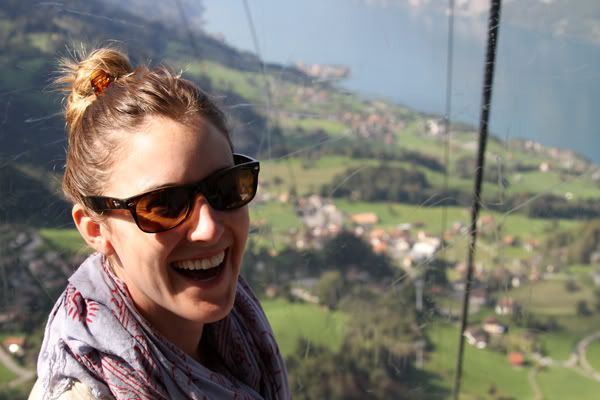 It was a wonderful three days. They went by too quickly, as I knew they would. That always happens with reunions and is to be expected.
Kerry
was here, and now she is on the shores of the Indian Ocean, writing her book in a bungalow in Mombasa. Zürich was a little layover, an opportunity for her to acclimate to the time change, soak in some fresh mountain air (which she insisted had a scent and a palpable feeling) and eat some nice haus cooking.
I actually forgot to take pictures the first two days of her visit. whooopsy daisy. I missed capturing Kerry's first bratwurst experience, which was enhanced and not diminished when she learned that bratwurst are made with veal (I think it was a bit of reverence for the baby cow). She took a second look at the meat, the mustard and the bread, and with a smile on her face ate every last bite. I missed our trip to the farmers market and our tour through the Old Town. It would also be nice to have photos of our bike ride down the lake and our subsequent beer, which we enjoyed while soaking up the last of the days sunshine, but oh well.
Although I wish I had more photos of our visit I'm also glad I didn't spend the entire time feeling like it was a 'photo shoot.' Sometimes I get caught up in photographing scenes and meals and life for the blog that I forget to just experience it. That's what happened on the safari portion of our honeymoon in South Africa, where I had to remind myself to look at the animals with my own eyes, and not just through the camera lens. So it goes. And I think it is fitting that I chose, somewhat unconsciously, to not overdo it on the photography while Kerry was here. She seeks to be present and to live in the moment. It's hard to drown out thoughts of the future, but she tries, and as a result enjoys the little moments when the rest of us might be wondering what is next.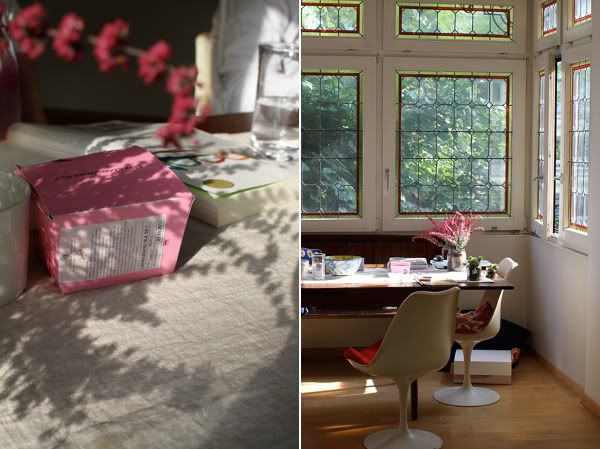 Breakfast on Saturday was the only in-haus meal I had my camera for. It was simple, just coffee, yogurt and leftover plum cake (I've made 2 more since I posted that

recipe

). That's not to say we didn't sit around the dinning room table and chat while eating delicious food, we did, I just didn't photograph it. First we made

pork tenderloin

stuffed with apples, breadcrumbs, prunes and pine nuts, which was then doused in apple cider and baked in the oven. The pork was accompanied by parmesan risotto and followed up by a plum cake. Friday night, for a little belated b-day celebration, we made

chicken marbella

and polenta and enjoyed a delicious

flourless

chocolate birthday cake. Had there been any chocolate cake leftover we probably would have eaten it for breakfast alongside the plum cake. After all we needed some sustenance for a day in the Alps! We decided to go to Flumserburg and it was fabulous - a quick and easy trip with great views and a fun toboggan ride.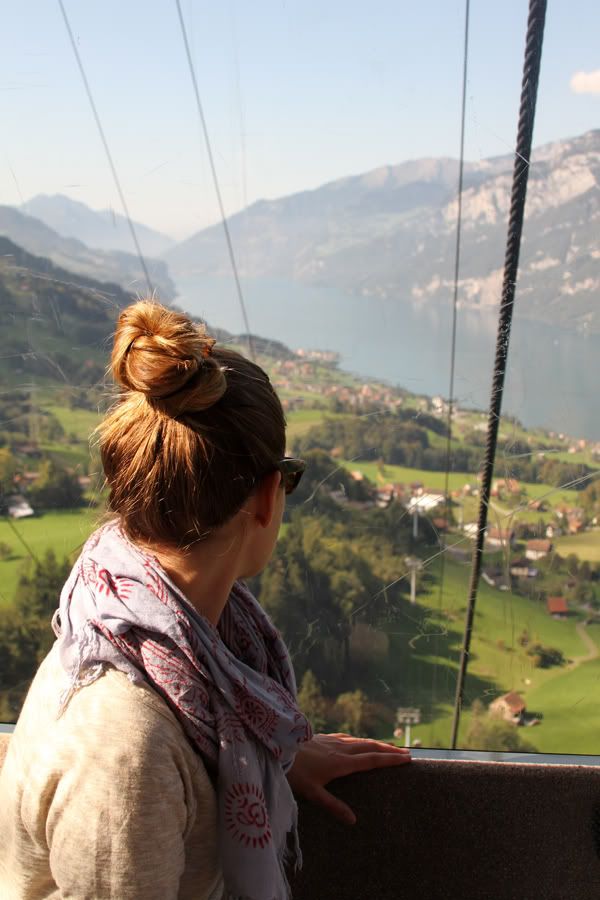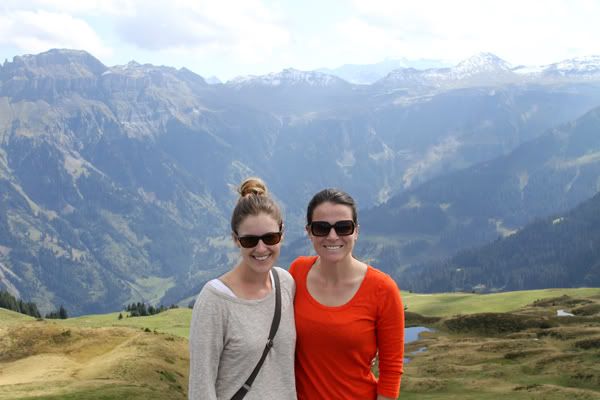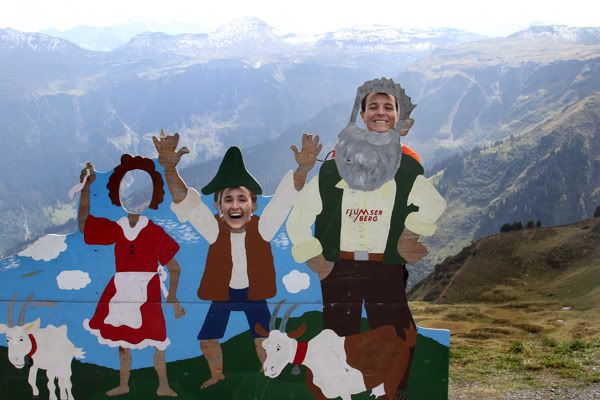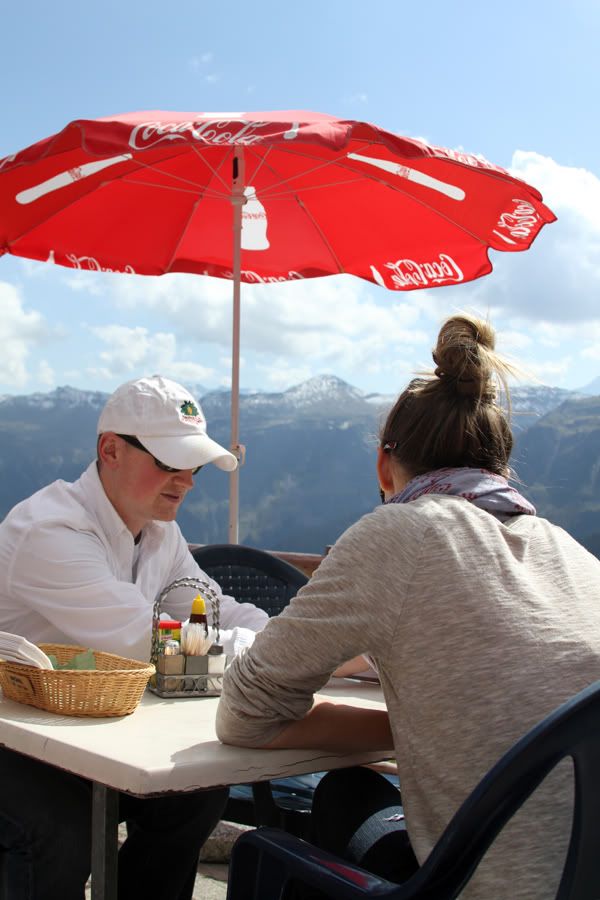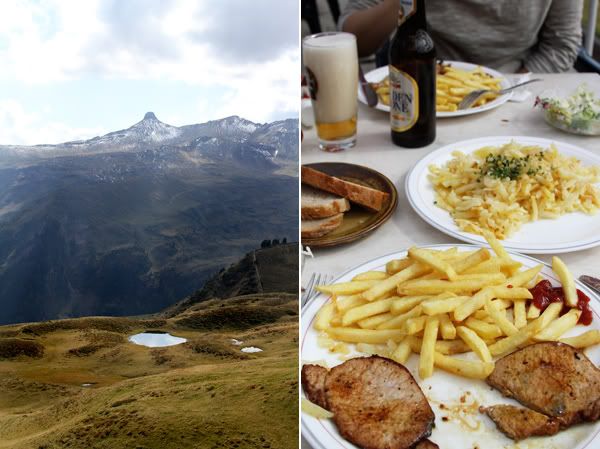 Perhaps if we had hiked up instead of taken the gondola the entire way we would have deserved the greasy and delicious mountain meal that we ate perched on the edge of the hillside. Whether it was deserved or not we ordered and ate three pork schnitzels with fries all accompanied by an extra side of rösti. When in the Alps....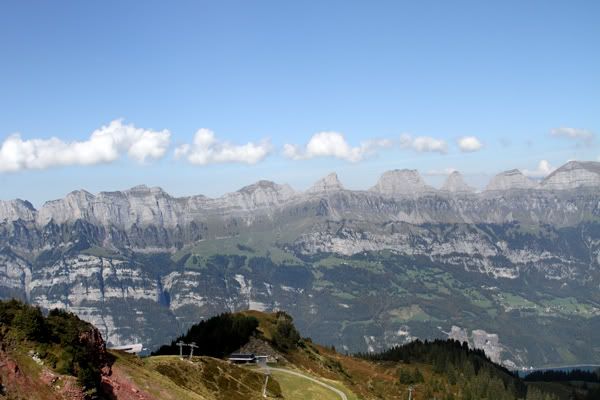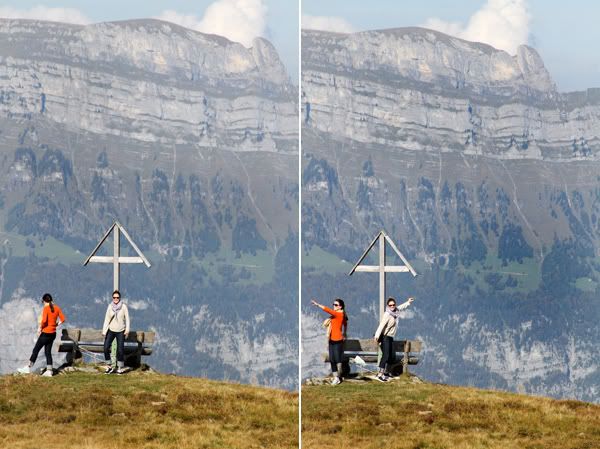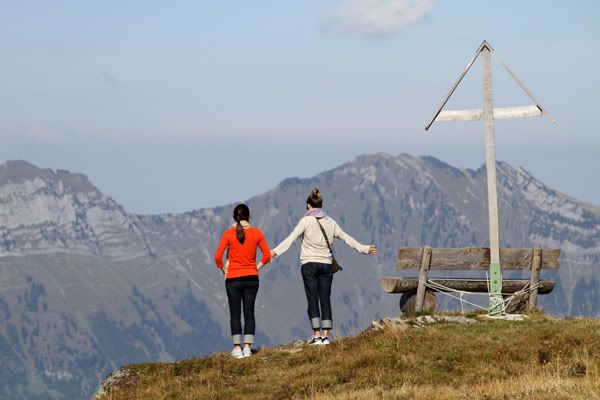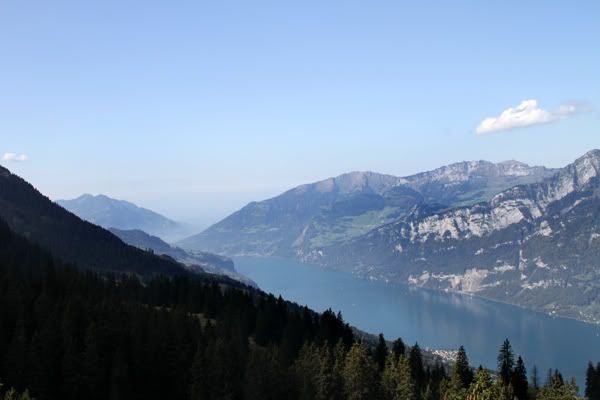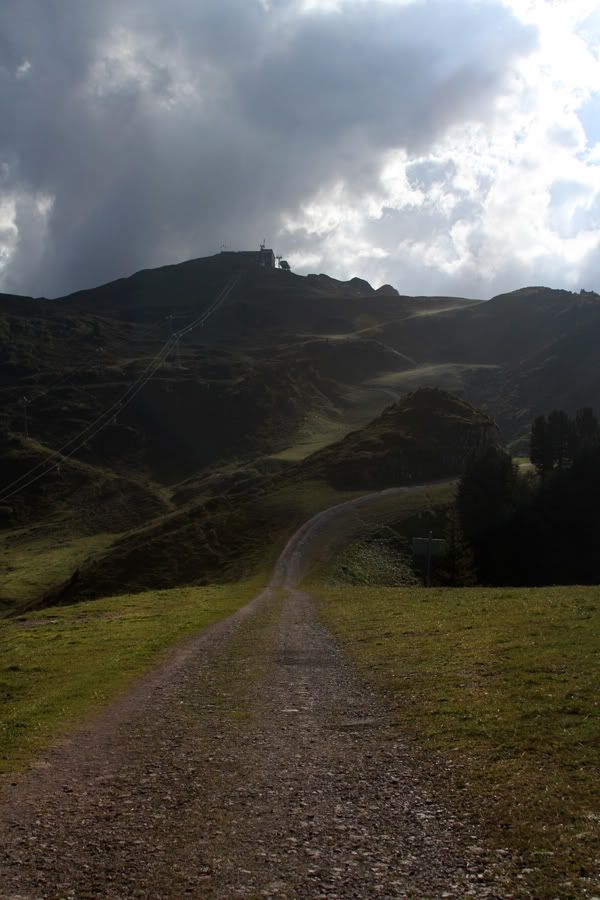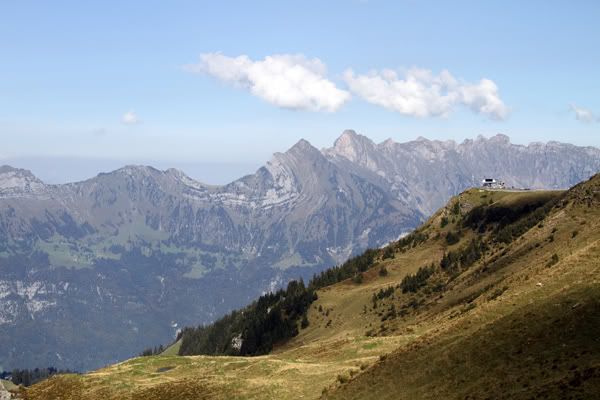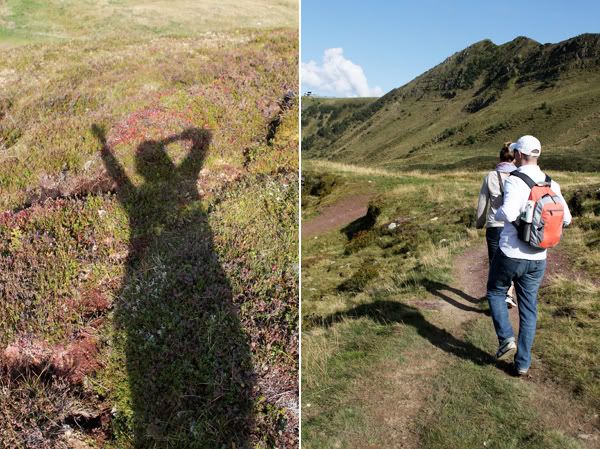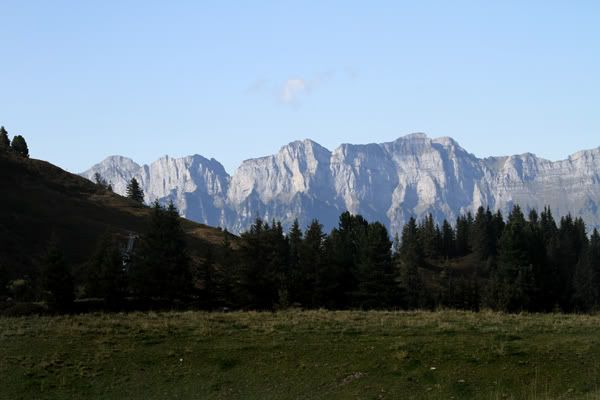 Having decided not to hike up, we decided we should at least walk down and enjoy the beautiful weather. We walked until we came across a toboggan/luge

ride

. You sit in a sled that runs on a track and you zip down the mountain, and if your me you grip the breaks and slow down all of the people behind you.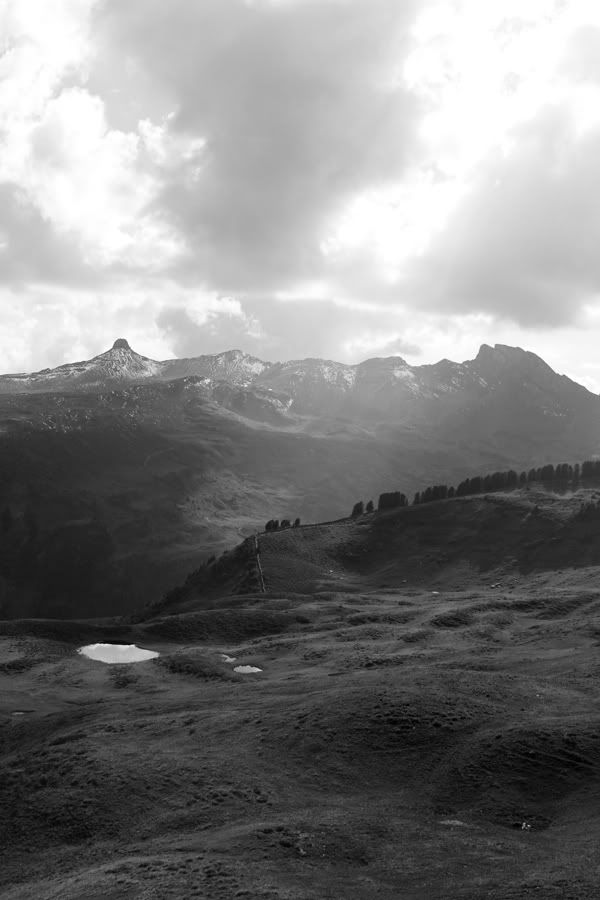 It was a blissful three days, and now she's busy settling into life where elephants are just within reach and the vastness of the Indian Ocean conjures up wonder and amazement. To think that you can wake up with a view of the Alps and in the same day go to sleep to the hum of waves crashing on Eastern shore of Africa - it is incredible.
My initial plan was to pair these photos with some yummy baked goods, but I realized that was just too much. No need to move the focus away from what was truly a wonderful wonderful weekend. And besides the two cakes, back to back, filled up my baked good quotient for a least a few days. Kerry - COME BACK! and everyone else....just come! Fondue season is almost upon us if these mountains scenes aren't enough to lure you to Switzerland.