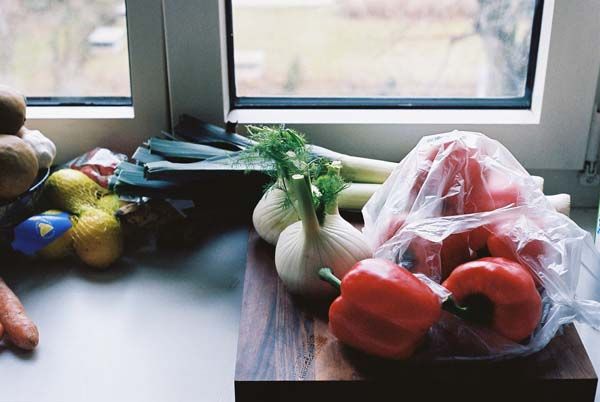 Every morning I stir oats into water and almond milk and let them warm until they've absorbed all the liquid, and then I sprinkle them with a healthy amount of cinnamon and a few raisins and sliced almonds, and then wander to our table oats in one hand and a mug of hot tea in the other. I sit down and while the tea steeps and I slowly start eating my oatmeal, I stare out the window at the building across the street, watching my neighbors partake in their morning routines. I like to call it being neighborly, but really I'm just being nosy.
Anyway, my breakfast routine is really besides the point, except the point I was trying to make is that I have a breakfast routine. I eat and do the same thing every morning. I love it. And that makes me wonder why I don't have a similar lunch routine. In fairness I'm not always home for lunch, but when I am I never really know what to eat. I don't love lunch. That was until I made this red pepper and fennel soup. It's taken twenty nine years for me to realize that I love warm food for lunch. Maybe it's because warm food is the anti cold-cut, a food item I have shunned since before I can remember. Or maybe it's just because lunch, like breakfast and dinner, is also a time for comfort and warmth. Either way, this red pepper and fennel soup, will be my new lunch routine, hopefully on a rotation with a few other soups that I've yet to discover (lentil? cauliflower? pea?).
Roasted red pepper and fennel make a wonderful pair. Somehow the sweetness of the pepper manages to both dampen and highlight the licorice flavors of the fennel. It is a subtle soup, with no one flavor overpowering the rest. It also takes to spices really well. As the leftovers were dwindling I started experimenting with a few shakes of cumin and a bit of paprika, and found I liked that taste even better than the original. I also started added leftover quinoa to the mix and like that too. Really, I guess, I just like this soup and I trust you will too.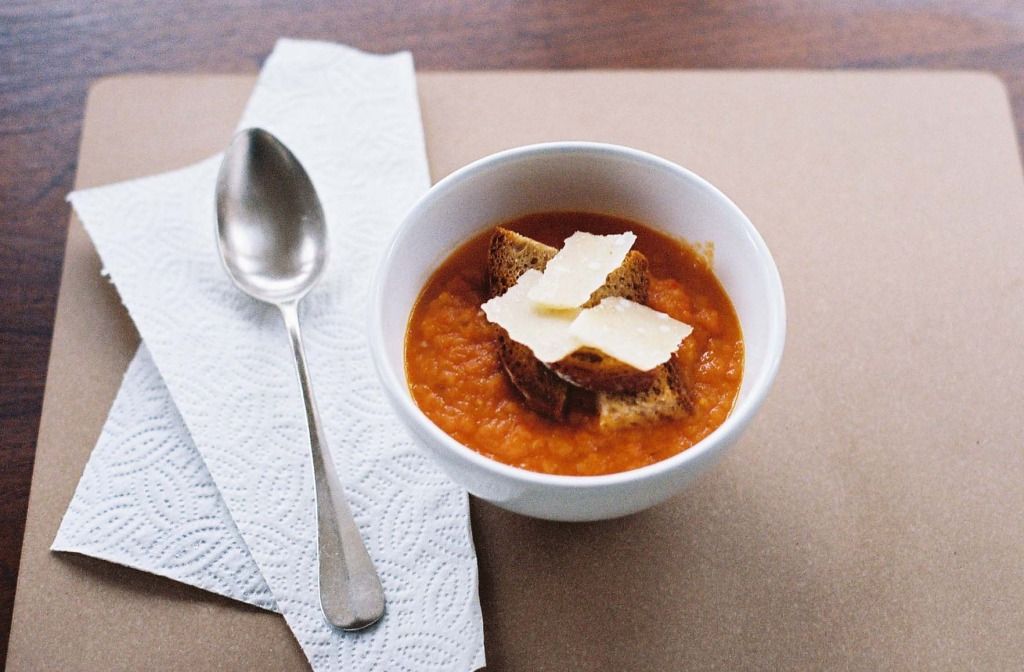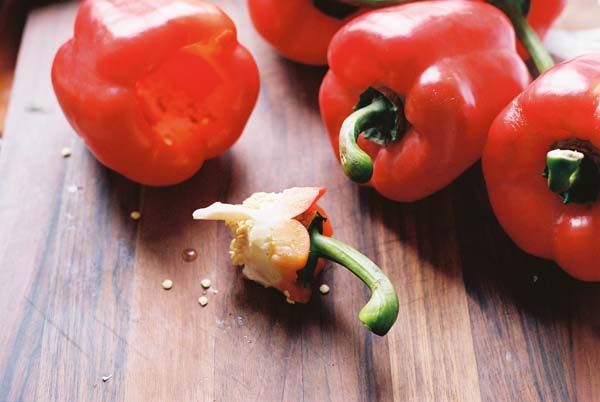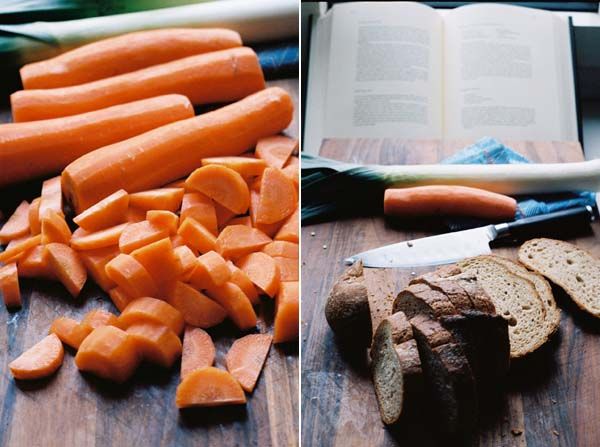 Besides a few tablespoons of olive oil to warm up the pan and get the saute going, this is truly a vegetable based soup (the bread is for the croutons).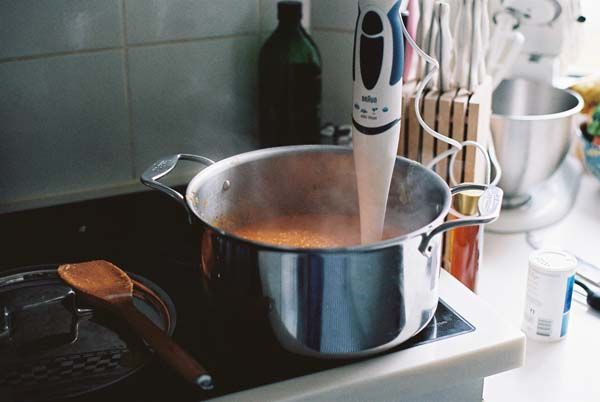 Beware of the immersion blender! A couple of years ago when I was busy prepping for dinner at our apartment, blending a gazillion cloves of garlic, I decided to stick my thumb in and unstick the garlic from the blade...and then god knows why, I pushed the on button with my thumb still in range of the blade, and voila thumb soup. No not really, but I did need a little medical superglue on my thumb. Considering I have the shortest thumbs known to man (someday I'll show you...maybe) it's a good thing I didn't slice the top right of. Anyway...so I was sure I was the only person who was stupid enough to turn it on when my finger was still in it, but then my friend's older sister told me she did the same thing, and she has the scar to prove it. So with that warning, I say, don't stick your finger near the blade.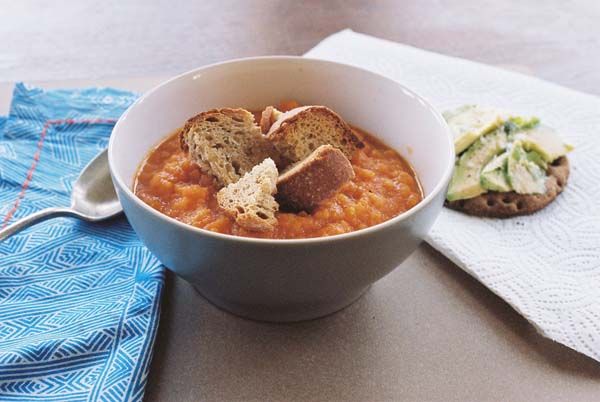 Red Pepper and Fennel Soup
- 6 large red bell peppers
- 3 tablespoons olive oil
- 6 large carrots, coarsely chopped
- 2 medium fennel bulbs, coarsely chopped
- 1 medium leek, white and tender green parts, coarsely chopped
- 1 small spanish onion, coarsely chopped
- 2 garlic cloves, coarsely chopped
- 2 tablespoons chopped parsley
- a tablespoon or two of cumin (optional, to taste)
- 6 or so thick slices of bread
- garlic clove, sliced for rubbing
Slice the peppers in half and arrange on a baking sheet, round side up. Place in the oven and roast until skin turns brown and begins to separate from the flesh. Remove from the oven and place in a plastic bag and allow to steam for 15 minutes. This will make it easier for you to remove the skin from the pepper. Once cool enough to handle peel the peppers, discarding the skin.
While the peppers are roasting, heat the olive oil in a large heavy bottom pot (I used an 8qt pot). Add the carrots, onions, leek and garlic and cook over moderate heat, stirring occassionally until the vegetables are softened but not brown, about 10 minutes or more. Add the peppers, white wine, fennel seeds and 4 cups of water and season with salt and pepper. Reduce the heat to low, cover the pot, and simmer until the vegetables are soft, about 40 minutes.
Once soft either use an immersion blender right in the pot, or transfer the vegetables to a blender and blend until smooth. Season with salt and pepper and cumin if desired. Stir in the parsley and if the consistency is too thick you can thin it with a bit of water. Garnish with garlic croutons and parmesan cheese.
garlic croutons - brush your thickly sliced bread with olive oil and put it in the oven to toast until lightly browned. Remove from the oven and rub with a garlic clove that has been cut in half. Slice and serve.
*quinoa is also great with this soup - either in it, or with a bit of soup served on top.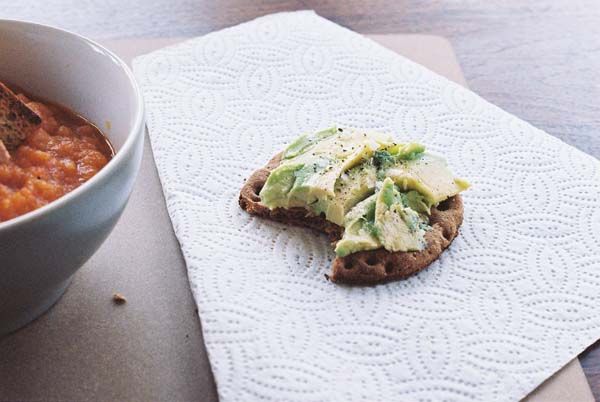 Oh, and this is my new favorite snack/lunch...avocado on toast or cracker with salt and pepper. I could eat an entire avocado without even blinking...the same goes for a chocolate bar, which unfortunately is not source of 'good' fat, but I'm still able to convince myself it's healthy as long as it's dark chocolate.
Speaking of healthy, if you are planning on spring cleaning your diet, this soup would be a great addition, perhaps a substitute for that chili you've been eating all winter long.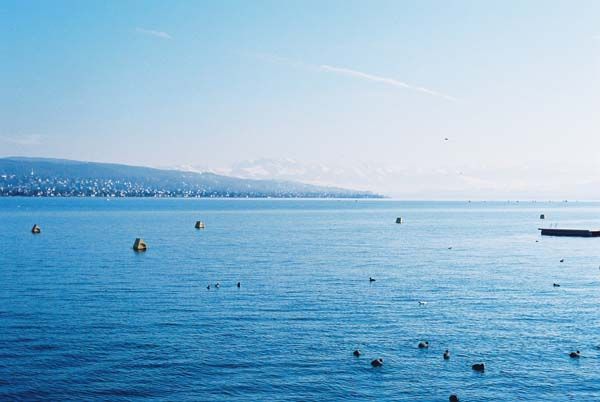 The weather has been phenomenal this week. I've been outside as much as possible, taking long walks just to feel the sun on my face. I'd forgotten how much I like walking around the city and exploring new neighborhoods. Forget the trams, I'll walk! Snow is apparently headed our way next week (ugh) so you can be sure I'll be sitting on a bench near the lake with my face in the sun all weekend long.