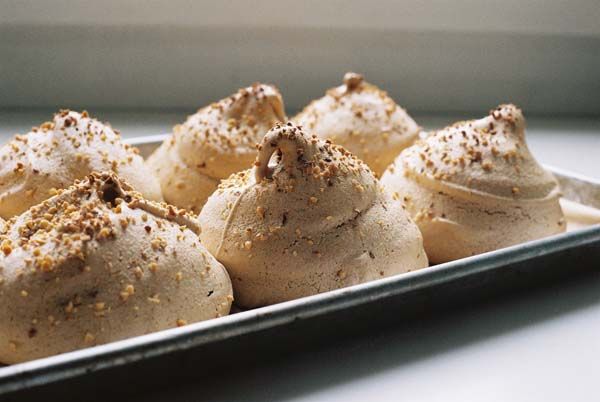 Does hosting a dinner party make you nervous? If so, then I think you and I should start a support group called 'I'm a nervous freaking hostess.' I love the idea of hosting a dinner party, but then when it actually comes time to consider possible menu options I freeze up, panic, and call off the whole idea. What is it about having people over that sets of the panic alarm? These are my friends, they aren't going to judge me if the salmon is slightly overcooked or if I don't have six matching sets of silverware, or if the apartment is a little bit dark because I still can't get my act together, or my German, to call the electrician. And heck, I cook dinner almost every night, and generally make enough food for leftovers, so what's the difference in adding a bit more and inviting a few friends to join us?
As I see it, the major dinner party issues are
2) the timing of everything your cooking so that it all finishes cooking at the same time
3) how to be a good hostess while also managing the kitchen, which ultimately comes back to #1 & #
2
Anyway, this week I composed my panicked self, made way too many to-do lists, and invited five friends over for dinner. Zach was in Miami all week for work, so I took his absence as an opportunity to have a girls dinner. These are my nearest and dearest friends here and I still made-lists and a time line for what to cook when. I constantly need to remind myself that when I am the guest I am just happy to be out, in someone else's home, surrounded by good friends, so much so that I certainly don't question what they are serving. Heck, serve me up some spaghetti with tomato sauce and I'll be a happy dinner guest.
Spaghetti and tomato sauce and dessert, that will be my go-to dinner party menu. I love thinking about and making desserts for a crowd. If the spaghetti doesn't appeal to you, then well good, because you'll have more room to eat dessert. I was debating between two desserts for this little fête; that decadent chocolate

cake

from Thanksgiving, and coffee flavored meringues with ice cream and fruit. As you can see from the picture, I chose the meringue. It just seemed appropriate for a girls dinner, a light little treat after a savory dinner.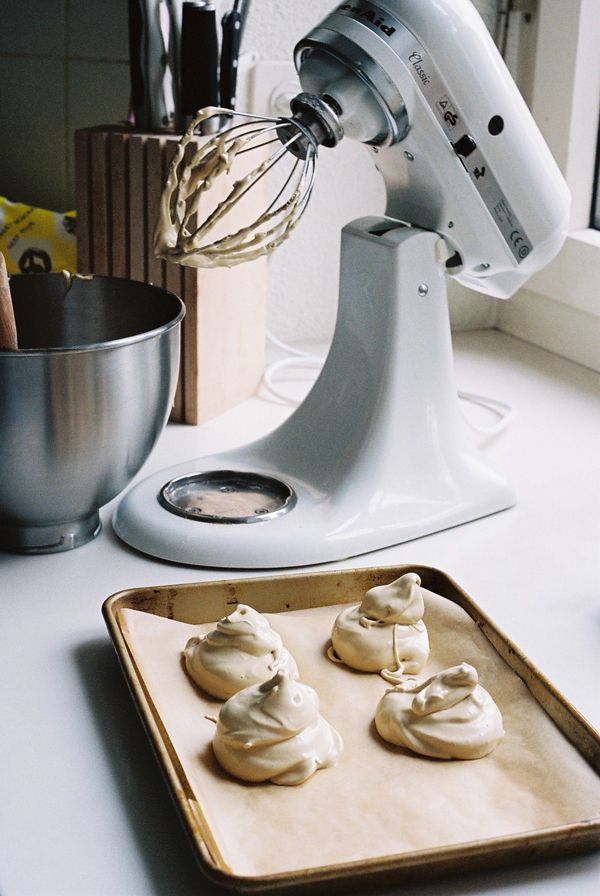 I had never made meringues before and so I was a bit intimidated and concerned that I wouldn't know when my egg whites were 'peaky' enough or when the batter silky enough, but it all came together with ease, so much so that this recipe will go on my 'quick & easy dessert' list. The color of the batter after adding the sugar and espresso was beautiful; the creamy white of an oyster silk wedding dress. These would actually make a wonderful dessert at a wedding, perhaps a wedding where the bride and groom were tired of cutting cakes or a wedding at which either the bride or groom is gluten-free.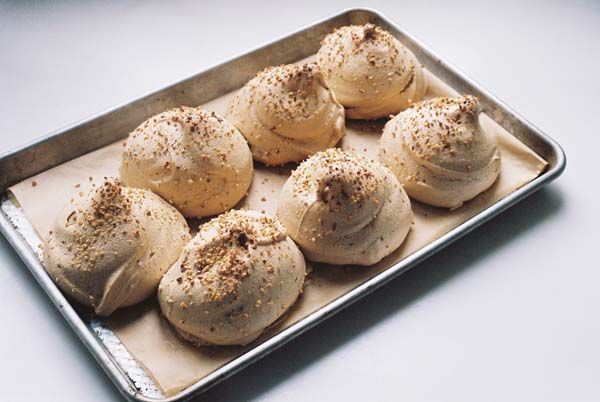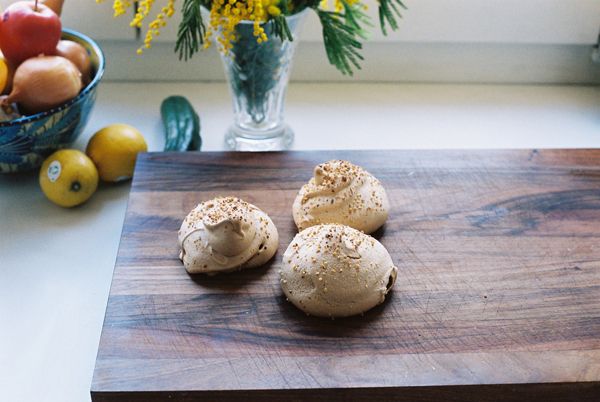 Nigella Lawson, Nigella's Kitchen: Recipes from the Heart of the Home
- 1/3 cup (packed) light brown sugar
- 2 teaspoons instant espresso powder
- pinch of cream of tartar (I didn't have any so didn't use it and as it turned out, didn't need to)
- chopped hazelnuts for sprinkling on top (optional)
Preheat the oven to 275ºF/135ºC
Combine the superfine sugar, brown sugar and espresso powder and cream of tartar if using. If the mixture is at all clumpy (mine was) use a sieve to get out the lumps.
Whisk the egg whites in a grease free bowl (I used my kitchen-aid mixer with the whisk attachment). Whisk until they are beyond foamy and soft peaks have started to form. You should be able to lift the whisk out of the bowl and leave behind peaks that stand on their own. Once you've gotten to that point you are ready to add in the sugar mixture. While continuing to whisk add 1 tablespoon of the sugar mixture at a time until you have added all of it and the meringue is shiny and the color of oyster silk.
Line a lipped baking sheet with parchment paper. Spoon out the meringue into large dollops, about 2 heaping soup spoonfuls, to give roughly 2 inch diameter meringues, aiming to create 8-10 (I had 11) in total. Using the backside of a spoon or a spatula, pull the meringues upwards as you go, giving them height and that meringue 'sweep'. Sprinkle the meringues with some of the chopped hazelnuts.
Place the meringues in the oven for about 40-45 minutes, until they are dry on the outside, but still gooey in the middle. They should be fragile to the touch. Take them out of the oven but do not remove them from the baking sheet. Once the meringues and the baking sheet have cooled to room temperature, remove them and pair them with some ice cream and fruit and enjoy!
* these are a great dinner party dessert because they can be made up to the night before and stored in an airtight container. I made them the morning of and just left them on the counter. They were delicious and a bit hit!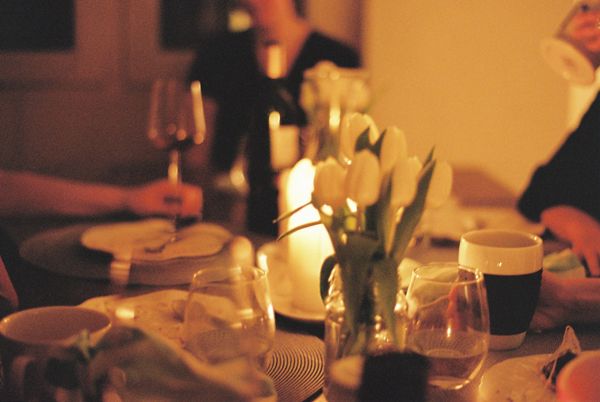 Don't worry, I didn't default to spaghetti and tomato sauce this time around, and we didn't just eat dessert. I was able to gather my wits about me and cook a sensible and yummy dinner. One of my favorite chicken

recipes

was the star the meal, but the accompaniments of polenta, green beans and a salad with

Ali's tarragon-shallot

dressing were all yummy, and relatively easy to make.
Chicken Marbella is a wonderful dish for a dinner party, because all you need to do is marinate it for as long as you can, ideally overnight, and then transfer it to a baking dish and stick it in the oven for an hour. Polenta is an especially apt side to chicken marbella, because it sops up all of the leftover sauce and takes on the flavor of cooked prunes and olives. Polenta can be a bit hard to time, but I recommend making it a couple of hours before you plan on serving it and when it is done, transfer it to a double boiler (with a top or plastic wrap), and it will remain soft for up to a few hours and will be ready to serve when you are. Green beans are a bit tough considering they only take a few minutes to make, but those few minutes are right before you want to eat them, so they pull you back into the kitchen and away from your chatting guests, but only for a minute. And then the salad...easy to wash and prep and make the dressing while the polenta is cooking. This tarragon dressing adds a little something extra to your basic oil and vinegar dressing, which is perfect for a dinner party.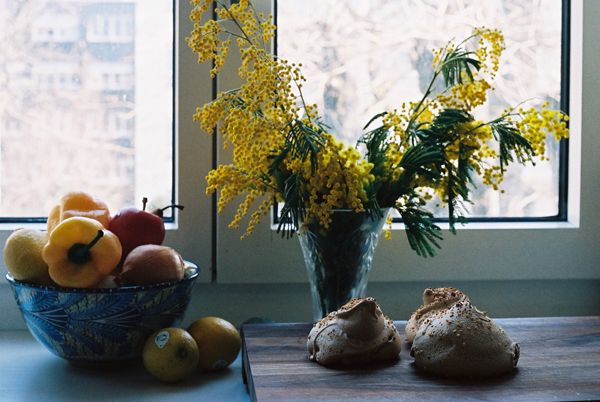 Now that I've shared some dinner party ideas with you, hopefully making your next party a breeze, you could share some with me? I'm always eager to hear about dinner party go-tos, especially if those dishes can be cooked in my mini-Euro oven (I actually measured it the other day, its about 16" x 16.5").
In the end I realized there was absolutely no need to get worked up about dinner...but then again, maybe if I hadn't, it would have been a flop. Either way we had a really nice evening, full of chatter from Jessica Simpson (did you see

this

) to Rush Limbaugh and all of those crazy

'sluts'

who take birth control (if you haven't watched the John Stewart segment on the Rush issue then I highly recommend it - click the 'sluts' link).
shönes Wochenende (nice weekend) !