These gougères are heavenly. They are airy and bite sized and oh-so perfectly cheesy. They are ideal for a party, easy to whip up, quick to bake and just damn good. Your guests will think you are a culinary goddess, they'll ask you how you do it, they'll suggest you start a catering business and then they will proceed to eat you out of cheese puffs.
I know this because I served them on Friday night and that is exactly what happened - goddess status instated, catering business imagined and a wave adios to a pile of cheese puffs. It was Zach's birthday on Friday so we had a little party, complete with strung christmas lights and candles in the fire place. Sadly I didn't take any pictures. I was too busy and happy playing hostess that I completely forgot, which I guess is better than being preoccupied with taking photos. Anyway just know that Zach was celebrated with excessive amounts of cheese and much too much coconut cake.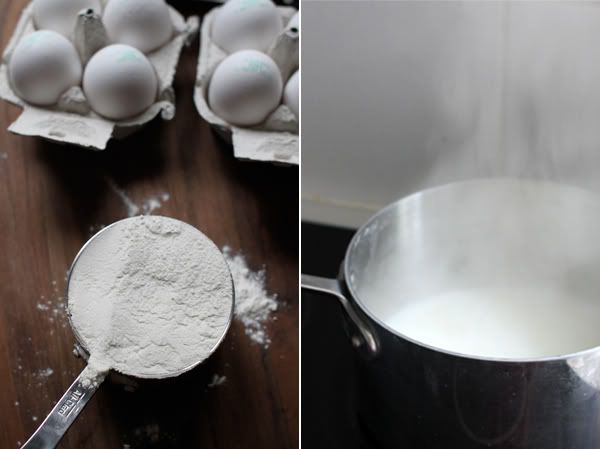 These little puffs remind me of The Union League Cafe in New Haven, where they are always piled in little bowls along the bar. They remind Zach of our trip to Rio de Janeiro and the Brazilian version of gougères called pao de queijo. I'd always assumed they were out of my culinary reach, and I bet you are thinking the same right now. But truly, they are easy, easier than most appetizers you might make for cocktail hour. They are also great because you don't have to bake them all at once. You can freeze the ones you don't want to make right away and bake them later.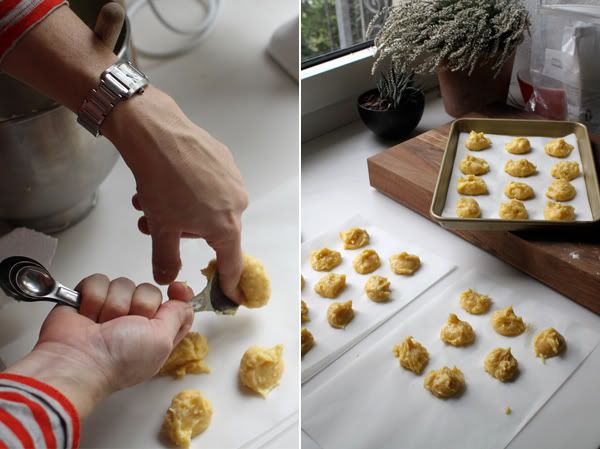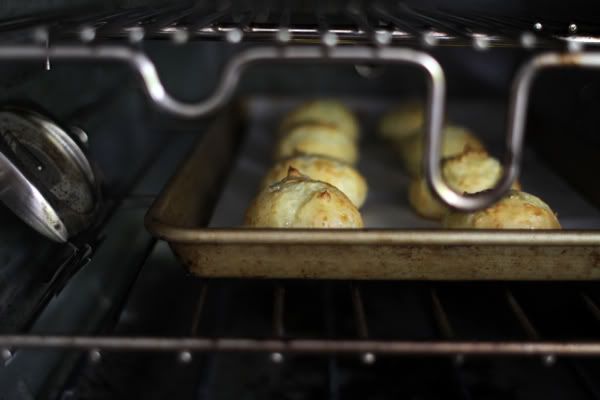 from Dorie Greenspan - Around My French Table
1/2 cup / 118 mL of whole milk
1/2 cup / 118 mL of water
1 stick / 8 tablespoons / 113 g of butter cut into 4 pieces
1 cup / 125 g of all-purpose flour
5 large eggs at room temperature
1 1/2 cups / 6 oz / 170 g of shredded Gruyére or cheddar cheese
Preheat the oven to 425ºF/220ºC and position racks to divide the oven in thirds. Line two baking sheets with parchment paper.
Bring the milk, water, butter and salt to a rapid boil over high heat. Add the flour all at once, turn down the heat and begin stirring vigorously with a wooden spoon. The dough will come together and a light crust will form on the bottom of the pot, keep stirring quickly and consistently for another minute or so until the dough has come together and is very smooth.
Turn the dough into the bowl of a mixer fitted with a paddle attachment. Let it sit for a minute or so. Begin adding the eggs one by one, beating until each egg is thoroughly incorporated before adding the next egg. The dough will appear to separate after each egg addition, but it will come back together and that is when the next egg should be added. Add the grated cheese.
Once the dough is made it needs to be spooned onto the baking sheets immediately. Using a tablespoon drop little dough balls onto the parchment paper, leaving roughly two inches between each mound. Slide the baking sheets into the oven and immediately turn the temperature down to 375ºF/190ºC. Bake for 12 minutes, then rotate the pans top-to-bottom and front-to-back. Continue baking until gougères are firm, puffed and lightly golden, about another 12 minutes. Serve warm or move to a rack to cool.
The gougères freeze and reheat beautifully so if you don't want to make them all at once simply spoon some mounds onto a parchment lined baking sheet and stick that sheet in the freezer until the mounds are frozen, then transfer to a ziploc bag and store. They can be baked straight from the freezer - no need to defrost - just give them a bit longer in the oven.
This is what I did today. I didn't take any photos when I made them on Friday so I whipped up another batch today, baked 8 puffs for Zach and I to snack on this afternoon and put the rest in the freezer for another time.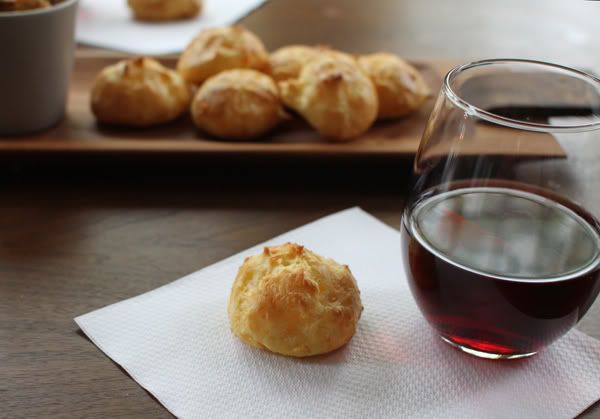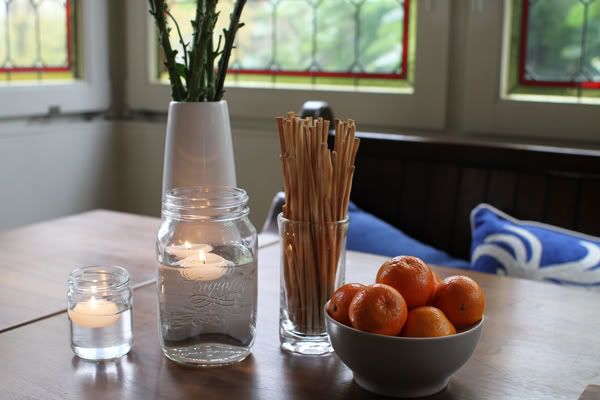 Here are some of my make-shift decorations that are still hanging around. I grabbed all of the empty glass jars that have been hanging in our cupboards, filled them with water and dropped some floating candles in them. I also bought a ton of clementines and placed them around the apartment in different sized bowls. I love clementines so it's a decoration that just keeps on giving. The Christmas lights are still up and I'm guessing they'll probably stay up well past Christmas, especially considering we need a little extra light around the dinning table. And don't you just love fresh flowers every once and awhile?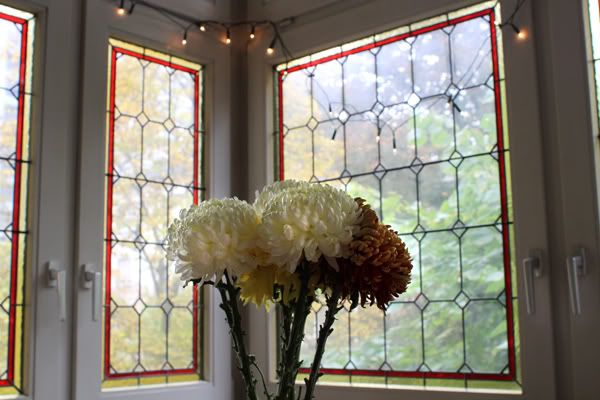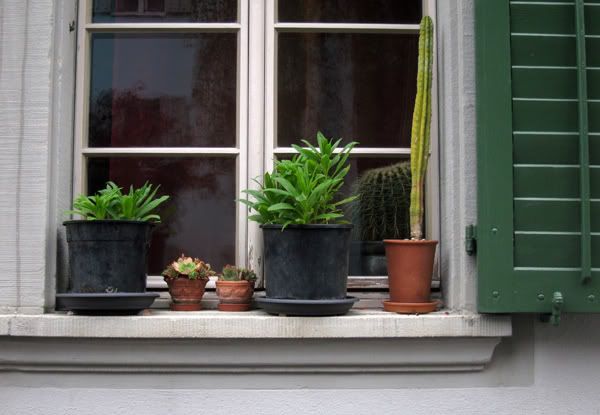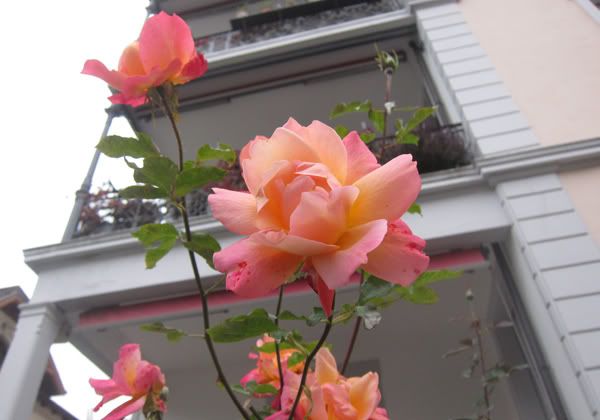 We went for a walk after I finished cooking, like we do pretty much every Sunday. A little fresh air and a chance to walk off the cake we both ate for breakfast - yikes! Our friend Katie made this amazing strawberry cupcakes for Zach. They are to die for. As she reminded me, anything with swiss butter and strawberries is bound to be good, but still, these are insane. She made them from the Sprinkles recipe -
try them out
(be sure to add 1/2 tsp of baking soda to the recipe - Martha forgot it)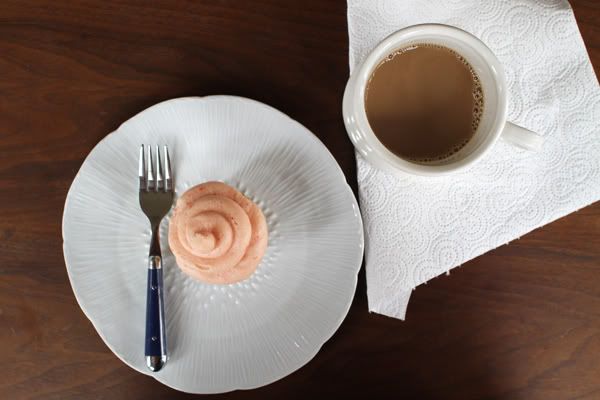 I wasn't the only one who had cake for breakfast. Zach had a piece of the coconut cake. In fairness it's really just a plain cake with coconut frosting, but it's still coconut-y and delicious.
We had a surprisingly low key weekend, with a few walks, lots of leftovers and some time in front of our new iMac (hip hip hooray) !!