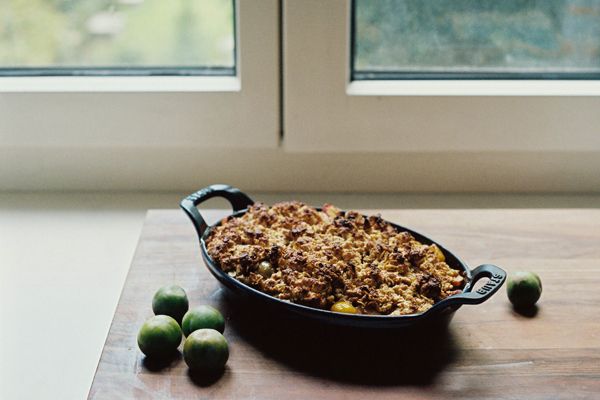 Yesterday, out of nowhere, I threw apple slices in a pot and dumped cinnamon on top and stirred and stewed until the apples became limp and fragrant. I ate the apples right out of the pot while willing the tree across the street to turn red.
I've always know that I am a seasons person, that I'd never be able to settle in Los Angeles or Austin, that I need the gentle rhythm of leaves growing and greening, changing and falling. I thought when I moved to Zürich that I would be swept up in similar New England style rhythms, but no, seasons here ping pong back and forth leaving you lost in July as to whether you need socks or sandals (never the two together please). Take the weather today for example; it is cold and grey, but it's only the fourth day of September. I am sitting here in my long sweater and red and white-stripped wool camping socks and the view out the window confirms that I'm not the only one who has dipped into their winter wardrobe. I love fall, but I'm not ready for it yet. It needs to happen slowly and subtly. The crisp air needs to sneak up on me breezily, until it wraps itself around me and I reach for a scarf.
I'm pretty sure fall is tied up in my DNA: I was born at 10pm the night summer officially gives way to fall, I met Zach in the fall of 1999, we met again in the fall of 2002, we started dating a fall after that, we got engaged in the fall of 2009, Zach moved to Zurich in the fall of 2010 and I
followed
(legally) one fall later. Our lives are weighted towards the fall, things
happen
in the fall.
But what if fall feels different than I'm use to? Do things still happen?
Unsure of the answer I baked a plum crumble. The inspiration for this dessert and it's high crumb topping comes from the apple crisp at Deerfield, my high school in Western Massachusetts, where I witnessed three obnoxiously resplendent transitions from late summer into fall. I could write an entire blog about life at boarding school, but for the purposes of this post, just to set the scene, you should know that meals were a formal sit down affair, with assigned tables and teachers at each table. The dinning room with it's soaring ceilings, big bay windows and rows of circular tables was well suited to these please-pass-the-peas meals. And peas there were, peas and any other meat and gravy concoction that could possibly fit in a casserole dish. The heavy meals were capped off with equally heavy desserts to the tune of German chocolate cake, banana cream pie, heath bar brownies and my favorite, apple crisp.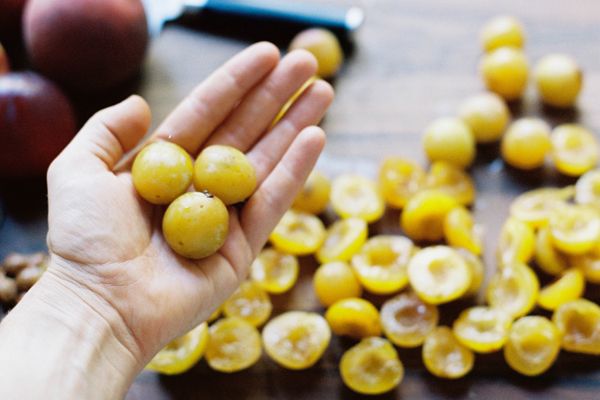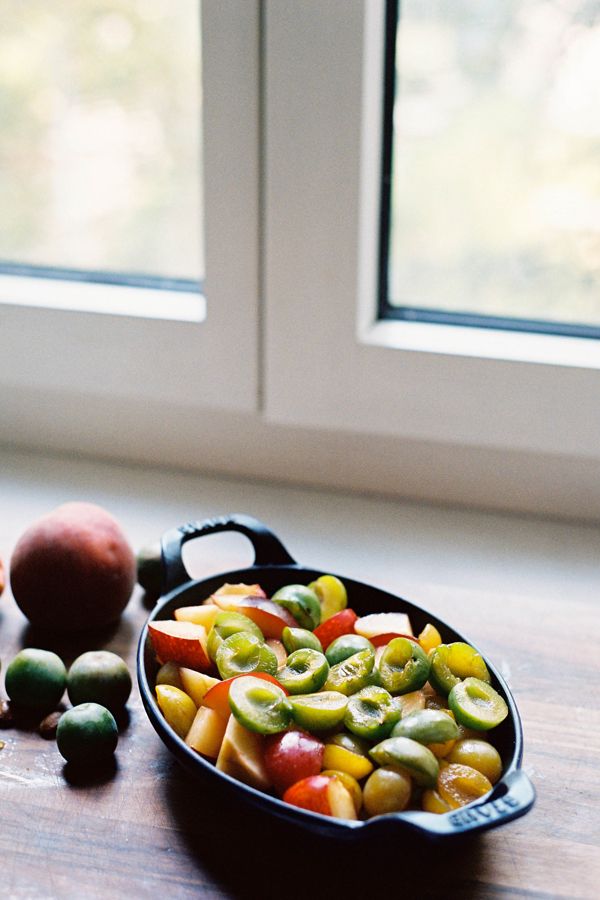 Until I went to Deerfield I only knew crisp of a weepy variety with soggy crumb that had surrendered its crispy buttery goodness to the sired call of the bubbling apple juices below. The crisp at Deerfield was another crisp all together. Really it should be called a crumble. It was lofty; the crumb sat high and poised on top of the syrupy apples in a ratio close to 1:1, each apple guaranteed a hunk of crumb. The crumb was a subtle play of textures, soft and warm on the inside and crunchy like an oatmeal cookie on the outside and around the edges. I use to watch the teacher serving the crisp and then watch the bowls going around to make sure that everyone, but especially me, was given their fair share of crumb topping.
When I asked Zach if he liked the apple crisp at Deerfield he said yes but admitted to liking the coconut cream pie better. That's right, we went to high school together. I wonder if we ever shared a pie plate or a crisp dish. It's all part of our story, but we weren't really friends in high school, just acquaintances by way of being in the same English class junior year. He had longer hair then, red and wavy and split in two with tendrils going off in different directions. The red on his head played well against his stripped tie-plaid shirt combinations, or was it plaid tie-stripped shirts? I can't remember, and honestly I'd rather not remember what I was wearing; it was probably in the pastel hue of things, likely obnoxious and definitely nothing I'd want to admit to wearing these days. It's c-r-a-z-y to think that there we were, Zach with his patterns and me with my pastels, eating crisp together with no idea what was coming next.
Anyway back to the crisp. But what about the apples, you ask. I love apples, I adore them, I buy them in 2kg sacks, I slice them up and eat them plain or stew them with cinnamon, but apple crumble, that is a dessert so tightly tied to fall in New England that I wasn't sure I could transplant it across the Atlantic, especially this early in the season. And besides, I want to make something that seeped Swiss fall, so I chose plums. The range of plum varieties at the market here is incredible: there are the purple
football
shaped Italian Prune plums, the mini marigold Mirabellen, the surprisingly sweet squash-ball sized
green
Reine Claudes, and the palm sized red, rose and violet plums with varying flesh colors. Sliced in half and stirred with a touch of sugar and cassis these plums make for an amazingly sweet and gooey foundation for the crumble.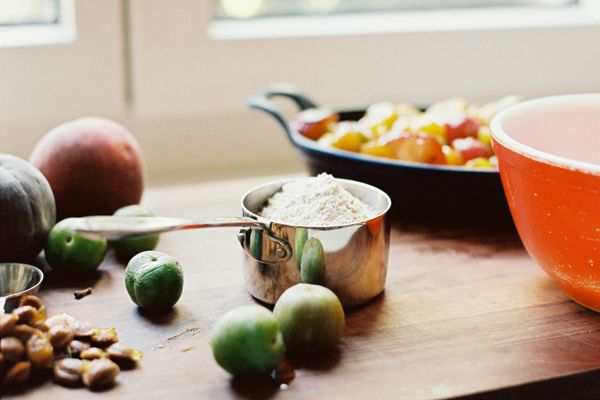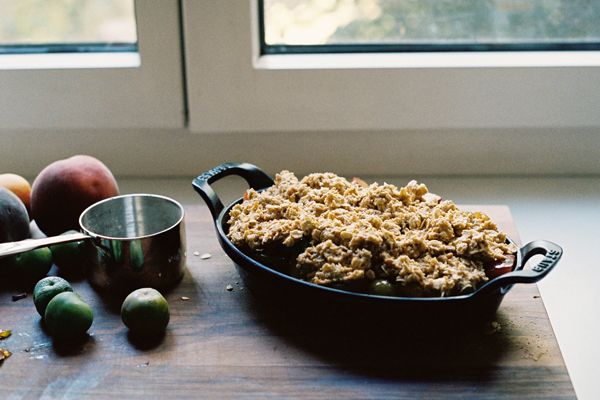 // Plum Crumble //
The crumble was adapted from Heidi Swanson's recipe. I used gluten free oat flour instead of the whole wheat flour to ensure a gluten free dessert for our friend Jess who came to dinner. I thought the flavor of the oat flour made the topping extra soft and cookie-like.
You can make your own oat flour by grinding some rolled oats in a coffee grinder or food processor until finely ground. easy peasy.
filling
1 kg / 2lbs mixed plums - I used Mirabellen, Reine Claude and regular red plums
2-3 tbsp raw cane sugar
1 tbsp cassis
1 tsp corn starch
crumb
3/4 cup rolled oats
3/4 cup oat flour
1/3 cup raw cane sugar
1/2 tsp cinnamon
pinch of salt
1/3 cup butter, at room temperature
1/3 cup yogurt
Preheat the oven to 400ºF/200ºC
Slice the plums in half and remove the pits. Depending on the size of your fruit you might want to quarter the slices, up to you - it will all collapse into syrupy goodness in the end. In a large bowl gently toss the plums with the sugar, cassis and corn starch. Spoon into your baking dish.
In a separate bowl mix the oats, oat flour, sugar, cinnamon and salt. Add in the butter and stir with a fork to incorporate it. Do the same with the yogurt, until you have a thick dough-like batter. Scoop the crumb on to the plums.
Place the crumble in the oven and bake for 25-30 minutes or until the top is slightly browned and the juices are bubbling underneath. Serve warm with ice cream.