A quick little post to let you know that the apricot addiction continues. All of my hoarding in July proved a bit aggressive because as it turns out there are still apricots in August. How was I supposed to know? I'm new to the Swiss apricot and it's seemingly endless season. I expected it to be like rhubarb, here with gusto and then gone without a goodbye, but no, the apricot lingers.
I wonder if I wasn't held behind a massive language barrier if the nice guy who always helps me at the market might have said something after the tenth time I walked away with a kilo and a half of apricots, like, "Hey, we'll be here - same place, same time - in two days, why not lighten your load?" But no, he just gives me a funny little side smile, which I always assumed was a suppressed chuckle about my bad German, but now that I think of it perhaps it's because he's imagining the elaborate feats I have to go through to eat all those apricots before I come back for more. And he definitely knows I'll be back for more. Recently, I've changed things up by ordering a kilo of Italian prune plums as well, but now he probably thinks I have twelve kids or an underground jam business. Not a bad idea actually...an underground jam business...wheels are turning...
...Anyway, this is not about jam, but about apricot compote. I slice apricots into my oatmeal every morning because I love the way the sweet, juicy, tartness pairs with the mellow almond-milky flavor of the oats. It's been over a month of apricots in my oats, and I was just looking to jazz things up a bit. Heaven for bid I buy peaches. The thought didn't even cross my mind, so I made compote.
Unlike jam where sugar does half the work, compote is all about the fruit. Well the fruit, a bit of honey and a vanilla bean. But no, really, it's the fruit and the way it gently releases its juices that make compote so enticing. Piled in a pot over medium heat the fruit slowly loses its proper plump and slips into a more of a slump, a slump of vanilla specked apricots and honey infused juices. And let me tell you, this slump is Ah-fricking-mazing with oatmeal. It's also delicious with ice cream. Be sure to add a few nuts to either your oatmeal or ice cream, because there is something about the smooth slump paired with a crispy nut that makes my heart happy.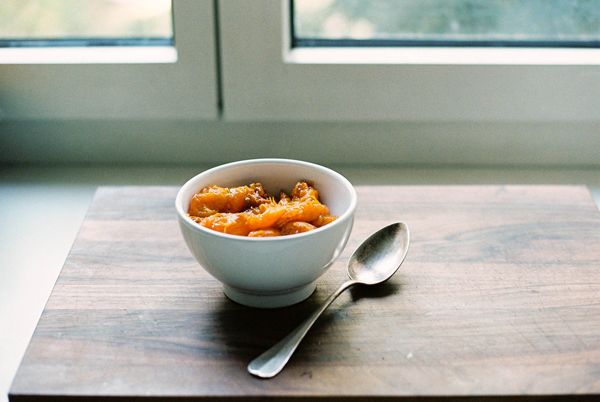 // Apricot Compote //
the proportions are entirely flexible, simply adjust to your tastes and quantities.
8-10 apricots
2-3 tablespoons honey, depending on the sweetness of your apricots
1/2 vanilla bean
strip of lemon zest
1 tablespoon lemon juice
a handful of sliced almonds, pecans or walnuts (or all three)
Halve the apricots and quarter some but not all of the slices (a little variety is nice), and place in a small pot over low heat. Stir in the honey and add the lemon zest and juice. Slice the vanilla bean lengthwise and scrap in the seeds and add in the pod. Stir until the fruit begins to release it's juices and then turn up the heat to medium and simmer until the fruit has begun looks more slump than plump, about 15-20 minutes.
Remove the pod from the pot and taste for sweetness, adding more honey if necessary. Serve with oatmeal in the morning and ice cream at night. Top with nuts.
Yes, that is a pool of butter in my oatmeal. I'm not scared of butter, but if I was I'd follow Julia Child's
advice
and use cream. (Click the link to see the cards my talented friend Ali designed in honor of Julia's would-be 100th birthday next Wednesday - I already ordered 2 boxes!)