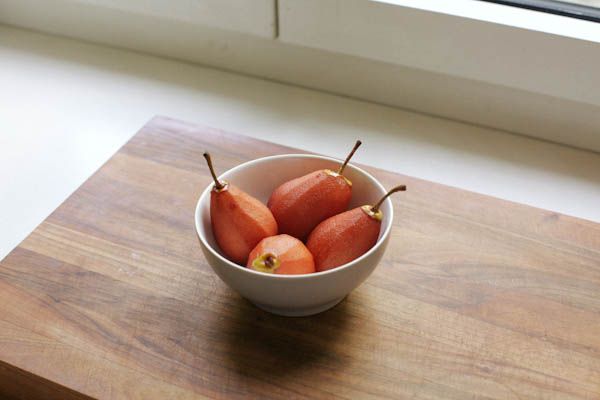 More often than not I forget that we live 3,963 miles from home. Life in Zürich really isn't that different. But of course just as I'm getting comfortable and beginning to feel like an insider WHAM the Swiss pull a fast one on me and I'm left feeling far away. The most recent culture shock incident occurred at the market yesterday when I watched as a woman ate a pear from the top down. Crazy! She might as well have been fifteen feet tall with blue skin, pointy ears, and affinity for climbing trees.
I didn't take notice of her at first (maybe because she was only five feet tall). I was busy perusing the Nusslisalat and she was inspecting heads of Eichblatsalat. I gazed around to get someones attention and I looked over at her just in time to see her pluck the stem off of a pear and chomp off the top.
Is it still a pear when you take away its elongated pear neck? I don't know, but I'm not sure I'll ever be the same.
I grew up eating pears like apples - and I'm guessing you did too - where the first bite is a big one smack in the widest part of the fruit. The stem on a pear is actually quite useful; something to hold on to as you make your way around the juicy circumference. Before this recent incident I would have bet there was a universal, cross cultural, understanding that pears are eaten around the middle first. Little did I know...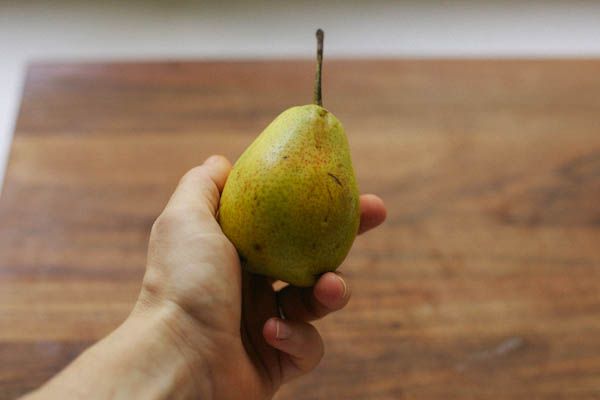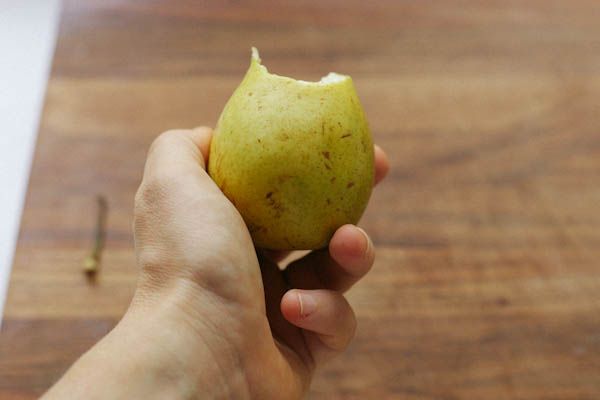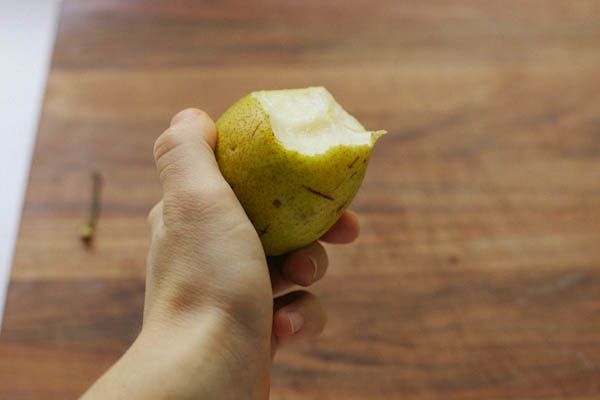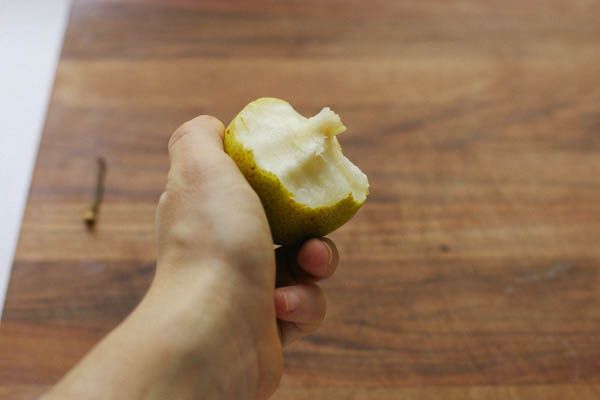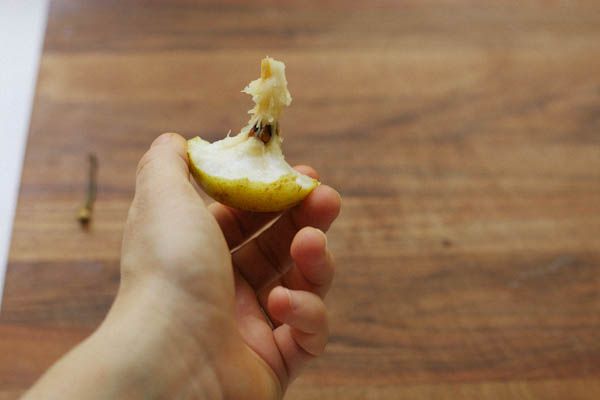 It's unsettling, I know.
And no, this woman and her pear were not an isolated incident. I asked Zach about it last night and he confirmed that his Swiss colleagues eat pears from the top-down too.
Try it sometime, maybe when you have company - blow their minds just a little bit. Tell them it must be all the Swiss chocolate you've been eating recently. And then serve them poached pears, maybe even with chocolate sauce, to ensure that their minds keep spinning. They'll never think of pears the same again, but that's okay, this poached pear recipe is worth a mind game or two.
I'm not sure how I decided on a poached pear recipe. I mean I know I had pears on the mind - in a big way - but I'm not sure I've ever even eaten a fresh poached pear, and certainly not a pear poached in red wine. It sound so simple, almost too easy to be so good. The simplicity is what's interesting about it actually; just a little wine, sugar, orange zest and cinnamon and you can elevate the one dimensional pear into a complex balance of flavors. The pearness of the pear remains, but the red wine makes it fruitier and the sugar makes it sweeter and the orange and cinnamon make it, well, taste like Christmas.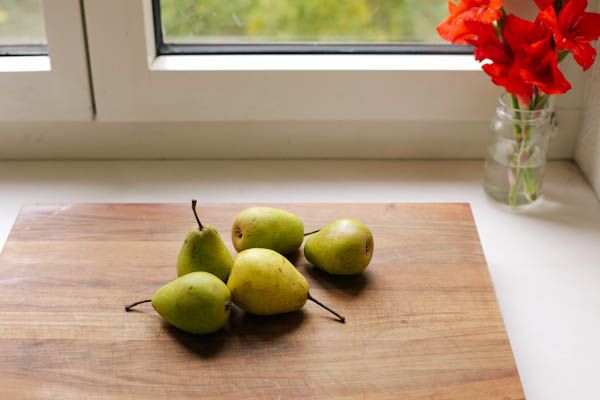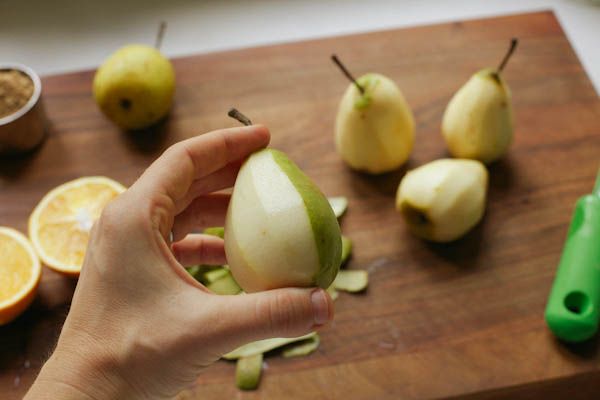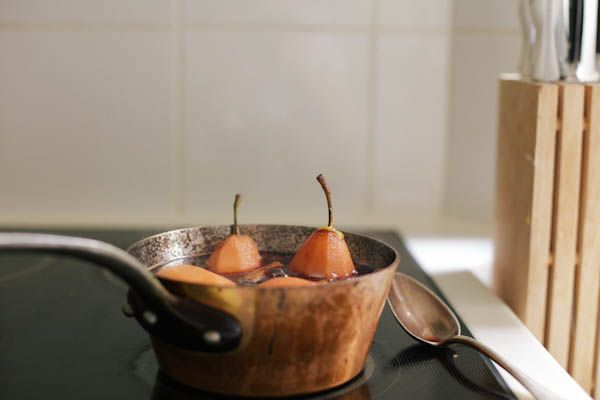 I might start making poached pears just for the fragrance that dances sweetly around the apartment. To me they smell like Christmas. To you they might smell like fall. My mom has a tiny, no bigger than a coffee cup, white pot with a wooden handle that she fills with apple cider and mulling spices and leaves on the stove at Christmas time. She always adds a cinnamon stick or two to the pot and perhaps a bit of orange zest and lets it bubble and stew all afternoon and evening. The minute I caught my first whiff and taste of Glühwein - the Swiss mulled wine drink - I was immediately transported back to our Connecticut kitchen.
Add this to your list of dinner party recipes for the smell alone. Your guests will arrive and think they've stumbled on Hansel and Gretel's cottage. It won't matter if you've burnt the meat or overcooked the rice because you'll always have the pears.
At first I wasn't sure how I felt about dying the pears red with wine, but it turns out the deep terra-cotta hue is one of the things I like best about them. Paired with ice cream or yogurt the pinkness of the pear stands out. Until of course you cut into it and reveal the pale middle.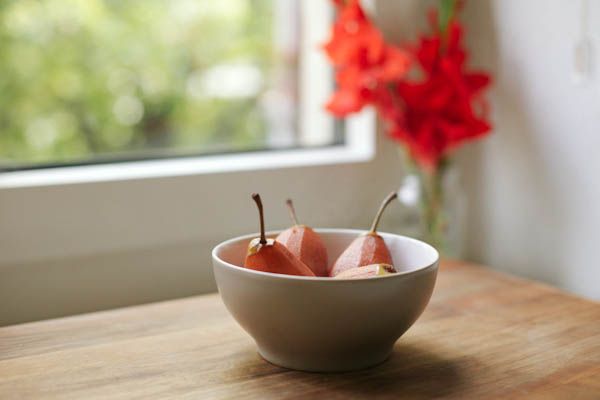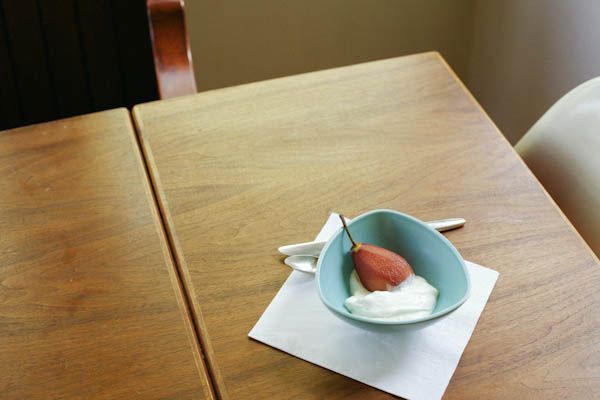 // Poached Pears //
Serves 4
a note on the pears : I chose to leave the pears whole because I like how they look and I liked the idea of cutting into them to reveal the inside. Leaving them whole means you have the core and seeds still so you will need to cut around those when you eat them. You can also half or quarter the pears and remove the core/seeds before cooking. It's really up to you and your personal aesthetics.
a note on the wine: use a fruity red wine if you have one. I used a fruity Merlot. Definitely don't blow the bank on the wine since you will be cooking with it it doesn't need to be exceptional.
4 pears, pealed (peal from top down in long strips)
2 cups red wine
1/2 cup natural cane sugar
2 cinnamon sticks
orange zest - large strips from 1/2 orange
a squeeze of orange juice
Pour the wine and sugar in a heavy bottomed pot. Add the cinnamon sticks, orange zest and orange juice and bring to a boil over medium heat. Add the pears and reduce to a simmer. Cook the pears, spinning them every once and a while, for about 20-30 minutes (less if you've halved or quartered the pears). Remove them from the pot and allow them to cool to room temperature before serving. Serve with ice cream or yogurt.