While I regroup after a month of Italy posts I thought I'd share a Zürich favorite. Kafischnaps is a wonderful low key café. It is not a hidden gem - crowded during lunch and on weekends - but it is definitely worth a visit if you are in the area or are just looking for a quiet place to spend the afternoon (it is quiet after the lunch rush). I know because I was there yesterday afternoon writing this post...
Bus #32 & #33 Rotbuchstrasse, Tram #7, #11, #14, #15 Schaffhauserplatz
outdoor seating available
The energy is good here. There are flowers on the countertop. The light fixtures are like medusa's hair, only metal with lightbulbs where snakeheads would otherwise be, and even though they don't undulate or rotate they seem to pull the room together. So do the black and white check tiles that climb up the walls. The wood tables and chairs, white saucers and clear cups and glasses add a touch of simplicity to the atmosphere. But what I love most are the big pane windows that make sitting here all day both feasible and enjoyable.
The food service is simple, but surprisingly tasty and quiet reasonable. There are always daily specials and soups, but the staple menu revolves around Uufklappti Brot. Served on hulking slices of french country baguette, these are a version of an open-faced sandwich unlike any open-faced sandwich you've had before. Piled on the bread, hiding its existence, are wonderful mélanges of flavors, such as hummus and grilled vegetables over salad, goat cheese with honey and tomato tapenade, chicken curry with salad, and a few others, one of which includes bacon. I had the hummus and vegetables (pictured above) and it was a delicious mix of smooth and crunchy with enough bread to wipe up the remaining hummus. And at just 13.50chf ($14.50) it was a heck of deal (they range from 13.50chf - 16.00chf).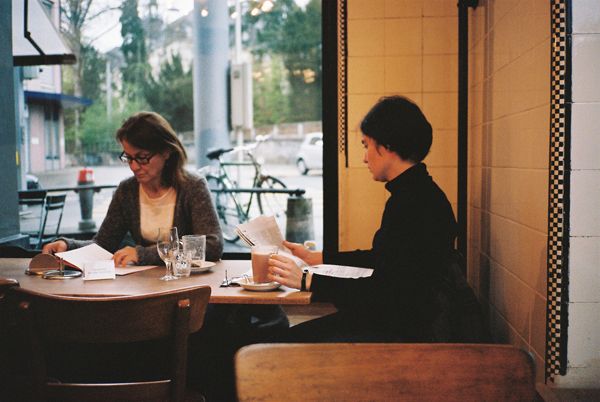 If you are still hungry for dessert, or perhaps jsut stopped by for a coffee and a taste of something sweet, there are always pound-cake esq loaves sliced up (Zach and I once shared a delicious walnut slice) and sweet dessert cakes in the case (I've seen chocolate more than a few times). There are also always croissants, plain and chocolate, and if you don't want to get a whole dessert then order a tea and they will give you a little cookie with it.
In terms of drinking they cover it all, from coffee and tea to wine, bear and Aperol spritz. You could easily stay here and transition from coffee time to tea time to cocktail time because they are open from 8am to midnight everyday, and until 2am on Fridays and Saturdays. And everyday really does mean everyday - they are open on Sundays, almost unheard of in Switzerland.