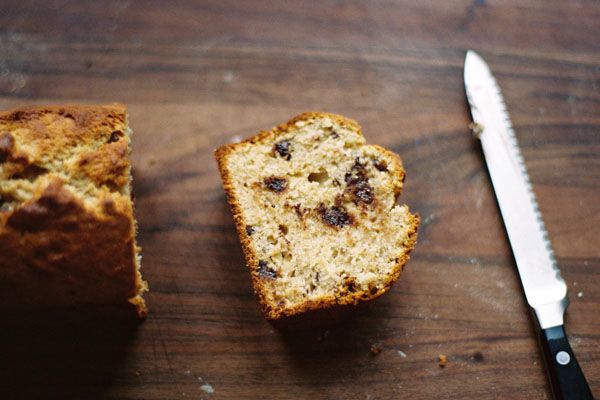 You know how every once and awhile you just need to get something off your chest? Perhaps you call it whining, but I prefer to call it venting. Please excuse me while I vent for a few short little sentences. IT IS FREEZING. For the last week it hasn't been above 15º F. Today the low is 1º F, yes ONE degree. I'm sitting at our dinning room table, fully outfitted with a cashmere sweater, thick wool knee socks, a scarf and a blanket. I refuse to go outside. The last time I went outside I thought I'd lost my nose and toes to frostbite. And that was just from walking next door to German class, literally NEXT door. Okay, I'll stop venting and using capitals, but I just want you, my dear readers and friends, who live in The States and have been enjoying unseasonably warm weather, to know that while you frolic there are those of us who freeze.
Since I refuse to go outside I've had to limit my cooking to ingredients we have in our pantry, and on our countertop. Behold the rotting bananas! It didn't take long before they were mashed, mixed into a buttery dough, poured into a loaf pan, and baked with the company of chocolate chips, until moist and fragrant. In my world there is no such thing as banana bread without chocolate chips. The two go together. I always leave out any nuts that recipes call for and take it upon myself to substitute a healthy amount of chocolate chips. I've tried a variety of banana bread recipes in the past, but this one turned out especially well. Maybe the bananas were just ripe/rotten enough, or perhaps I baked it for the perfect amount of time, or maybe the cooking gods felt bad for me and my frozen toes and made me an offering of a perfect banana bread. Generally when I bake a cake, Zach and I can get through about half of it and then we get bored with it or we just feel like we've eaten too much cake, but with the banana bread we had to fight for the last piece, which wasn't really a fair fight since Zach wakes up earlier than I do and was able to eat it for breakfast. I'd make some again right this minute if the bananas on our counter were brown and mushy instead of yellow and hard.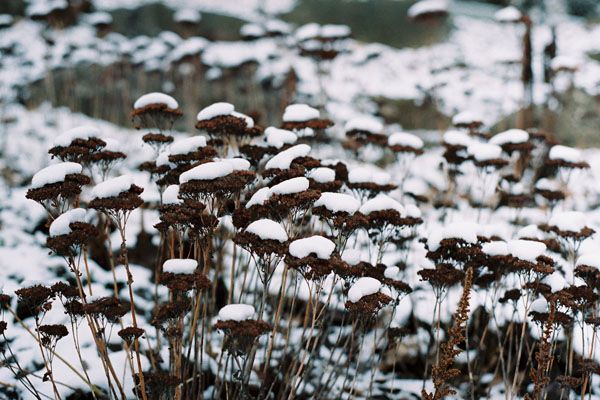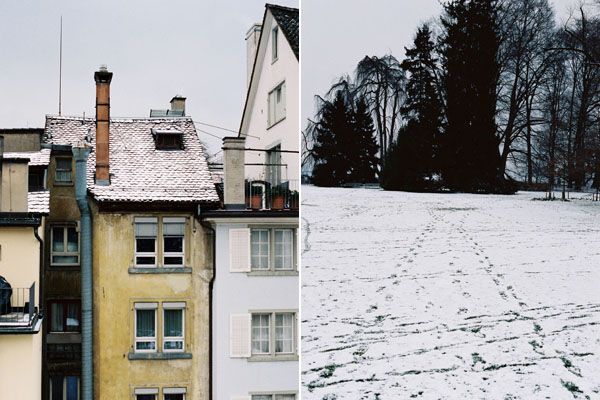 The last time I posted I was complaining that it was grey and not snowing. HA! Well now it's sunny and there is snow on the ground, but it's absolutely frigid. I can't decide which is worse....grey and a bit warmer or sunny and freezing. Either way, both seem to call for bread with a dot or two of extra butter.
Banana Bread
adapted from Mark Bittman 'How to Cook Everything'
1 1/2 cups all-purpose flour
1/2 cup whole wheat flour
1 1/2 teaspoon baking powder
8 tablespoons / 1 stick / 113 g butter at room temperature
3 very ripe bananas, mashed with a fork until smooth
1 teaspoon vanilla extract
1/2-1 cup chocolate chips
Preheat the oven to 350ºF/180ºC and grease a 9 x 5 inch loaf pan.
Mix the dry ingredients (flours, salt, baking powder) in a bowl
Cream the butter and sugar until light in color and fluffy in texture. Add in the eggs one at a time and then the mashed bananas, mixing until just incorporated.
Slowly add in the dry ingredients, mixing just enough to combine. Gently stir in the vanilla and chocolate chips.
Pour the batter into the loaf pan and bake for 45-60 minutes (mine took exactly 60) or until top is browned and cake tester inserted in the center comes out fairly clean. Because of the bananas, this bread will stay moister than most. Be careful not to over bake this bread. Cool on a wire wrack for 15 minutes and then flip the loaf out.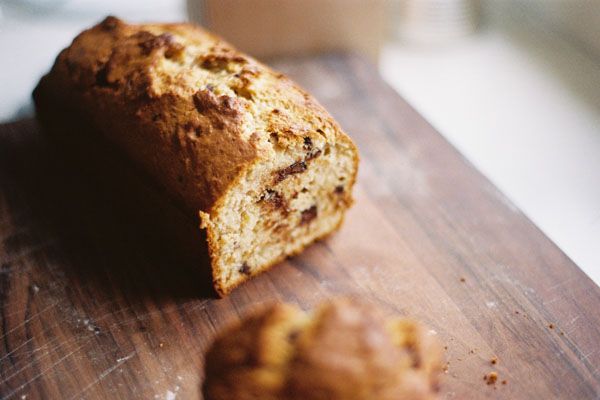 Now I have to figure out what I comb through our cupboards in search of edible dinner items. Hmmm. You can only eat so many gerkins.
If it's warm where you are (over 32ºF) please spend some time outside for all of us shivering in Switzerland.