(watch with sound!)
So today is the day I have been dreading for sometime now. It's my birthday, a big one, the big 3-0 one. This is the birthday that tips me, willing or not, into my thirties and the unfathomable birthdays that follow. There are a lot of things I know; I know it will be a great year, a great decade, a great time. But all that goodness ahead doesn't mean that I am accepting the next step without at least a little whimper.
Okay fine, so a little whimper turned into a fairly loud whimper, a whimper loud enough for friends and family to hear, because like you cuddle a puppy to quiet its cries and bury a baby in your bosom when it starts to wail, I have been held and hugged, loved and silenced. A day I was considering spending in hiding has turned out to be one of the most wonderful of wonderful days.
You know how sometimes a lot of little things align to make one great thing? Well this time a lot of big things aligned to make one
awesome
thing. First my friends in Zürich, the friends that are really more like
family
than friends, threw me, little old me, a surprise party. And best of all, I was totally 100% out-of-my-mind-full-of-gratitude surprised. There I was thinking we were going to eat lasagna and play board games and the next thing I know I'm thanking the heavens above that I had the wherewithal to wash my hair and change out of my sweats and slippers. I spent the evening drinking bubbles, eating truffles, chatting with friends and bathing in all the love and luck that found me in my 30th year.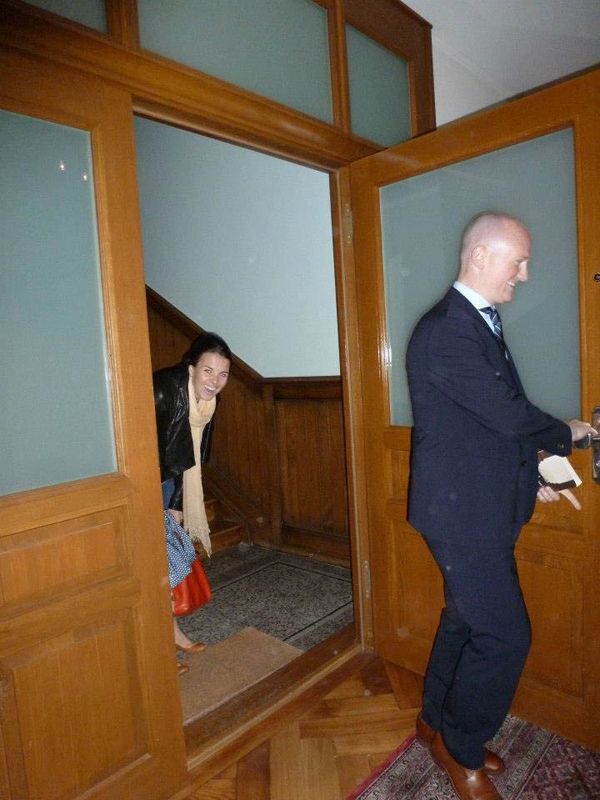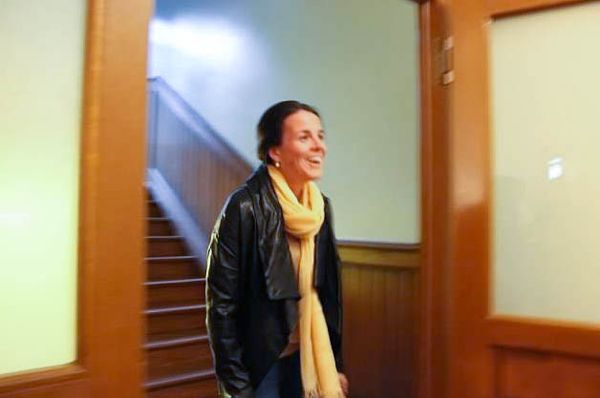 (see that iPhone that Laura is holding? My friend Katie, who lives in Singapore, woke up in the middle of the night to skype the surprise! These friends of mine, I tell you!)
The night was full of surprises. There was the
surprise!!!
we are throwing you a party and you didn't know about it surprise, and then there was the
surprise!!!
we've made you an amazingly touching video and we managed to get your friends at home to make one too surprise! Holy cow, these friends of mind sure know how to make a girl feel special as she closes one decade and starts another. The videos were touching and funny, full of love and those warm cozy feelings that bind friend together. To share the videos here might be a bit much, but I trust you watched the snip-it above? The one with the fennel, carrots, blueberries and dinosaurs? If you haven't I trust the mention of fennel paired with dinosaurs will peak your interest. How amazing is it?! Sundance worthy I think. My friend Perrin made it and she is all types of talented. I've watched it at least 987 times. The effort, the time, the genius that went into it, all for me on my day, leave me with my mouth open and my heart full.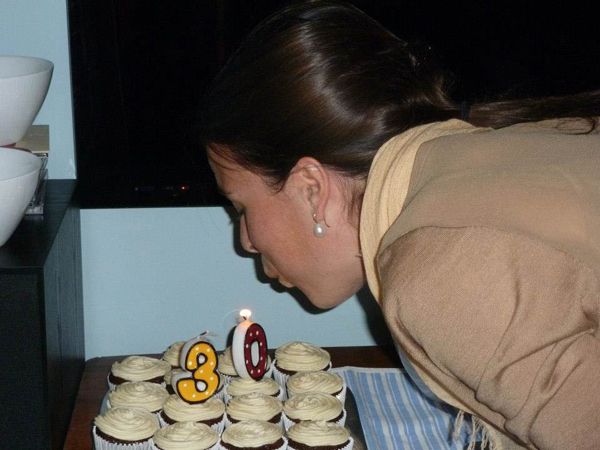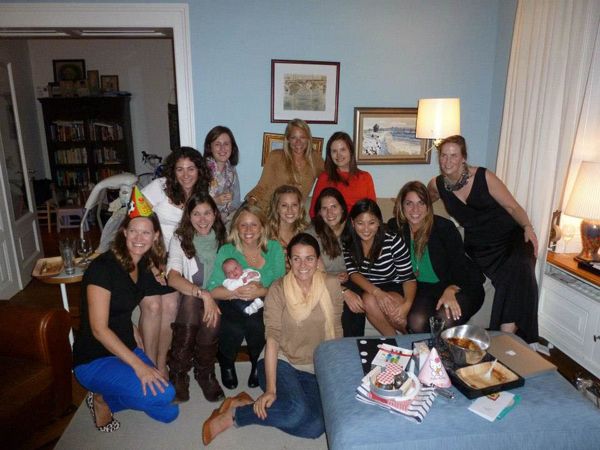 And, dear reader, it continues. Even though I am writing this from Zürich, by the time you read it I will be basking in the late summer sun in a little hill town called Mougins, which is just North of Cannes. Zach heard my whimpers and decided to smother me with French food and wine, scenic vistas and winding drives through quaint towns. Had I known I'd be quieted by such splendor I would have done a lot more whimpering over the years. (That's not really true, I generally hate whining).
Oh, and he surprised me with the most wonderful birthday present - a five day cooking class in Paris!
And then of course there is my family who never fail to shower me with birthday love. My mom faithfully reminds me every year that I was a thiry-hour labor or love. Well mom, now I've officially been alive for as many hours as you were in labor :) And I can't wait to celebrate with you in Berlin! That's right, my parents just booked tickets to Berlin/Zürich in early November. Happy Birthday to moi!
Let me repeat how lucky and loved I feel,
lucky
and
loved
indeed! Thank you thank you
EVERY
last one of you who has helped me welcome 30 with a smile on my face.
So even though I never imagined I'd usher in my 30th year with fennel, it seems ever appropriate. This recipe is from a book called
Simple French Food
by Richard Olney, which I purchased on one of my Amazon buying sprees, but which has spent more time tucked between
The Art of Eating
and
The Tummy Trilogies
than in the kitchen. It is not a book light on praise. Alice Waters writes that "for twenty years Richard Olney's Simple French Food has been one of my greatest sources of inspiration for cooking at Chez Panisse." Now if that doesn't make you want to go on an Amazon spree then I don't know what will. I like it because even though it is simple French food, I still had to flip past recipes for
Beignets d'Animelles
(Lamb Testicles),
Orielles, Couennes, et Queues
(Ears, Rinds & Tails) and
Lapin en Papillotes
(Rabbit Papillotes) before arriving at the poultry section of the book.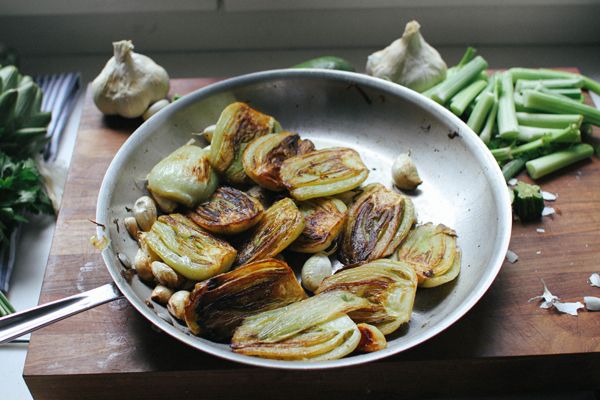 All that flipping led me to this scrumptious recipe for sautéed chicken and fennel. Scrumptious is a silly word, I know, but it fits this pairing of crisp skinned moist meat with sweet garlicky caramelized fennel perfectly. It is a combination I wouldn't have thought of otherwise, but which I will continue making for many dinners in my 30s.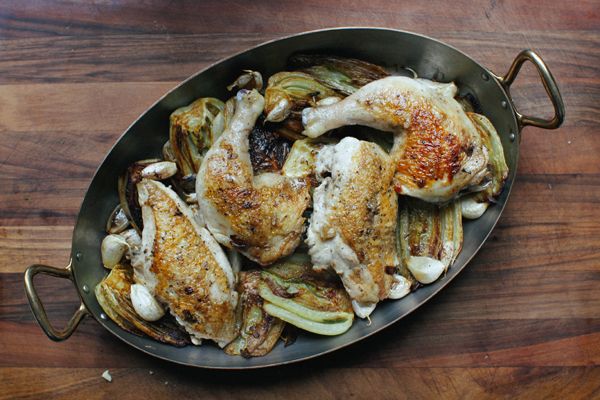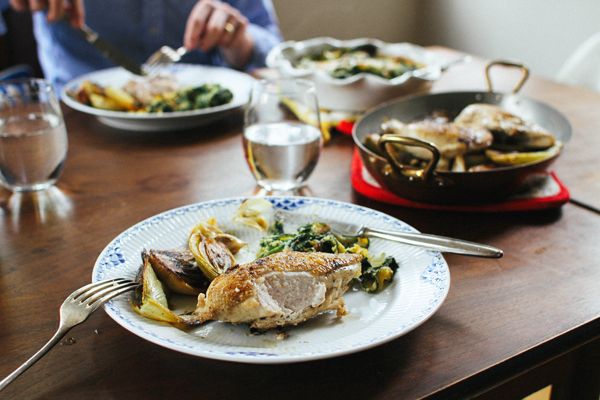 // Sautéed Chicken and Fennel //
serves 4 - slightly adapted (no liver, heart, gizzard sauté to accompany as suggested)
4 lbs bulb fennel
salt
1/3 cup olive oil
2 heads garlic, cloves separated, papery outer skin removed, but unpeeled
pepper
1 chicken cut up, with skin.
1/2 cup dry white wine
chopped parsley
Prepare the fennel by removing the tough outer stalks and pulling the "strings", like you would with celery, from the outer surface of the exposed stalk. Split the bulbs and then parboil them for 5-6 minutes. Drain and then place in large skillet with the olive oil and garlic cloves, cooking over medium heat for about 30minutes, flipping the bulbs once and a while to ensure even coloring and caramelizing. Once softened and browned transfer to a large gratin dish with a slotted spoon (keeping the oil in the pan). Grind pepper over the fennel and then place in a hot oven to keep warm while you cook the chicken.
Season the chicken with salt and pepper. Sauté in the same olive oil that you cooked the fennel in, browning on all sides until nicely crispy and colored. Place the chicken over the fennel. Deglaze the pan with the white wine, scrapping up the browned bits on the bottom of the pan. Continue stirring over medium heat until the liquid has reduced by about half. Pour the sauce over the chicken and then cover the dish with aluminum foil (as Olney says, this prevents drying out from direct contact with het while permitting the braising juices to evaporate and reduce). Cook in a 375º oven for 35-40 minutes. Remove the aluminum foil, toss the chopped parsley on top and serve.